Who said Taylor Swift's squad only hangs out when she's around? The London leg of the infamous T-Swift femme fatales hung out together at the Arts Club following the 2016 BRIT Awards.
In February 2016, Lights Singer Ellie Goulding was spotted hanging out with Karlie Kloss and Lorde (plus James Bay), proving that Taylor is not the only reason these girls spend time together.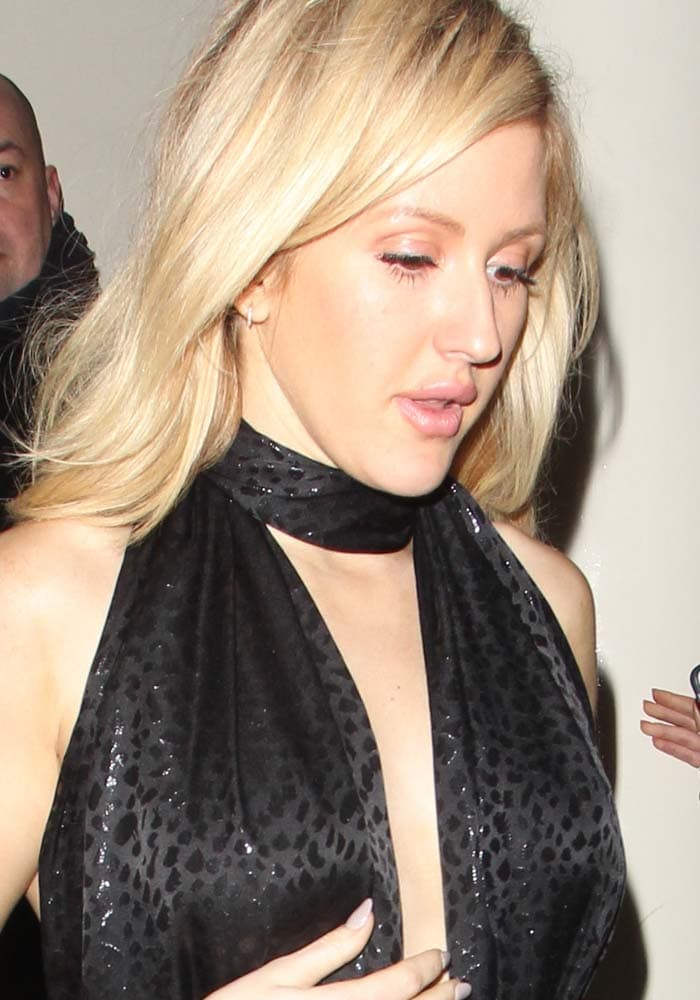 Ellie Goulding wears her blonde hair down at the Sony Music BRIT Awards 2016 Party held on February 25, 2016, at the Arts Club in London (Credit: Will Alexander / WENN)
Why did Ellie Goulding make Lights?
Written for her debut studio album of the same name that was released on February 26, 2010, the song was released on February 16, 2011, when she was 24 years old. Born on December 30, 1986, in Hereford, United Kingdom, Dougie Poynter's ex-girlfriend turned 25 on December 30, 2011.
Inspired by her childhood fear of the dark, she revealed in an interview with 97.1 AMP/Los Angeles that she still sleeps with the light on.
"Sometimes if I've had a couple of drinks and I come back and just like lie on my bed and fall asleep I wake up and realize that there isn't a light on and I have to turn a light on," Goulding said.
"Lights" by English singer and songwriter Ellie Goulding was inspired by her childhood fear of the dark (Credit: WENN)
"It's really annoying," she laughed in an interview with Brite Revolution in 2011. "The only time I don't sleep with a light on is when my boyfriend is with me."
"It can be seen as something like a lighthouse that kind of always guides you home. I've always felt comfort sleeping with the light on, and I've always felt comfort being with my siblings."
"What I learned very quickly," her co-writer Starsmith added, "is that Ellie doesn't try to put herself in scenarios in order to write about them – her songs are very honest. If she's had an argument with her boyfriend, it goes into the song. If she's knackered from touring, it goes into the song."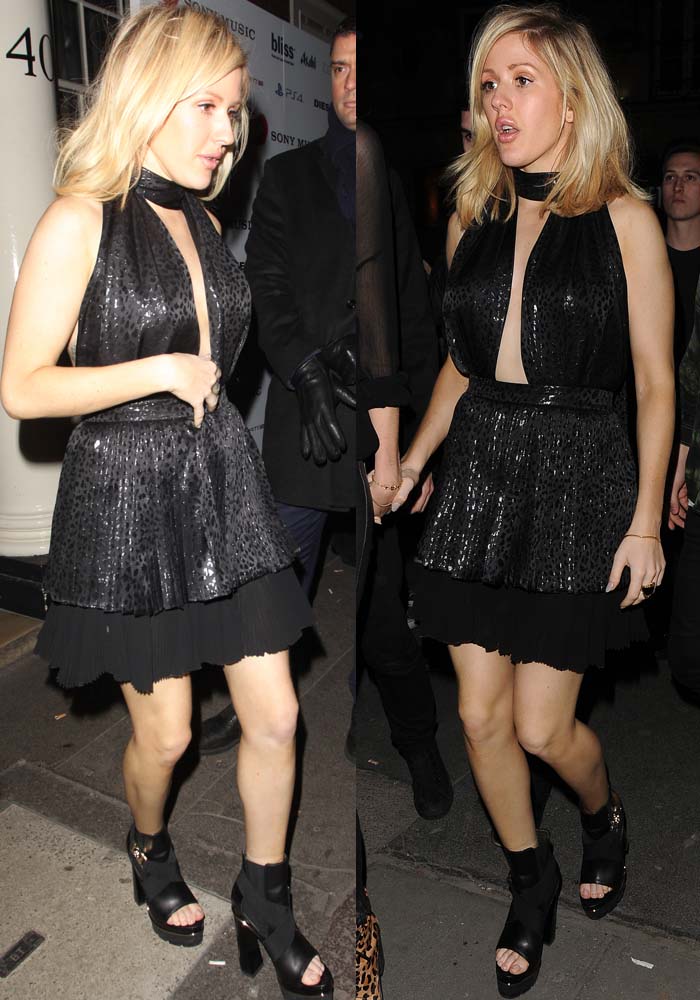 Ellie Goulding wears a leopard-print Just Cavalli dress to a BRIT Awards afterparty
Ellie stepped out in an all-black ensemble, which consisted of a Just Cavalli pleated leopard-embossed shimmer dress with a layered skirt.
Rumored to have undergone plastic surgery, the singer paired her dress with Versace platform boots from the brand's Spring 2016 line.
The then 29-year-old hadn't quite made it to our must-watch style stars list, and this look shows why.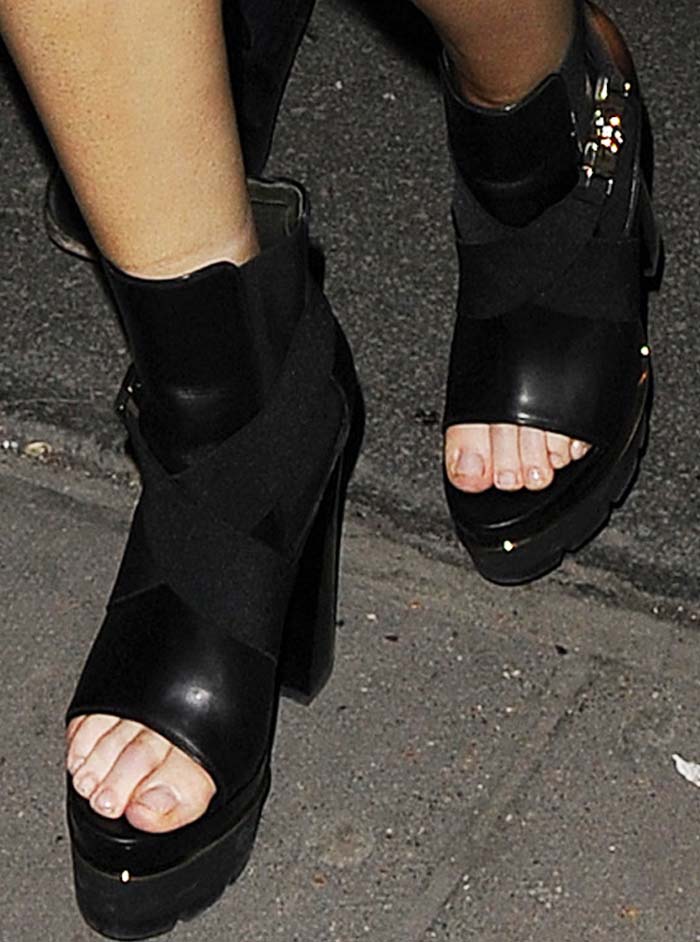 Ellie Goulding's feet in Versace boots
People who have said that one can never go wrong with the LBD obviously haven't seen Ellie's outfit yet.
The dress did nothing for her natural curves. It hid her chest and highlighted the "problem area" of every woman around the stomach.
And nope, even the back looks tacky.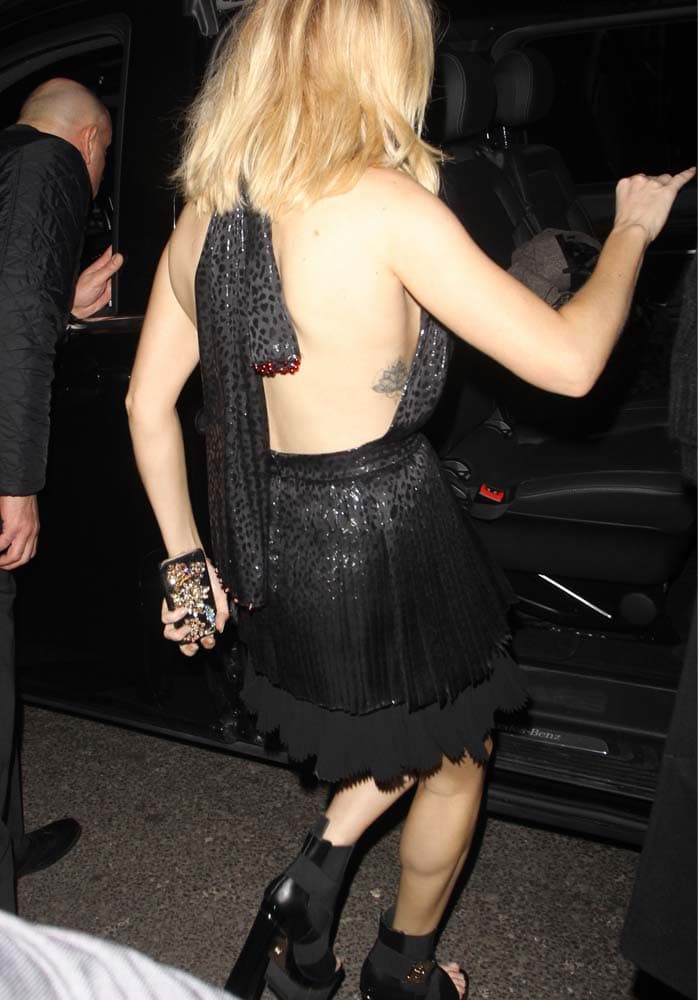 Ellie Goulding leaves the Sony Music BRIT Awards 2016 Party held at the Arts Club in London
What we do love, though, is that she had a fantastic time with friends anyway. Check out the picture of her gal (and guy) squad at the post-Brit Awards party below, which she uploaded on Instagram.
Ellie Goulding hangs out with Lorde, Karlie Kloss, and James Bay at the 2016 BRIT Awards Post Party (Credit: Ellie Goulding's Instagram)
You can check out some of Versace's platformed beauties at Amazon and Ssense.
Versace Leather Buckle Platform Sandals, $2,925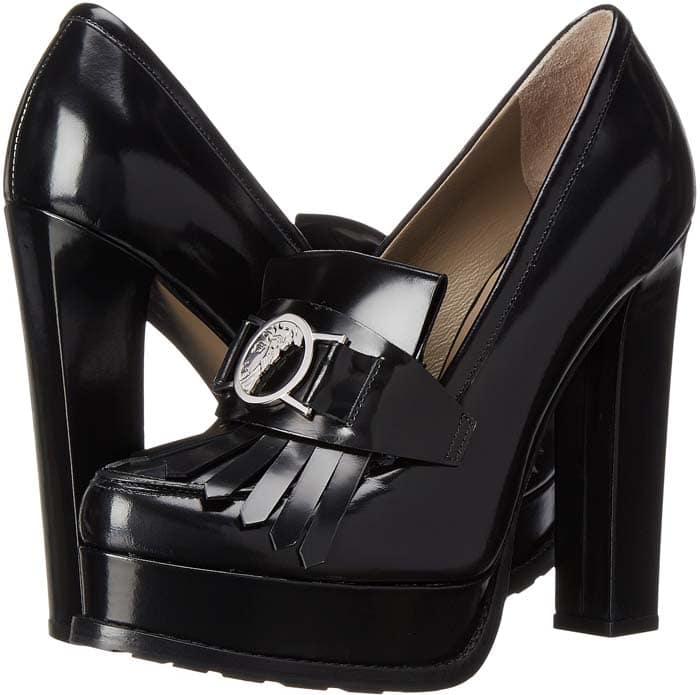 Versace Collection Fringe Chunky Pump, $750
Versace Logo Buckles Leather Sandals, $1,695