The Internet is still reeling from Lily Allen's Beyonce impersonation singing "Drunk in Love," but she is already over it. In fact, she's already given us something new and fresh to talk about.
At her concert at the O2 Shepherd's Bush Empire on Monday, Lily busted plenty of sexy dance moves while performing upbeat songs from her latest album, 'Sheezus'. Dressed in a fluttery pink crop top that barely covered her boobs, you can pretty much guess what happened next — her top couldn't help but flutter up just a little bit too high during a dance sequence and momentarily exposed her left nipple to everyone in the audience. She tried to cover up with her hand and pull her top down, but her efforts were a second too late.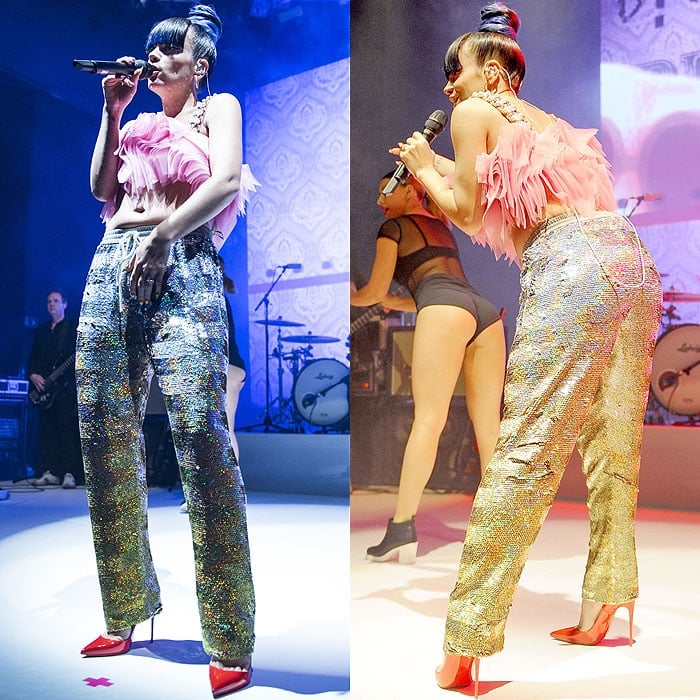 Lily Allen performing songs from her new album, Sheezus, live on stage at Shepherd's Bush Empire in London, England, on April 28, 2014
It's easy enough to find a picture of Lily Allen's nip slip, but what isn't as popular is the fact that she actually suffered a double nip slip. Lily is known to have a third nipple, which she has revealed at least twice on-camera before. This time, it was accidentally exposed to the photographers standing front row at her London concert: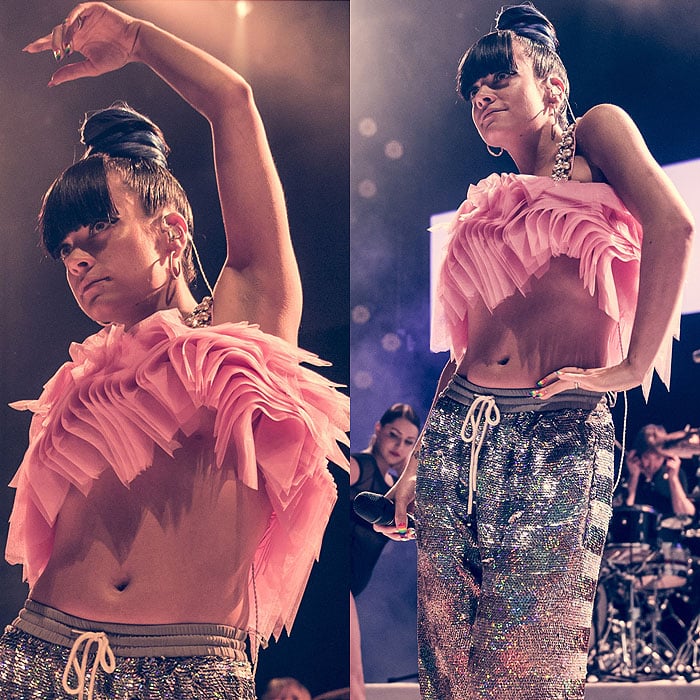 Lily Allen risking a nip slip while striking sexy poses
Lily Allen giving the audience a good view of her underboob and stomach
The 28-year-old clearly had no qualms about showing off her body even after two pregnancies. She looked confident and comfortable, making her wardrobe malfunction not at all embarrassing.
She did her high-energy performance in these Christian Louboutin "So Kate" pumps:
Lily Allen's Christian Louboutin "So Kate" pumps in red patent
Even after a wardrobe malfunction, Lily knew that the show must go on. She later changed into a gold corset top, a sequined tulle skirt, and Nike high-heel sneakers, a look reminiscent of her style from the "Smile" era.
Lily Allen's costume change: a strapless gold corset, a sequined tulle ball skirt, and Nike high-heel sneakers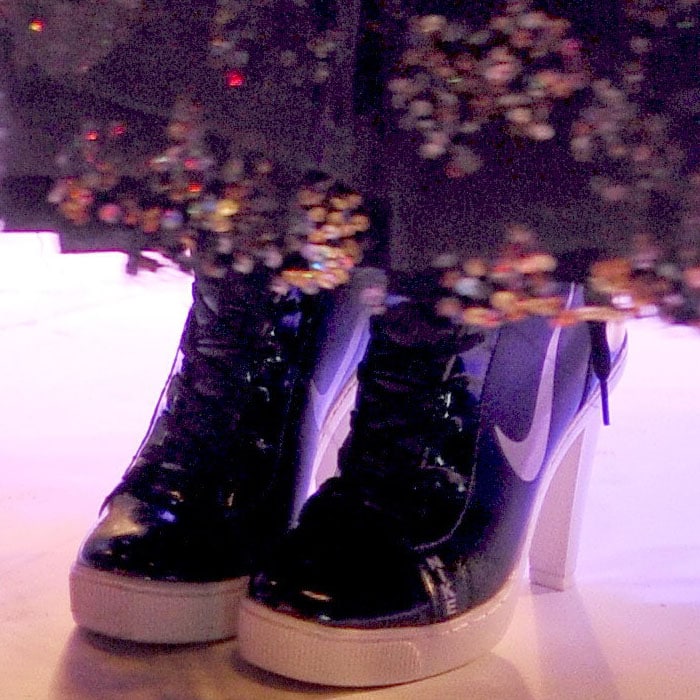 Lily Allen's Nike SB high-heel, high-top sneakers
Lily wrapped up her night at an after-party held at a nearby warehouse. She changed into a pink hoodie, skinny jeans, and Spice Girls–inspired super-high platform sneakers, but she kept her fluttery pink top on although it caused her wardrobe malfunction earlier.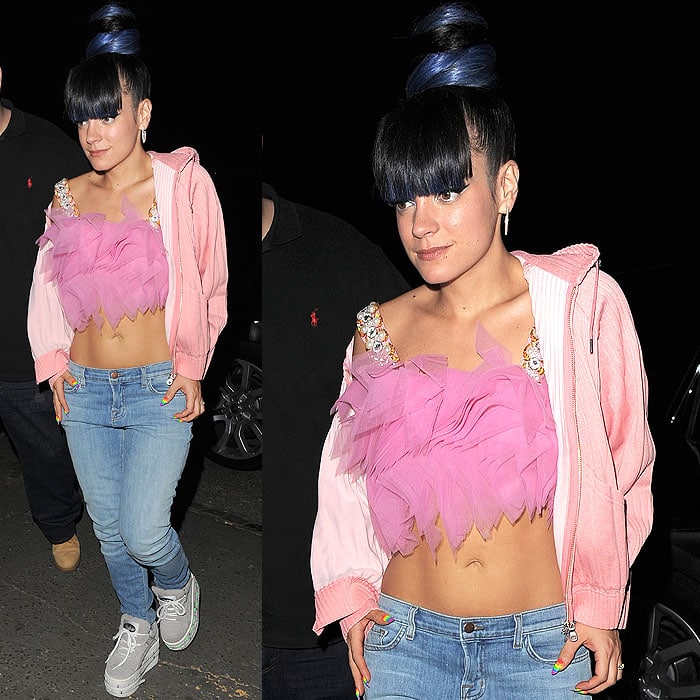 Lily Allen arriving at her after-party held at a warehouse in Scrubs Lane in London, England, in the early morning of April 29, 2014
Lily Allen's Topshop x Ashish "Buffalo" platform sneakers
The singer/songwriter's platform sneakers are the highly coveted LED-lit pair from the Ashish fall 2014 collection. They will also be included in the Ashish x Topshop collaboration, which will hit stores in May.
Credit: Carsten Windhorst / IconicPix / WENN