Lily Allen never fails to showcase her glamorous style every time she emerges from the stage door of the Duke of York's Theatre in London following her performances in the first West End revival of Martin McDonagh's The Pillowman.
1. Lily Allen's Bold Red Crochet Delight
On Monday night, the 38-year-old singer changed out of her blood-soaked costume and into a strapless crochet dress in a bold red hue.
It was created from a crochet knit fabric that clung perfectly to her slender body, with the open weave details creating a sheer look that showed a glimpse of her high-waisted nude underwear.
Retailing for $3,215 at Mytheresa, the stunning Magda Butrym creation was designed with a structured bustier, a concealed built-in inner corset, a sweetheart neckline, and rounded cups.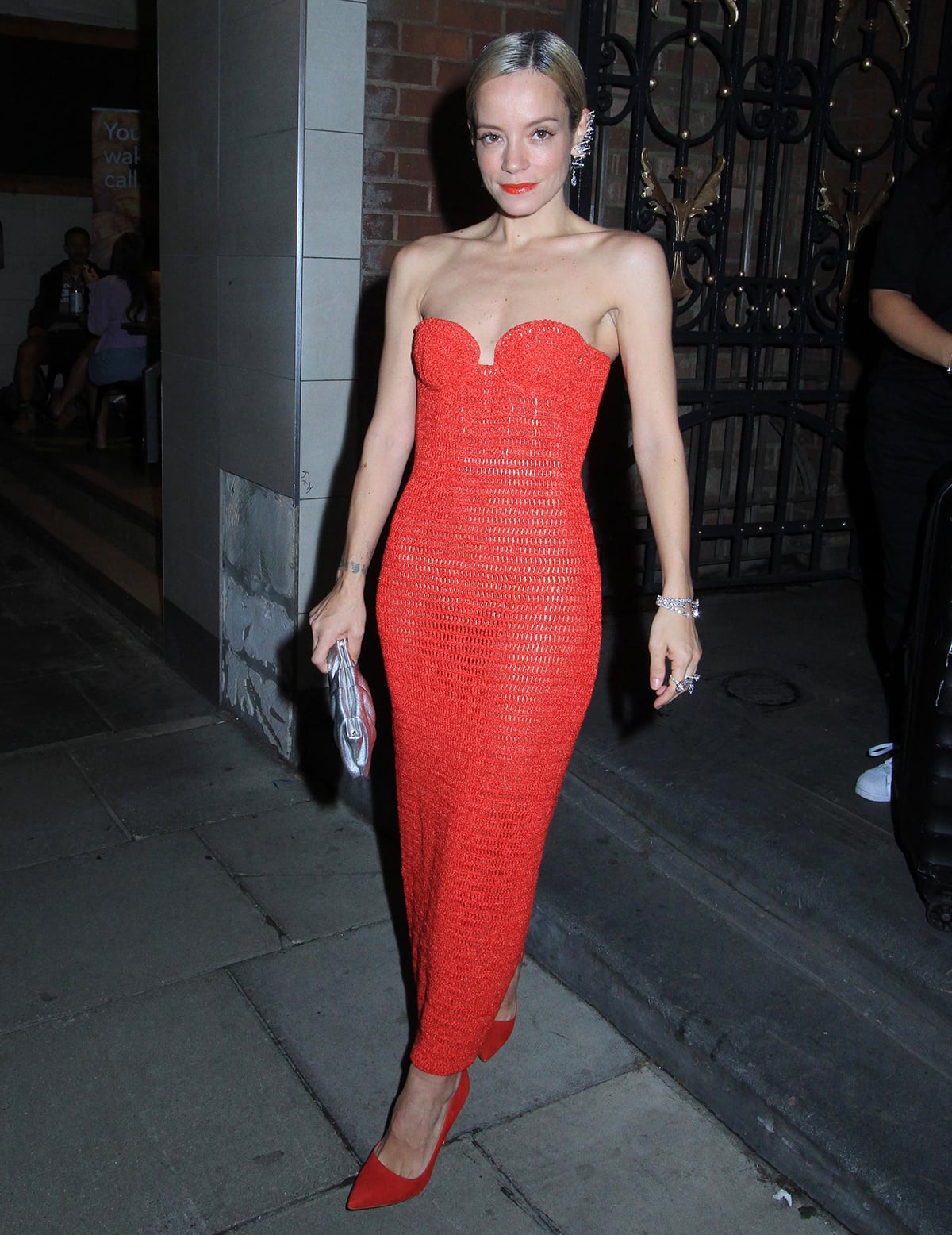 Lily Allen stuns in a strapless red crochet dress by Magda Butrym outside the Duke of York's Theatre in London following her performance in Martin McDonagh's The Pillowman on July 31, 2023 (Credit: INSTARimages)
With the help of her stylist Kyle De'Volle, Lily paired her red summer dress with matching pointy red Manolo Blahnik pumps.
She then kept the rest of her accessories coordinated by carrying a silver clutch and styling with sparkling silver jewelry by Messika.
Lily Rose Beatrice Allen adorned her ears with edgy ear cuffs and diamond drop earrings, her wrist with a three-tier bracelet, and her fingers with statement diamond rings.
She looked ultra-glam with her blonde hair slicked down and her features highlighted with mascara and bold red lipstick to match.
Lily Allen pairs her see-through crochet dress with a sparkling ear cuff, a matching three-tier diamond bracelet, and statement rings (Credit: INSTARimages)
2. Lily Allen Turns Heads in a Dazzling Red Carpet Outfit
On July 18, Lily Allen exited the theater wearing a red carpet-worthy outfit with a luxurious Giorgio Armani Autumn/Winter 2023 velvet coat with a collar dotted with dazzling black diamantes.
Allen layered the plush coat over a sheer pink halter-neck bodysuit, unbuttoned to the waist to reveal the cleavage-baring keyhole cutout underneath. She then paired her daring bodysuit with see-through black trousers and a pair of black pumps for a boost in height.
Her face was minimally made-up, and her blonde hair was tucked behind her ears, allowing her to show off her large drop earrings.
Lily Allen wears an embellished pink bodysuit and see-through black trousers underneath her plush Giorgio Armani velvet coat with a diamond-embellished collar on July 18, 2023 (Credit: INSTARimages)
3. Contrasting Trends: A White Crop Top and Black Leather Pants
A day before, Lily Allen was spotted outside the theater in a black-and-white ensemble that featured two contrasting trends.
She displayed her washboard abs in a white Alessandra Rich Spring/Summer 2023 crop top spun from a wool and mohair blend, currently on sale for $306 (from $610) at Farfetch.
Inspired by 19th-century heirlooms, the knitted top was adorned with a large black bow and a cameo on the center front.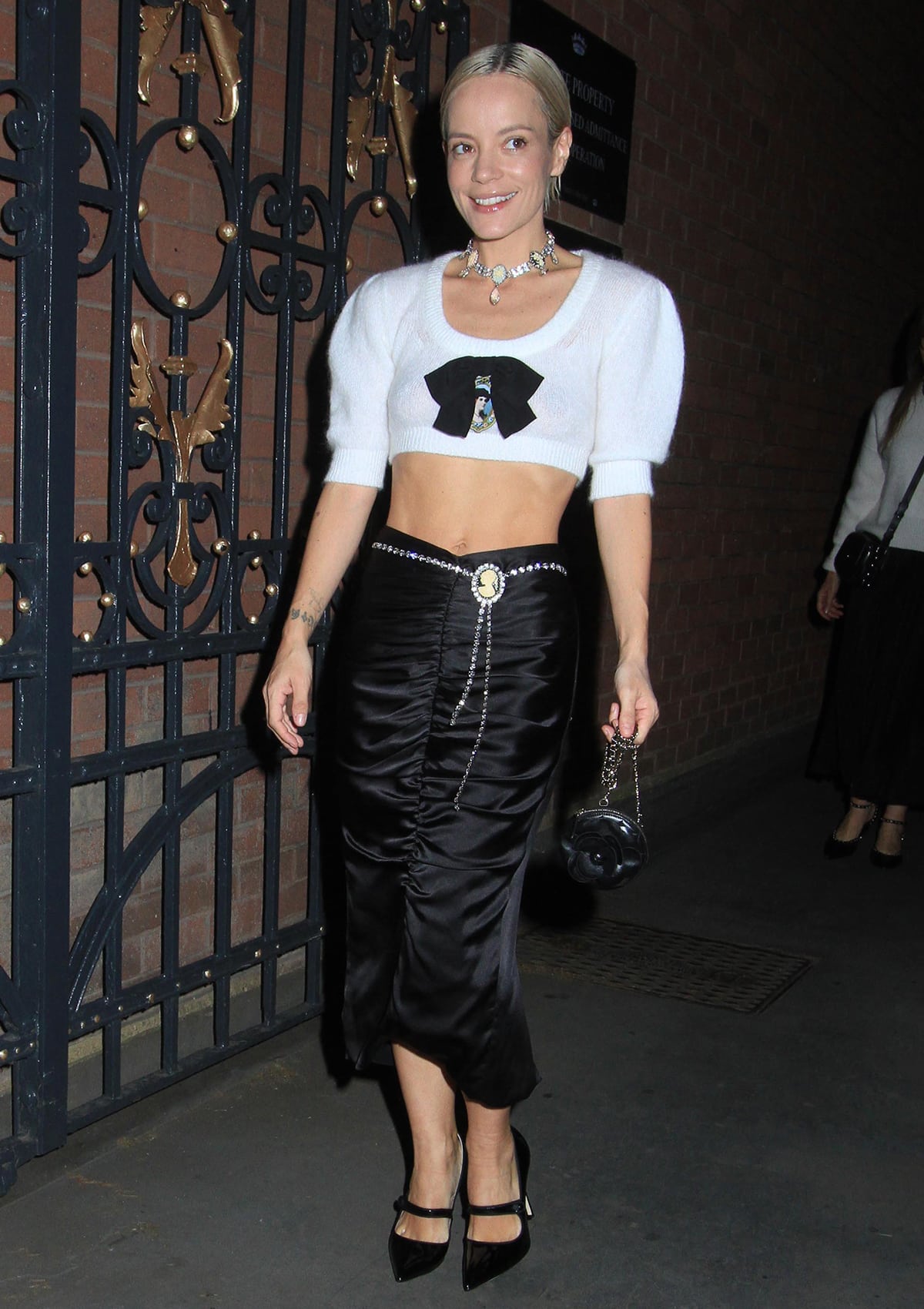 Lily Allen steps out of The Duke of York's Theater in a black silk-blend ruched midi skirt and a white knit crop top with a black bow and a cameo adornment by Alessandra Rich on July 17, 2023 (Credit: INSTARimages)
Allen added a sleek contrast to the delicate top by pairing it with an edgy black silk-blend midi skirt from the same collection.
It featured fine ruching down the center, finished with a glittering crystal belt with a matching cameo decoration. You can get the low-rise skirt for $608 (from $1,022) at Farfetch.
She carried a tiny black purse with a gleaming chain handle to keep the outfit consistent, slipped on a pair of black Mary Jane pumps, and secured a cameo necklace around her neck.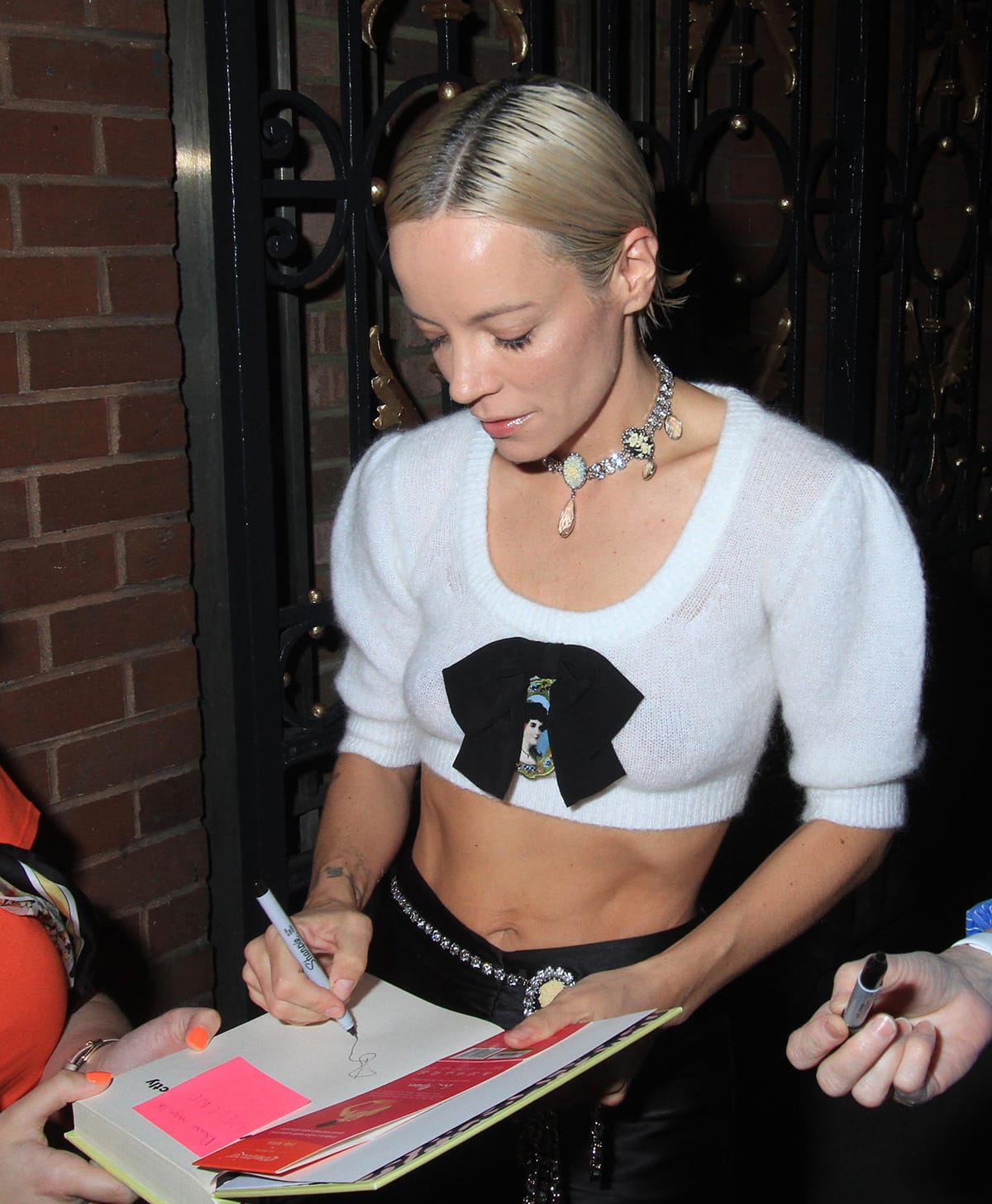 Lily Allen pairs her black-and-white Alessandra Rich outfit with black Mary Jane pumps and a cameo choker necklace (Credit: INSTARimages)
4. Lily Allen's Silk Cape and Wide-Leg Trousers
Early last month, Allen narrowly avoided a wardrobe malfunction when she showed up braless underneath a black satin Armani co-ords.
She flashed more than just her abs in a crop silk cape with quarter-length sleeves and an open front design fastened around the neck with a single button. She paired it with the $725 high-waisted oval wide-leg trousers made of pure silk satin and finished off the streamlined look with black pumps.
Her oversized striped bangle on each wrist, large drop earrings, and black bag added a dash of style to the otherwise plain black look.
Lily Allen narrowly avoids a wardrobe malfunction as she goes braless in a black satin crop cape and matching trousers by Armani on July 13, 2023 (Credit: INSTARimages)
5. Lily Allen's Edgy Y2K Look: Head-to-Toe Fendi
A day prior, Lily Allen showcased an edgier look in head-to-toe Fendi fresh off the Italian luxury fashion house's Spring/Summer 2023 runway.
Embracing the Y2K aesthetic, the Smile singer wore green satin low-rise cargo pants with long straps and patch pockets adorned with Fendi's signature double F Baguette buckles.
She teamed it with a $1,550 slim-fit rib knit beige cardigan left open at the bottom to display her flat abs. The front closure with press studs created a cutout motif that was also seen on the shoulders and elbows.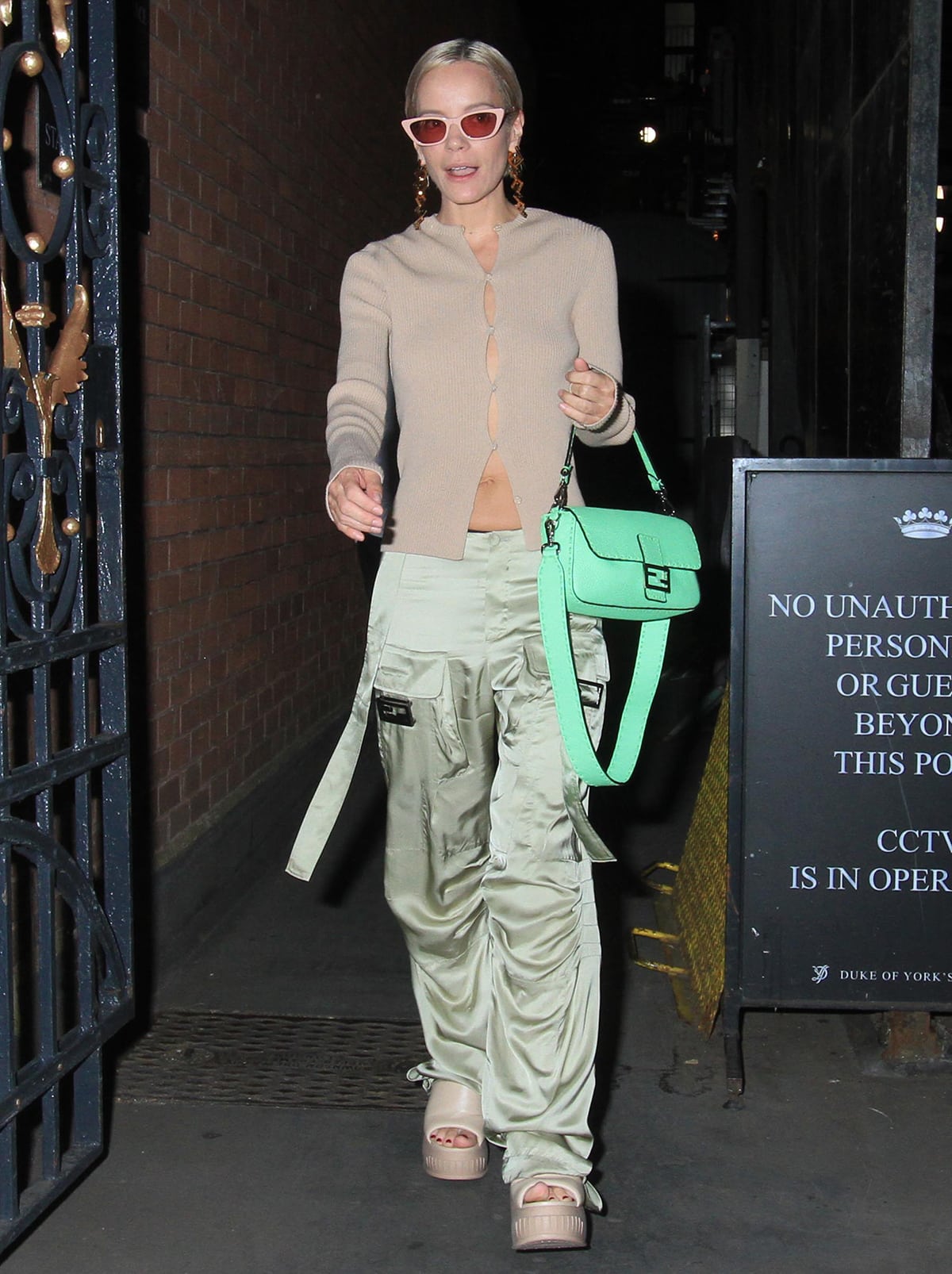 Lily Allen opts for the '90s look by pairing her green satin low-rise cargo pants with a beige cardigan and matching platform wedges by Fendi on July 12, 2023 (Credit: INSTARimages)
Keeping things coordinated, Lily carried the $3,980 medium "Baguette" bag made of green Cuoio Romano leather and hand-embellished with large, tonal topstitching and Fendi's FF clasp on the front flap.
She then boosted her height by several inches with padded leather platform wedge slides in beige lambskin to match her cardigan.
Available for $995 at Bergdorf Goodman, these summer-perfect wedges have wide padded bands, open toes, thick platforms, and 5.5-inch logo-embossed wedge heels.
View this post on Instagram
She kept her makeup simple and accessorized the playful look with chunky, long drop earrings and pink-framed sunglasses.
Lily Allen styles her Y2k look with pink cat-eye sunglasses, chunky, long drop earrings, and a green Fendi bag (Credit: INSTARimages)
6. Stretch Tulle Gown by Philosophy di Lorenzo Serafini
The night before, Lily Allen was photographed in London's West End wearing another brilliant red dress, this time a stretch tulle gown by Philosophy di Lorenzo Serafini.
The gown, currently on sale for $835 (from $1,190) at Farfetch, was originally designed with a draped asymmetric neckline, but Allen wore it off-the-shoulder with a plunging neckline. It also featured a ruched bodice with front button fastening that fanned out from the waist into a sheer flowy A-line maxi skirt.
She accessorized with Shaun Leane earrings and continued with the red theme of the look by pairing her dress with red heels by Gina Shoes and a metallic red clutch by Christian Louboutin.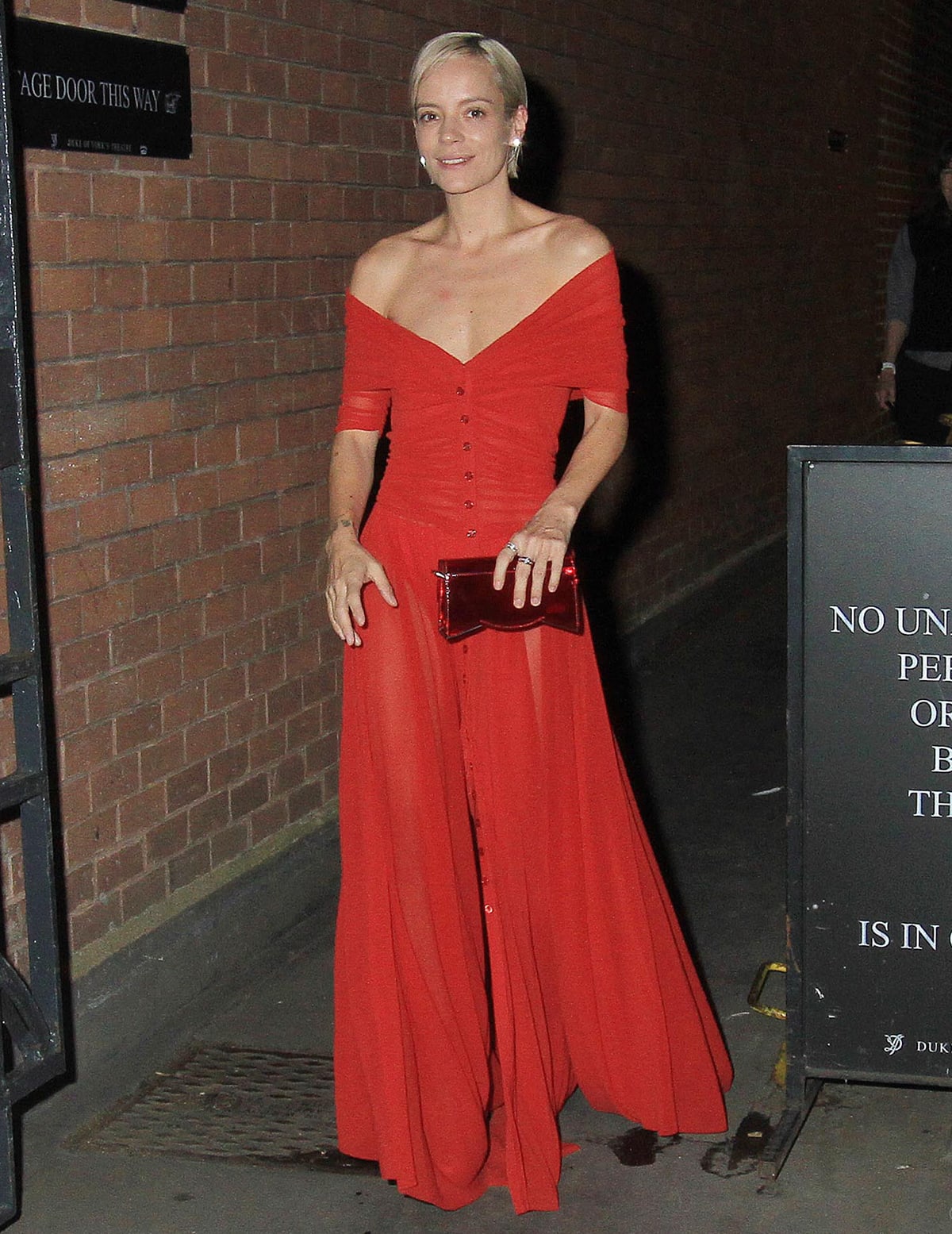 Lily Allen is ravishing in a red Philosophy di Lorenzo Serafini dress with a matching Christian Louboutin clutch and Gina Shoes on July 11, 2023 (Credit: INSTARimages)
Lily Allen and The Pillowman West End Revival Receive Negative Reviews
Lily Allen plays fictional author Katurian in the gender-swapped London revival of The Pillowman, directed by Matthew Dunster.
It is set in a totalitarian state and follows Katurian as she undergoes brutal interrogation over the gruesome content of her short stories that mirror a number of real-life murders of children occurring in her town.
Despite the actress' transition into the play's bloodied character, who looks far different from her usual glamorous self, the critics weren't impressed with her performance.
View this post on Instagram

The Times rated the revival two stars, with Clive Davis saying, "Is Allen up to the task? It's true that she didn't disgrace herself in that immensely popular supernatural thriller, 2:22: A Ghost Story (which was also directed by Dunster). But here, her limitations are more exposed. There's precious little variation in her voice and gestures; sometimes she seems almost a spectator at her own ordeal."
"Yet for all its rhetorical flourishes, The Pillowman is a shallow exercise in Grand Guignol, laced with spurious meditations on the nature of art and creativity," Davis added.
Arifa Akbar of The Guardian also rated The Pillowman two stars, saying "Lily Allen fails to deliver visceral punch."
The Independent's Jessie Thompson gave the play four stars, but said: "Lily Allen is a letdown."
"I'm not convinced the gender flip works, but either way, Allen doesn't give the role the same complexity as her more experienced castmates, which can feel frustrating."
View this post on Instagram

In 2021, Lily Allen made her West End debut in the new thriller play 2:22 – A Ghost Story, for which she received a Laurence Olivier Award nomination for Best Actress.