Lisa Rinna and Harry Hamlin recently joined Heidi Klum at the Elton John AIDS Foundation's 31st Annual Academy Awards viewing party, dressed in matching black and white outfits. However, it was Lisa's couture ensemble that truly stole the show.
The 59-year-old American actress made a bold fashion statement by wearing a piece from Jean Paul Gaultier's Fall 2022 collection.
Lisa's outfit featured an outwardly structured blazer that was expertly transformed into a gown, giving off a striking illusion. The structured top flared over Lisa's chest, while the long, flowing skirt across the floor showed off her legs.
Harry Hamlin and Lisa Rinna at the 31st Annual Elton John AIDS Foundation Academy Awards Viewing Party held at West Hollywood Park on March 12, 2023, in West Hollywood, California (Credit: Faye's Vision / Cover Images)
Her stylist, Danyul Brown, accessorized the outfit with long, black gloves adorned with silver metal on the fingertips, matching the dress's color scheme of black.
The actress completed the look with satin Angelica platform pumps by Jordanian-Romanian fashion designer Amina Muaddi, which drew attention with an angular form.
You can check them out in black satin and nappa leather at Farfetch and Mytheresa.
The Amina Muaddi Angelica pumps exude high-octane glamour with their razor-sharp profile, towering stiletto heels, dramatic platform soles, and smooth nappa leather construction
Lisa looked stunning with her hair pulled back, smoky eyes, thick lashes, and shiny lips, making her the center of attention on the red carpet.
Her husband, Harry Hamlin, looked dashing in a vintage black tuxedo and sparkly dress shoes.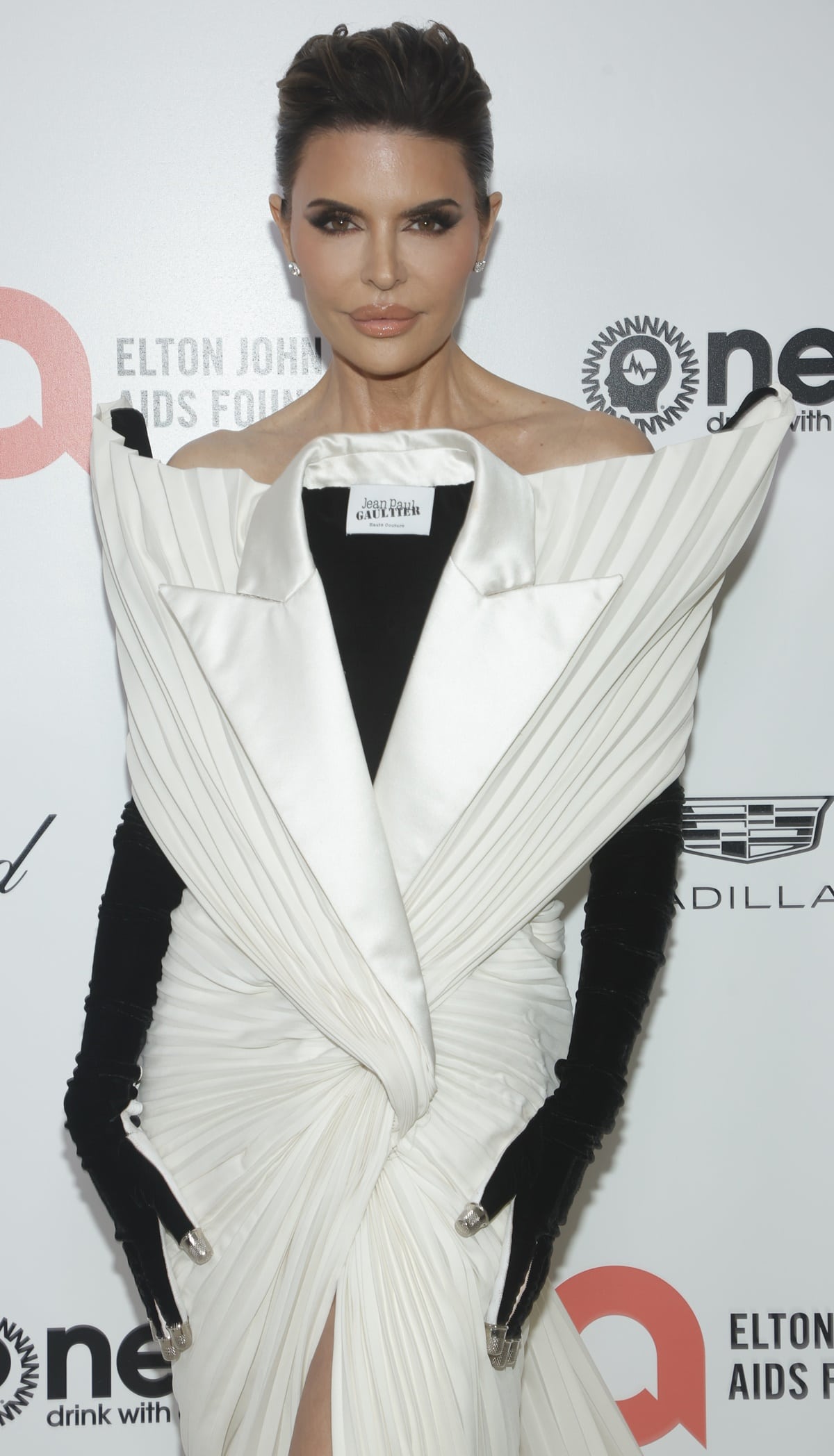 Lisa Rinna wore a couture creation from Jean Paul Gaultier's Fall 2022 collection, featuring an outward-structured blazer brilliantly constructed into a gown, creating a striking illusion
The 71-year-old actor complimented Lisa on the red carpet, telling People, "I think Lisa is actually a G.O.A.T. when it comes to The Real Housewives of Beverly Hills, so I think she went out as a G.O.A.T."
Lisa recently left the acclaimed franchise after eight seasons of dishing her caustic one-liners, drama-filled episodes, social media messes, and self-deprecating lip comedy.
She left RHOBH following a tough season in which she fought with co-star Kathy Hilton and dealt with her mother's passing.
The actress stated, "This is the longest job I have held in my 35-year career, and I am grateful to everyone at Bravo and all those involved in the series. It has been a fun eight-year run, and I am excited for what is to come!"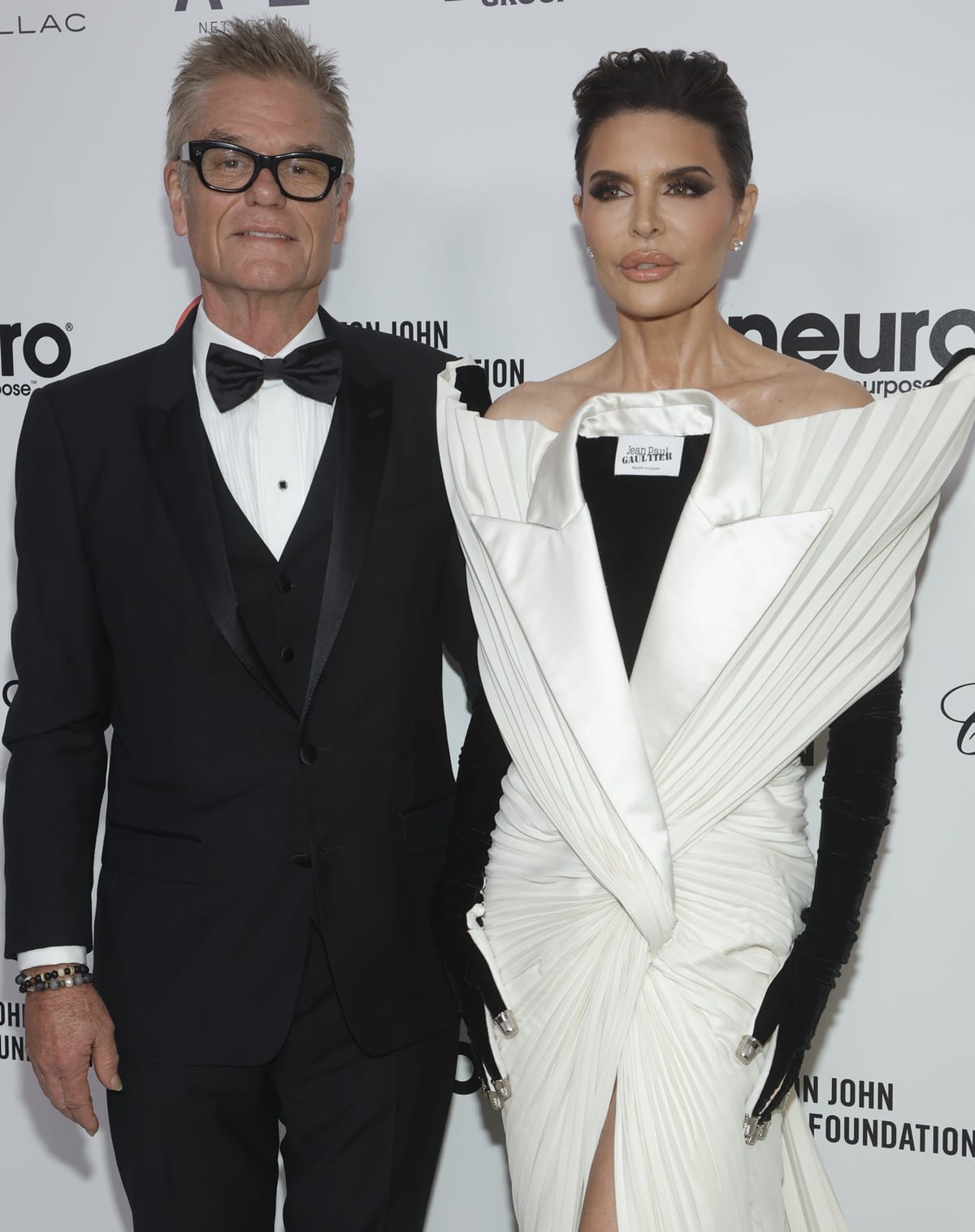 In August 2022, Lisa Rinna celebrated her 25th wedding anniversary with her beloved husband, Harry Hamlin
Last year, the couple – parents to daughters Delilah Belle, 24, and Amelia Gray, 21 – celebrated their 25th wedding anniversary. Lisa commemorated the milestone by uploading two photos in black and white from their wedding day on March 29, 1997.
In a January interview, when People asked Harry about the secret to their successful marriage, he responded that it was their shared respect for one another's independence.
The actor shared, "'Happy wife, happy life' really is my mantra, and it works. We listen to each other, and we're not clingy. She does what she wants, so I can do what I want."
Harry, who shares a 42-year-old son named Dimitri Alexander with his ex-girlfriend Ursula Andress, previously discussed the key to his happy marriage, telling People in February 2022 that "being diametrically opposite" is the secret.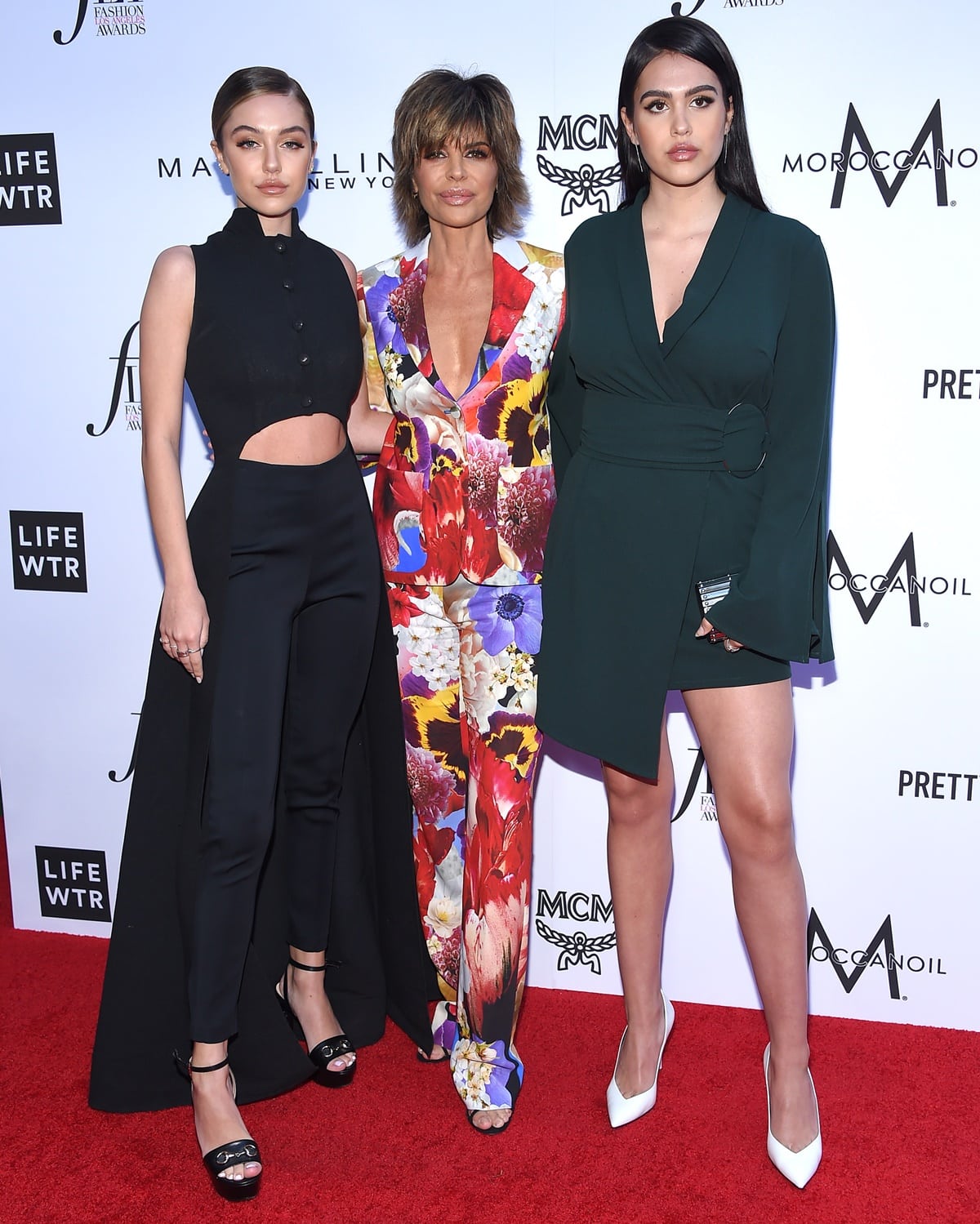 Lisa Rinna is the mother of two daughters, Delilah Belle Hamlin and Amelia Gray Hamlin, whom she shares with her husband, Harry Hamlin (Credit: DFree / Shutterstock)
He explained, "I like going up to the mountains, and her idea of camping is anything below the 10th floor of the Four Seasons."
Lissa added, "We have nothing in common. We're both kind people, but we have nothing in common. Zero, zip, zilch."
The couple revealed that they met at a restaurant while in other relationships, with Harry saying, "I was married, so I wasn't thinking beyond that, but I do recall being stricken by her beauty."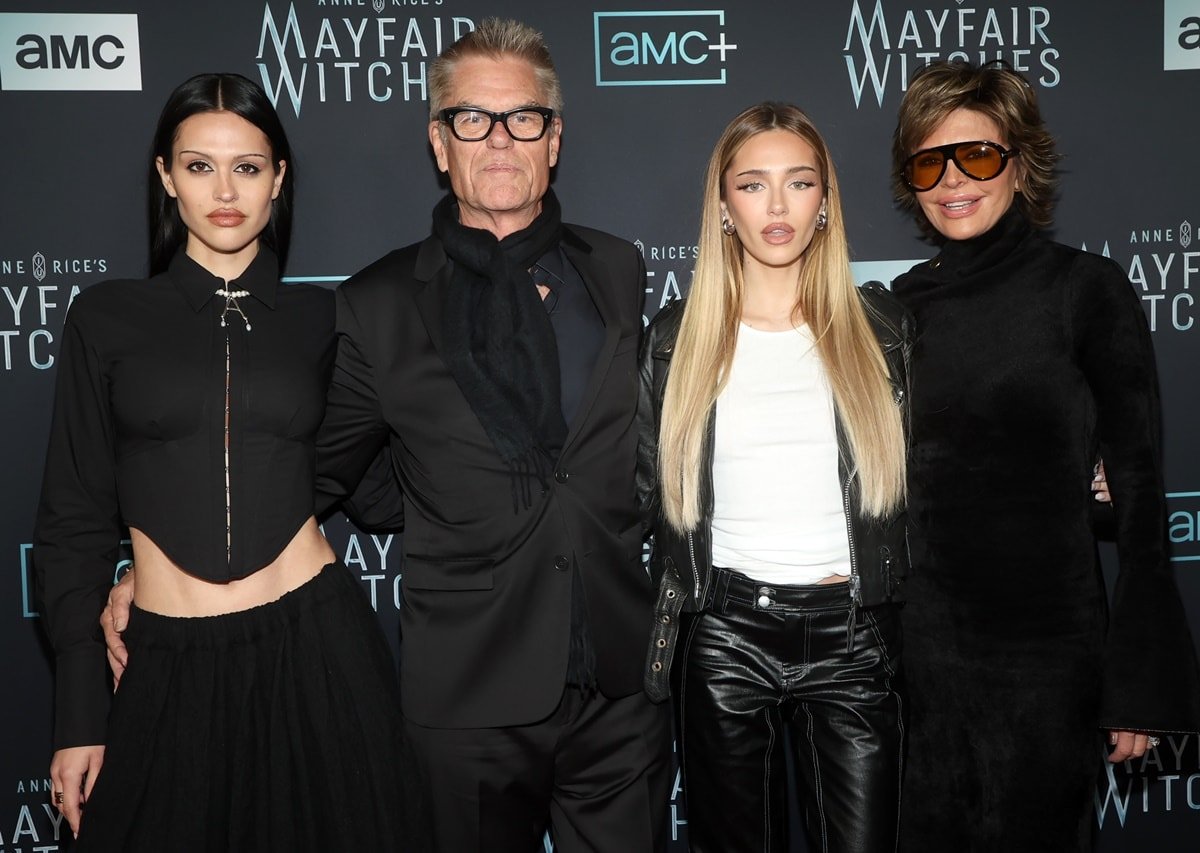 Amelia Gray Hamlin, Harry Hamlin, Lisa Rinna, and Delilah Belle Hamlin attend the Los Angeles Premiere Of AMC Networks "Anne Rice's Mayfair Witches" at Harmony Gold on December 7, 2022, in Los Angeles, California (Credit: Faye's Vision / Cover Images)
Lisa jumped in and said, "You were Harry Hamlin! You were the Sexiest Man Alive, big movie star. You were starring in L.A. Law. I was starstruck!"
Harry gushed and responded, "You were starstruck, and I was love-struck."