Lizzo is finally back with her first new single in over two years! Following the release of her third studio album, Cuz I Love You, in 2019, the Grammy-winning artist dropped her new song, Rumors, featuring rapper Cardi B, on August 13.
Written by Lizzo, Cardi B, Nate Mercereau, Steven Cheung, Theron Thomas, Torah Carr, and Ricky Reed, Rumors is still climbing the charts after debuting at No. 4 on the Billboard Hot 100 and No. 1 on the Hot R&B/Hip-Hop Songs chart.
Celebrating her new song in style, the Truth Hurts singer stepped out on Monday wearing a bodysuit that's emblazoned with the lyrics from her single.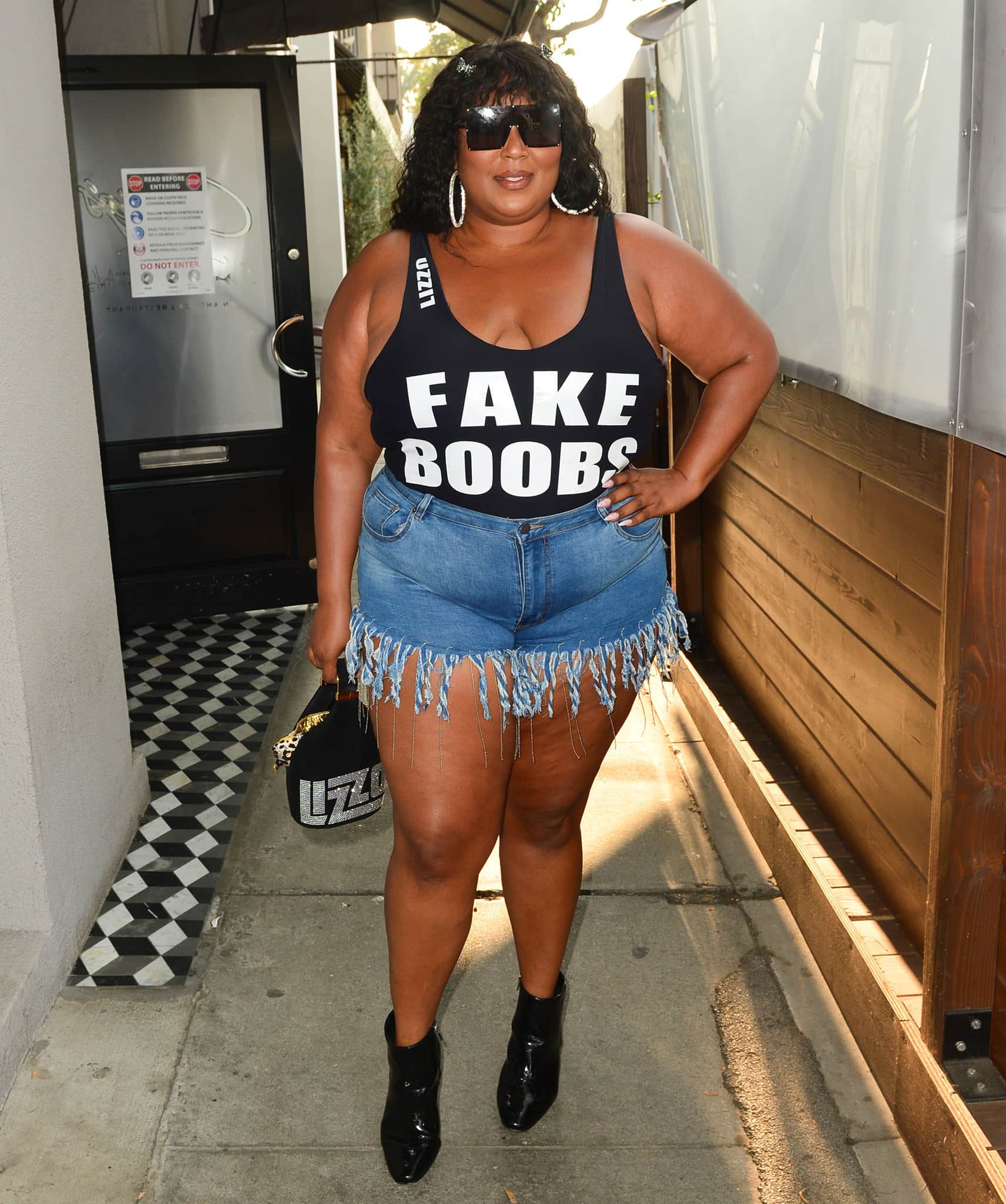 Lizzo arriving at Craig's in Los Angeles on August 24, 2021 (Credit: Mega / WENN)
The body-positive artist confidently showcased her curves in a black leotard with the text "fake boobs" printed on the front and "fake ass" on the back. The custom outfit, which hails from her own merchandise, also features her name, Lizzo, on the strap.
"Titties longer than my relationships," Lizzo captioned a picture of her boobs in 2019. "Yes, you can see me in my bra and panties on YouTube, but if you do you're also going to hear about the struggles that women like me have to go through to feel comfortable taking our clothes off," she told Star Tribune in 2016.
"One of the first days I was there, I saw a woman with really big boobs who was not wearing a bra, and she was just living her life. And I was like, 'I love this place!' And she didn't shave her underarms, and I was like, 'You're amazing!'" Lizzo told Vinyl Me, Please in 2016 about moving to Minneapolis.
"I just thought the people there are free to be themselves and they wore it on their skin there. That really encouraged me to be who I was and start wearing it on my skin," she added.
Melissa Viviane Jefferson, known professionally as Lizzo, tucked her statement leotard into a pair of tiny, frayed Daisy Dukes that put her legs on display.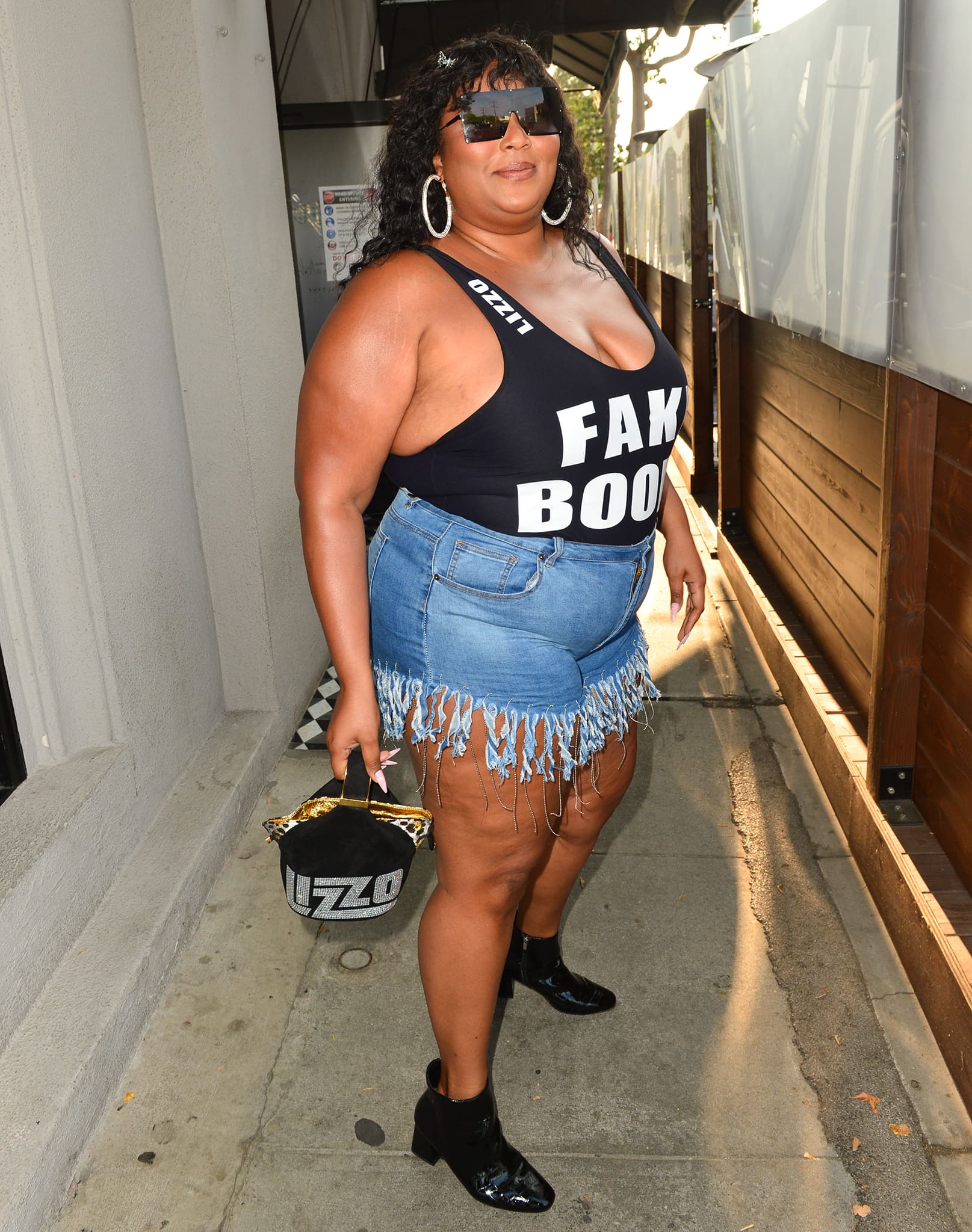 Lizzo confidently shows off her body in a custom Fake Boobs leotard with frayed Daisy Dukes (Credit: Mega / WENN)
For her beauty look, the Juice hitmaker wore her tresses down in curls styled with small butterfly clips on the sides. She then added a swipe of nude lipstick and a hint of blush and hid her eyes behind a pair of oversized square-frame sunglasses.
The 2019 Entertainer of the Year continued to style her outfit with a pair of sparkly large hoop earrings and a small bucket bag that features her name embellished in rhinestone crystals.
Lizzo wears her natural curls down with two butterfly clips and hides her eyes behind a pair of oversized sunglasses (Credit: Mega / WENN)
A pair of black patent croc-effect ankle boots with block heels rounded out Lizzo's casual ensemble.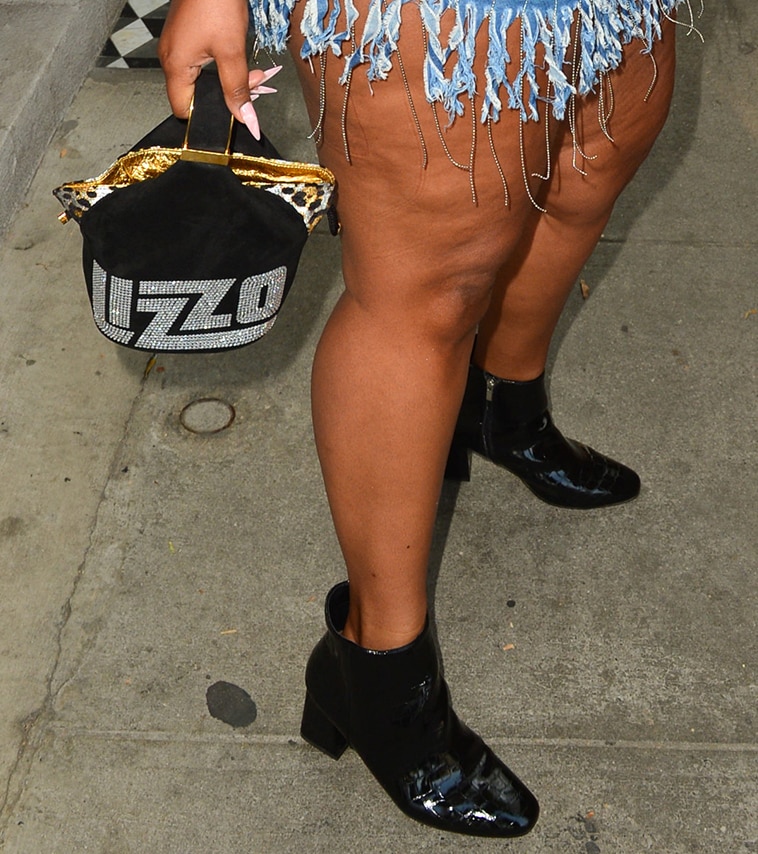 Lizzy carries a custom Lizzo bucket bag and completes her look with croc-effect patent ankle boots (Credit: Mega / WENN)
Last week, the Tempo singer went the edgy route in an all-black outfit as she arrived at Catch restaurant in West Hollywood.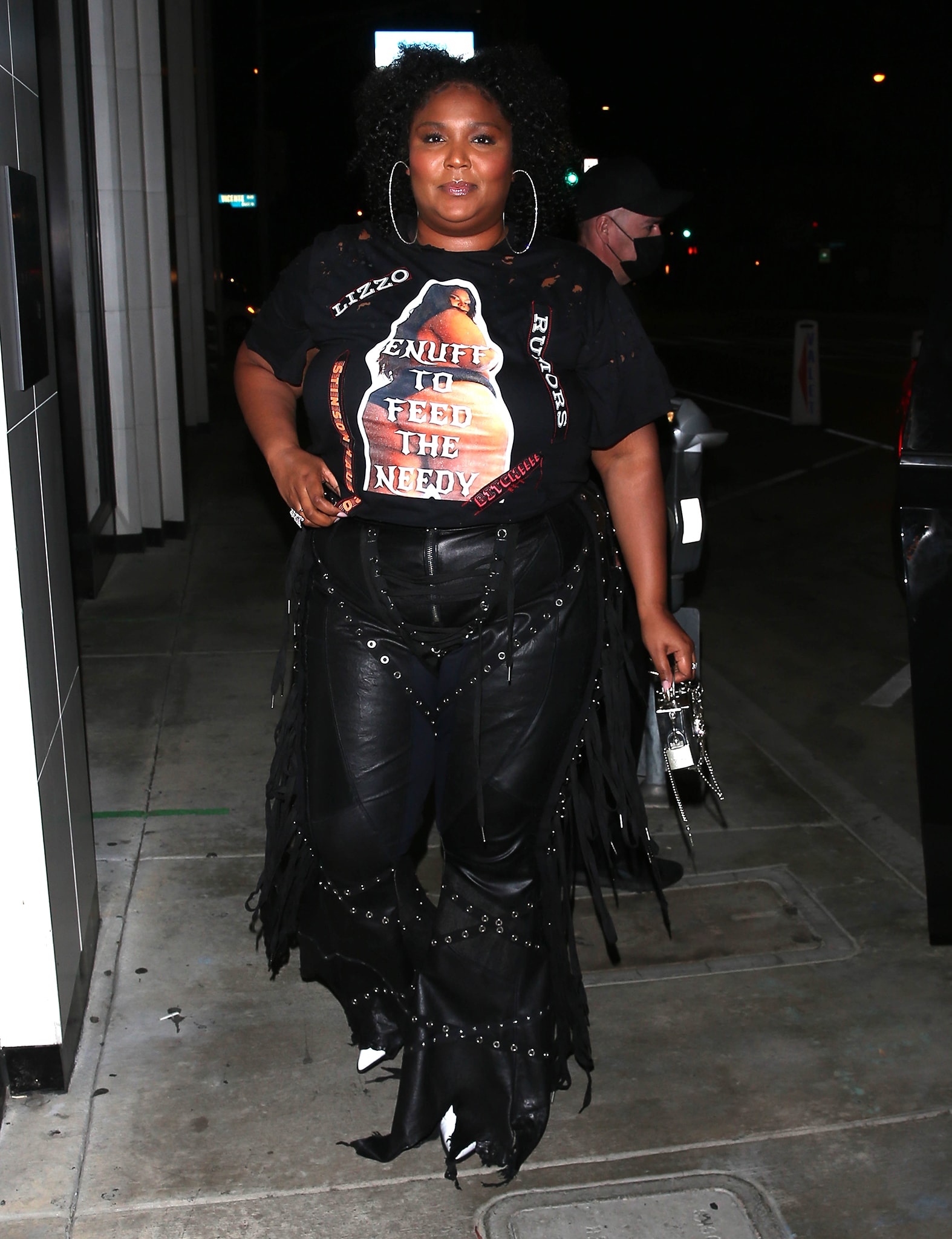 Lizzo arriving for dinner at Catch Restaurant in West Hollywood on August 20, 2021 (Credit: Mega / WENN)
Showing off a rock-chic vibe, Lizzo donned a black tee emblazoned with a photo of her topless body on the front along with the text "enuff to feed the needy".
She tucked her statement tee into a pair of fringed black leather pants with silver grommets and uneven wide hem that hid her white pointed-toe heels.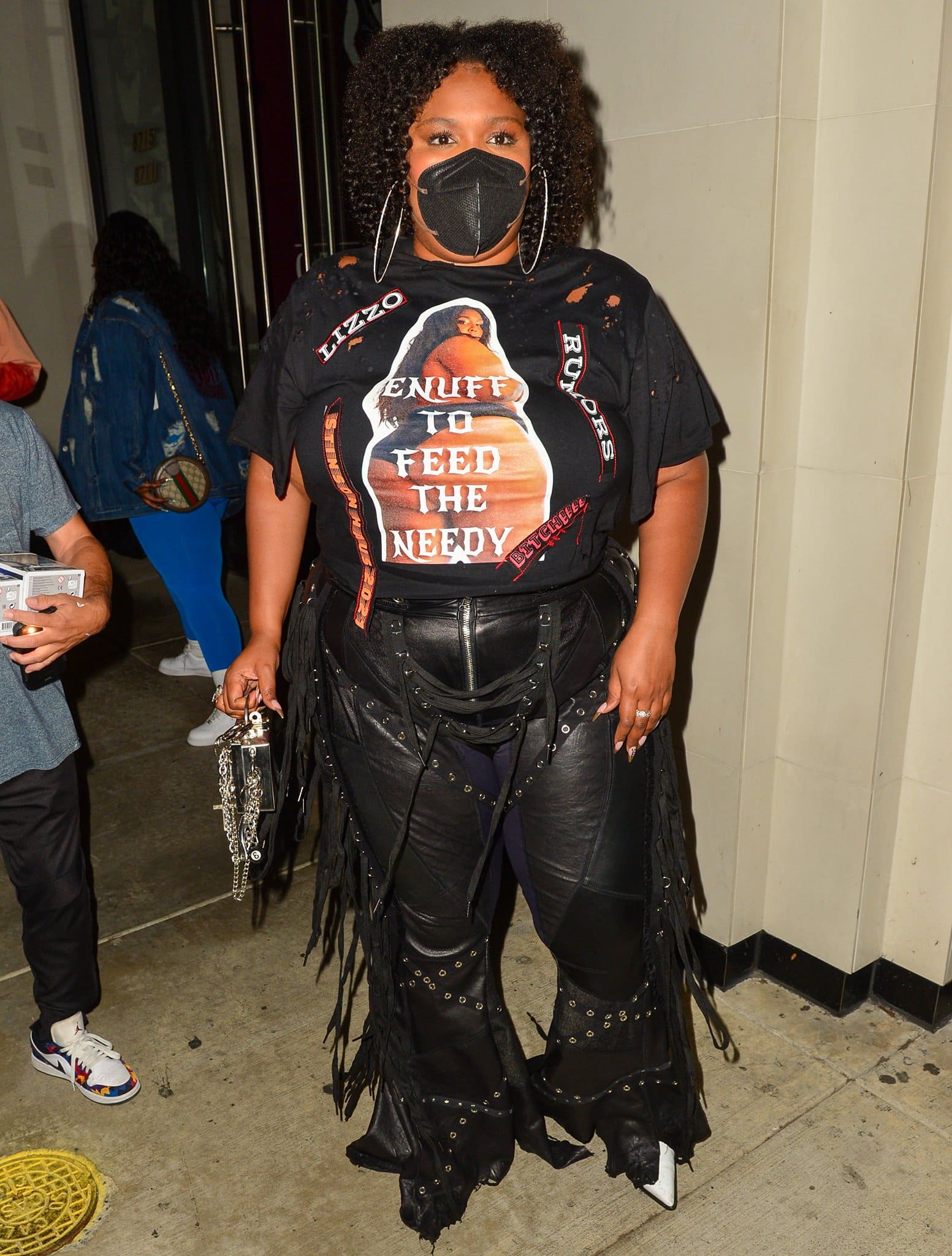 Lizzo wears a pair of fringed leather pants with a black tee printed with her bikini photo on the front (Credit: Mega / WENN)
Adding some bling to the look, Lizzo accessorized with large silver hoops, a couple of silver rings, and a small black clutch with silver-tone hardware.
She then parted her curly tresses in the middle and glammed up for the night with false eyelashes and nude lip gloss.
Lizzo parts her curly hair in the middle and wears nude lip gloss and false lashes (Credit: Mega / WENN)
Lizzo Speaks Out on Recent Bullying
During her latest appearance on Good Morning America, Lizzo spoke about the bullying and hateful comments she has dealt with following the release of her new single, Rumors.
The pop singer called out the marginalization of black women in the music industry. She said that although black women are the innovators in the industry, "we are the ones who do suffer from the marginalization the most and the erasure the most."
She then admitted that without the internet, it's possible she would have been "erased," and added "but I chose to be undeniable and I chose to be loud and I chose to be great. And I'm still here."
Her interview came after her now-deleted emotional Instagram Live, where she revealed facing "fat-phobic" and "racist" comments after the release of her new song.
She then voiced out the same sentiment on GMA, saying: "I don't mind critiques about me, my music. I don't even mind the fat comments, you know. I just feel like it's unfair sometimes, the treatment that people like me receive."
"People are like, don't let 'em see you with your head down. My head is always up. Even when I'm upset and even when I'm crying, my head is up. But I know it's my job as an artist to reflect at times, and this should not fly. This shouldn't be okay."
"God doesn't give me anything I cannot handle. And God also gave me the gift to be fearless in my vulnerability, to help inspire people. I don't ever mean to alarm someone. People just need to know I got this," she added.