Emily Ratajkowski always knows how to spice things up and set trends in fashion.
Recently, she graced the bustling streets of the Big Apple on September 22, bidding a stylish farewell to summer while effortlessly blending multiple 2000s-era fashion elements into one stunning ensemble.
Her outfit showcased a cropped white tank top and an even shorter black hoodie, revealing her perfectly toned midriff with a carefree confidence.
To elevate her look, the 32-year-old American supermodel and former actress layered a chic black Courreges suede trucker jacket adorned with silver buttons, casually left open to add a touch of edge to her otherwise free-flowing ensemble.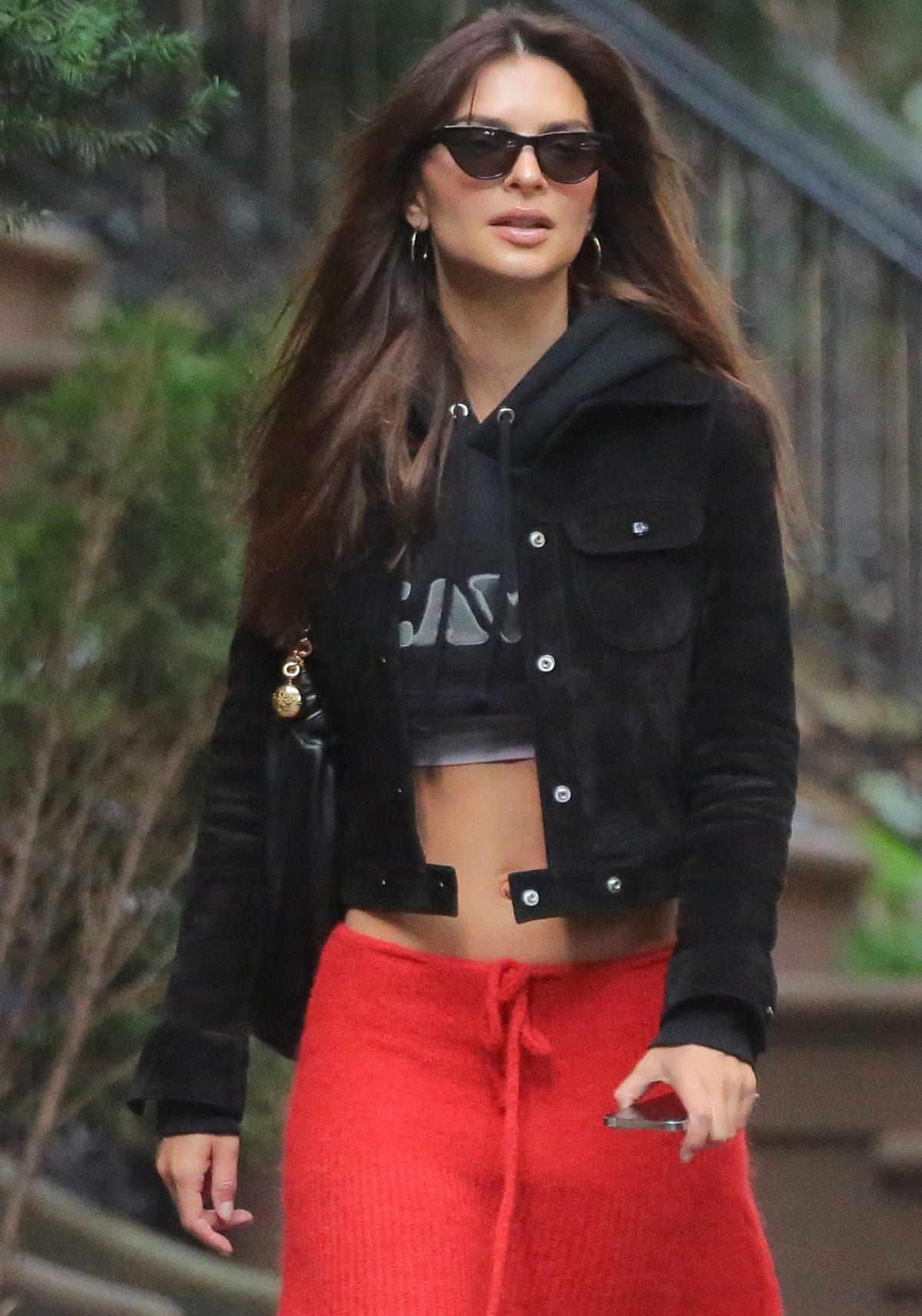 Emily Ratajkowski wearing a cropped hoodie under a black suede Courreges trucker jacket to show off her toned midriff while out and about in New York City on September 22, 2023 (Credit: BauerGriffin / INSTARimages)
Adding a vibrant burst of color to her outfit, Emily opted for a daringly low-rise crochet skirt in a tantalizing tomato red, which hung provocatively on her hips.
Accessories played a pivotal role in her overall look, with the New York Times best-selling author carrying a sleek black Loewe Squeeze Medium bag featuring gold chain detailing.
Defined by its unique gathered shape, her black leather shoulder bag is available on Mytheresa.
View this post on Instagram
She completed her ensemble with oversized black cat-eye sunglasses, lending a refined edge to her appearance.
Emily Ratajkowski also wore a bright red low-rise crochet skirt to add a burst of color to her look (Credit: BauerGriffin / INSTARimages)
The details also mattered, with gold hoop earrings and a matching ring elegantly tying her outfit together. Emily's short, dark-brown hair, styled with a middle part, perfectly complemented her glossy nude lip.
But the unexpected twist in her ensemble was the addition of Ugg-style shoes. Emily confidently sported a pair of Ugg Classic Dipper boots in a chic beige shade, effortlessly bringing back the beloved early 2000s vibes.
View this post on Instagram
You can buy her Classic Dipper boots in black and chestnut colors at Farfetch and Nordstrom.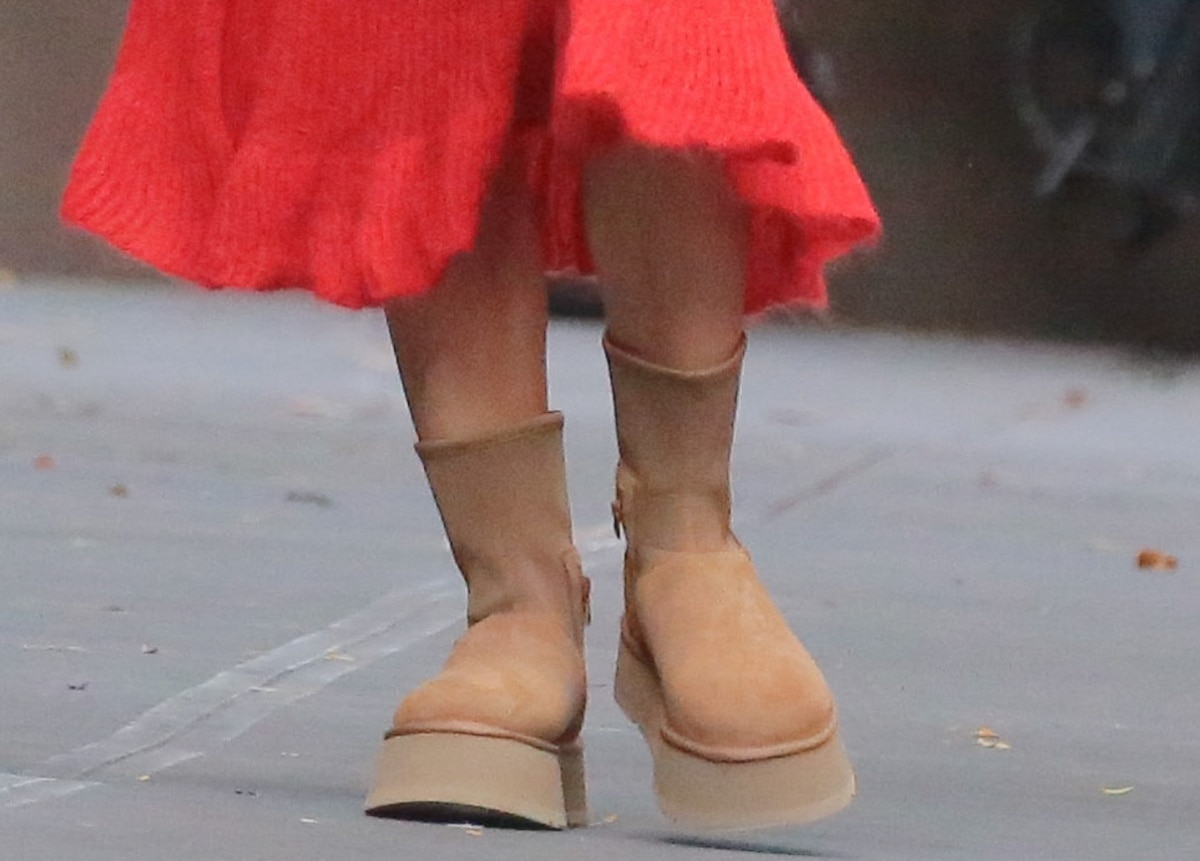 Emily Ratajkowski wearing a pair of Ugg classic dipper boots in a chic beige color (Credit: BauerGriffin / INSTARimages)
Earlier in the day, Emily Ratajkowski once again showcased her unrivaled ability to blur the lines between elegance and edginess, pushing the boundaries of conventional style.
Her striking ensemble featured low-rise, inky black leather pants, exuding confidence with their bold, baggy silhouette. This statement piece was expertly paired with a longline leather trench in a deep, rich brown shade, elevating the look.
For a touch of allure, Sebastian Bear-McClard's ex chose a tank top that artfully teased the imagination, emphasizing her midriff in just the right measure.
She effortlessly draped a black bag over her shoulder while a delicate gold chain introduced a dash of luxury to her already captivating outfit.
Completing this fashion masterpiece was a pair of multicolored sneakers featuring leather detailing that echoed the rich tones of her pants, tying the entire look together with finesse.
View this post on Instagram
Taking to Instagram, Emily treated her followers to a captivating carousel of images captured on the bustling streets of New York.
In her caption, she wrote, "for all my nyc exes (last slide) thank you @agjeans #EmrataxAG."
A few days earlier, on Wednesday, Emily Ratajkowski showcased her take on dadcore fashion for the fall while strolling through the charming streets of New York City's West Village.
She opted for a cozy and sporty look with her relaxed yet fashion-forward ensemble, which featured a distressed black leather aviator jacket layered over an oversized steel blue Reebok Classics archive essentials crew sweatshirt.
Emily Ratajkowski showing off her take on dadcore fashion with a distressed black leather jacket over an oversized sweatshirt with charcoal gray skinny jeans while out and about in New York City on September 20, 2023 (Credit: Roger Wong / INSTARimages)
These were expertly paired with charcoal gray skinny jeans, creating a laid-back yet stylish look.
Accessories were not overlooked, as Emily donned rectangular brown David Beckham eyewear by Safilo sunglasses with tortoiseshell frames, accentuated by large gold Jennifer Fisher thread earrings.
For her choice of footwear, Emily slipped into a pair of white-and-gray New Balance 574 sneakers, adding a playful twist with fuzzy white-and-purple socks.
Emily Ratajkowski wearing New Balance 574 sneakers with fuzzy white-and-purple socks (Credit: Roger Wong / INSTARimages)