It looks like Lucy Hale finally has some down time now that the highly anticipated series finale of her hit show "Pretty Little Liars" finally aired two weeks ago. We're hoping the actress has just a little bit of time to relax before starting her next longterm project.
Lucy bid adieu to her TV family of the past eight years in a heartfelt post on Instagram just a day before the show's last airdate.
Image shared by Lucy Hale with the caption "I can almost remember the day about 8 years ago that we took this photo. Little did we know, our lives were about to change drastically. For me to be speechless says a lot, but I'm finding it hard to find the words to express my gratitude to every single person that made this show a success. Sometimes simple is better and I just want to say …I will miss you Pretty Little Liars. Thanks to @imarleneking –She knows what she did ❤️ , the whole cast, hardworking crew, producers and writers and all of YOU. You became part of the family. And to Aria– you became a part of me in a way, but I'll always keep you close ❤️"
Before she begins production on her next drama, CW's "Life Sentence," the 20-year-old enjoyed her time off in Los Angeles running errands. The star went for a casual yet chic ensemble during a recent outing, pairing denim shorts with a loose white top.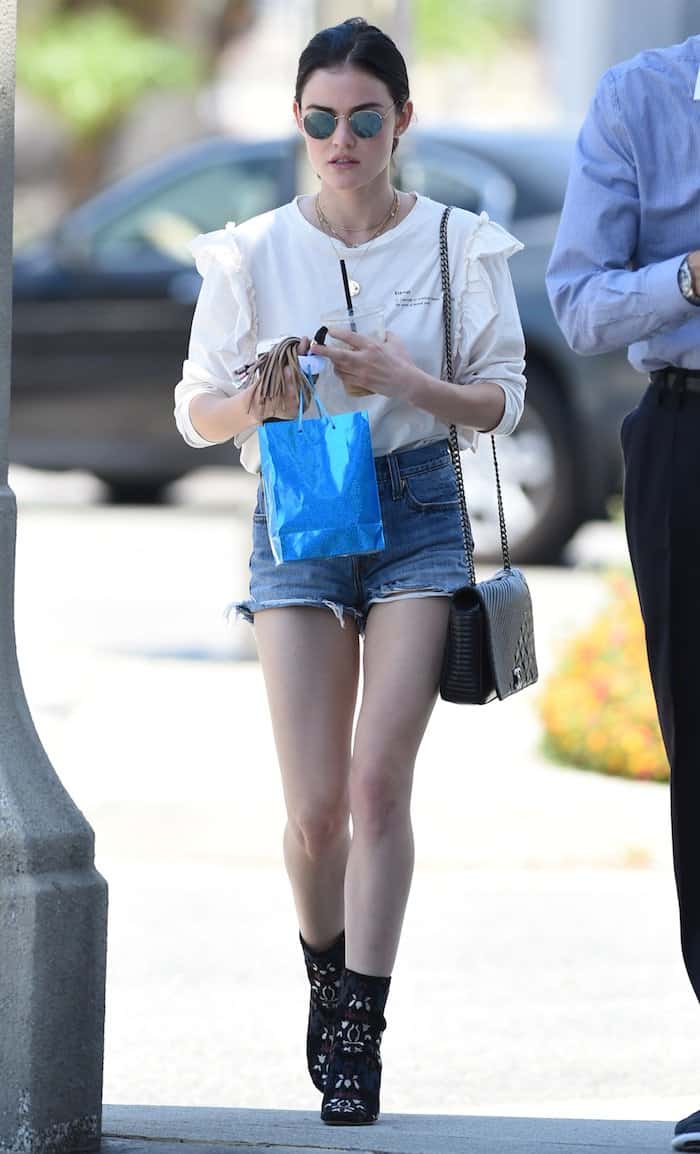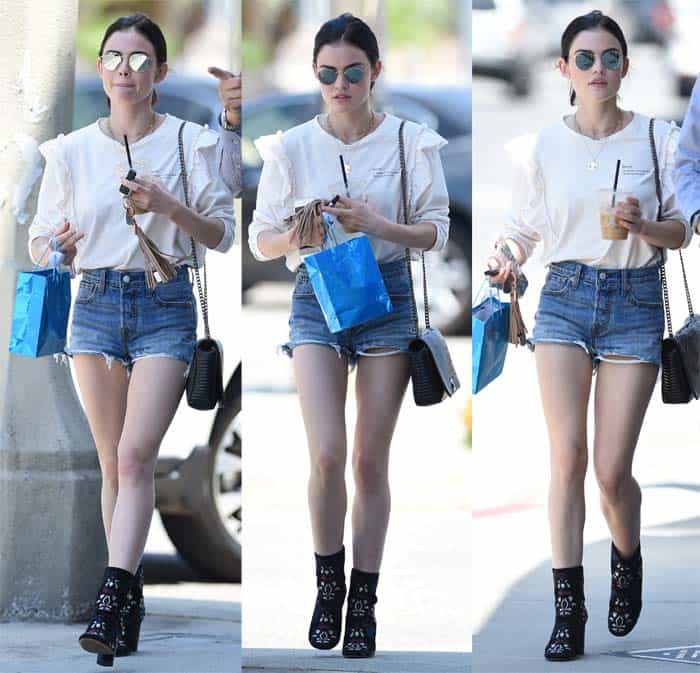 Lucy Hale runs errands in Los Angeles on July 8, 2017 in denim shorts and a white top.
Lucy added some color and edge to her look with a pair of Isabel Marant "Guya" booties. These black suede shoes are from the designer's Fall 2016 collection, and feature multicolored embroidered details throughout, stacked block heels and zip closures at the counters.
Lucy paired her outfit with Isabel Marant "Guya" embroidered booties.
Lucy accessorized with a Chanel shoulder bag, Ray-Ban sunglasses and an Alison Lou necklace that showcased two pink sapphire studs. Her round-toe boots and designer accessories elevated her plain outfit perfectly.
The "Guya" booties are no longer available online. Elevate your look with other embroidered boots available for purchase at Neiman Marcus.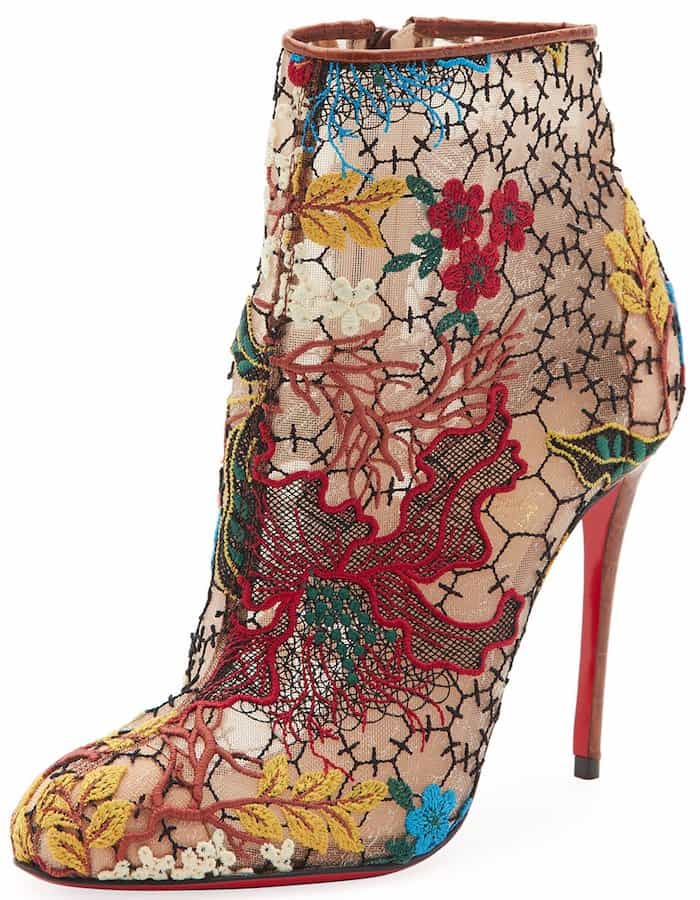 Christian Louboutin "Miss Tennis" embroidered lace booties, $995 from Neiman Marcus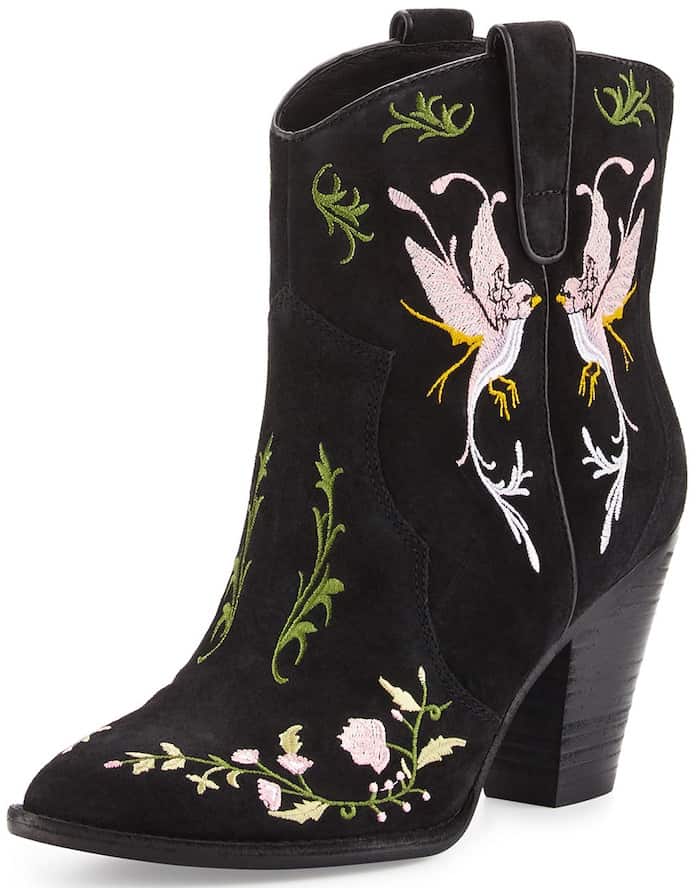 Ash "Jenny" embroidered booties, $106 (on sale) from Neiman Marcus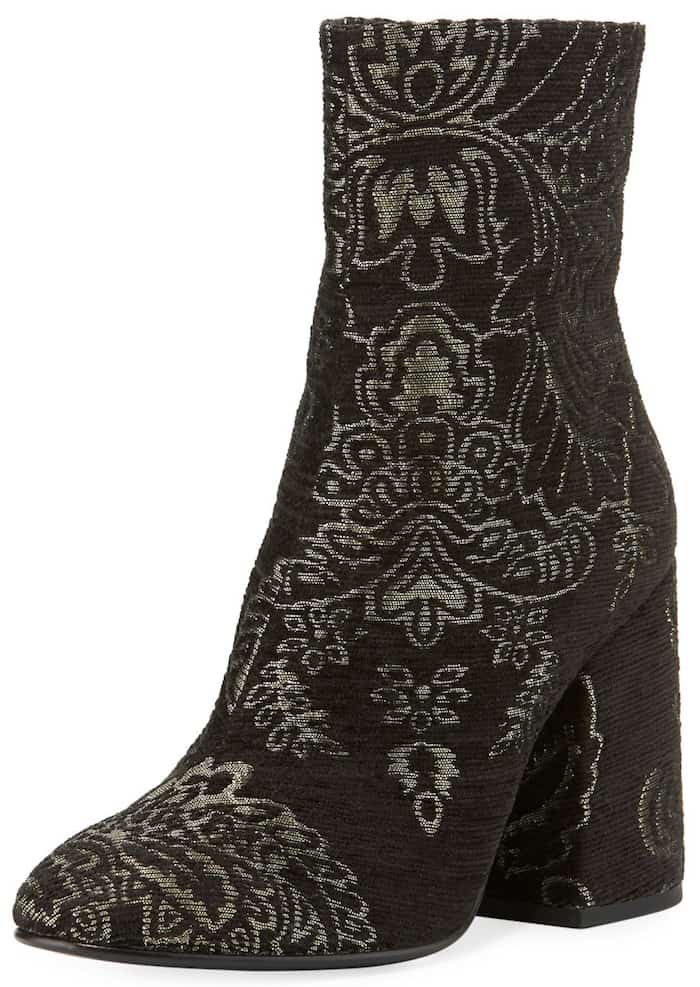 Ash "Fedora" embroidered booties, $198 from Neiman Marcus
Credit: WENN