In a January 2020 interview with Cosmopolitan, Lucy Hale made clear that she doesn't care what you think about her short haircut.
"It was the most liberating thing I've ever done," Hale said about her decision to dramatically shorten the length of her hair.
Short-haired Lucy Hale visits BuzzFeed's AM To DM on February 13, 2020, in New York City
"I couldn't tell you the amount of times when guys were like, 'You should grow your hair out again. I like long hair,'" Hale revealed. "I'm like, 'I'm not cutting my fu*king hair for you.' I cut my hair for me. And I feel great with it this way," she shared.
Lucy Hale's Racil polka dot dress and Alison Lou neon pink jelly hoops
While visiting Buzzfeed AM To DM in New York City, the 30-year-old actress flaunted her legs in a multicolored polka-dot mini dress from Racil ($785 at Farfetch) and bright red Stessy pumps from Aldo ($79.95 at Zappos) that revealed an evil eye tattoo on the back of her right ankle that protects her from evil spirits.
"I have an eye that Dr. Woo just did. It's the evil eye to ward off evil. I like tattoos," she told Refinery29.
Lucy Hale's evil eye ankle tattoo protects her from evil spirits
Aldo Stessy Red Pumps, $79.95 at Zappos
One day earlier, the Katy Keene actress also flaunted her sexy legs in a Dolce & Gabbana cocktail dress boasting allover sequins ($2,345 at Bergdorf Goodman) with beige Schutz pumps for an appearance on Jimmy Kimmel Live.
She talked with the talk show host about her time on the reality competition series American Juniors.
"This was 14 years ago, no, 16 years ago, I was 14 years old. I started in music. Ryan Seacrest was hosting it. They only did it for one season because I don't think it went that well," Lucy said and also made fun of her hair. "Look at that crimped hair, what a mess."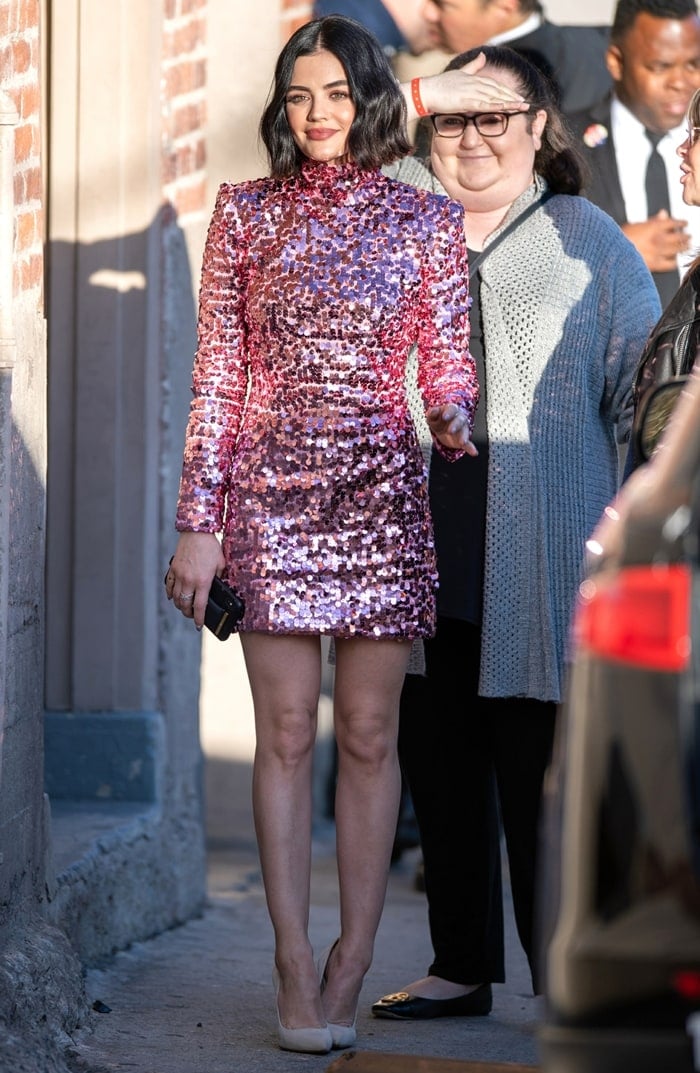 Lucy Hale flaunts her legs in a sequined dress outside the Jimmy Kimmel Live show on February 12, 2020, in Los Angeles, California
In August 2018, actress Lucy Hale was in good spirits as she picked up refreshments at Starbucks in Studio City. The then 29-year-old former 'Pretty Little Liars' star showed off her short hair in another casual outfit.
One month earlier, she made the jump from long bob haircut to bob after paying a visit to celebrity hairdresser Kristin Ess. While Lucy has had short hair for quite some time now, it's never been this short. How do you like it compared to her blonde hair color from 2016?
Lucy Hale shows off her short hair in a Donni cover-up crop top
Lucy Hale looked relaxed in a Donni cover-up crop top ($49 at Shopbop) paired with high-waisted blue jeans and white 'Gavia' sneakers from luxury leather goods brand Koio ($248 at Farfetch).
Actress Lucy Hale in good spirit as she picks up refreshments at Starbucks in white Gavia sneakers from Koio on August 22, 2018
White Koio Gavia Sneakers, $248
The Gavia, with its rugged yet refined mountaineering grommets, is named for one of the highest mountain passes in the Italian Alps. It is easily recognizable thanks to the gold-tone mountaineering eyelets.
Made by hand in Marche, an eastern Italian region, it is constructed with pebble grain calf leather, lined with buttery-soft calf leather, and finished with hand-painted edges.
Credit: WENN / Instar