Maisie Williams totally won the Internet today by wearing a comic-book dress to Comic-Con 2014. What else would a headstrong and adventurous 17-year-old wear to Comic-Con, right? While we have been enjoying the convention's fun, hip, and sometimes geeky fashion, Maisie easily shoots to the top of our best-dressed list simply by going for the most appropriate (and obvious) thing to wear.
Her eco-friendly dress, crafted by avant-garde designer Ryan Jude Novelline, is made out of recycled comic books and graphic novels. As an extra personal touch to the custom look made just for Arya Stark Maisie, Novelline added a leather belt covered with pages from a used copy of 'Game of Thrones'. You can see how the dress was made here.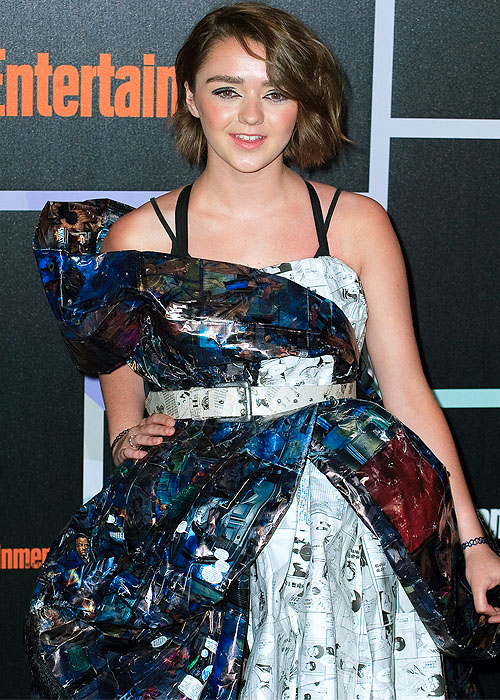 Maisie Williams at Entertainment Weekly's 2014 Comic-Con Celebration held during 2014 Comic-Con at Float at Hard Rock Hotel San Diego in California on July 26, 2014
The young actress actually first wore the dress as a judge in Bookbarn International's Out of Print fashion show back in May. So, we can say that she recycled this recycled dress.
While we don't have issues with Maisie's black velvet pumps, we do think that a comic-print dress calls for comic-print shoes. Overkill, maybe, but when else can you wear comic print from head to toe than when you're a teenager at Comic-Con? If Maisie wanted to maintain the dressy look of her recycled outfit, she could've done it with these Archie-print pumps from Charlotte Olympia's Resort 2014 comic collection: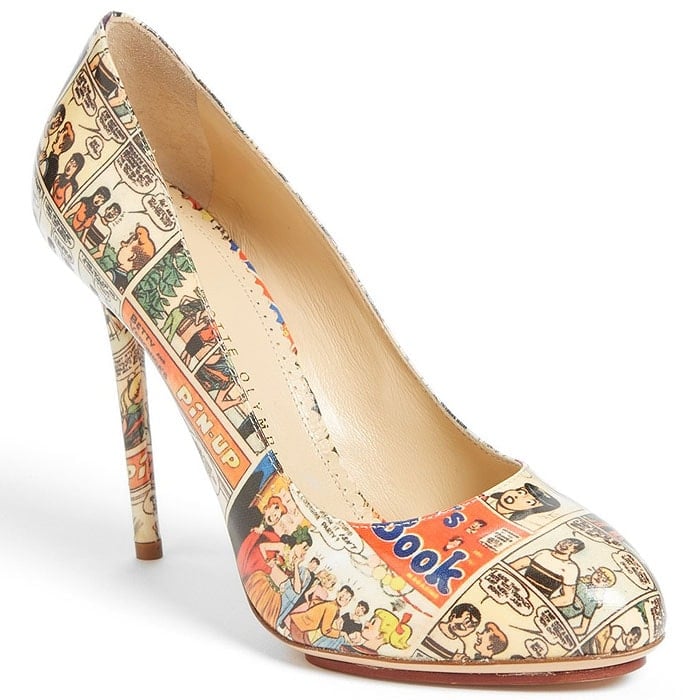 Charlotte Olympia "Jennifer Comic" Pumps, $995
If she wanted to go edgy, these magazine-print ankle-cuff platform sandals fit the bill:
Privileged "Cosmic Crush" Ankle-Cuff Sandals, $207.40
Now, if she wanted to go punk like her badass 'Game of Thrones' character, Maisie could've worn these comic-print Doc Martens with her Vivienne Westwood/Alexander McQueen–inspired dress:
8-Eye Dr. Martens Boots in Comic Book Print, $123
Finally, Maisie could have gone the dress-with-sneakers route with these platform trainers from Jeffrey Campbell:
Jeffrey Campbell "Zomg" Cartoon-Print Platform Sneakers, $105.35
Which pair of shoes is your pick for Maisie?
Credit: Tony Forte/WENN, Maisie Williams' Twitter, Ryan Jude Novelline's Twitter,
Wells Journal's Twitter