If you've never seen Never Have I Ever, then you're definitely missing out. Maitreyi Ramakrishnan (pronounced my-tray-yee rah-ma-krish-nan) stars as Devi in the Netflix hit TV coming-of-age comedy-drama television series created by Mindy Kaling and Lang Fisher.
Canadian actress Maitreyi Ramakrishnan in a rainbow upcycled fabric dress from Indian designer Ashwin Thiyagarajan at the 19th Annual Unforgettable Gala Asian American Awards held at The Beverly Hilton Hotel on December 11, 2021, in Beverly Hills, Los Angeles, California (Credit: Avalon / WENN)
She was chosen out of 15,000 qualified applicants of actors and actresses. Plus, she was only 17 years old at the time she was cast!
Her character, Devi Vishwakumar, is an Indian American 15-year-old who is a student at Sherman Oaks High School in San Fernando Valley, California.
The show follows her as she deals with the death of her father, navigates a tough relationship with her mother, all while trying to figure out high school and falling in love.
Maitreyi Ramakrishnan, whose parents immigrated to Canada as refugees from Sri Lanka, identifies herself as Tamil-Canadian (Credit: Avalon / WENN)
The show has been a fan favorite, partially because it aired in April 2020 when most people were stuck at home during the quarantine for the pandemic.
Many who were stuck at home enjoyed the comedy and drama of Maitreyi's on-screen life, as trouble seems to find Devi wherever she goes.
Early Life to Now
The 5'6 actress grew up in Ontario, Canada. She fell in love with acting as a child when she acted in plays at her school. She planned to pursue studying acting at York University but landed the lead role for Never Have I Ever instead.
Never Have I Ever" cast members Maitreyi Ramakrishnan, Lee Rodriguez, and Ramona Young at The London West Hollywood on February 25, 2020 in West Hollywood, California (Credit: Adriana M. Barraza / WENN)
It was announced on June 2, 2021, that she will also be starring in the Netflix movie, The Netherfield Girls. The movie is a romantic comedy that will be a modern take on Pride and Prejudice. The release date is still unknown.
Maitreyi Ramakrishnan Facts
| How much is Maitreyi Ramakrishnan's net worth? | She is a Canadian actress with an estimated net worth of $100,000. |
| --- | --- |
| Full Name: | Maitreyi Ramakrishnan |
| Born: | December 28, 2001, in Mississauga, Canada |
| How do you pronounce Maitreyi Ramakrishnan? | Her name is pronounced my-tray-yee rah-ma-krish-nan. |
| How was Maitreyi Ramakrishnan discovered? | She responded to an open casting call on Instagram and beat out roughly 15,000 other actresses. |
| Feet/Shoe Size: | 8 (US) |
| Height: | 5′ 6″ (167 cm) |
| Is Maitreyi Ramakrishnan Indian? | No, she is a Canadian citizen of Tamil ethnicity. |
| Source of Wealth: | Film and television |
| Does Maitreyi Ramakrishnan have a nose piercing? | Yes, she's had her nose pierced for years. |
Popularity and Net Worth
The actress, who will turn 20 on December 28, 2021, has grown immensely in popularity. As of now, she has 2.4 million followers on Instagram and 3.7 million followers on TikTok.
Additionally, her net worth is $100,000. She was reportedly paid $20k per episode in the first season of Never Have I Ever. For the second season, it looks like the actress will be making $21k per episode!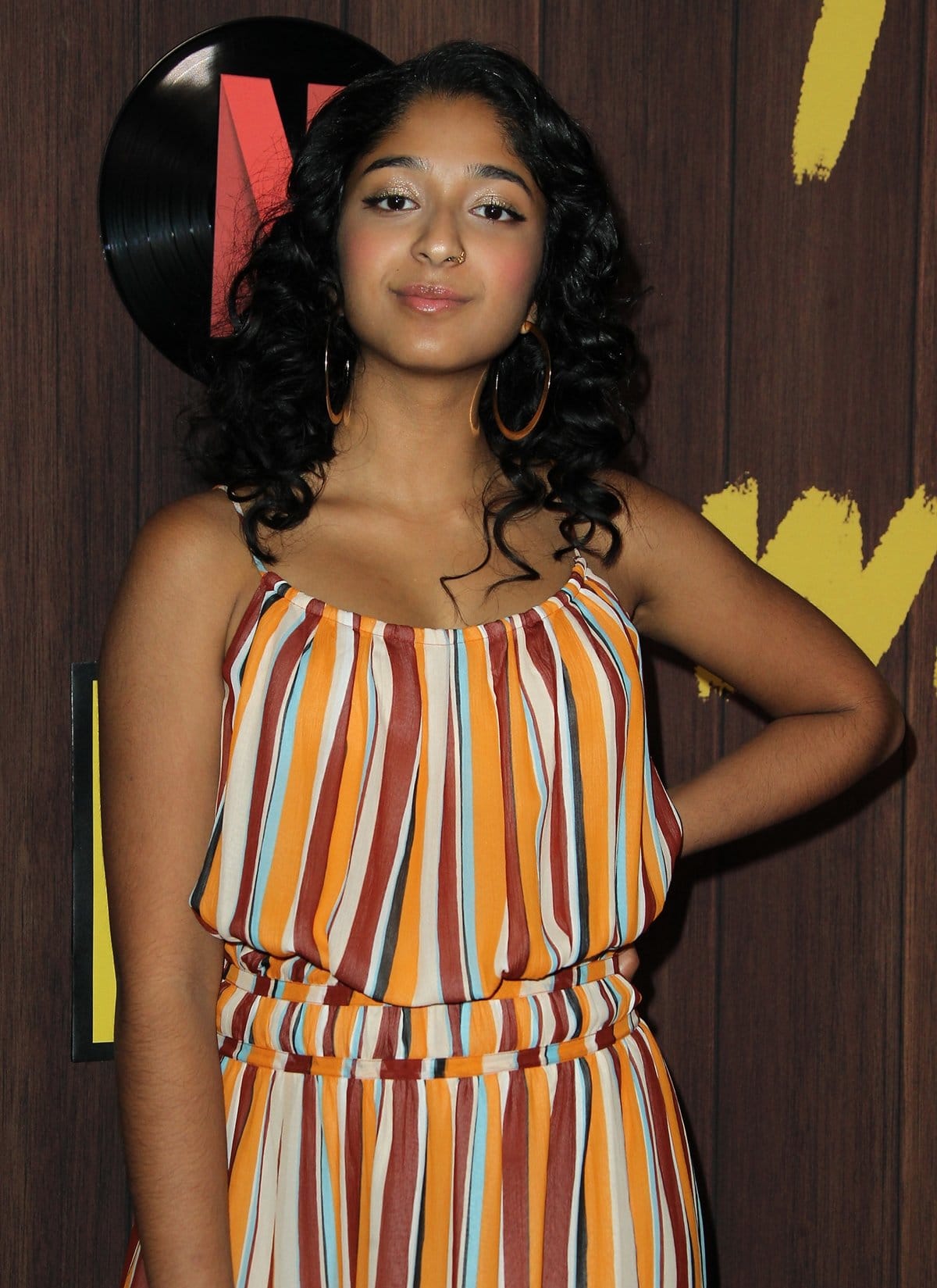 Maitreyi Ramakrishnan was chosen by Mindy Kaling out of 15,000 other candidates who responded to the casting call for Never Have I Ever (Credit: Adriana M. Barraza / WENN)
She was also deemed "Breakout Actor" in Time's next 100 most influential people for 2021. "When you're a minority woman with your own show, you gotta represent," Kaling wrote of the Mississauga, Ontario, native.
In 2019, Today named her one of eighteen "Groundbreakers," which is "a list of girls who are breaking down barriers and changing the world."
Maitreyi Ramakrishnan's Relationship With Darren Barnet
The American actor, Darren Barnet, stars alongside Maitreyi in Never Have I Ever as Paxton Hall-Yoshida – Devi's love interest on the show.
You may have also seen Darren in the recent Netflix romantic comedy, Love Hard, where he co-stars alongside Nina Dobrev.
Canadian actress Maitreyi Ramakrishnan was named one of TIME's next 100 most influential people for 2021 (Credit: TIME)
As much as fans love it when love interests on a show fall in love in real life, Maitreyi and Darren have both stated they are just friends. In fact, 30-year-old Darren is currently dating one of his older co-stars from Love Hard, 37-year-old actress Mikaela Hoover.
For the time being, it appears Maitreyi is single. Although she could be dating someone and choosing to keep it private.
Controversy Over Age Difference
Some fans have made controversial comments over the age difference between Maitreyi and Darren, which is 11 years. However, remember that they're supposedly playing teenagers in high school.
So, while Maitreyi is 19 years old in real life, Darren is 30 years old. But the issue lies with their ages at the beginning of filming; Maitreyi was 17 and Darren was 28.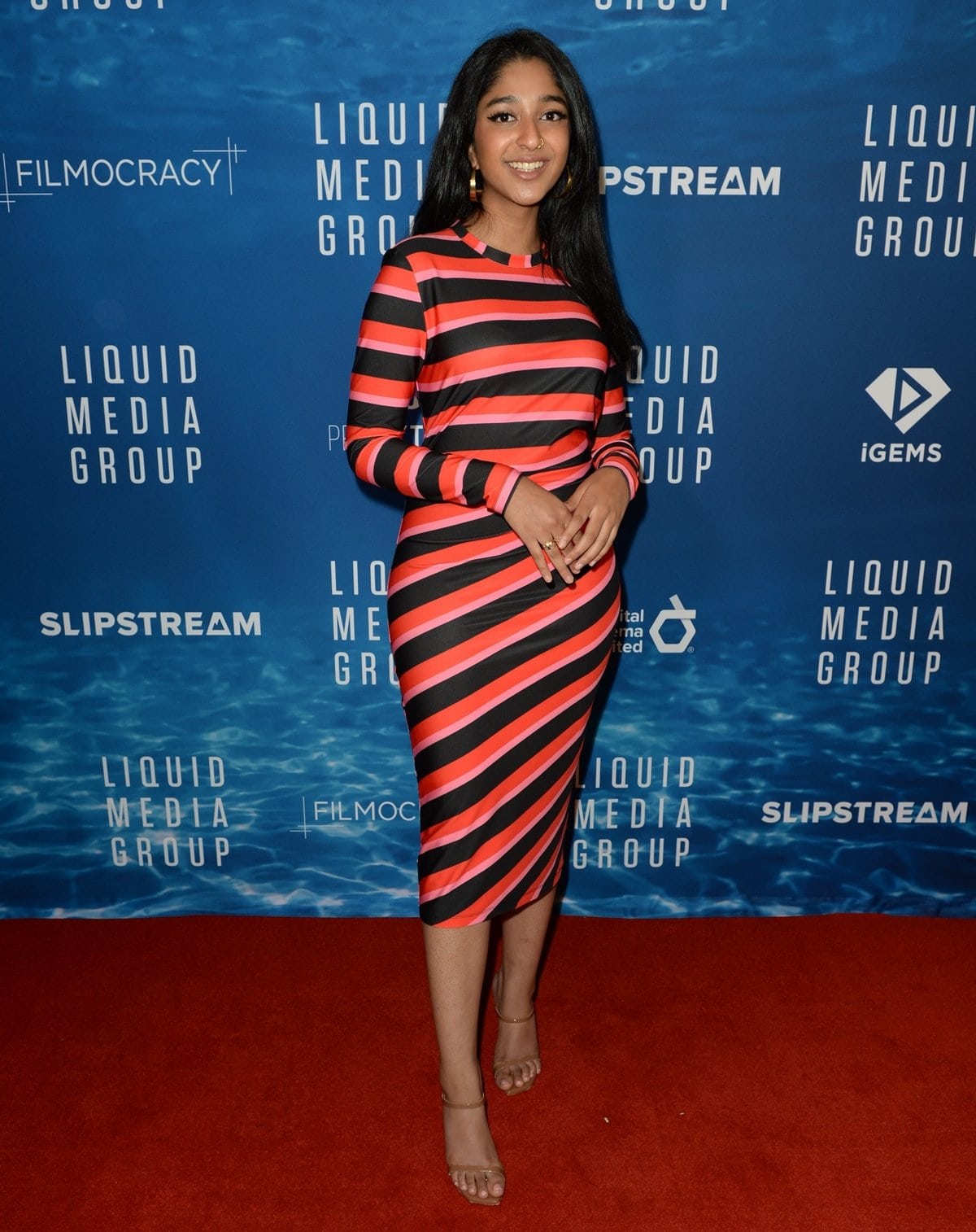 Maitreyi Ramakrishnan attends "Joshua Jackson and his Company Liquid Media Group host THE BIG SPLASH" held at Windsor Arms Hotel on September 13, 2021 in Toronto, Ontario
If you didn't know the age difference already, it probably wouldn't bother you as a viewer. Over the years, plenty of people in their 20's and 30's have played high schoolers (like High School Musical for example), but the fact that Maitreyi was legally underage at the time the show started filming is viewed as problematic.
Here are just some of the tweets regarding the controversy:
"It's v creepy that everyone in never have I ever thought it was okay to put 19-year-old Maitreyi with a 30-year-old dude Darren??? Does no one else see how that's just not a right age gap?" – @YoGurlSimi
The real-life 11-year age difference between Never Have I Ever's main stars Maitreyi Ramakrishnan and Darren Barnet has been criticized (Credit: Netflix)
"I think I said this last time but they really couldn't find an age-appropriate actor for Paxton in never have I ever?" – @brlytolerable
"I wanna watch never have I ever s2 but I just can't get over the age gap between the actors." – @euphoriccazzie
Culture and Family Life
Maitreyi's mother, Kiruthiha Kulendiren, and father, Ram Selvarajah, were forced to run from Sri Lanka to Canada as refugees the same year that Maitreyi was born in 2001 due to the civil war. She also has an older brother whose name is Vishwaa Ramakrishnan.
She identifies as Tamil-Canadian and doesn't feel Sri Lankan, "I made it very clear to my agent and publicist that Tamil Canadian is very, very important to me…my identity isn't being Sri Lankan. That's not my country. My country is Canada. But my culture is definitely Tamil."
Maitreyi Ramakrishnan shows off her size 8 (US) feet in Jimmy Choo sandals (Credit: WENN / Avalon)
She acknowledges that she feels proud to represent Tamil-Canadian actors and actresses.
In an interview with TeenVogue, she states, "We need more representation…I love Mindy Kaling so much. I love her so much as a boss, of course, a mentor, but also a friend. I truly do love her as someone I can lean on when it comes to these kinds of conversations. Same thing with Hasan Minhaj, a great guy. But reality is, we still only have a handful of South Asian representation. What I want to see is [more] when you dwindle it down to South Asian female representation, and then you dwindle it down even more to young South Asian female representation, right?"