Ben Affleck and Jennifer Lopez seemed unfazed by the backlash levied against the actor for blaming his marriage to Jennifer Garner for his alcohol addiction.
On Wednesday, the 49-year-old Argo director and the 52-year-old multihyphenate star were pictured holding hands on their way to Jimmy Kimmel Live! studio to promote his new movie, The Tender Bar.
Ben Affleck and Jennifer Lopez heading to Jimmy Kimmel Live to promote Ben's The Tender Bar movie on December 15, 2021 (Credit: Mega / WENN)
Ben bundled up in a tan overcoat worn over a blue shirt with black pants and leather shoes, while J.Lo stayed warm and cozy in her icy blue and gray ensemble.
Coordinating with her beau, the Maid in Manhattan star wore a baby blue Max Mara coat over a chunky gray cable knit Brunello Cucinelli sweater, which she tucked into a pair of pintuck pale blue Brunello Cucinelli barrel-leg denim pants.
Ben Affleck bundles up in a tan coat while J.Lo keeps warm in a blue coat with a cable-knit sweater, a striped scarf, and a pair of jeans (Credit: Mega / WENN)
She styled the look with a tan belt and wrapped a striped beige Brunello Cucinelli scarf around her neck to ward off the chill.
Giving her rather casual outfit a hint of understated elegance, J.Lo accessorized with diamond stud earrings and a matching diamond bracelet.
She then kept a low-key beauty look by tying her hair into a ponytail and wearing neutral-colored makeup with dark eyeliner.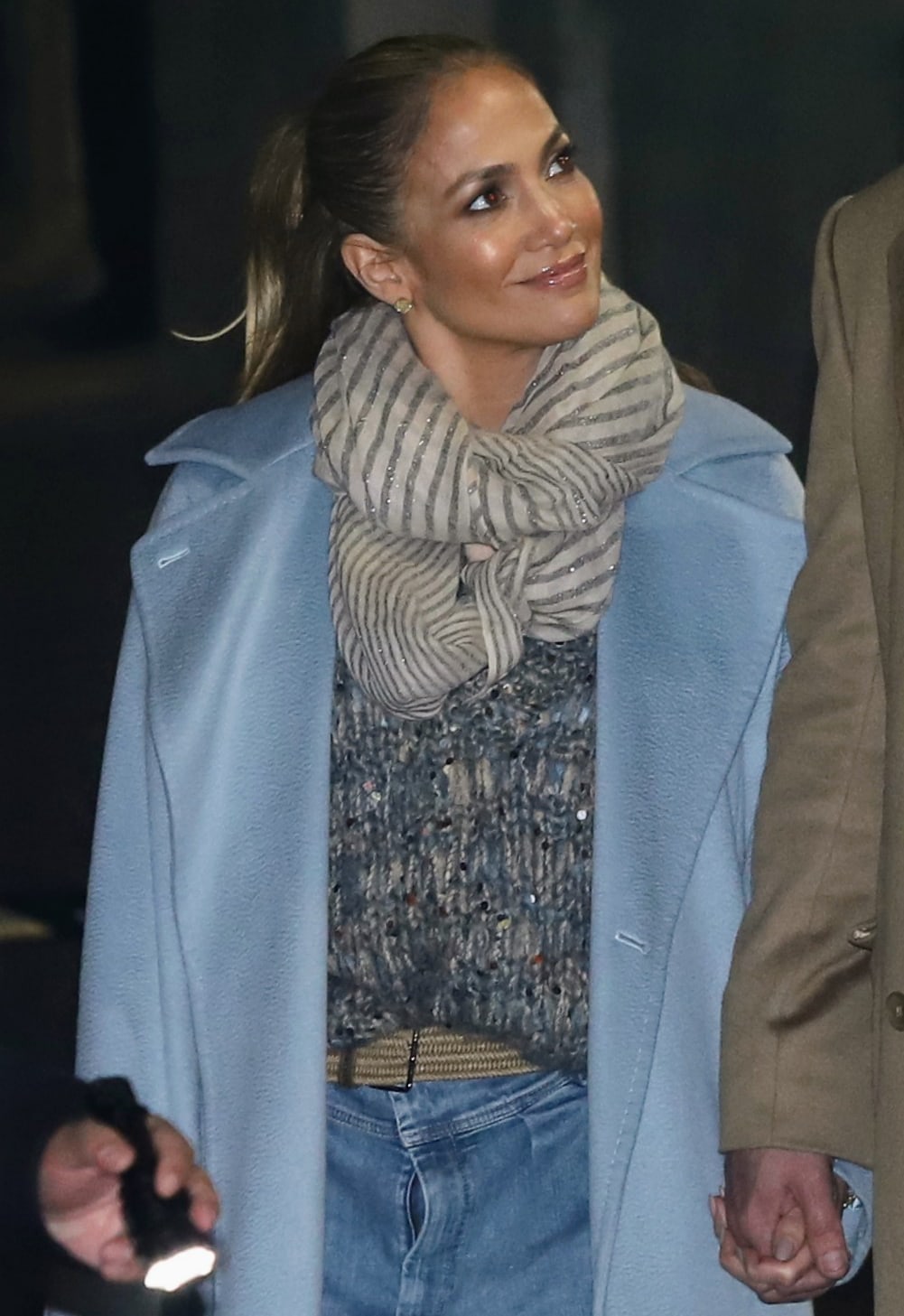 Jennifer Lopez opts for a low-key beauty look with a high ponytail and neutral makeup (Credit: Mega / WENN)
To complete her chic winter look, the Out of Sight actress carried an icy blue Rockstud top handle bag from Valentino and elevated her 5'5" height with the Giuseppe Zanotti "Vera" gray suede ankle boots with high stiletto heels.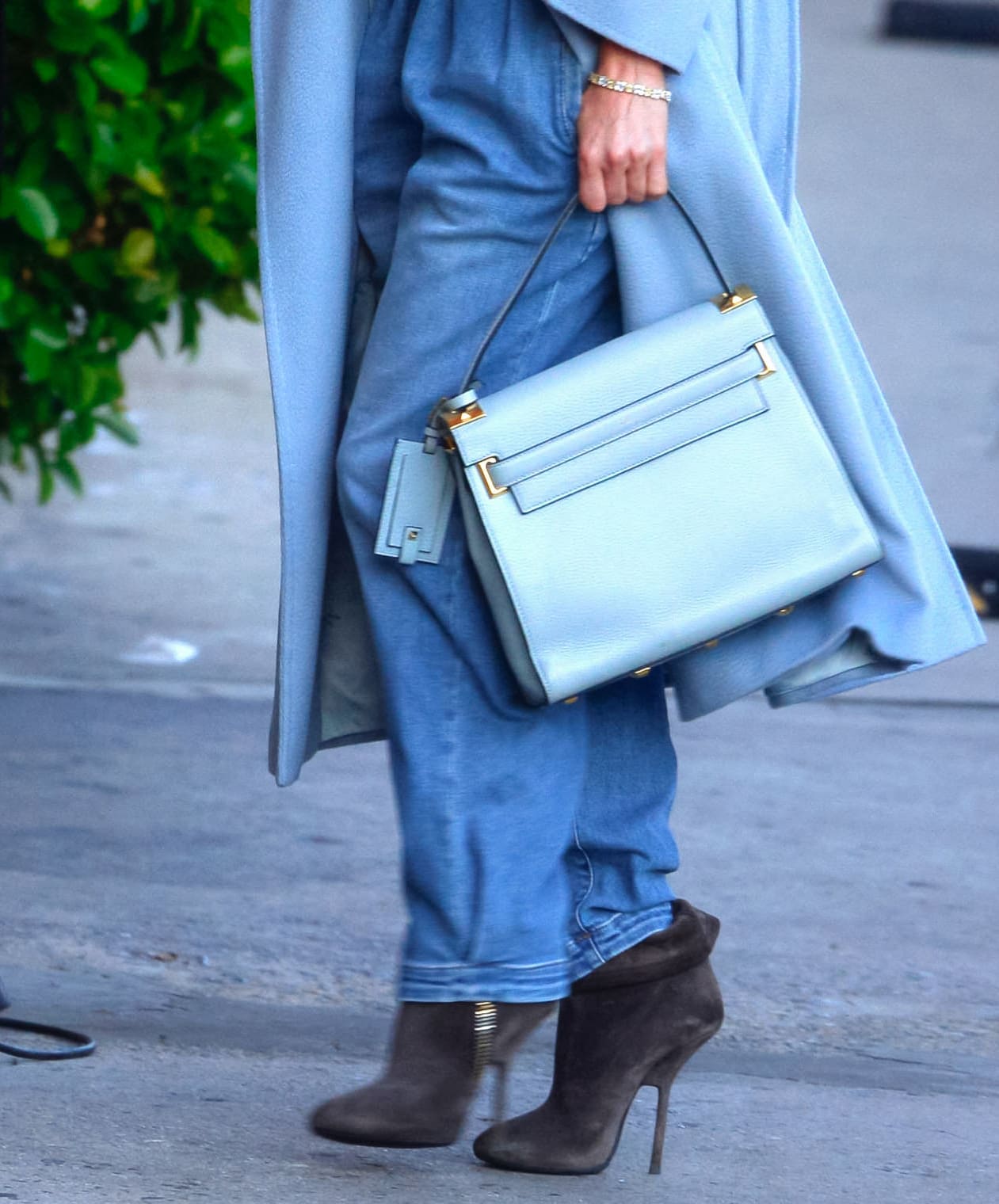 Jennifer Lopez keeps a coordinated look with a blue Valentino bag and a pair of gray suede Giuseppe Zanotti boots (Credit: Mega / WENN)
Their latest outing came just a day after Ben discussed his alcoholism and marriage troubles with his ex-wife Jennifer Garner on Howard Stern's radio show.
On Sunday, the couple packed on the PDA as they attended the premiere of George Clooney's The Tender Bar, in which Ben stars as wise Uncle Charlie.
A film adaptation of the 2005 memoir of the same name, the coming-of-age drama recounts Pulitzer Prize-winning writer J.R. Moeheringer's life growing up in Long Island. The movie was released on December 17 and is set to premiere on Prime Video on January 7, 2022.
Ben Affleck and Jennifer Lopez pack on the PDA at The Tender Bar premiere at the TCL Chinese Theatre on December 12, 2021 (Credit: Mega / WENN)
For the premiere, Ben sported an all-black three-piece suit, while J.Lo donned a chic pale blue gown.
Showing her support for her boyfriend, the Hustlers star worked her angles on the red carpet in a daring Elie Saab Fall 2021 Couture sheer chiffon gown.
She flashed her ample cleavage in the sensational number that features a plunging neckline, a belted waist, and a flowy see-through skirt that offered a glimpse of her toned legs.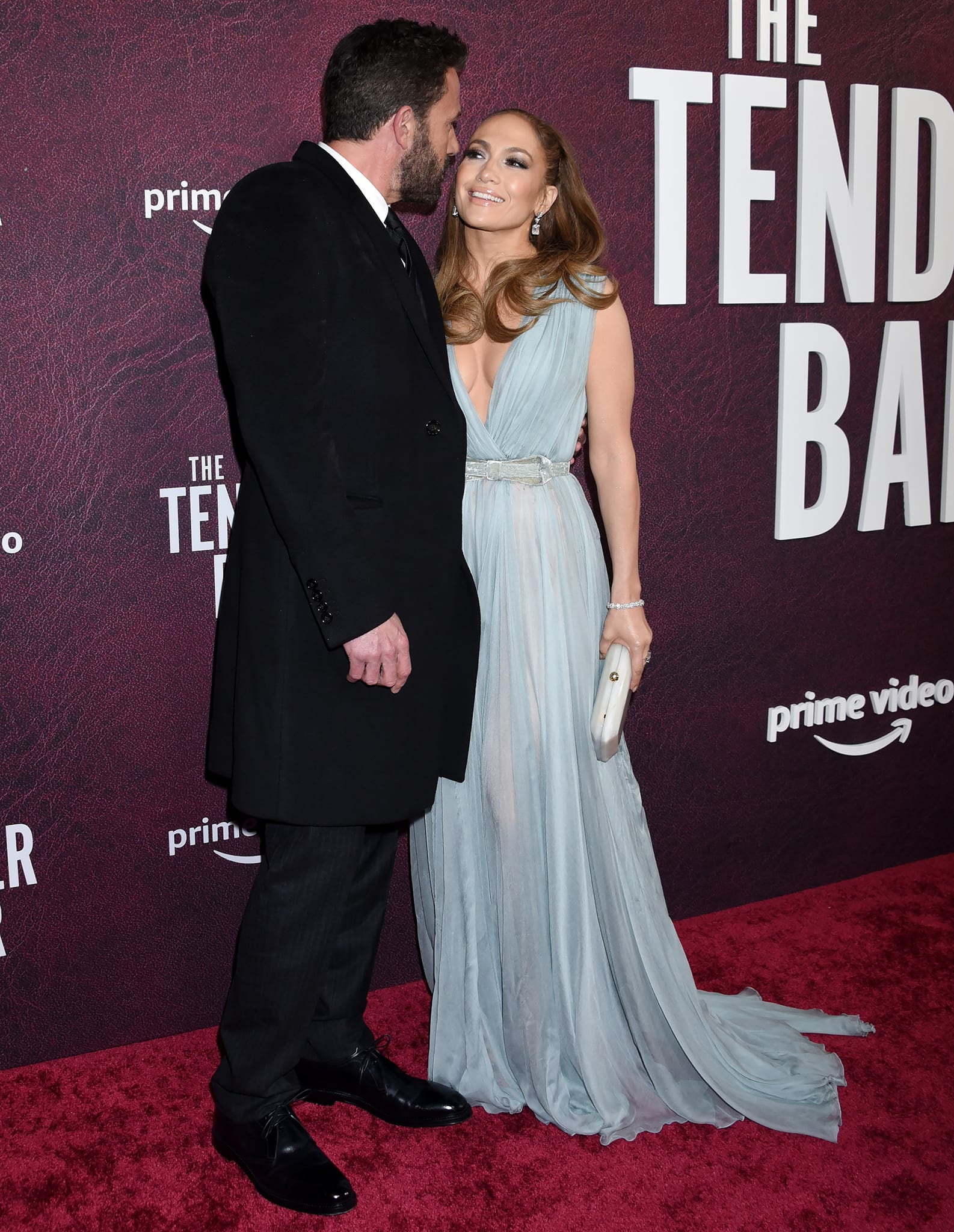 Ben Affleck wears an all-black suit while Jennifer Lopez looks ethereal in her pale blue sheer gown from Elie Saab's Fall 2021 collection (Credit: Mega / WENN)
Keeping the look classy, the mom-of-two styled with a selection of diamonds, curated by stylist Rob Zangardi.
She accessorized with a pair of Cz by Kenneth Jay Lane dangling earrings, a matching ring, and a Djula Garance ring, which you can buy for $9,215 at Saks Fifth Avenue.
A pair of silver high heels and a Tyler Ellis Lily clutch rounded out her outfit.
Jennifer Lopez keeps things classy with diamond jewelry and a Tyler Ellis Lily clutch (Credit: Mega / WENN)
As for her beauty look, J.Lo pulled her tresses into a half-up style with soft waves cascading over her shoulders.
She then accentuated her eyes with smokey makeup, mascara, and eyeliner and added a swipe of nude lip gloss and a hint of blush.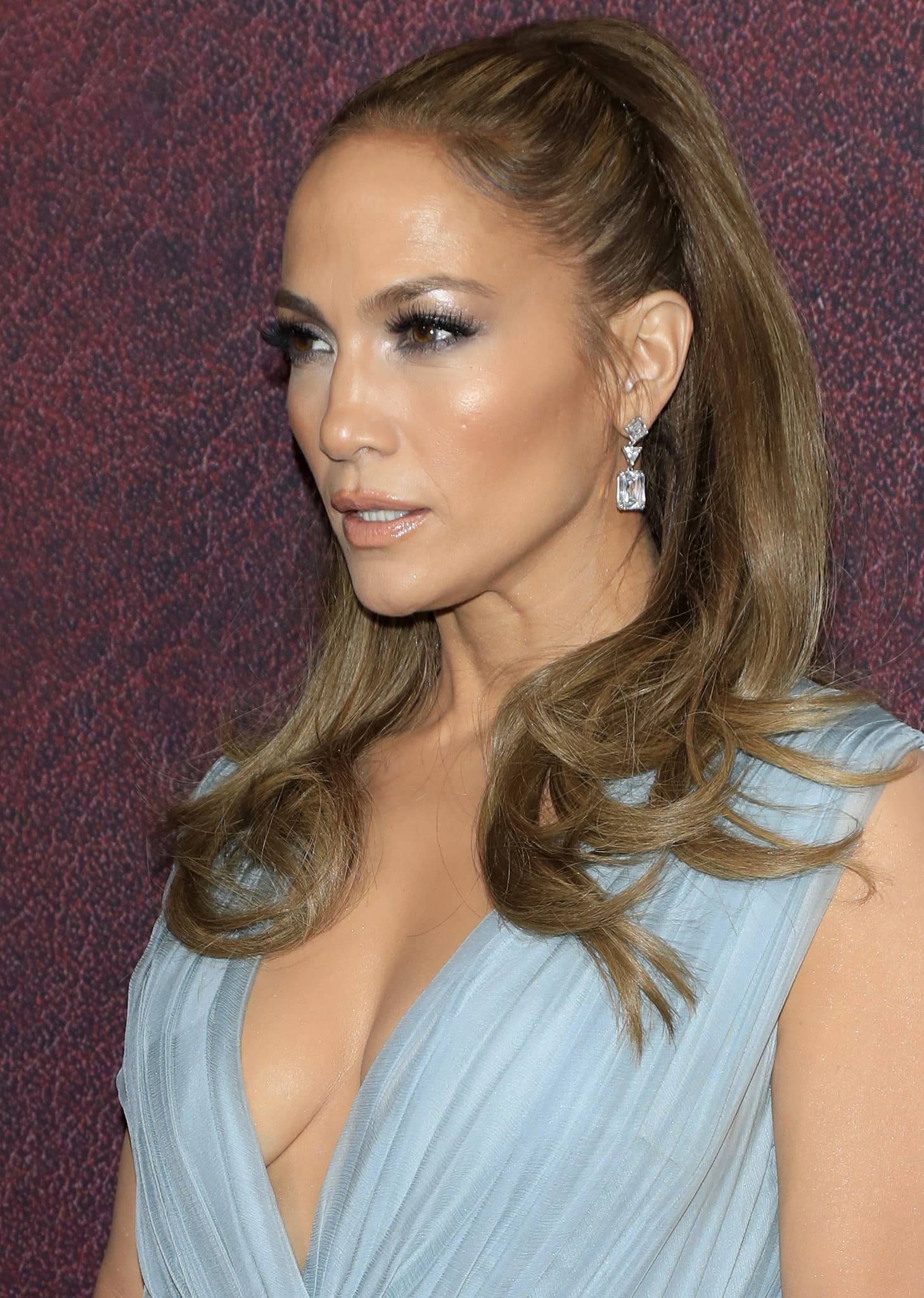 Jennifer Lopez wears a half-up hairstyle with soft curls, smokey eye-makeup, and nude lipstick (Credit: Nicky Nelson / WENN)
Ben Affleck Blames Jennifer Garner for His Addiction
The Pearl Harbor star has gone to rehab for alcohol addiction multiple times over the years. He sought treatment in 2001, 2017, and more recently, in 2018.
Appearing on Howard Stern's radio show, Ben opened up about his previous marriage to Jennifer Garner.
He said he "probably still would've been drinking" if he stayed married to the Alias star.
"It's part of why I started drinking… because I was trapped," he told the radio host. "I was like, 'I can't leave because of my kids, but I'm not happy, what do I do?' And what I did was drank a bottle of scotch and fell asleep on the couch, which turned out not to be the solution."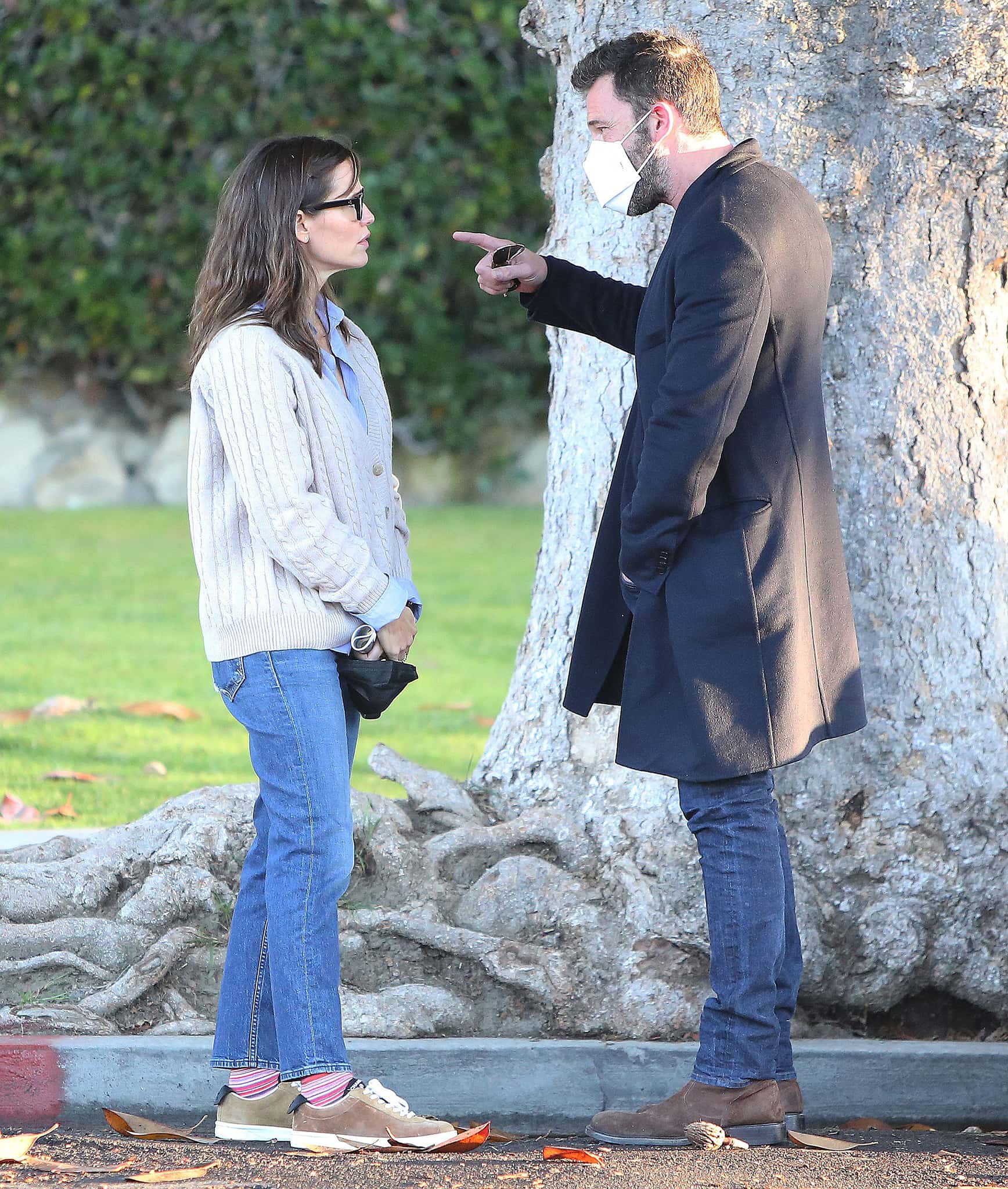 Ben Affleck appears venting to Jennifer Garner while out in Santa Monica on December 9, 2021 (Credit: Mega / WENN)
Ben and Jennifer married in 2005 and separated ten years later in 2015. They then filed for divorce in April 2017 and were officially single in October 2018. The two agreed to share custody of their three children.
"Ultimately, we tried, we tried, we tried because we had kids, but both of us felt like we didn't want this to be the model that our kids see of marriage."
"We had a marriage that didn't work. This happens. She's somebody I love and respect but to whom I shouldn't be married any longer."
Ben Affleck Slammed for Blaming His Ex-Wife
The Good Will Hunting star faced backlash for blaming his alcoholism on Jennifer Garner.
One Twitter user said, "What a f**king low blow thing to say about your relationship & about the mother of your children! What a cop out & a convenient excuse to cover over your clear addiction to booze. Shame on you."
"Clear case of narcissism and gaslighting. He was drinking before, during, and after Jennifer Garner, blames it on her and says this publicly. She drove him to rehab. He is a sociopath and an a**hole," another said.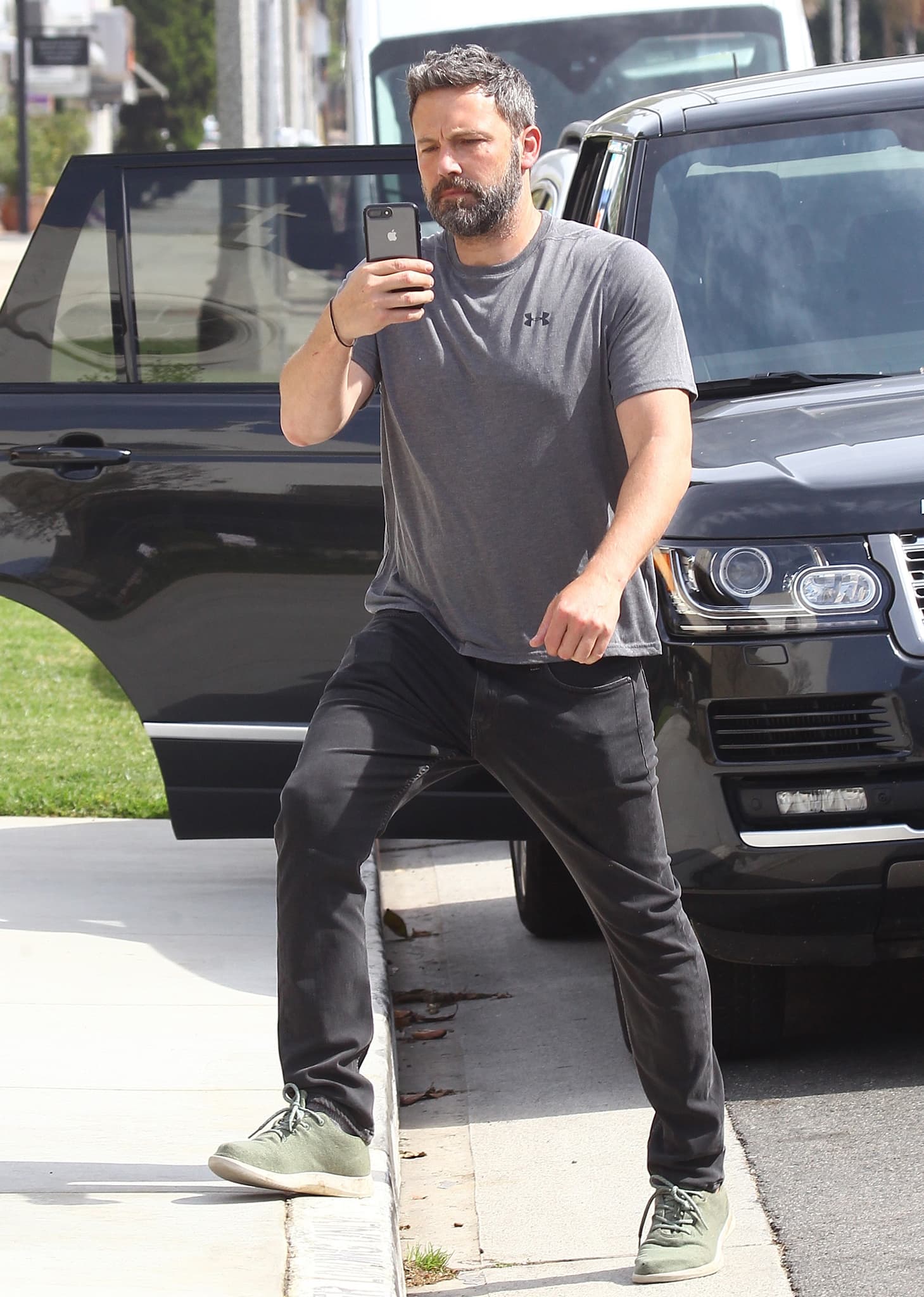 Ben Affleck has gone to rehab for alcohol addiction multiple times over the years (Credit: WENN)
Friends of Jennifer Garner were also reportedly furious by Ben's comments on their marriage.
"It's disgusting. Jen has been the only one picking him up time and time again when he's done horrible things—fallen off the wagon or worse," a source close to both Jen and Ben told Page Six.
Another source said, "Anyone who knows addict behavior knows how untrue those comments could be for any addict, but particularly Ben. It's one of the first tenets of AA not to place blame for our disease."
Ben Affleck Defends His Comments on Jennifer Garner
In his latest appearance on Jimmy Kimmel Live, Ben Affleck addressed the issue surrounding his interview with Howard Stern.
He said his feelings were hurt after people made him look like the "worst, most insensitive, stupid, awful guy."
While he didn't apologize to Jen, Ben insisted he did not blame her for his addiction. Ben said his radio chat with Howard Stern was a "really cool, long-form, in-depth, two-hour interview."
"We talked a lot about my family, divorce, and alcoholism, and how you have to be accountable and loving, how I work with my ex-wife, how I'm so proud of the way we work together for our kids, the best that we can for them."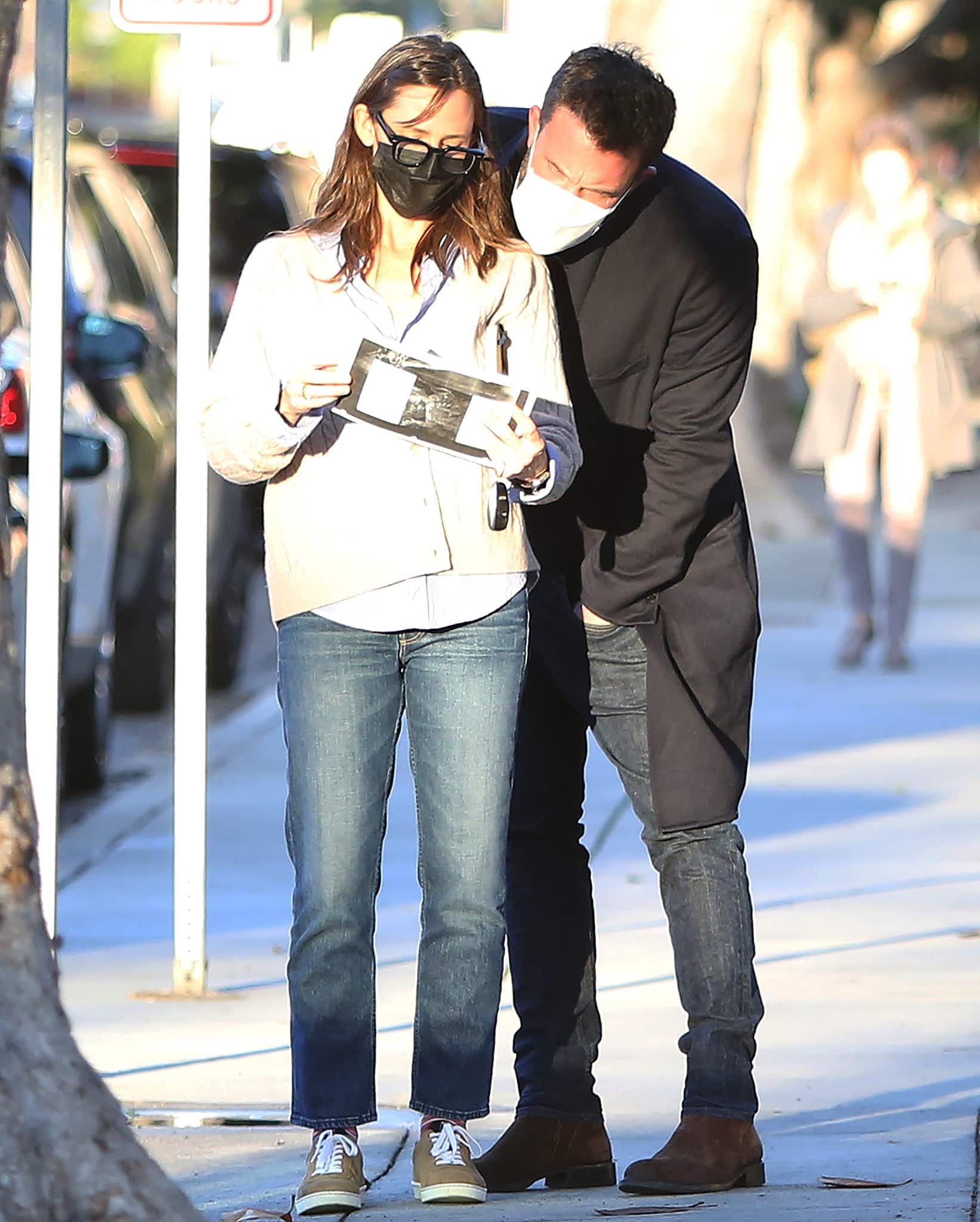 Ben Affleck clarifies to Jimmy Kimmel that he didn't blame Jennifer Garner for his alcoholism on his recent guesting on Howard Stern radio show (Credit: Mega / WENN)
"I was thrilled, I thought, 'Wow, I should do more honest, exploratory, self-evaluating things.' Then I start seeing all this stuff come up on Twitter. And I was like, 'what is this?'"
"I saw one of these websites had done the clickbait thing—'You won't believe what he said, click on this, come to our site.' I looked on it, and they had literally taken the conversation that I had had for two hours and made it seem as if I was saying the exact opposite of what I had said."
He clarified, "That's not true. I don't believe that—it's the exact opposite of who I am, what I believe, and I would never want my kids to ever say a bad word about their mom."