Jennifer Garner is an American actress who is best known for her lead role as Sydney Bristow on the science fiction cult-hit series, Alias.
Alias turned 20 years old on September 30th, 2021, and the actress reunited with the show's cast to celebrate.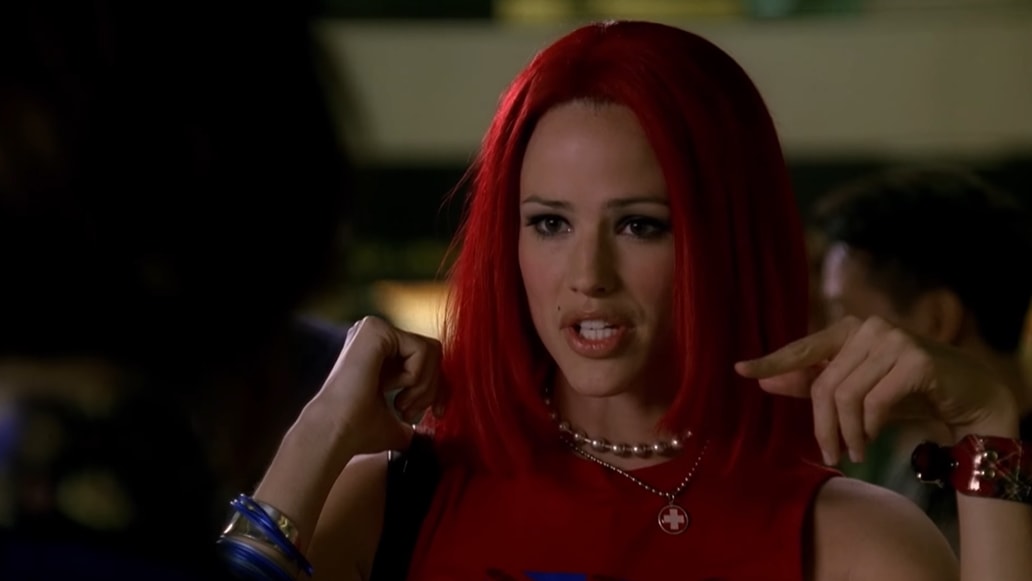 Jennifer Garner as double agent Sydney Bristow in the American action thriller and science fiction television series Alias (Credit: ABC)
Garner took to social media and shared with her followers on Instagram, "If you're an idea born of @jjabramsofficial's [J.J. Abrams] brain—you're a big one; JJ's ambitious imagination pushed every department on the crew of Alias through and past the norm, it was so much FUN."
Alias in the Beginning
Garner, age 49, starred in the five-season ABC series from 2001 to 2006, beginning when she was just 28 years old.
In the beginning, Garner's salary was about $40,000 an episode and eventually was $150,000 an episode by the end. Today, she is estimated to be worth $80 million.
She won the Golden Globe for Best Actress and the Screen Actors Guild Award for Best Actress in a Television Drama for her role as CIA officer, Sydney Bristow.
The Capital One spokeswoman was nominated for the Primetime Emmy Award four consecutive years, but never won that particular award.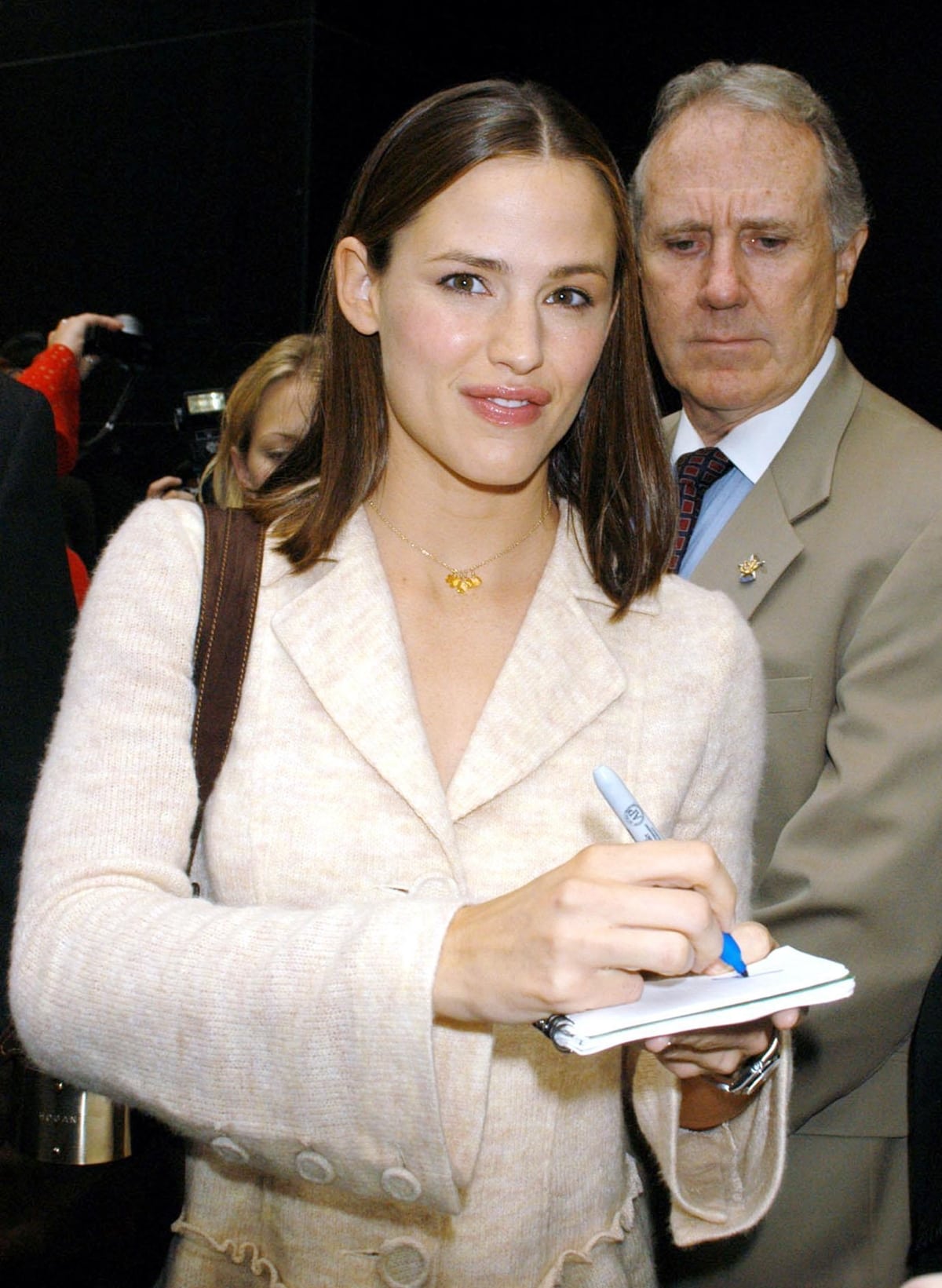 Jennifer Garner signs autographs after appearing on Good Morning America to promote Alias on September 27, 2003 (Credit: WENN / Vallenilla)
Alias set the stage for Jennifer Garner's career in Hollywood and propelled show creator, J.J. Abrams into the screenwriter and director he is today.
Abrams would later go on to create another cult classic, Lost, about the crash of Oceanic Flight 815 and the paranormal activity that ensues on an island with the survivors. Abrams is also known for his work on Star Trek, Super 8, Felicity, Star Wars, and Westworld.
Garner's costars on the show included Gina Torres, Victor Garber, Kevin Weisman, Merrin Dungey, and Michael Vartan, who she at one point dated.
Garner on Bristow
Garner shared with Vanity Fair, "That [Sydney Bristow] is the best character I will ever get to play."
She continued, "I am so glad that I did the stunts that I did, just so that in my heart I know that I can do them. And at the time, they would just take me to the top of a building downtown, and they would just say, okay, so, climb out of this window, you're going to go down this wire, and I'd be hooked in and harnessed. So that stuff was all really fun. I really loved fighting, because it felt like dance to me. And I loved when there were so many things happening at the same time. Where I had to do a fight, speak in a foreign language, and deal with a ton of props in one scene. That kind of stuff made me happy."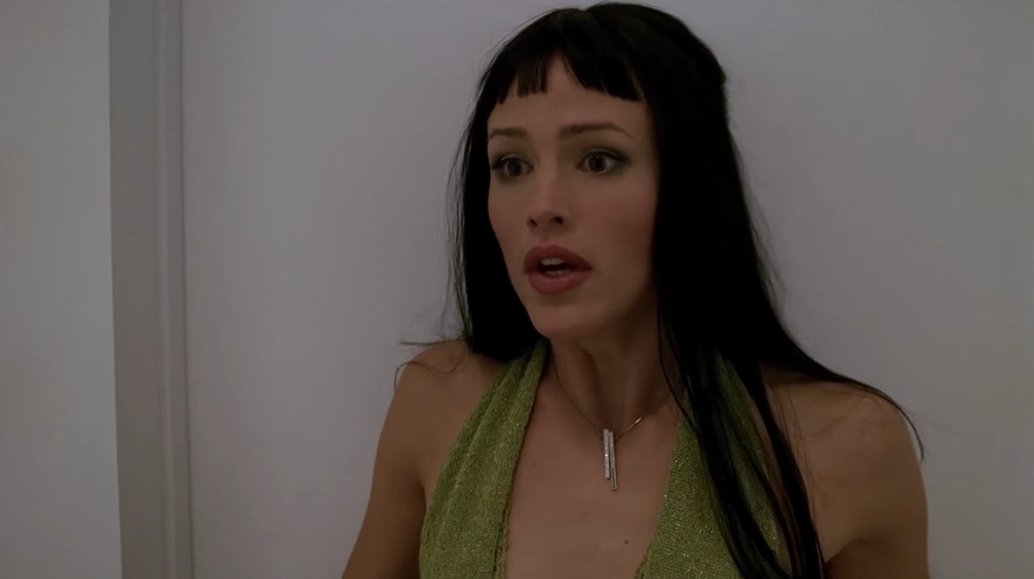 Jennifer Garner discovers her employer, SD6, is not part of the government but actually an enemy organization (Credit: ABC)
She often was required to speak in foreign languages, like Russian and German on set. She worked with a language coach to make sure she knew her lines forward and backward.
The master of mom fashion explained how she set up her language practice, "They would give me a tape…they would give it to me really slowly, you know, one syllable at a time, and then incrementally speed it up until they were saying it at full speed. And then I would work it over and over and over and over again."
Sydney Bristow's Costumes
What many fans remember most about the series is Jennifer Garner's elaborate costumes, as she portrayed the beautiful Sydney Bristow.
The wigs she wore were ever-changing, and whether she was wearing latex, leather, lace, or something more casual, Garner stunned in every single one of her costumes.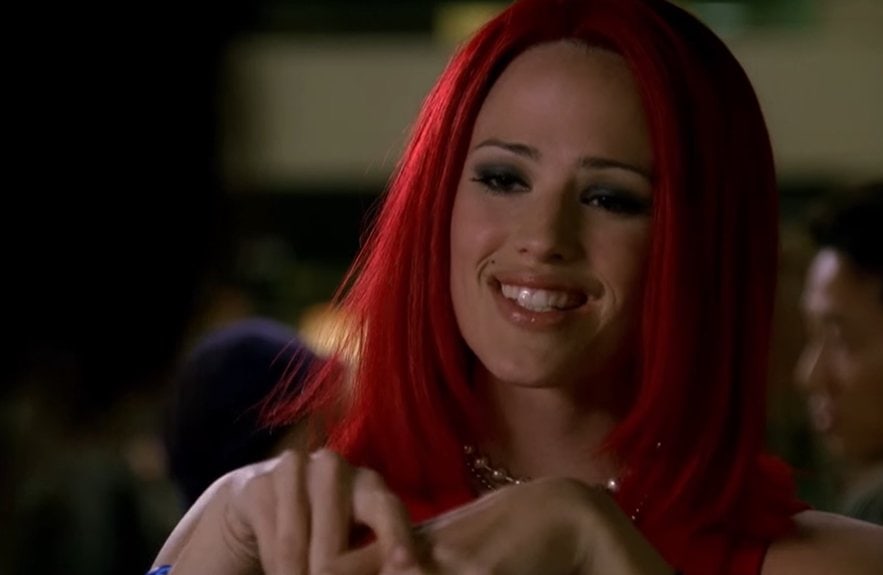 Jennifer Garner sported a now-iconic red wig in Truth Be Told, the pilot episode of Alias that aired on September 30, 2001 (Credit: ABC)
In the pilot episode of Alias, Sydney dyes her hair a bright red before she flies to Taiwan. Sarah Caplan, a producer for the show, remembers that she "saw that cherry-red hair color on a UCLA student while scouting for locations and paid the young woman $39 for a clipping."
Sydney's look from this episode is iconic – making that $39 investment well worth it.
Jennifer Garner Briefly Dates Co-Star Michael Vartan
Onscreen, Jennifer Garner and Michael Vartan played love interests on Alias, but the love did not stop when the director yelled "Cut!" The pair began as friends, as they shared screen time and got to know each other.
They only dated for a year, starting in the summer of 2003 and ending spring of the following year. The two are still good friends. Before dating Vartan, Garner was married to actor Scott Foley.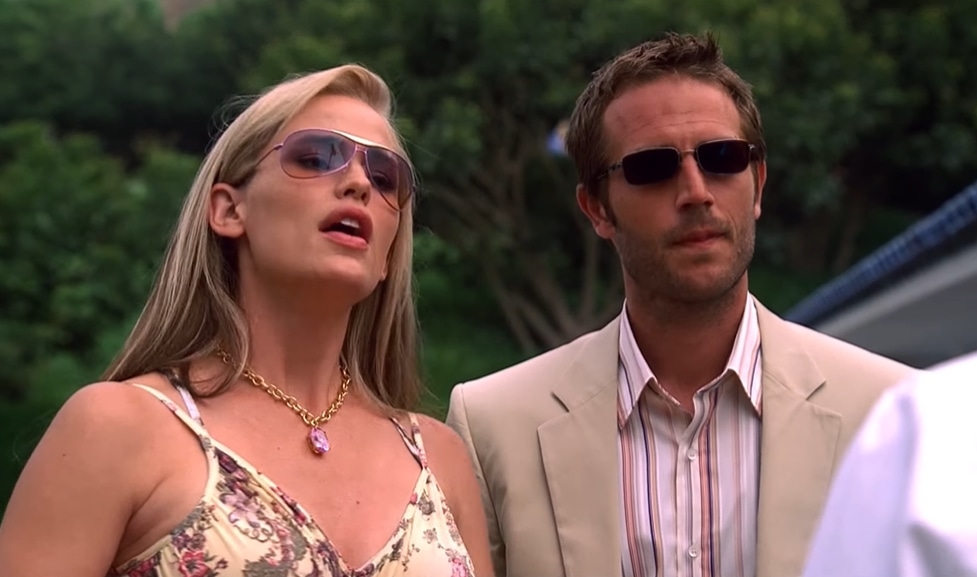 Jennifer Garner as Sydney Bristow and Michael Vartan as Michael Vaughn in Alias (Credit: ABC)
After dating Vartan, she eventually dated and married actor, Ben Affleck. The two have since divorced, but they share three children, Violet, Samuel, and Seraphina.
Today, Garner is linked to her on-again boyfriend, businessman, John Miller. And Ben Affleck is now dating his former ex-girlfriend Jennifer Lopez who recently became single after her split from former New York Yankee's baseball player Alex Rodriguez.
Alias gets the Axe
The term "jumped the shark," coined by the producer of the Howard Stern Show, Jon Hein, is often used to describe when a show begins to go downhill.
While Alias's ratings were never that great, it did have a hyper-dedicated cult-like following of fans that allowed ABC to keep the show running as long as it did.
In season 4, the show was moved away from its coveted Sunday night position to a Wednesday 9 PM slot instead. This was ABC's way of letting J.J. Abrams and his cast know that they were being put on notice and that it was time to shake things up.
Jennifer Garner during the "Alias" The Complete 3rd Season DVD Launch Party at The Standard Hotel in Los Angeles on August 31, 2004 (Credit: WENN)
Eventually, the storylines were just too much. "One day, I found myself as a vampire," Jennifer Garner shared, knowing the show had just jumped the shark.
She continued, "And I thought, why am I a vampire? Where has the mythology taken us? How have we come to this?". Garner's co-star, Victor Garber, who played her father agreed, "I was on board with anything. Except, yeah, I think we had vampires one episode and thought we had jumped the shark then."
Jennifer Garner's Successful Hollywood Career
While there is no question that Garner's role as CIA double agent, Sydney Bristow, in Alias put her on the map, Jennifer Garner has gone on to have an incredibly successful career in Hollywood. She even has director and producer credits on the show, Alias.
Garner played Wanda, a minor role, on the film Dude, Where's My Car? with Ashton Kutcher. She was also in Pearl Harbor, opposite her now ex-husband Ben Affleck, whom she met on set.
Steven Spielberg noticed Garner from her role on Alias and snagged her for his film with Leonardo DiCaprio, Catch Me If You Can.
Later, Garner would play the lead role of Jenna Rink in 13 Going on 30 and Elektra in the film Elektra. Her star roles did not end there.
Garner had roles in Juno, Valentine's Day, Dallas Buyers Club, Love, Simon, Peppermint, Camping, and Yes Day. She has taken breaks from Hollywood to raise her family and still has a career many can only dream about.
Jennifer Garner and her son Samuel Affleck are seen in Los Angeles, California, on October 28, 2021 (Credit: MEGA / WENN)
Jennifer Garner's acting is superb, but it is her personality and humbleness that stand out to all who meet and work with her.
Abrams shared about Garner, "She had a vulnerability and a kindness in her that was undeniable… and of course you couldn't take your eyes off of her."
One thing is for certain, without Jennifer Garner, there would be no Alias.
Wearing Altuzarra's beige Minamoto button-embellished cashmere sweater with a French Riviera long skirt by LHD and Chanel suede calfskin sneakers, Jennifer Garner holds hands with her son Samuel Affleck in Santa Monica on October 26, 2021 (Credit: MEGA / WENN)
"When that show wrapped, the final shot of the final episode… I saw guys who were tough as nails, dolly grips, and lighting guys, everyone was just bawling. The goodbyes lasted three hours," Michael Vartan, who played Michael Vaughn, shared.
"Let's not forget, Jennifer was a massive sex symbol on Alias, shares guest director Peter Berg. He continued, "Every guy wanted to be with her, and every woman wanted to be her. She was sweet, lovable, charming, and if you crossed her, she could kill you."
Jennifer Garner wears her hair down at the world premiere of Columbia Pictures' "Miracles From Heaven" held on March 9, 2016, at ArcLight Hollywood in Los Angeles (Credit: Nicky Nelson / WENN)
In March 2016, Jennifer Garner was pretty and pink at the Hollywood premiere of her new movie "Miracles from Heaven" held at ArcLight Cinemas in Los Angeles.
The then 40-year-old actress wore a black-and-pink frock from Oscar de la Renta's Spring 2016 collection.
Jennifer Garner wears a pink Oscar de la Renta dress on the red carpet (Credit: WENN)
She looked fresh and sweet in the strapless cocktail dress that featured floral lace appliques and a full skirt.
Though this look was a bit twee on the actress, she certainly looked younger than ever.
Jennifer Garner shows off the black appliqués on her strapless pink dress (Credit: WENN / FayesVision)
Jennifer's Christian drama movie, which was based on the memoir of the same name, was released on March 16, 2016.
The "Catch Me If You Can" star opted to go bare-necked in favor of diamond bracelets and a statement ring.
She completed her ultra-feminine look with soft makeup including pink lipstick and styled her long brunette tresses in a partial updo.
Jennifer Garner wears an Oscar de la Renta dress (Credit: WENN / FayesVision)
Jennifer complemented her dress with elegant black strappy sandals by Jimmy Choo.
Jennifer Garner's feet in Jimmy Choo sandals (Credit: WENN / Charlie Steffens)
These open-toed shoes from the popular women's shoe brand feature double crisscross straps with adjustable ankle straps, about 0.75-inch platforms, and 4.5-inch heels.