Margot Robbie and Will Smith are both well-known actors that have been featured in a variety of popular, award-winning films.
The rumors about Will Smith and Margot Robbie having an affair have circulated for years (Credit: WENN)
Neither Margot and Will have ever indicated that their relationship is anything but platonic. Additionally, Will and actress Jada Pinkett Smith have been married for years, and Margot recently tied the knot with British producer and director Tom Ackerley.
However, rumors of a relationship between the two just don't seem to subside.
What Have Margot Robbie and Will Smith Done Together?
During their film careers, Will and Margot have only appeared in two films together.
The first movie they worked on was the crime comedy-drama film "Focus," which was filmed back in 2013 and released in 2015.
They also both starred in "Suicide Squad," which was filmed in 2015 and released the following year.
Margot Robbie and Will Smith have been rumored to be more than just co-stars (Credit: WENN)
How Did the Affair Rumor Start?
The affair rumors first started during the filming of "Focus," back in 2013. Insiders claimed the two became cozy on set with each other — even going so far as to miss the wrap party in favor of hanging out together in Will's trailer.
Star Magazine also ran a story claiming the two were spotted taking a photo in a photo booth, where Will Smith appeared topless and Margot lifted her shirt up to reveal her lingerie.
View this post on Instagram
When the American superhero film "Suicide Squad" was released in 2016, the rumors started flying again. People noticed the intense chemistry between them, which fans seemed to pick up on during the film.
This, of course, got the affair rumors going again, as fans analyzed the films and the interactions between the actors.
What Have Both Stars Said About the Rumors
Margot was quick to address the rumors and shut them down.
Back when the rumors first started in 2013, a 23-year-old Margot took to Twitter to address the claims and rumors. She claimed she was disappointed with how her working relationship with Will had been blown out of proportion and out of context.
"Been working non-stop, just catching my breath," she tweeted. "There's absolutely no truth to the ridiculous rumor in Star mag…"
Margot Robbie and Will Smith attend a special screening of "Focus" held Feb. 11, 2015 at Vue West End in London (Credit: Lia Toby / WENN)
"…It's disappointing that goofing around on set could be taken so out of context," she added.
Margot also went a step further in 2015, when she publicly stated that she refused to date any more actors.
Two high-profile individuals in a relationship added unnecessary stress to a partnership, she explained.
Regardless of Margot's vehement denial, Will Smith has never commented on the affair rumors. It recently came to light that his wife Jada had had an affair, but the married couple is now back together, claiming unconditional love.
The Age Difference
Age differences between paid actors aren't typically a big deal at all, but when affair rumors are in play, fans start paying a little more attention to birthdays and generational gaps.
Margot was born in 1990 and turned 31 on July 2, 2021. Will, on the other hand, was born in 1968 and celebrated his 53rd birthday on Sept. 25, 2021.
Back when they were filming in 2013 and where the affair rumors first started, Margot was 23 and Will was 45.
There's quite a big age difference between the two of them, but it didn't stop them from creating a working relationship together.
The Relationship Status of Margot Robbie and Will Smith
However, despite the rumors, insiders insist that the relationship between Will and Margot is cordial.
Will and Margot explained that the photo booth rumor was unfounded and that their friendship posed no threat to Will and Jada's marriage.
In 2016, Margot tied the knot with her now-husband Tom. Apparently, they struck it off right from the start and have even created a production company together.
The marriage is still going strong, but they have decided to keep their union private and out of the tabloids.
Margot Robbie and her husband Tom Ackerley met while working on the 2014 film "Suite Française" and married in 2016 (Credit: WENN)
Will has been married to Jada since 1997.
Apparently, when Margot and Will were first cast together, Jada admired Margot's talent, and reportedly has since never felt threatened by any of the rumors that have gone around.
Will recently spent some time during an interview elaborating on how he and Jada have defined their marriage as it has evolved through the years. The "Fresh Prince of Bel-Air" star said the two prioritize their friendship and want the best for each other.
Jada added that being spiritually and intellectually challenged by her husband has kept their marriage in shape.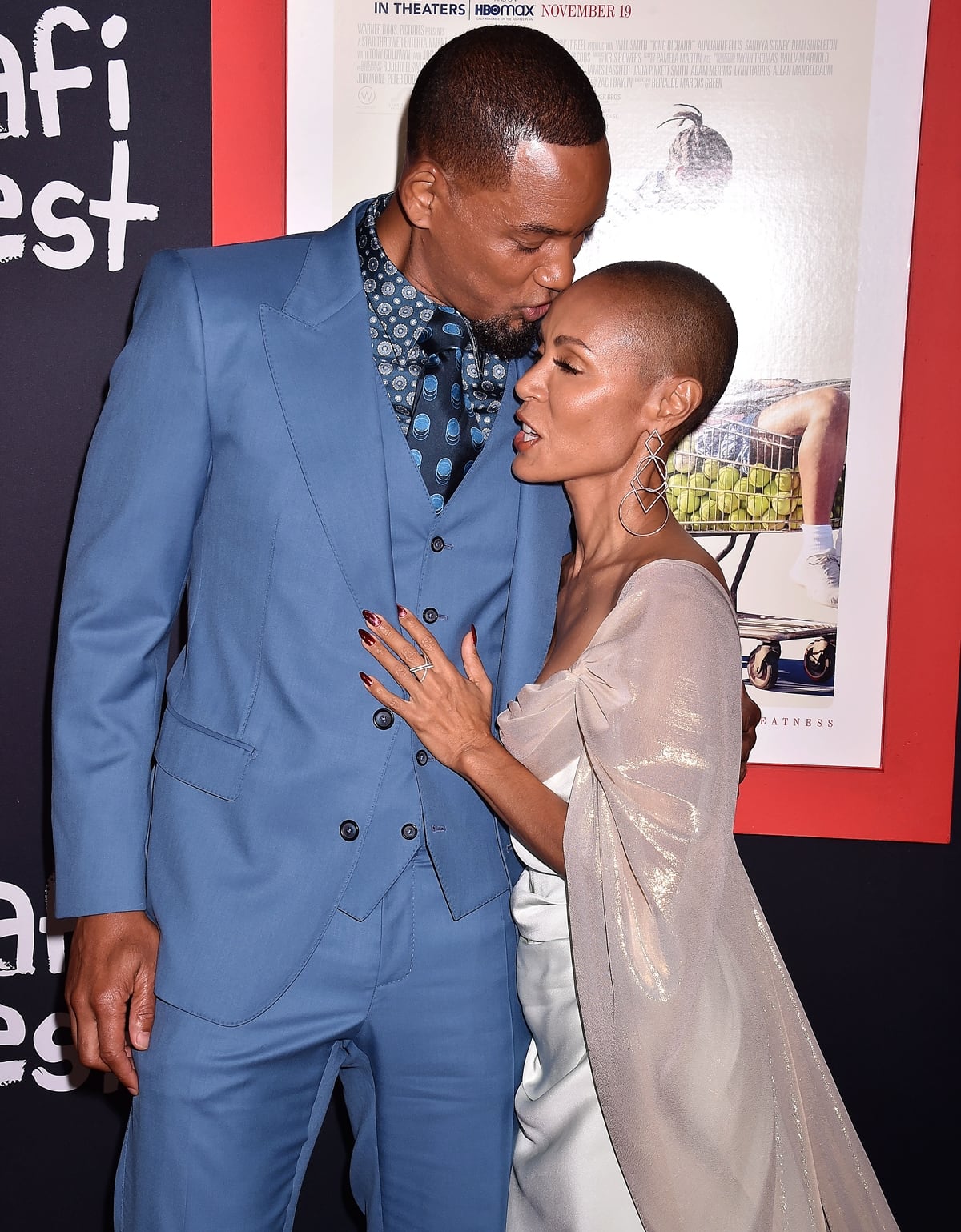 Jada Pinkett Smith and Will Smith attend the 2021 AFI Fest – Closing Night Premiere of Warner Bros. "King Richard" Nov. 14, 2021 at the TCL Chinese Theatre in Hollywood (Credit: Avalon / WENN)
So, it looks like affair rumors are totally unfounded. Both actors seem to be in happy, fulfilling relationships, and both spouses seem to be nonchalant about the working relationship between Will and Margot.
Why There Will Always Be Rumors
Jada recently revealed that she'd had an affair outside her marriage, and Will admitted that both he and his wife had made mistakes that could have endangered their marriage.
This revelation re-ignite the rumors of an affair between Will and Margot.
Given the on-screen chemistry between the two actors, we're sure that another movie featuring the two will re-ignite the rumors once again.
Margot Robbie at the 'Suicide Squad' Premiere
Margot Robbie wears a Gucci dress to the premiere of "Suicide Squad" held Aug. 3, 2016 at the Odeon Leicester Square in London (Credit: WENN)
Margot left a trail of envious sighs with her bold and unique sartorial choices at the red carpet premieres of "Suicide Squad" held in 2016.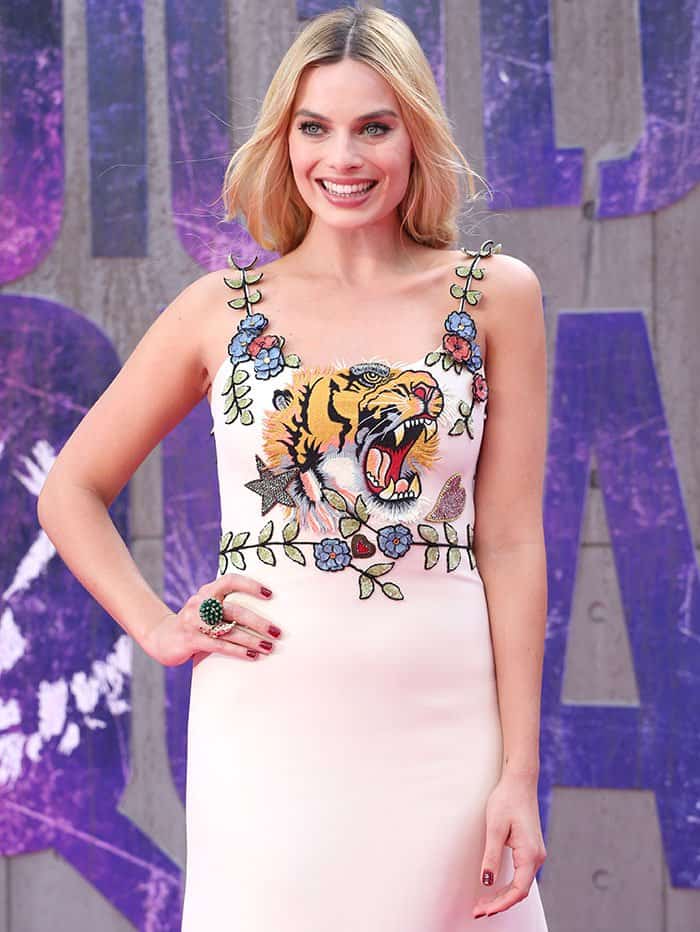 Margot Robbie shows off the embroidery on her Gucci Pre-Fall 2016 Collection dress (Credit: WENN)
She first made "unicorn fashion" look chic in a sequined Alexander McQueen frock.
And, at the London premiere, she decided to give "tiger fashion" a try.
Margot Robbie's Gucci dress features flower detailing and a tiger motif across the chest (Credit: WENN)
The dress, which is from the Gucci Pre-Fall 2016 collection, stands out due to the fine tiger embroidery at the bodice and the leaves and floral appliqués that adorn the straps and the waist area of the dress.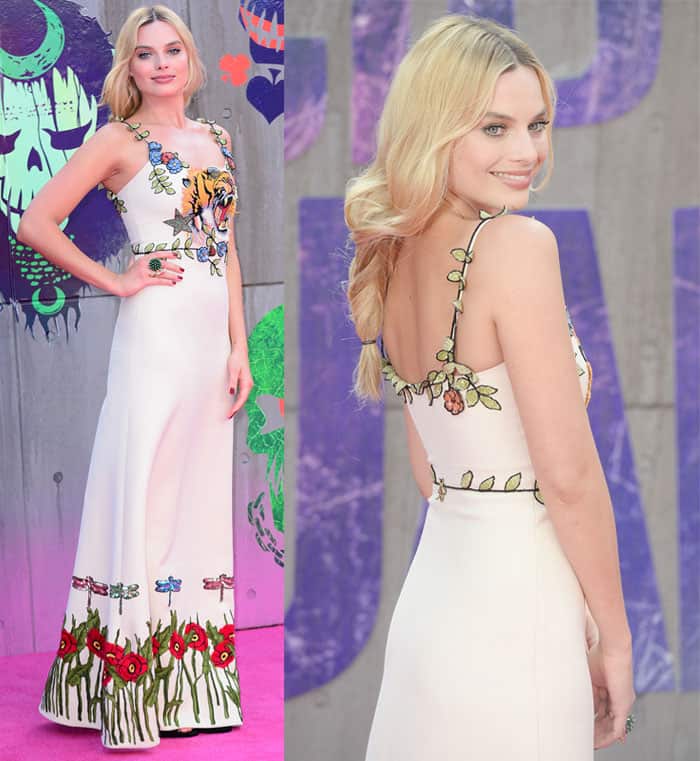 Margot Robbie styles her floor-length dress with Cartier jewelry and Jimmy Choo shoes (Credit: WENN)
Embroidered poppies and sequined dragonflies looked realistic at the hem. Will, as her "Suicide Squad" co-star, joined her on the red carpet.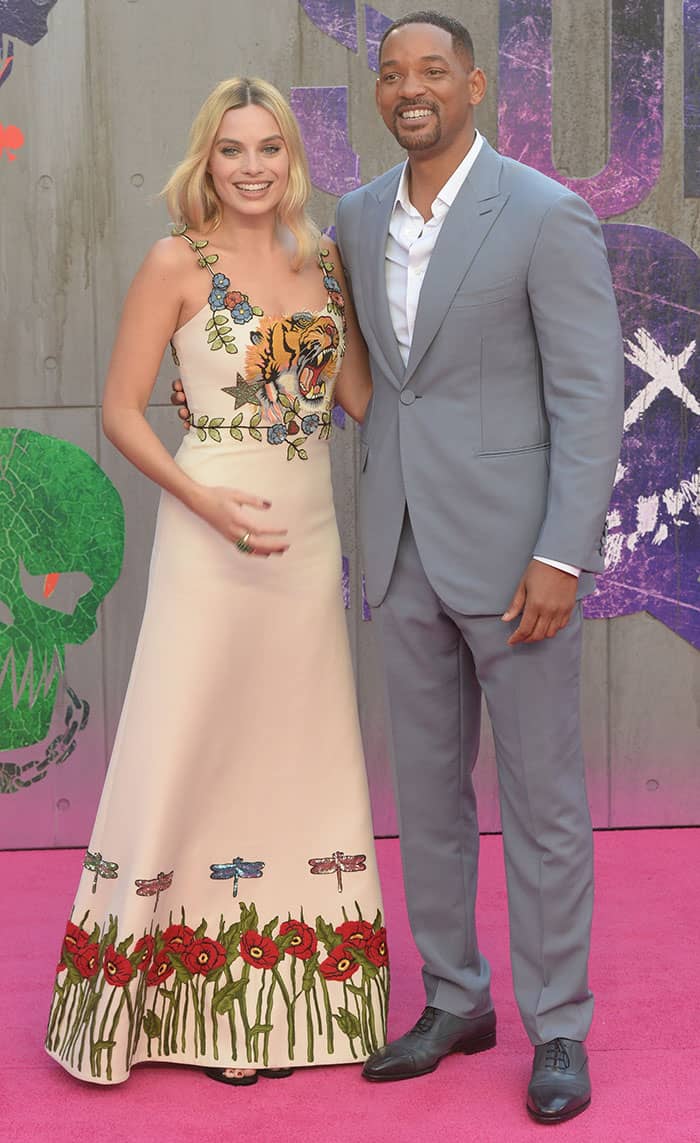 Margot Robbie and Will Smith pose at the London premiere of "Suicide Squad"
Margot's statement-making dress hasn't hit the stores yet, but if you like the effortless panache of the style and silhouette of this dress, here are some alternatives from Shopbop you can order today.
1. Needle & Thread Embellished Bib Gown, $898.00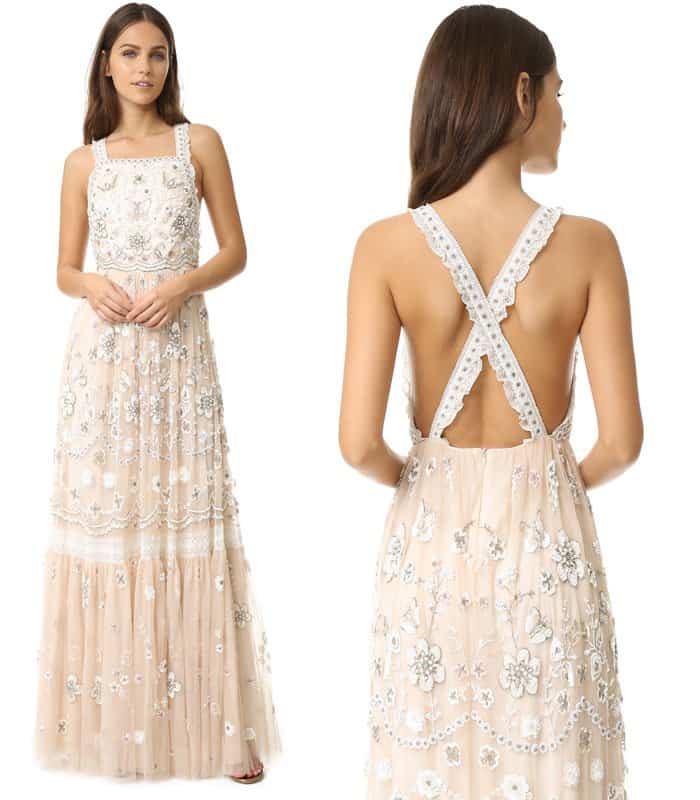 2. Alexis Eveline Dress, $726.00
3. Mugler Sleeveless Gown, $859.50