In August 2016, Margot Robbie had us believing in unicorns again.
The Australian actress graced the "Suicide Squad" world premiere in an Alexander McQueen Fall 2016 unicorn-embellished gown that restored our faith in both the mythical horned creature and the fun of fashion.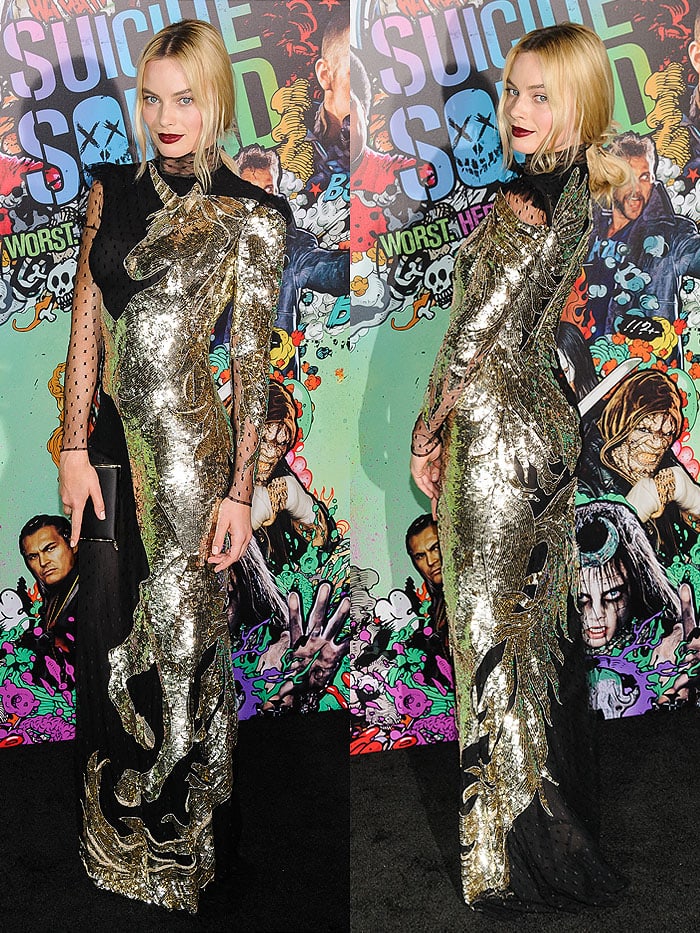 Margot Robbie in a magical Alexander McQueen gown made of black tulle with polka dots and gold sequins in the shape of a unicorn (Credit: C.Smith / Ivan Nikolov / TNYF / WENN)
Margot was playful and sexy in her black carpet ensemble, undoubtedly inspired by her Harley Quinn character.
Margot Robbie completed her look with a dark red lip and an up-do paying homage to her character Harley Quinn in the film (Credit: C.Smith / Ivan Nikolov / TNYF / WENN)
The Wolf of Wall Street actress kept things whimsical with the gold-sequined unicorn design and heated things up by letting her nude bodysuit peek through the gown's sheer black tulle fabric.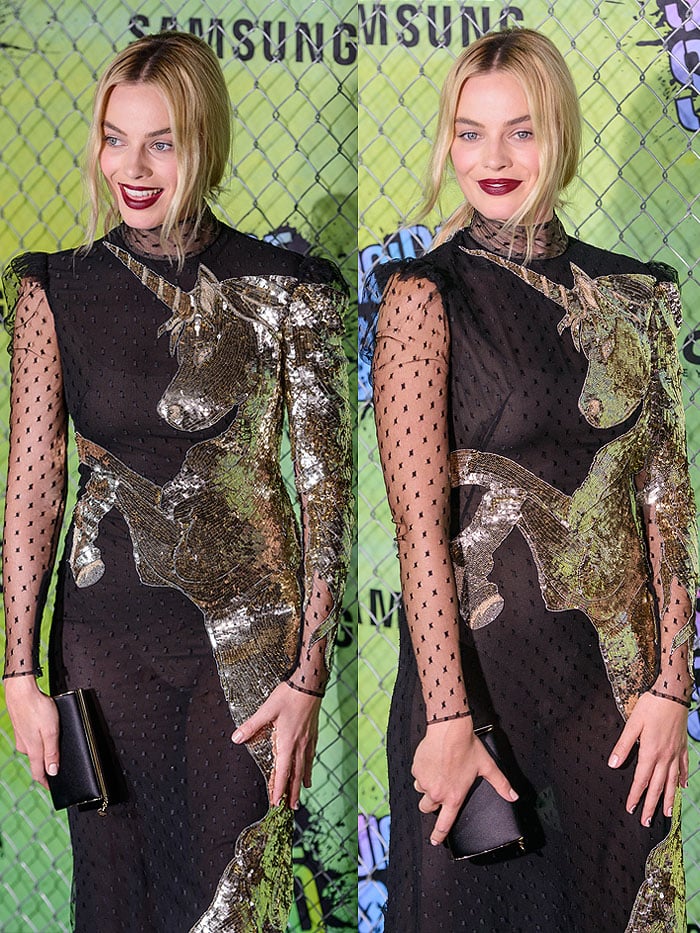 Margot Robbie's long-sleeved dress was made of sheer dotted and unicorn gold sequined tulle with an embroidered turtleneck (Credit: C.Smith / Ivan Nikolov / TNYF / WENN)
She completed her look with black satin Jimmy Choo Minny sandals, a low looped ponytail, and a swipe of dark burgundy on her lips.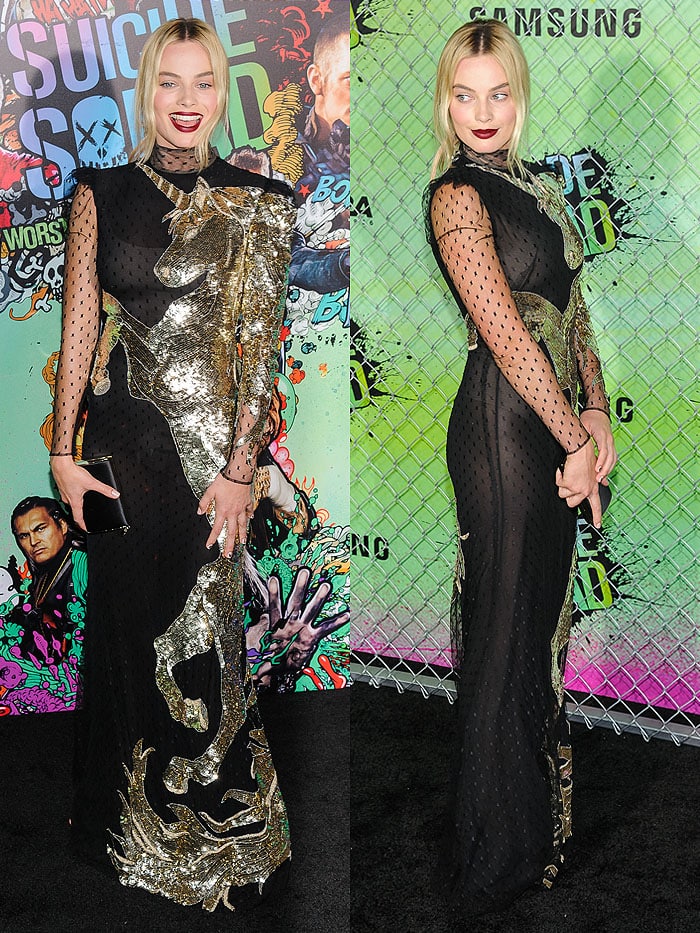 Instead of wearing the dress with nude briefs, as shown on the runway, Margot Robbie layered it with a black dress for coverage at the "Suicide Squad" World Premiere held at The Beacon Theatre in New York City on August 1, 2016 (Credit: C.Smith / Ivan Nikolov / TNYF / WENN)
Good thing the paparazzi caught Margot leaving her hotel before the premiere. Otherwise, we may not have spotted these photos of her heels.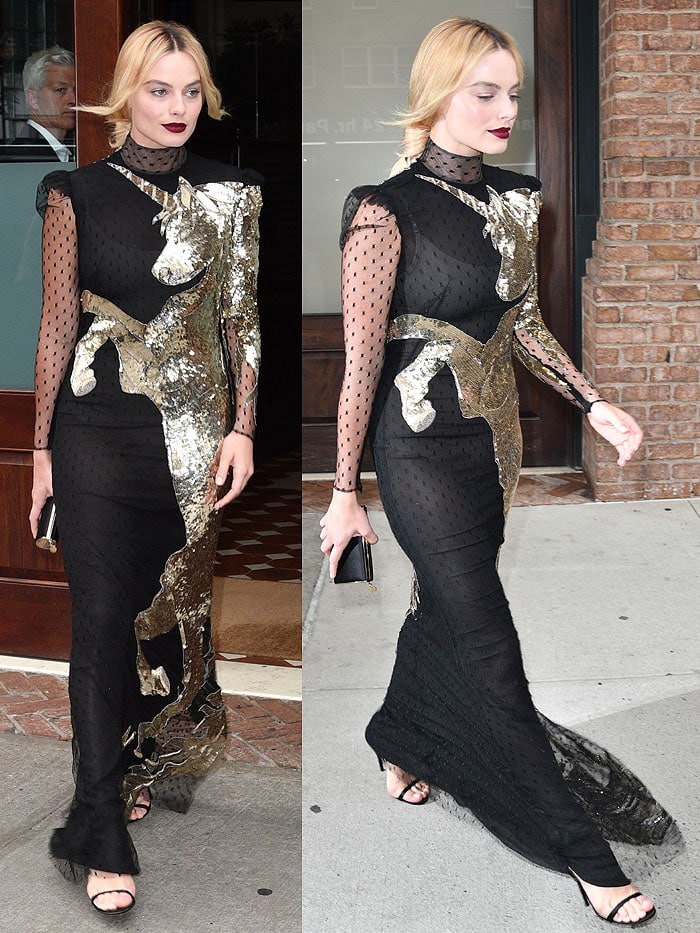 Margot Robbie leaves her hotel in New York to head to the "Suicide Squad" World Premiere (Credit: C.Smith / Ivan Nikolov / TNYF / WENN)
In an August 2021 interview with British Vogue, Viola Davis confirmed the rumors that Jared Leto had gifted a pet rat to Margot Robbie on the set of "Suicide Squad," despite Robbie denying it.
Davis starred as Amanda Waller, the Squad boss, in the 2016 DC Comics movie. "I was saying loudly, 'Don't open the box!' I was halfway out the door when [Robbie] opened the box," Davis said about the rat gifted by Jared Leto.
"And saw the biggest black rat you could imagine. Then … she cooed at it. No fear. Open. Receptive. Full of joy."
Jared Leto sent Margot Robbie a black rat as a prank during the filming of 2016's Suicide Squad (Credit: Roger Wong / INFphoto)
Jared Leto, who played the Joker, denied the story in an interview with GQ.
"It's also interesting how this stuff all takes on a life of its own. But I never gave Margot Robbie a dead rat, that's just not true," he insisted.
"I actually gave her a lot of … I found this place in Toronto that had great vegan cinnamon buns, and that was a very common thing."
During an appearance on Jimmy Kimmel Live in July 2021, Margot Robbie revealed that the pet rat gifted to her by co-star Jared Leto became a problem for several people's landlords. Along with her co-star John Cena, who was in full costume as Peacemaker, and the director James Gunn, Robbie told the story after guest host Anthony Anderson asked about the number of rats in the upcoming movie.
James Gunn confirmed that there would be a lot of rats. Robbie expressed excitement about having a pet rat again, saying, "I had a pet rat when we did the first movie, so this time around, I was like, 'Oh, cool.'"
Robbie added, "We called him Rat Rat. He liked beer and bath time. And then the landlord of the place I was renting found I had a rat and said Rat Rat had to go. And so then Jai Courtney, who plays Captain Boomerang, he said, 'I'll take Rat Rat,' and then his landlord wasn't cool with that either, and so then one of the costumers on the job took Rat Rat, and then she had to give Rat Rat away, and Rat Rat, she gave it to Guillermo Del Toro's daughters apparently. So in the end, Rat Rat is a bit of a starfucker, really."
Margot Robbie was born on July 2, 1990, and Jared Leto was born on December 26, 1971. The age difference between them is approximately 18 and a half years.
Margot Robbie shows off her feet in Jimmy Choo 'Minny' black satin sandals (Credit: C.Smith / Ivan Nikolov / TNYF / WENN)
Her chic and versatile d'Orsay sandals are no longer available online.
Jimmy Choo 'Minny' Ankle-Strap Sandals, $795
Satin shoes are our go-to for dressier occasions. Shop these sandals at Zappos in classic styles like Margot's own two-band ankle-strap pair.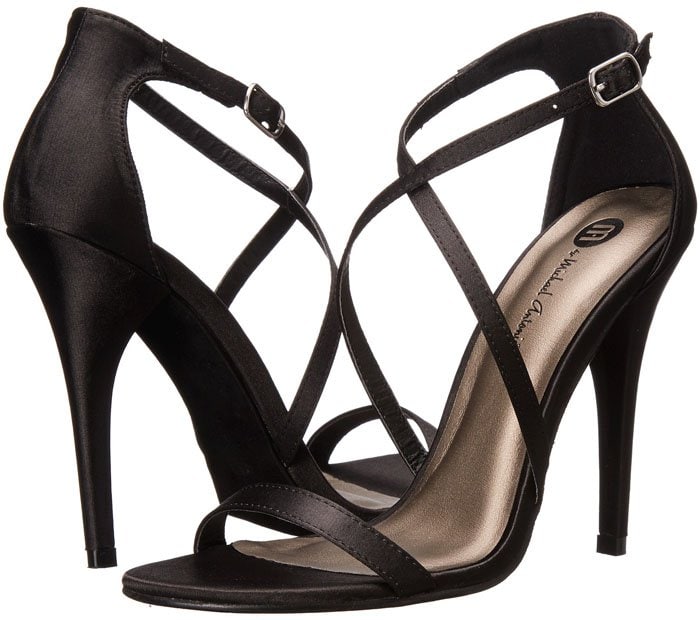 Michael Antonio "Janette" High-Heel Satin Sandals, $13.41 – $49.99
Via Spiga "Tiara" Satin High-Heel Sandals, $46.46 – $275