A risk-taker when it comes to fashion, Margot Robbie showed off her style prowess at the premiere of her latest movie, The Suicide Squad.
Margot Robbie at The Suicide Squad premiere held at the Regency Village Theatre on August 2, 2021 (Credit: Mega / WENN)
Directed by James Gunn, the new R-rated movie from Warner Bros. Pictures and DC Comics is a standalone sequel to the 2016 superhero film, Suicide Squad, and the tenth film in the DC Extended Universe (DCEU).
Margot is reprising her role as the crazed criminal and former psychiatrist Harley Quinn—a character that she has portrayed in three DCEU films in the past five years.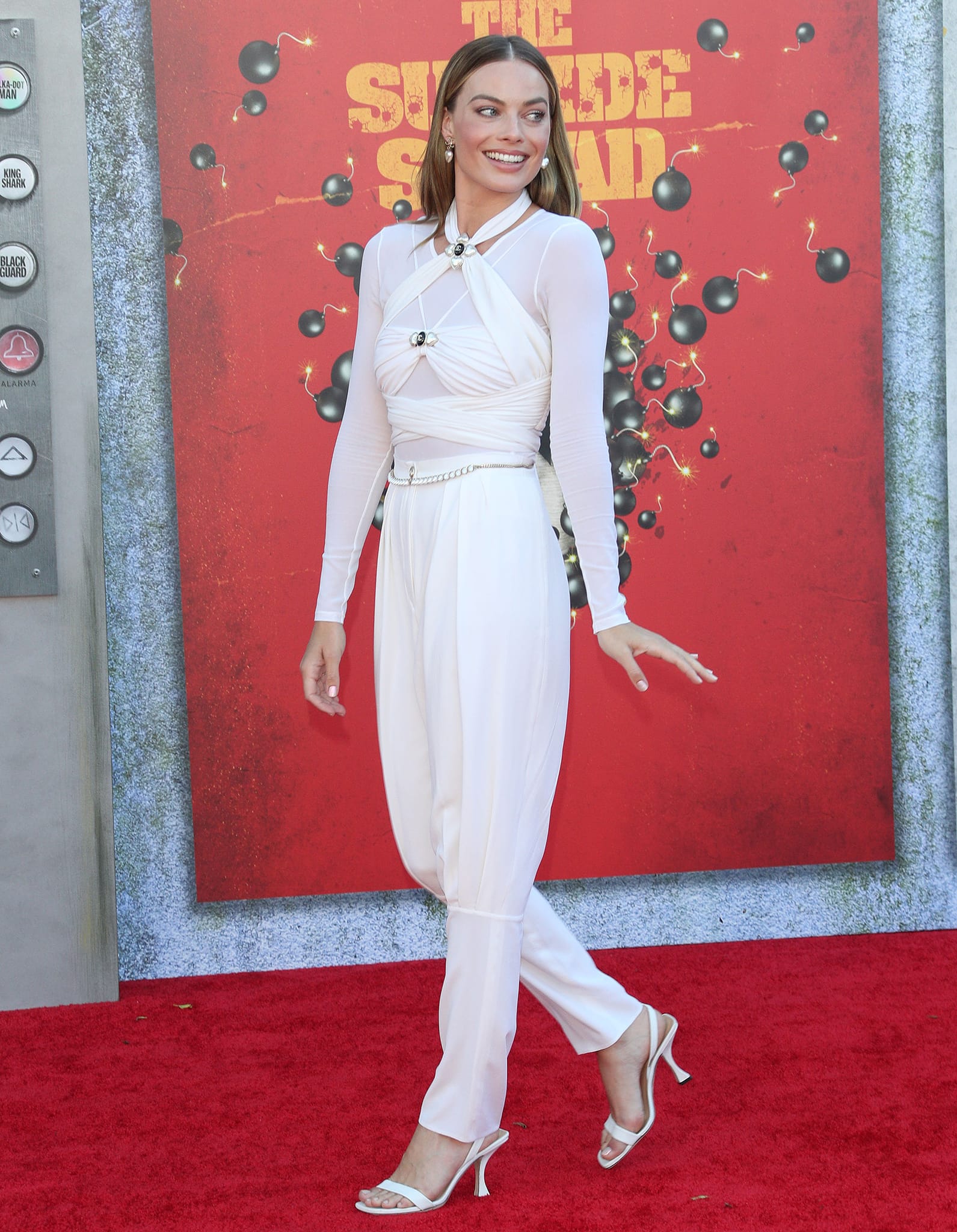 Margot Robbie wows in a monochrome white look from the Chanel Resort 2022 collection (Credit: Mega / WENN)
Hitting the red carpet at the Regency Village Theatre, the 31-year-old actress wowed in a Chanel Resort 2022 jumpsuit.
She has been the global ambassador for the luxury fashion house since 2018, so it wasn't surprising to see her in a Chanel creation. However, trading in her usual feminine gowns for a chic jumpsuit was kind of unusual for the actress.
Nevertheless, Margot looked stunning in her white jumpsuit that accentuated her slim figure. The outfit included a halter-neck top with strips of ruched fabric wrapped around the bodice.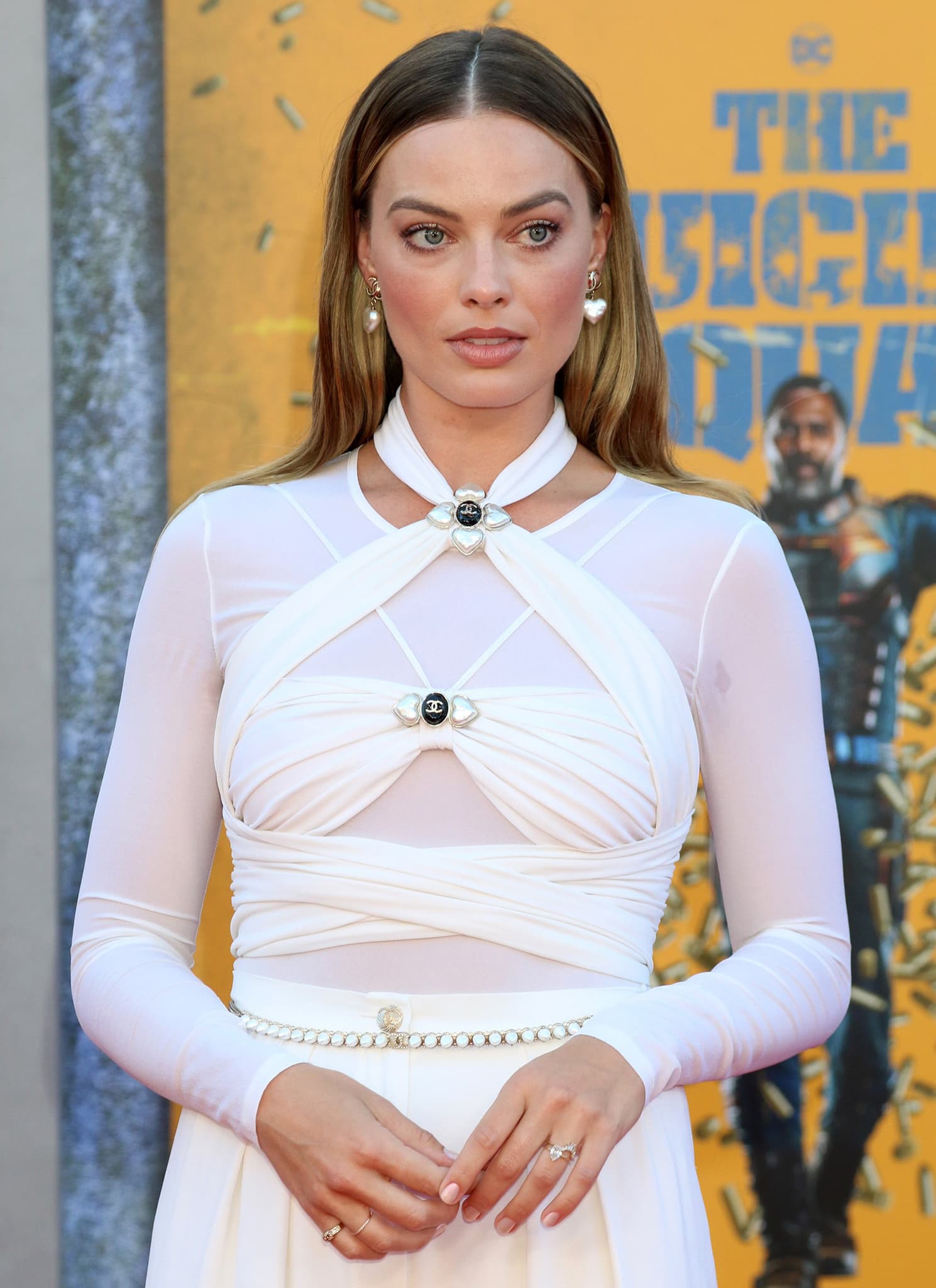 Margot Robbie wears a sheer long-sleeved top underneath a wraparound halter top with Chanel pearl emblems (Credit: Avalon / WENN)
Layered over a sheer white long-sleeved shirt, the top also boasts heart-shaped pearl accents with logo-encrusted black stones at the intersections.
The Legend of Tarzan star paired the look with high-waisted loose-fitting pleated white pants tapered off around the knees and styled with a pearl-embellished chain belt.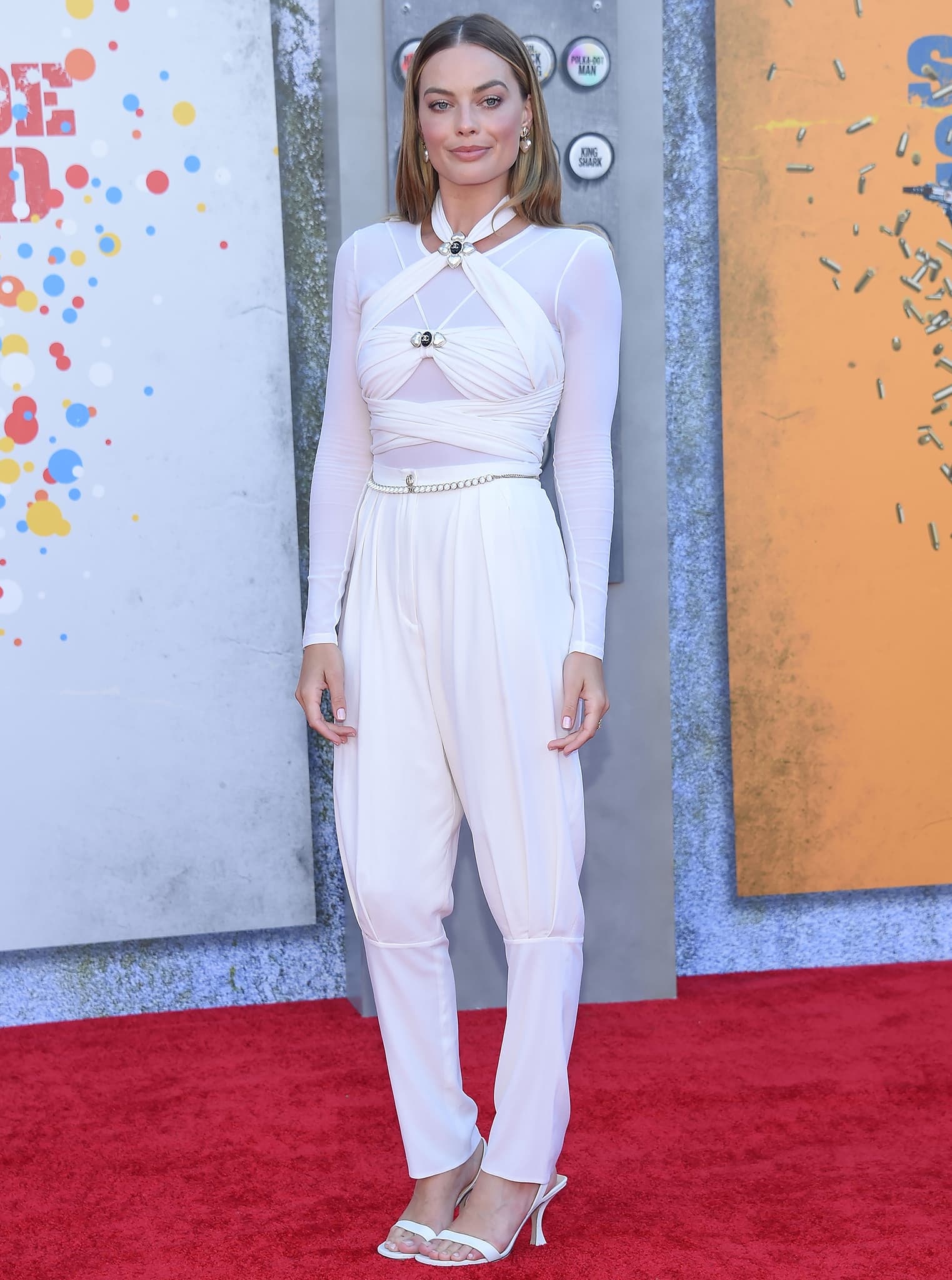 Margot Robbie pairs her white top with Chanel tapered white pants styled with a pearl-embellished chain belt (Credit: Mega / WENN)
Allowing her outfit to do the talking, Margot simply accessorized with CC Heart Drop earrings, also from Chanel, and several diamond rings, including her pear-cut diamond engagement ring.
For her red-carpet beauty look, the Aussie actress styled her blonde locks down, tucked behind her ears with a center parting. She let her natural beauty shine with soft makeup that featured a hint of pink blush, a swipe of lipstick, and mascara.
Margot Robbie wears her signature soft makeup look and styles her hair straight with a center parting (Credit: Mega / WENN)
The Once Upon a Time in Hollywood star finished off her monochrome white ensemble with a minimalist pair of open square-toe sandals.
She slipped her feet into By Far's "Lotta" sandals that feature white leather uppers with a thong toe-post, a slingback strap, and a 4-inch spool heel.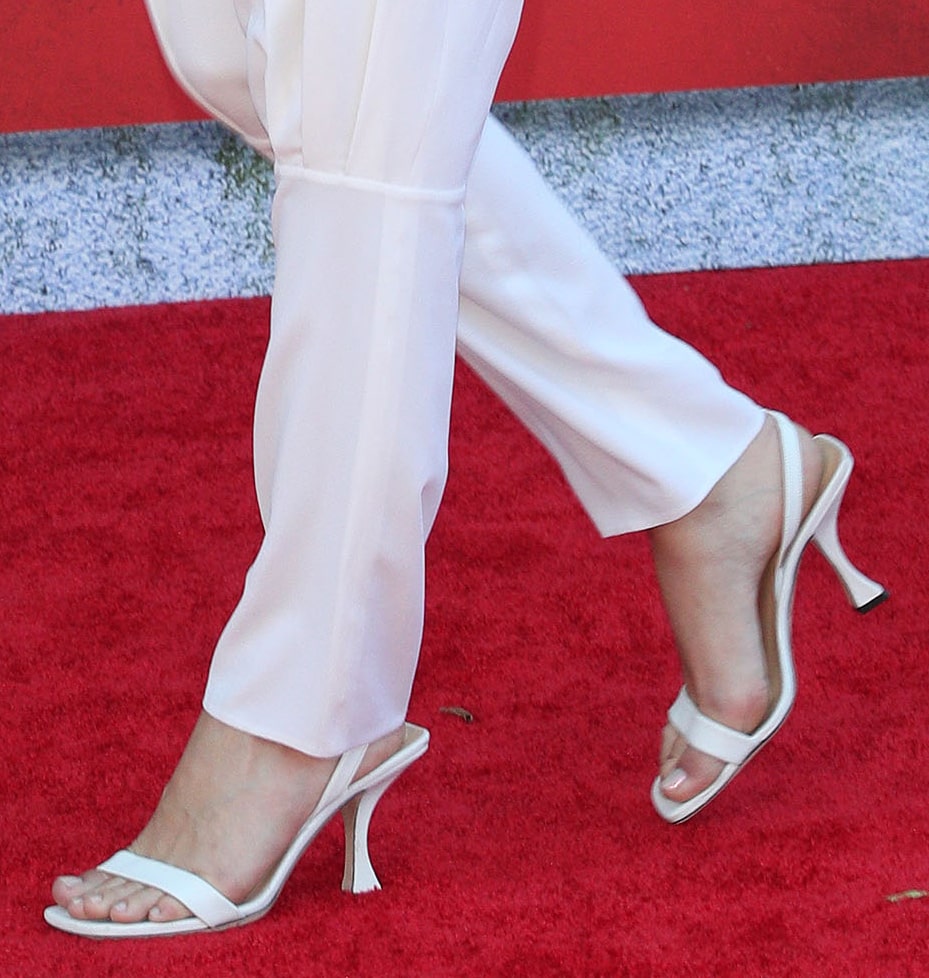 Margot Robbie completes her monochromatic ensemble with white By Far Lotta slingback sandals (Credit: Mega / WENN)
By Far 'Lotta' Slingback Sandals, $416 (from $555) at Farfetch
A minimalist pair of white sandals with slingback straps and spool heels
Is Margot Robbie Leaving Harley Quinn Role?
Margot has played the villain three times in the last five years. She debuted as Harley Quinn in 2016's Suicide Squad and continued to play the role in the 2020 spinoff Birds of Prey and recently in The Suicide Squad.
Margot Robbie as Harley Quinn in 2016's Suicide Squad, 2020's Birds of Prey, and 2021's The Suicide Squad (Credit: WENN)
In an interview with Entertainment Weekly in June, Margot admitted that she's tired of playing Harley Quinn.
"It was kind of back-to-back filming Birds… and filming this, so I was kind of like, 'oof, I need a break from Harley because she's exhausting.'"
"I don't know when we're next going to see her. I'm just as intrigued as everyone else is."
Her statement caused speculations that she might not be playing the DCEU villain role again after three appearances.
In a more recent interview with Entertainment Tonight, however, Thomas Ackerley's wife dispelled reports of her leaving DCEU, saying she's "had enough of a break" and that she's "ready to do her again."
"I did Birds of Prey and The Suicide Squad back-to-back, so that was a lot of Harley all in a one-year period, but that was a while ago now. I'm always ready for more Harley!"