As Maria Menounos now knows, any kind of betting can be extremely risky. Promising to flaunt her boobs in a bikini if the New England Patriots did not win the 2012 Super Bowl, she knew what to do after The Giants defeated the Patriots by the score of 21–17.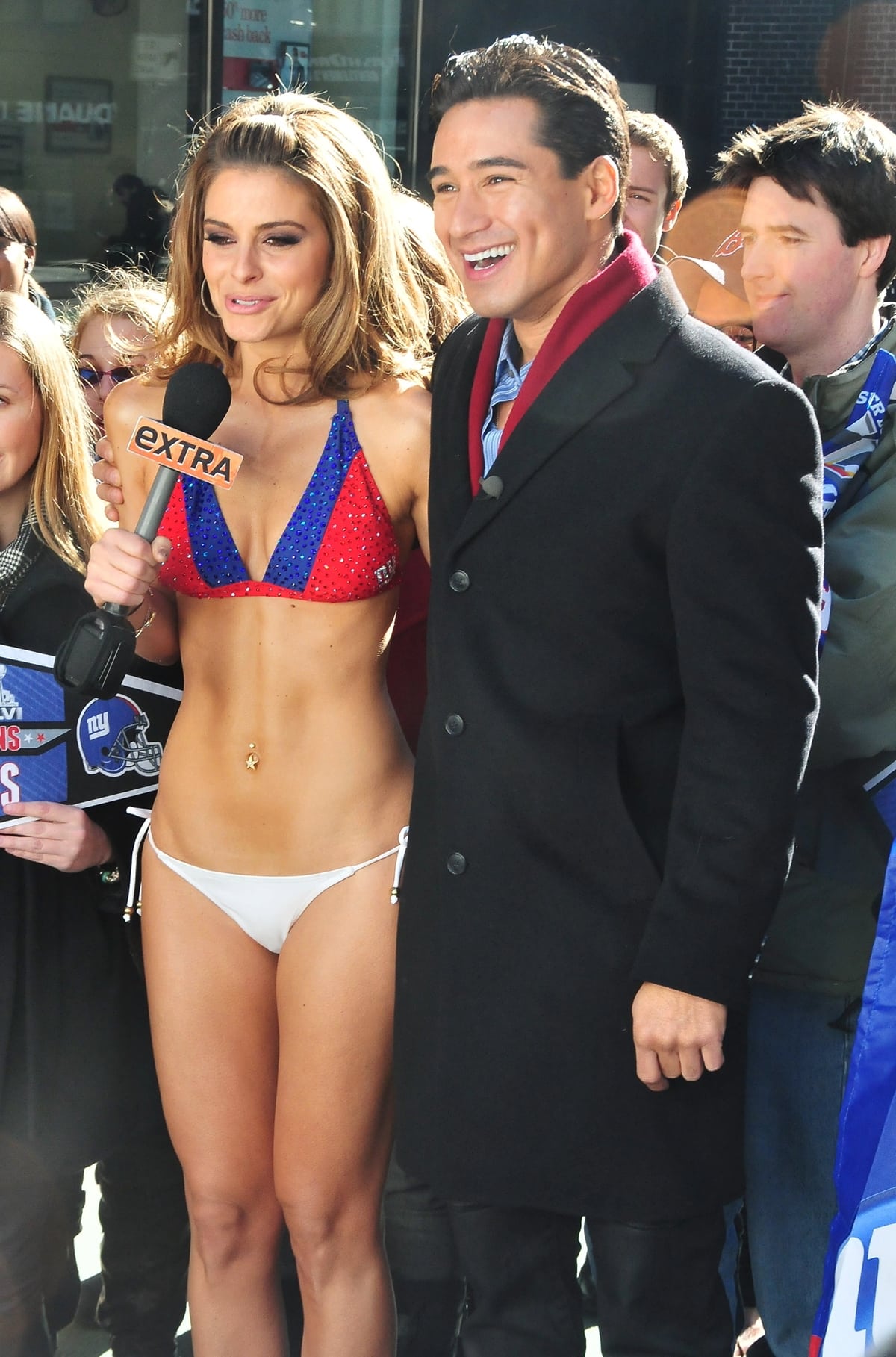 Maria Menounos flaunted her boobs in a New York Giants bikini on February 6, 2012, in New York City (Credit: Patricia Schlein / WENN)
"Just finished self-tanning…lost the bet with @ajcalloway and now have to wear a giants bikini in NY. Loss was devastating today," the then 33-year-old Extra co-host tweeted.
"Problem with this bikini thing? I ate everything you wouldn't eat in major quantities 2prove my confidence in winning. Now it'll be on display," she added.
"Sorry about your loss," Mario Lopez joked, undoubtedly happy to see Menounos in a red, blue, and white bikini. "I'm in Times Square in the middle of winter in a bikini, Mario," Maria responded when asked how she was doing.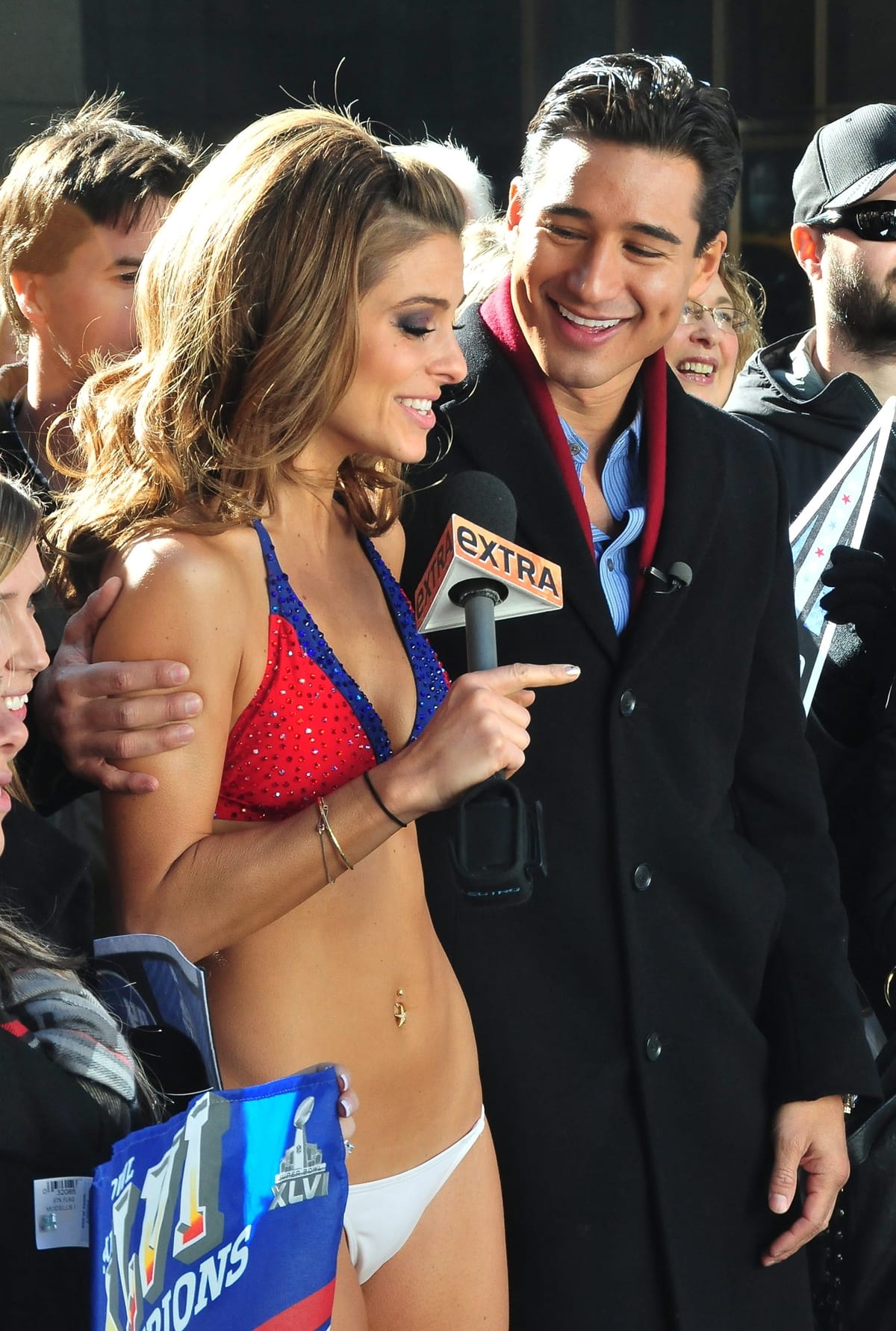 Maria Menounos hosted Extra in a sexy bikini after betting that her beloved Patriots would be Super Bowl champions (Credit: Patricia Schlein / WENN)
We have to ask. What do you think of this outfit-shoe combination on Maria Menounos?
In September 2011, the Greek-American beauty looked fabulous in her lace and leather ensemble at the iHeartRadio Music Festival.
Maria Menounos clips back her bangs at the iHeartRadio Music Festival held at the MGM Grand Garden Arena on September 23, 2011 in Las Vegas, Nevada (Credit: Judy Eddy / WENN)
However, we can't decide how we feel about her shoes: A pair of ankle-wrapping Jimmy Choo booties.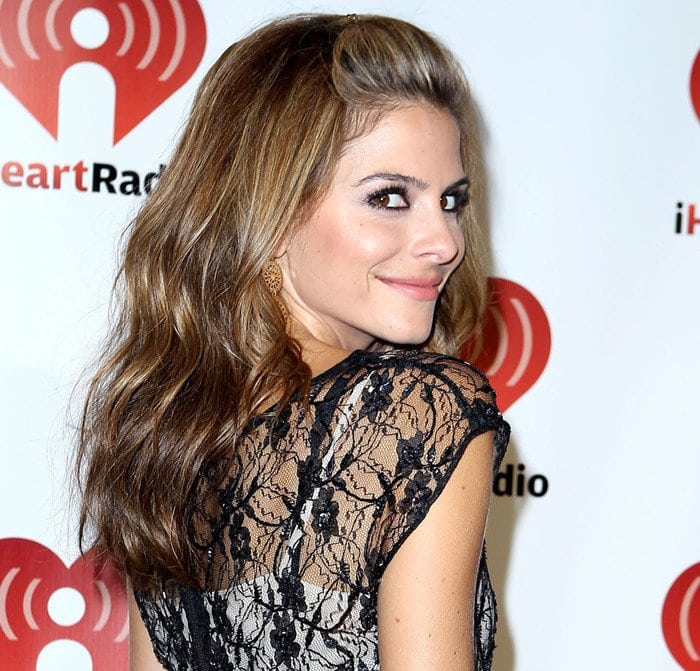 Maria Menounos wears heavy eye makeup and a lace top at the iHeartRadio Music Festival (Credit: Judy Eddy / WENN)
We definitely love the booties, but we don't know if we love them A) on Maria, or B) with this ensemble.
Maria Menounos wears a leather-and-lace look on the red carpet (Credit: Judy Eddy / WENN)
These peep-toe Jimmy Choo "Kemp" booties feature thin iridescent patent leather straps along the upper that give the shoes a hologram effect on first look.
However, despite the 4.5-inch heels, they make Maria look too short. The top of the booties just hit at an unflattering part of Maria's ankles.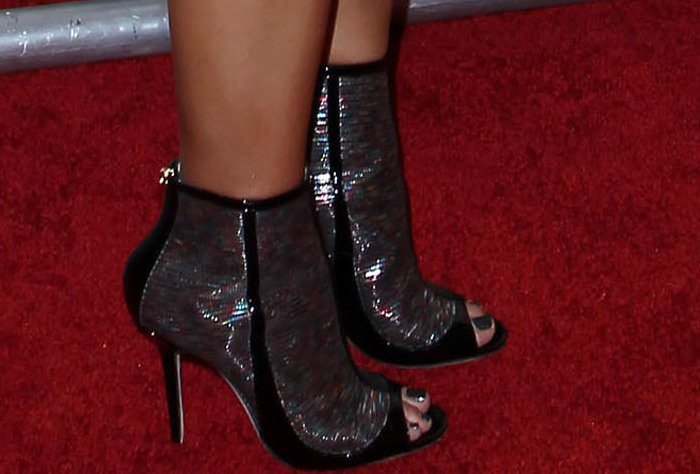 Maria Menounos's feet in Jimmy Choo booties (Credit: Judy Eddy / WENN)

What do you think? Love the boots? Hate 'em? Love them, but not with this outfit?
This style has unfortunately sold out, but you can browse other Jimmy Choo styles at Farfetch and Nordstrom.
Jimmy Choo 'Kemp' Hologram Effect Patent Leather Sandals, $1,495