Keven Undergaro and Maria Menounos are one of Hollywood's favorite couples. They have been together since the beginning and when you see one, you almost always see the other. But how did they get to be the famous Keven and Maria?
How Keven Met Maria
Maria was born on June 8, 1978, and Keven was born on November 18, 1967. Their eleven-year age gap raised eyebrows for a while, but it never meant anything to the two of them.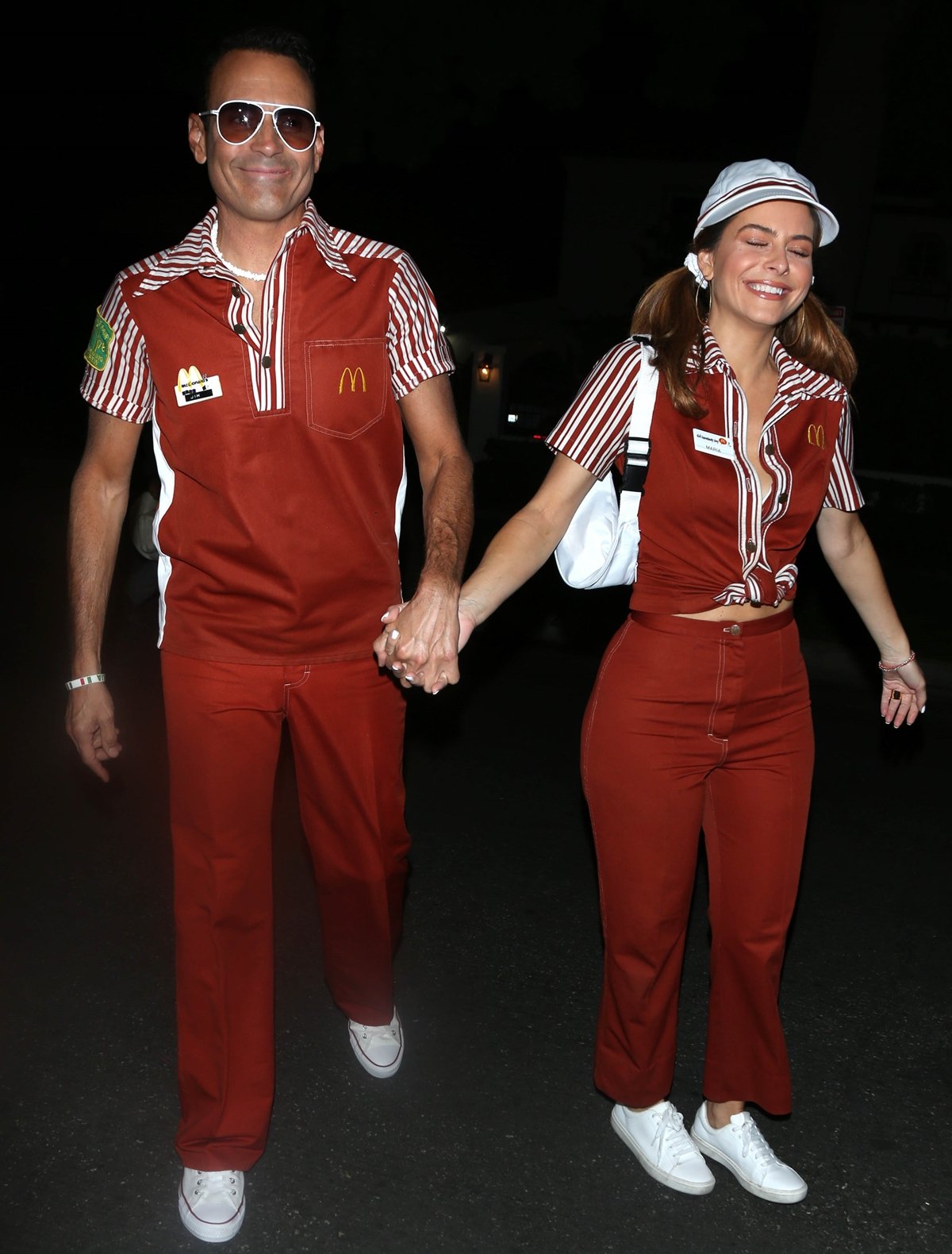 Maria Menounos and her husband Keven Undergaro at the Brought to You by Those Who Drink It Halloween party at Casamigos co-founder Mike Meldman's Beverly Hills home in Los Angeles, California, on October 25, 2019 (Credit: Avalon / WENN)
Maria and Keven met one day while working together on a film in Boston. Maria was 19 and a college student at the time, and Keven was already a Hollywood writer and producer. Working at carnivals to make ends meet, he was bankrupt and homeless at the time he met Maria.
Despite his financial difficulties, Maria told Yahoo! Lifestyle that it was, "love at first sight".
They have always had a soul connection and when they first met, it was apparent. Keven told Yahoo! Lifestyle that, "When we said goodbye it was very emotional, even though we had only known each other for a few days. We both wanted to cry, and we didn't know why."
Maria Menounos and her boyfriend Keven Undergaro strolling in Beverly Hills on April 27, 2014 (Credit: Revolutionpix / WENN)
They later found out that these deep emotions were just a foreshadowing of what was to come. Keven stated that "When I first met Maria, I had never met anyone like her."
In the short time of filming, the pair became attached to one another, and this bond would continue.
Trials and Tribulations
One of their first struggles as a couple was an endless family drama. Though there was some drama on both sides of the family, Maria's father tried to break them up.
His unwillingness to accept Keven as her partner threatened to put a wedge in between the couple. Constantinos Menounos, who came to the United States prior to her birth, completely disowned her, as he expected her to follow family tradition and values by marrying a Greek man.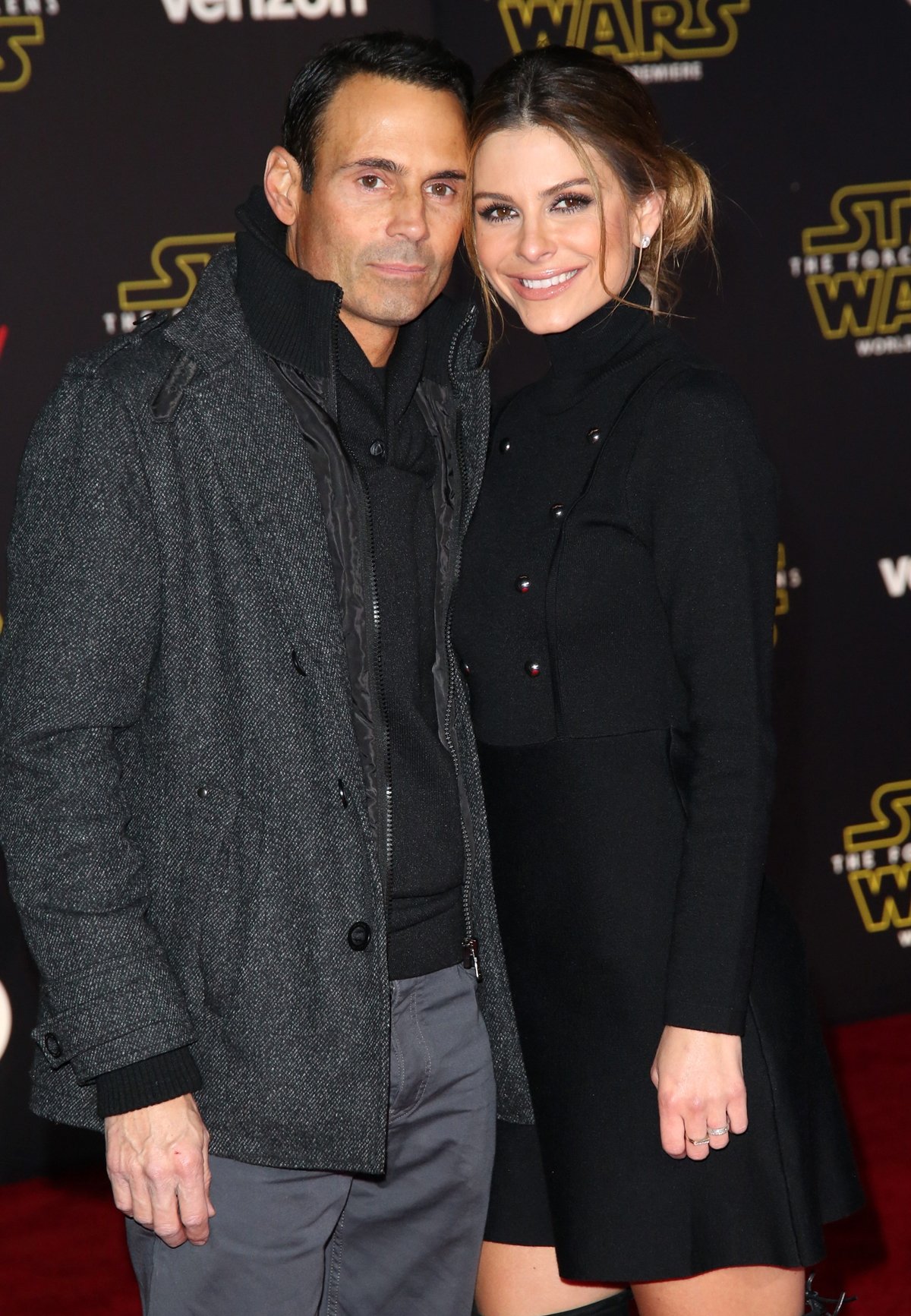 Keven Undergaro was homeless when he met the then 19-year-old college student Maria Menounos on the set of the same film they were working on (Credit: Brian To / WENN)
Nevertheless, Maria stayed with Keven and did not hesitate to remain by his side, stating that "I think we realized very quickly we had each other's backs." She was adamant about not letting her father control, or even attempt to control, who she loved.
The problems didn't stop there, as Maria's mother was later diagnosed with stage four brain cancer. A while later, doctors discovered a tumor in Maria's brain as well.
Through it all, Maria said that they "clung to each other" and continued to grow closer through all of the trials and tribulations life threw at them.
Maria Menounos's parents did not approve of her relationship with Keven Undergaro (Credit: Patricia Schlein / WENN)
They lived in an unfinished basement with three other people, struggled with finances, and had only one another for comfort. But they both clung to each other and the hope that one day, they'd get to Hollywood and all of their worries would disappear.
Keven was so sure that Maria would be something, he remembers telling her "I knew you were a star; I knew you were something special," Undergaro assures his wife. "And I said, 'We'll get out of this. We'll go make in Hollywood and then all will be well.'"
Engagement and Marriage
Maria and Keven spent the first two decades of their lives together dealing with family drama, health issues, financial issues, and a lot of stress. It took nineteen years before Keven finally proposed, but when asked about it neither of them seemed to have any bitter feelings about the long wait.
Keven said, "We knew we were married in our hearts," Maria chimed in and added, "We didn't need any of that stuff to solidify it. We were Kurt and Goldie-ing it."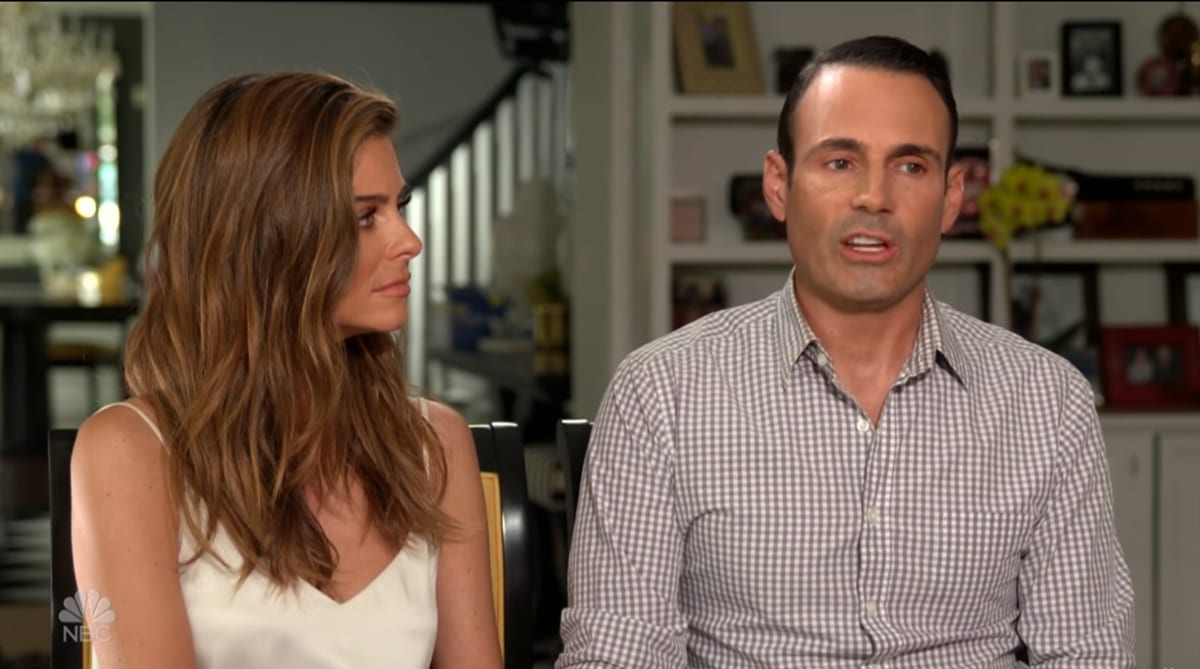 During an appearance on NBC's 'Sunday Night with Megyn Kelly' Maria Menounos and Keven Undergaro opened up about the surgery she underwent to remove a brain tumor, an ordeal that incredibly came in the midst of her own mother's battle with stage 4 brain cancer (Credit: NBC)
Still, it was a happy day in 2016 when Keven got down on one knee on The Howard Stern Show and asked Maria to be his wife. They were doing a press tour for Maria's book The Every Girl's Guide to Cooking and Keven saw it as the perfect opportunity.
But why The Howard Stern Show? Keven revealed that "We had so many special memories watching Howard Stern when we were in that basement. It was such a milestone for us to come together on that show."
Maria was so caught off guard that she thought the entire thing was a joke and didn't believe him until he told her it was time for her to start crying.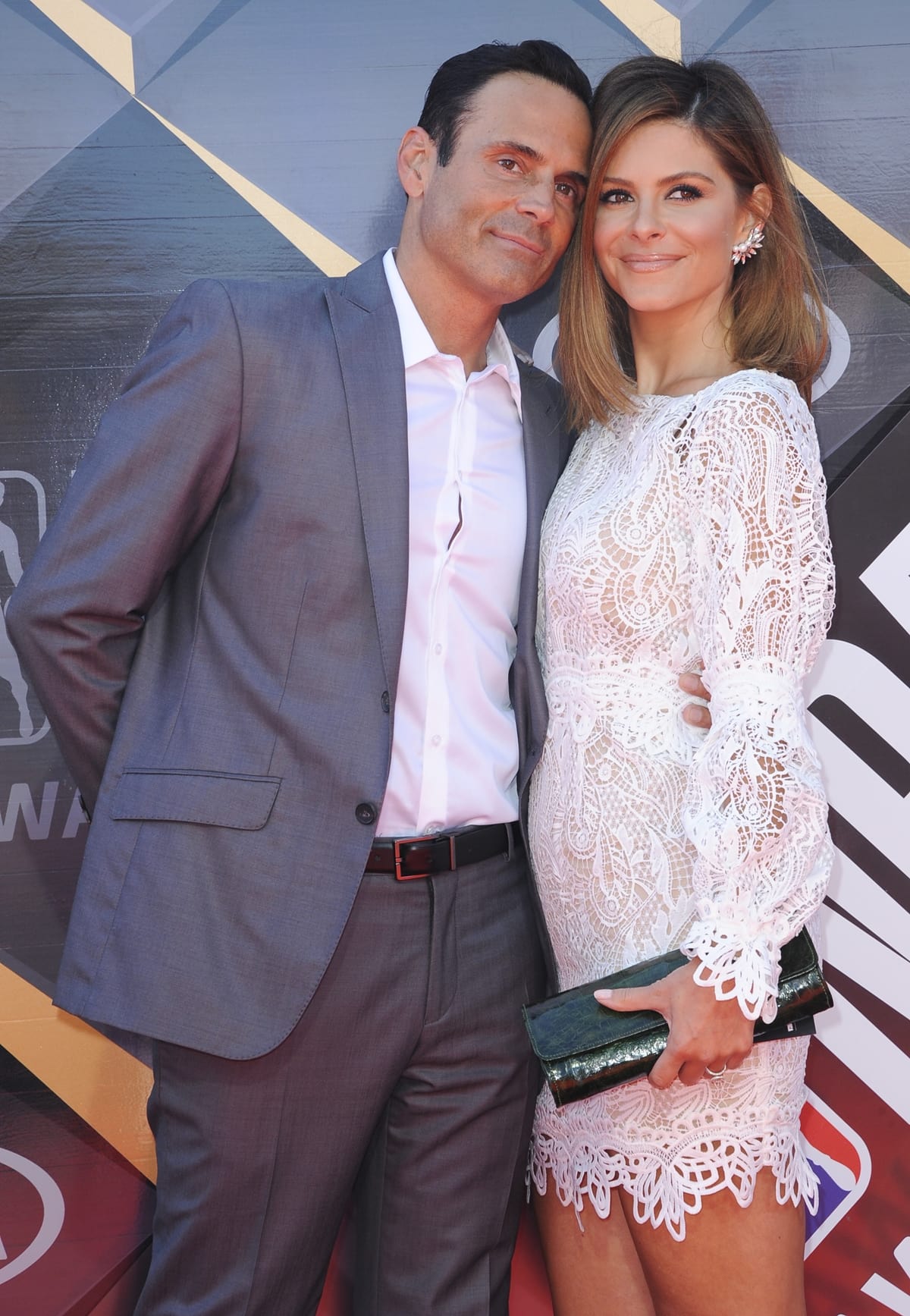 Maria Menounos and Keven Undergaro married on New Year's Eve on December 31, 2017, in the middle of Times Square in New York City (Credit: Apega / WENN)
The pair got married on Fox's annual New Year's Eve broadcast a year and a half later, in 2017. This beautiful celebration allowed the world to have a front-row seat to their magical day.
They had a traditional Orthodox wedding for her family in Greece in October of 2018.
Careers
Keven and Maria both have wonderful careers, both independently and together as a couple. The pair has a combined net worth of $20 million USD and created the online broadcasting network After Buzz TV.
Keven is a producer, director, and writer for film and TV. He has worked on things like The Elders, This Isn't Funny, and Jedi Alliance.
Maria is an entertainment reporter, TV personality, author, actress, TV presenter, businesswoman, and a professional wrestler. What can't this woman do? I mean, she's even signed to WWE!
Children
The pair is actively trying to find a surrogate so that they can have children, but the road has been long and frustrating, she told viewers on her YouTube channel, "I thought we'd have the surrogacy thing down. We'd be implanted by now. I thought we'd have something exciting by the holidays, or just after the holidays … but that's not happening."
Maria Menounos and husband, Keven Undergaro attend the ceremony honoring Burt Ward with A Star on the Hollywood Walk of Fame held on January 9, 2020, in Hollywood, California (Credit: Sheri Determan / WENN)
Keven Undergaro and Maria Menounos are a power couple! The pair has been together through thick and thin and continues to defy all odds.
They are goals for any couple trying to make it in Hollywood and pursue their dreams and we can't wait to see what they accomplish next!
In March 2014, Maria Menounos was spotted filming some scenes for Celebrity Apprentice with Kate Gosselin. Her reality television series Chasing Maria Menounos premiered on Oxygen just a few days earlier.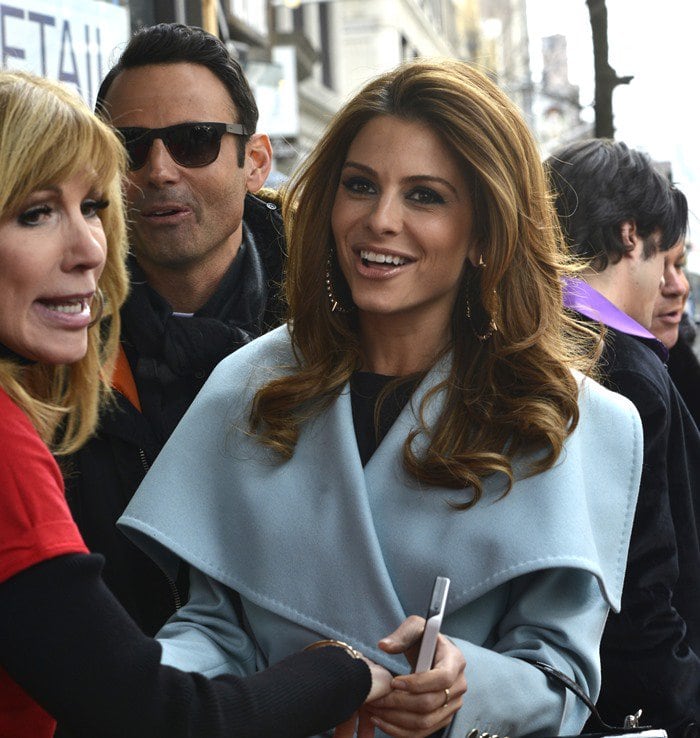 Maria Menounos wears a light blue jacket (Credit: TNYF / WENN)
For this particular run, Maria donned a light blue jacket over a black skirt and top. She then capped off the trio with two-tone scalloped pointy pumps that were just a little too pretty to ignore.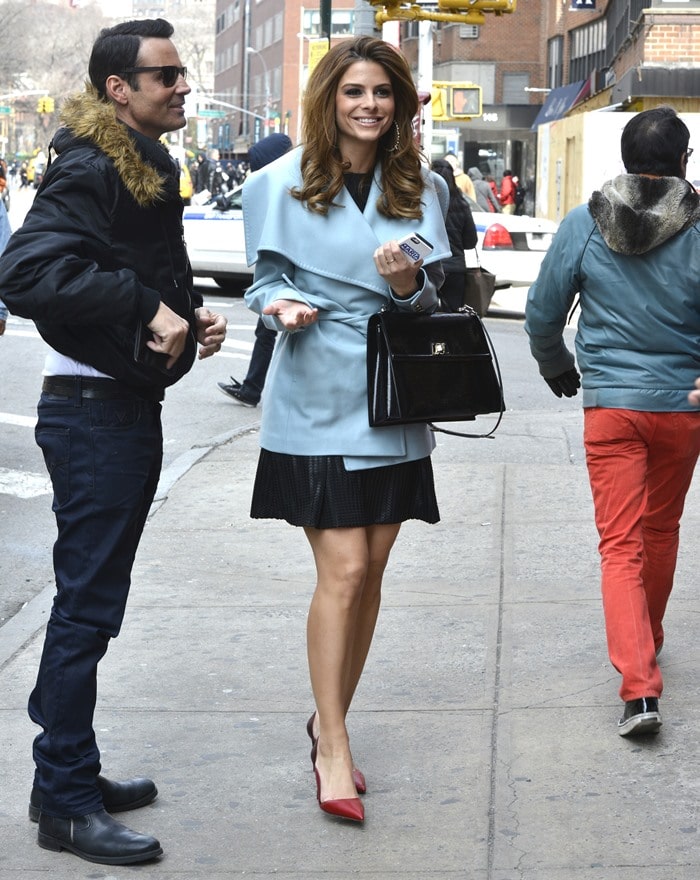 Maria Menounos styled her blue jacket and black skirt with two-tone pumps (Credit: TNYF / WENN)
When we heard that Maria was leaving 'Extra', we were a little disappointed because we always enjoyed watching the host dress up in stylish dresses for the show.
Maria Menounos and Keven Undergaro shooting some scenes with Kate Gosselin (not in the photo) for Celebrity Apprentice Season 14 in New York City on March 25, 2014 (Credit: Michael Carpenter / WENN)
Now, check out Maria's pretty pumps below. They're actually even more gorgeous up close!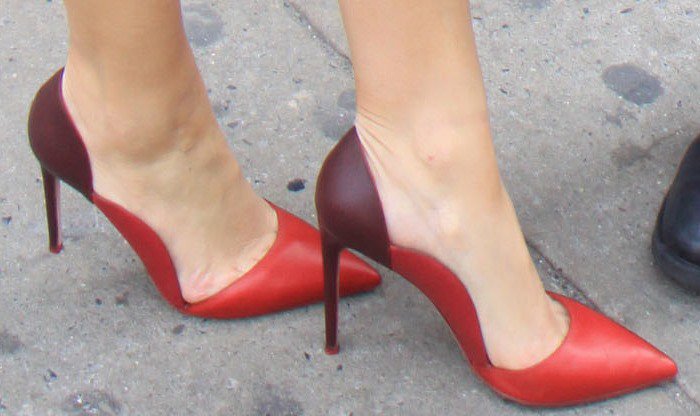 Maria Menounos shows off her feet in two-tone pumps (Credit: WENN)
Can you ID her heels? Could those be a pair of Louboutins, Manolos, or Choos? What do you think?
Actually, they're none of the above. We looked high and low for the pair and, by some sheer luck, managed to locate them. They're from Valentino.
Yes, we were just as surprised, but there you have it. Maria's pretty pointy pumps are from Valentino. They're called the "Rouge Absolute," and they are completely decadent and divine.
Aside from the very distinct scalloped sides and two-tone coloring, the pumps also feature 4-inch-tall heels and low-cut vamps for an extremely flattering fit. If you fancy them, you can score a pair in your size at Nordstrom or Farfetch.
Valentino Rouge Absolute Scalloped Sides Two-Tone d'Orsay Pumps, $895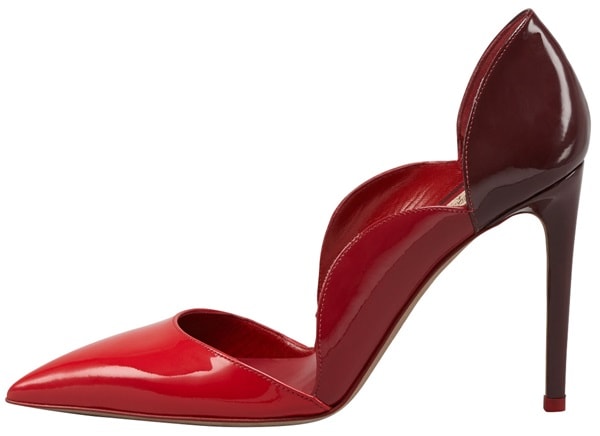 For ladies who want more drama, a dazzling version encrusted with a million crystals is also available. Of course, like any other pair of jeweled designer heels, this one will cost you an arm and a leg (maybe more):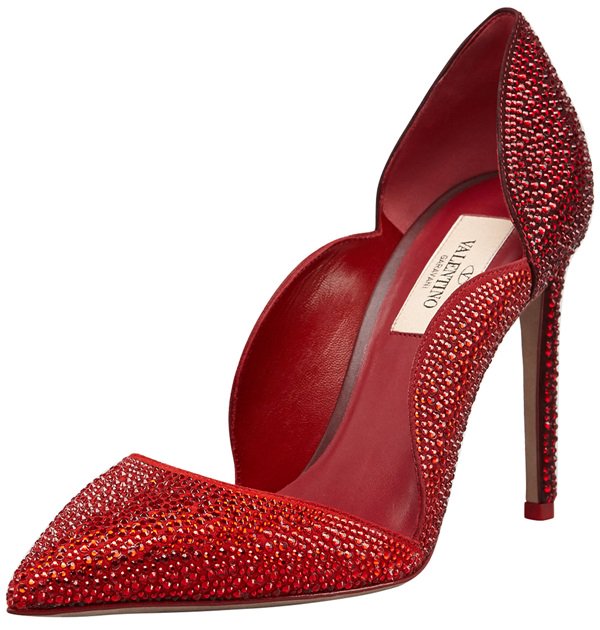 Valentino "Absolute Rouge" Crystal Suede Scalloped Sides Pumps, $2,545
Sorry, we couldn't find a knockoff for those of you looking to grab something similar at a fraction of the price. However, you can try this style from Nine West if the flirty scalloped sides are what you're after.
Nine West "Johnny" Pumps, $27.75 – $88.93