She has been "canceled" following her cyberbullying scandal. And if there's one lesson she has learned from the controversy, it's to stay out of other people's issues.
Just recently, TMZ caught up with the 35-year-old cookbook author, who told them: "I have decided I'm not getting involved in anyone's sh*t ever again."
When asked how long she's going to be in the "cancel club," Chrissy Teigen said: "I don't know, it could be forever. I have no idea."
Chrissy Teigen says she might be in the cancel club forever as she picks up her daughter Luna from school on July 20, 2021 (Credit: Mega / WENN)
Looking unbothered, John Legend's wife added: "All I can do is live my life and take care of my kids and family. Everyone else can make their choice."
During the said sighting, Chrissy appeared all set for a horseback ride as she brought her equestrian style out on her way to pick up her daughter Luna from school.
The mom-of-two wore a Frank & Eileen white button-down shirt, which you can get for $228 at Shopbop. Featuring a collared neck with long sleeves and a patch breast pocket, Chrissy left several buttons undone to reveal a hint of her black sports bra and cleavage.
She then tucked her crinkled poplin shirt into a pair of $45 Tuffrider stretchy ribbed pants, which highlighted her incredible figure.
Chrissy Teigen opts for an equestrian-inspired outfit with Frank & Eileen white shirt, Tuffrider pants, and Isabel Marant belt (Credit: Mega / WENN)
Giving her casual look a more equestrian vibe, Chrissy wore a black Isabel Marant woven belt and completed her outfit with Parlanti Dallas Pro riding boots.
Made from superior quality calfskin leather, this knee-high boot is equipped with shock-absorbing technology on the heel to ensure a more controlled ride.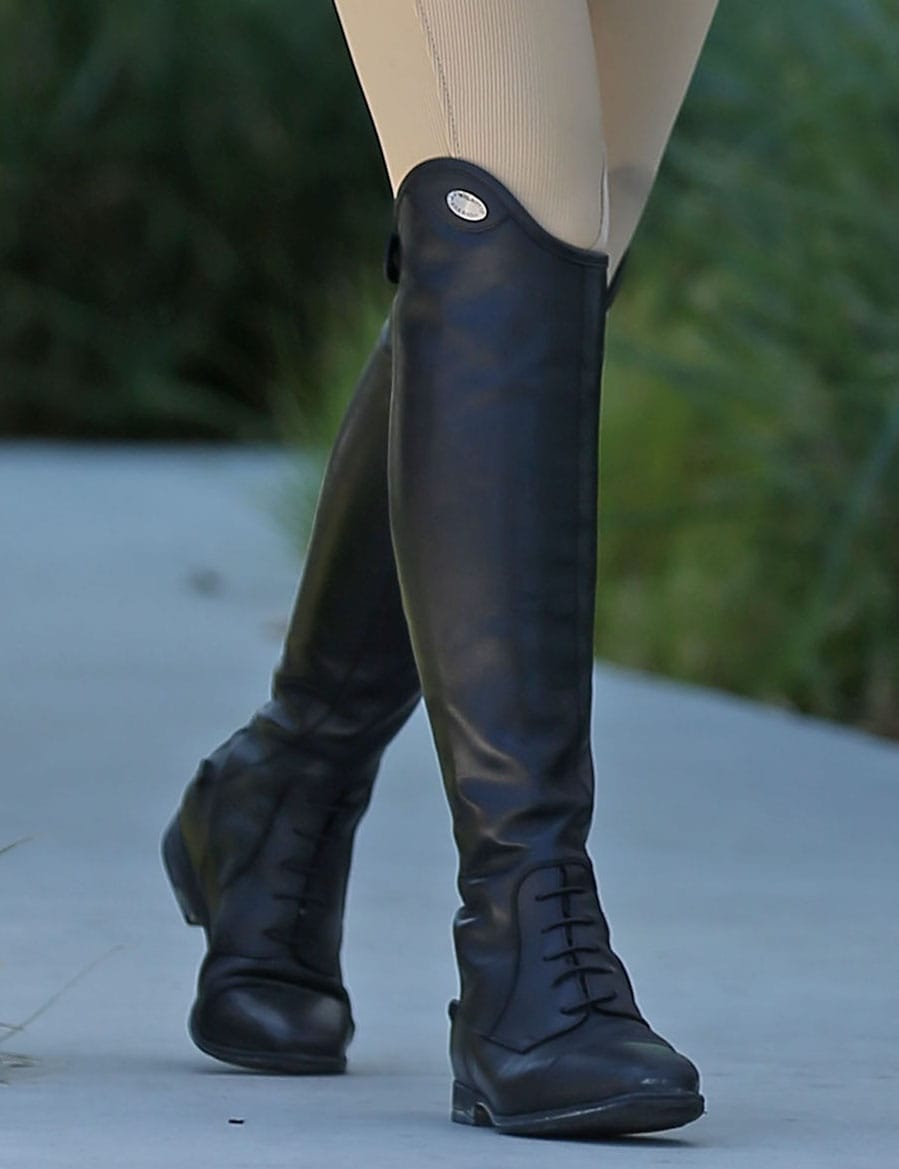 Chrissy Teigen completes an equestrian look with Parlanti Dallas Pro riding boots (Credit: Mega / WENN)
It's lined with buffalo leather for comfort and durability and has a compact square toe and a sole made from a mixture of rubber and latex for flexibility.
Parlanti Dallas Pro Riding Boots, $1,150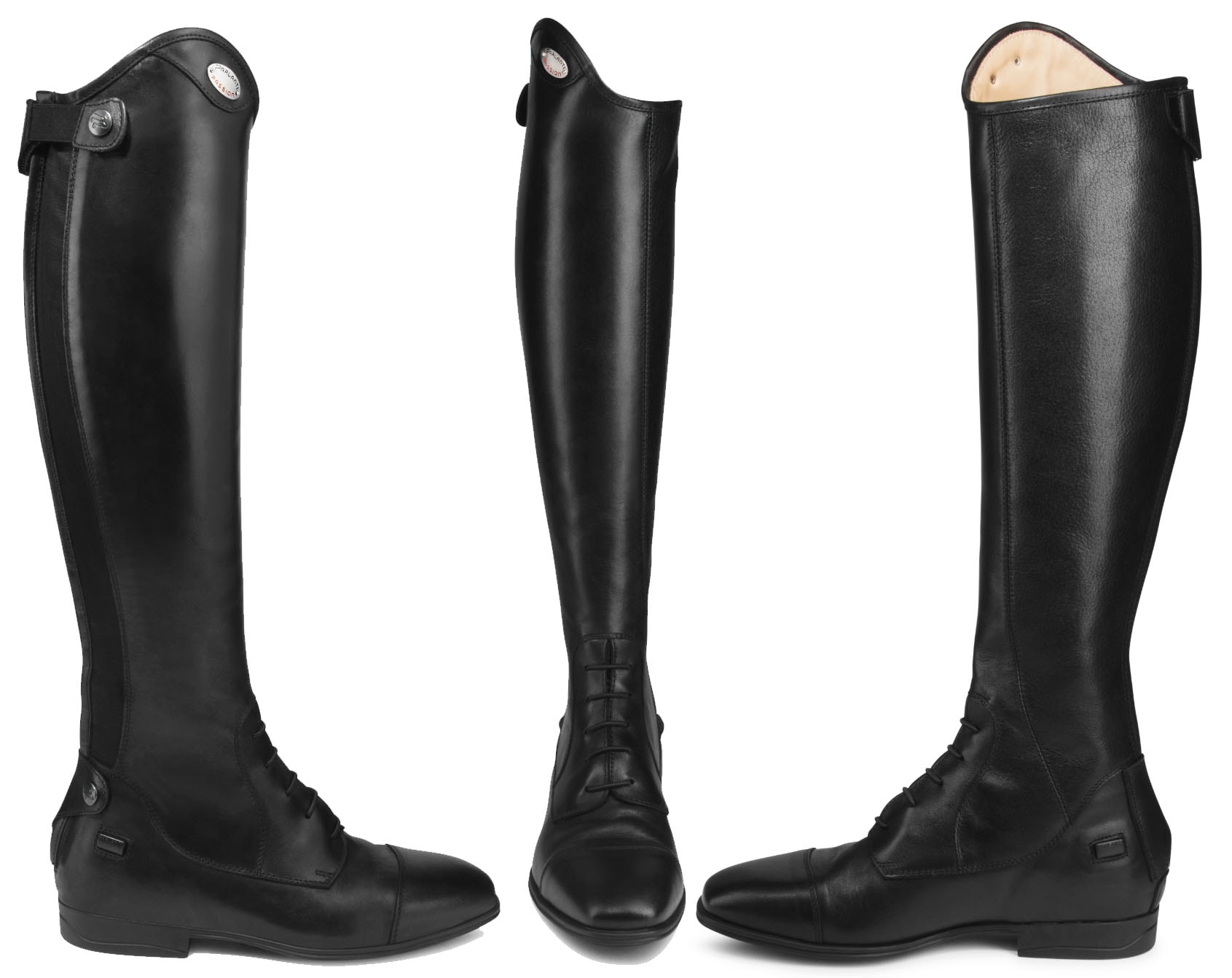 A technologically superior boot made from superior quality calfskin leather with flexible latex and rubber sole
Keeping the sporty-chic look going, Chrissy styled her dark tresses in thick French braid pigtails. She then wore a pair of square-framed sunglasses, a black face mask, and multiple stud earrings.
Chrissy Teigen wears a face mask and styles her hair in French braid (Credit: Mega / WENN)
Chrissy is slowly returning to the public eye after her bullying controversy.
In one of her most recent sightings, the former Sports Illustrated swimsuit model gave off a cool-girl vibe while running errands in Los Angeles.
Chrissy Teigen runs errands in Los Angeles on July 22, 2021 (Credit: Mega / WENN)
She went the sporty-casual route, pairing a black sports bra with Year of Ours ribbed Football leggings, available for $114 at Zappos.
Looking effortlessly cool, she then topped her bra with a 3.1 Phillip Lim zipper denim jacket and tied a $595 R13 multi-plaid flannel shirt around her waist.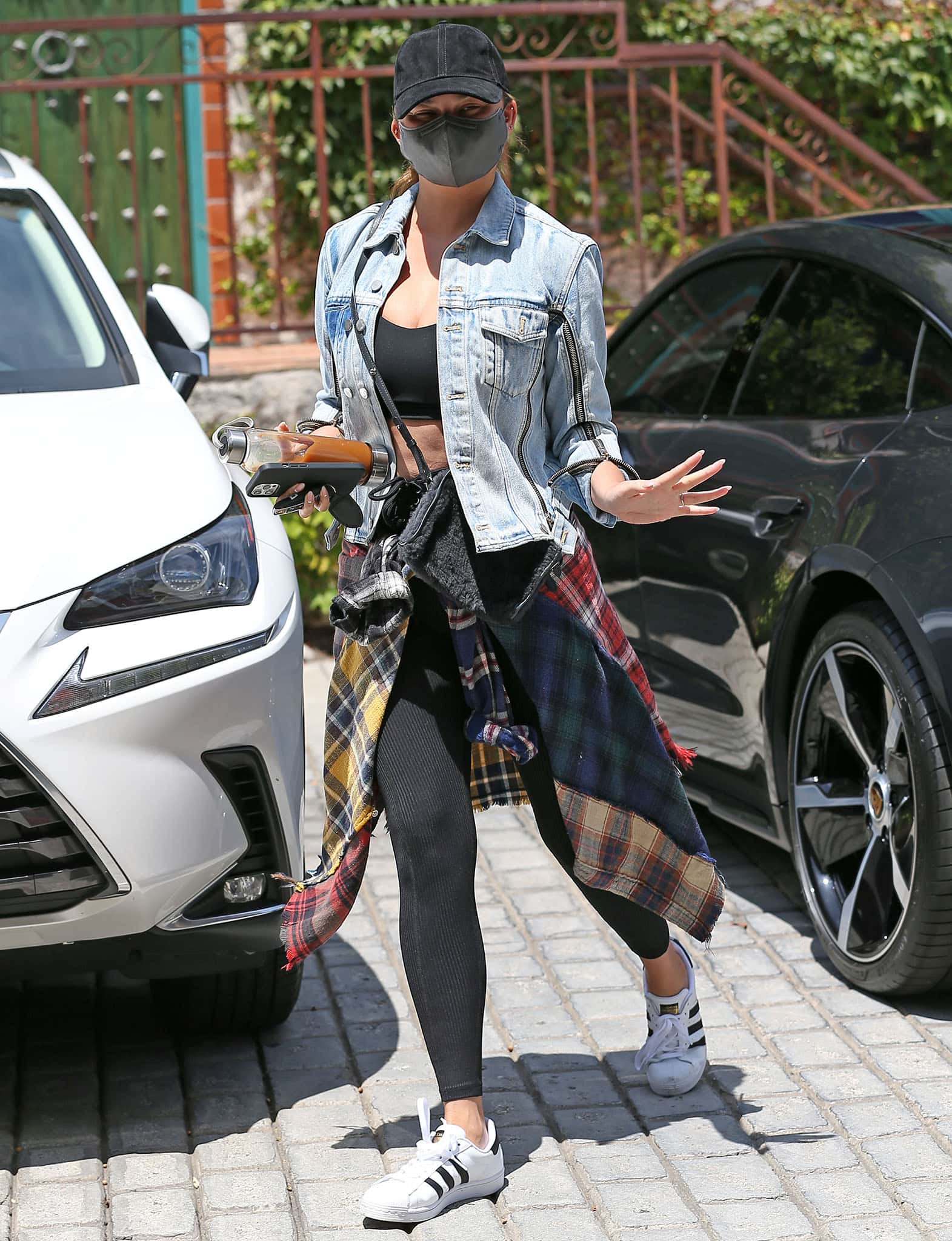 Chrissy Teigen layers a 3.1 Phillip Lim denim jacket and a plaid R13 shirt over her sports bra and leggings (Credit: Mega / WENN)
The Lip Sync Battle host failed in her attempt to go incognito with a gray face mask and a Rag & Bone "Marilyn" baseball cap.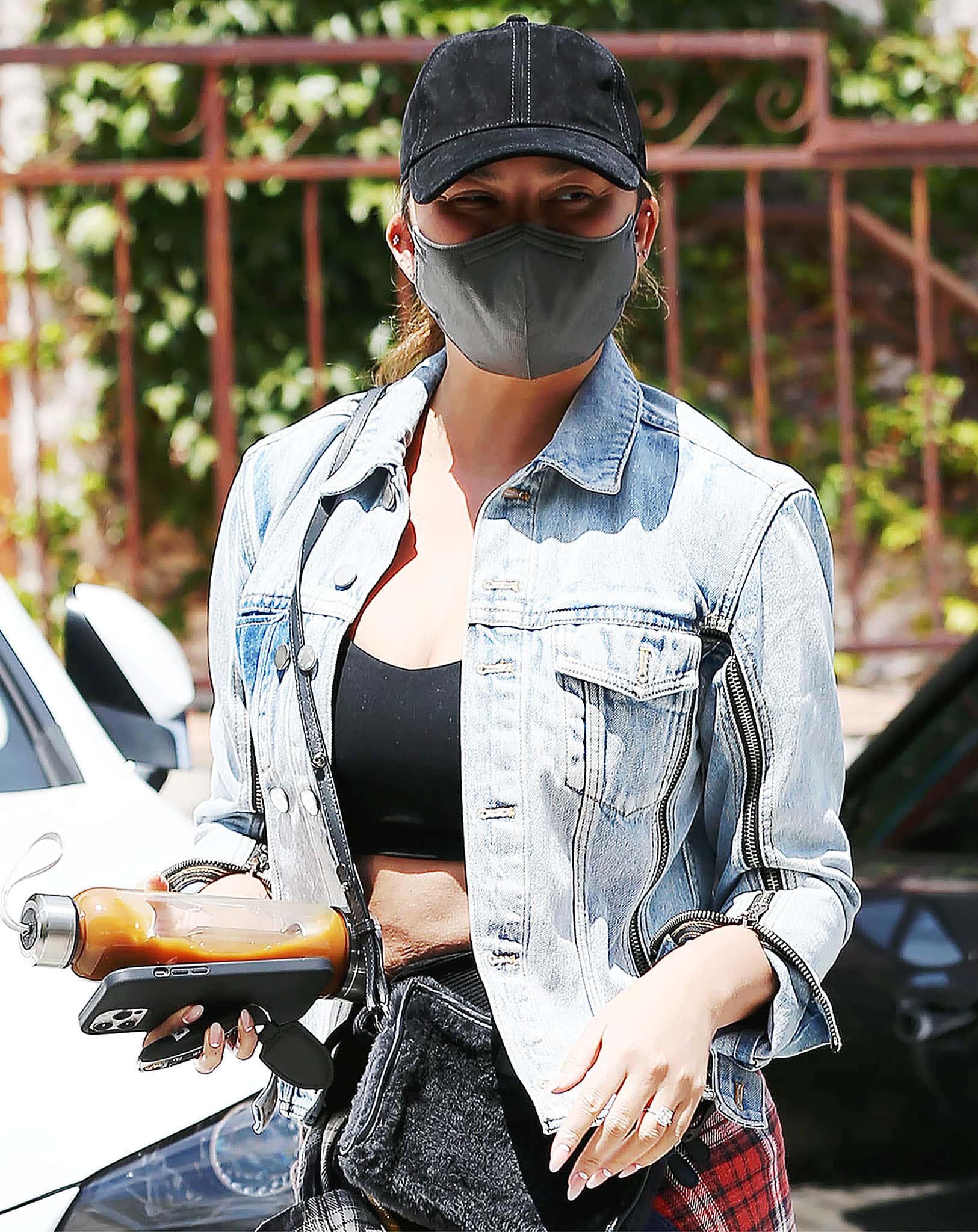 Chrissy Teigen attempts to go incognito with a Rag & Bone baseball cap and a gray face mask (Credit: Mega / WENN)
Her Balenciaga Bazar shearling bag and Adidas "Superstar" sneakers rounded out her chic casual outfit.
Introduced in 1969, the Superstar is characterized by the serrated three-stripes design and textured clamshell toe.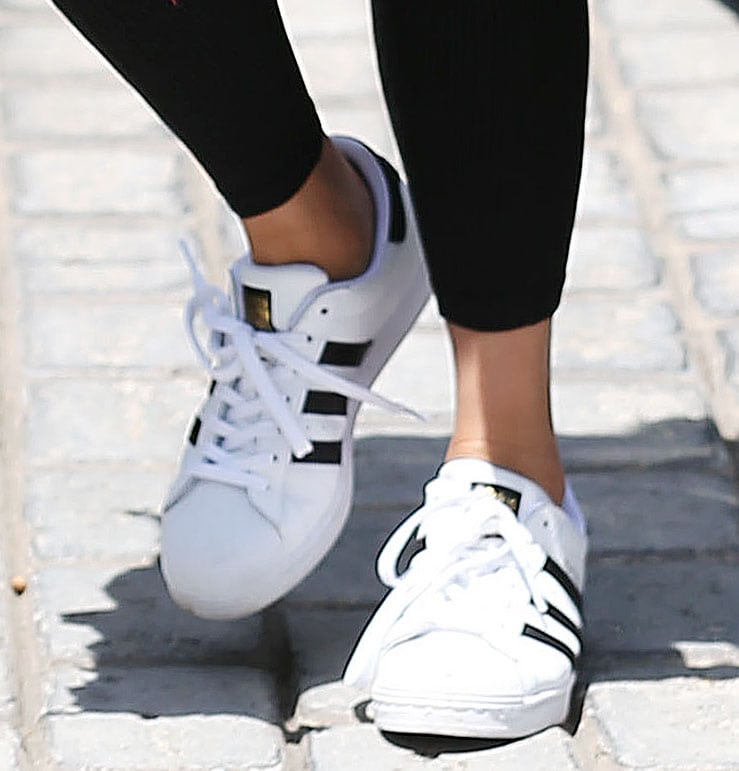 Chrissy Teigen pairs her effortlessly cool outfit with the classic Adidas Superstar sneakers (Credit: Mega / WENN)
Adidas 'Superstar' Sneaker, $85 – $90 at Nordstrom
The Superstar is one of Adidas' most iconic silhouettes featuring serrated 3-stripes and a clamshell toe