You may know Mario Lopez, 48, from his breakout role as A.C. Slater on Saved by the Bell and Saved by the Bell: The College Years, which aired from 1989-1994.
Not related to George and Jennifer Lopez, he also appeared as a contestant on the third season of Dancing with the Stars on ABC, where he and his then-girlfriend, Karina Smirnoff, finished in second place.
You could also find Lopez hosting shows like The X Factor and Extra in the last couple of years. This San Diego native has an estimated net worth of $25 million.
Mario Lopez is a two-time Emmy Award-winning TV host with an estimated net worth of $25 million (Credit: Avalon / WENN)
Before meeting his now-wife, Courtney, Mario dated a few celebrities. His first childhood "romance" was with singer Fergie during their time on Kids Incorporated.
He then dated another co-star, Tiffani Thiessen, during their time filming Saved by the Bell. Later, he was linked to actresses Jaime Pressly and Heidi Mueller. Some rumors say that pop singer Britney Spears and Lopez were linked in 2008.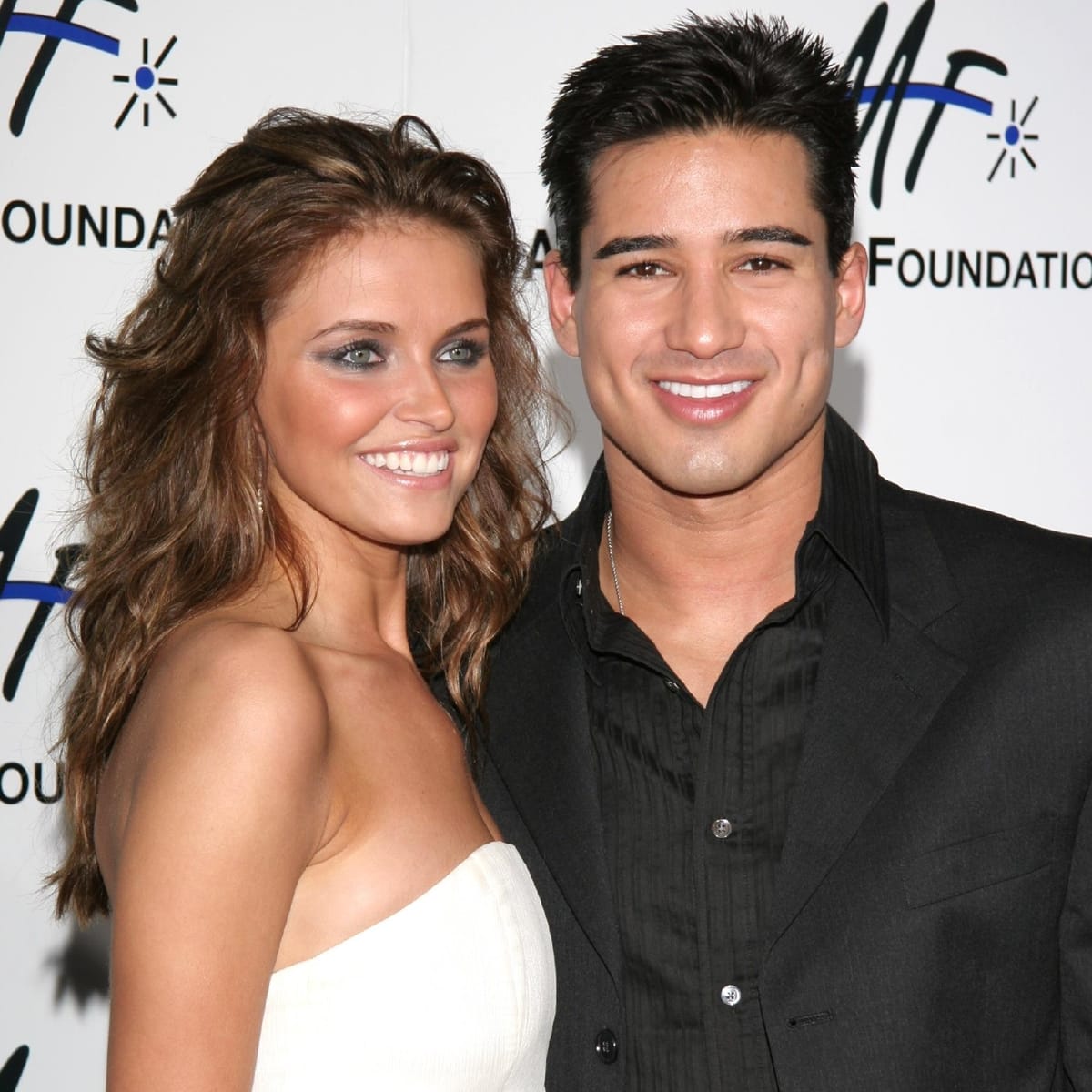 Heidi Mueller and Mario Lopez dated for a few months in 2006 (Credit: Rachel Worth / WENN)
Lopez dated and married actress and model Ali Landry in 2004 after six years together. The marriage was annulled after just two weeks when Landry found out that Lopez had an affair during his bachelor party.
"It was spring break… Everyone was hanging out. That was a situation where I was not mature or man enough," Mario admitted to cheating on Ali on The Howard Stern Show.
Landry is now married to Mexican film director Alejandro Gomez Monteverde, with whom she has three children.
Courtney Laine Mazza is an actress, dancer, and producer with an estimated net worth of $2 million (Credit: FayesVision / WENN)
Eventually, Lopez met Courtney Laine Mazza, now age 39, in New York while the two were working on the Broadway show, A Chorus Line, in 2008. The two share the story of how they met on their family's YouTube channel.
"I met him on stage left"
Courtney says, "I remember it exactly. I met him on stage left, wing 1, right before the show started. I even remember what I was wearing, strangely enough… I had just come from another show, so I had a couple of days to watch before I went in."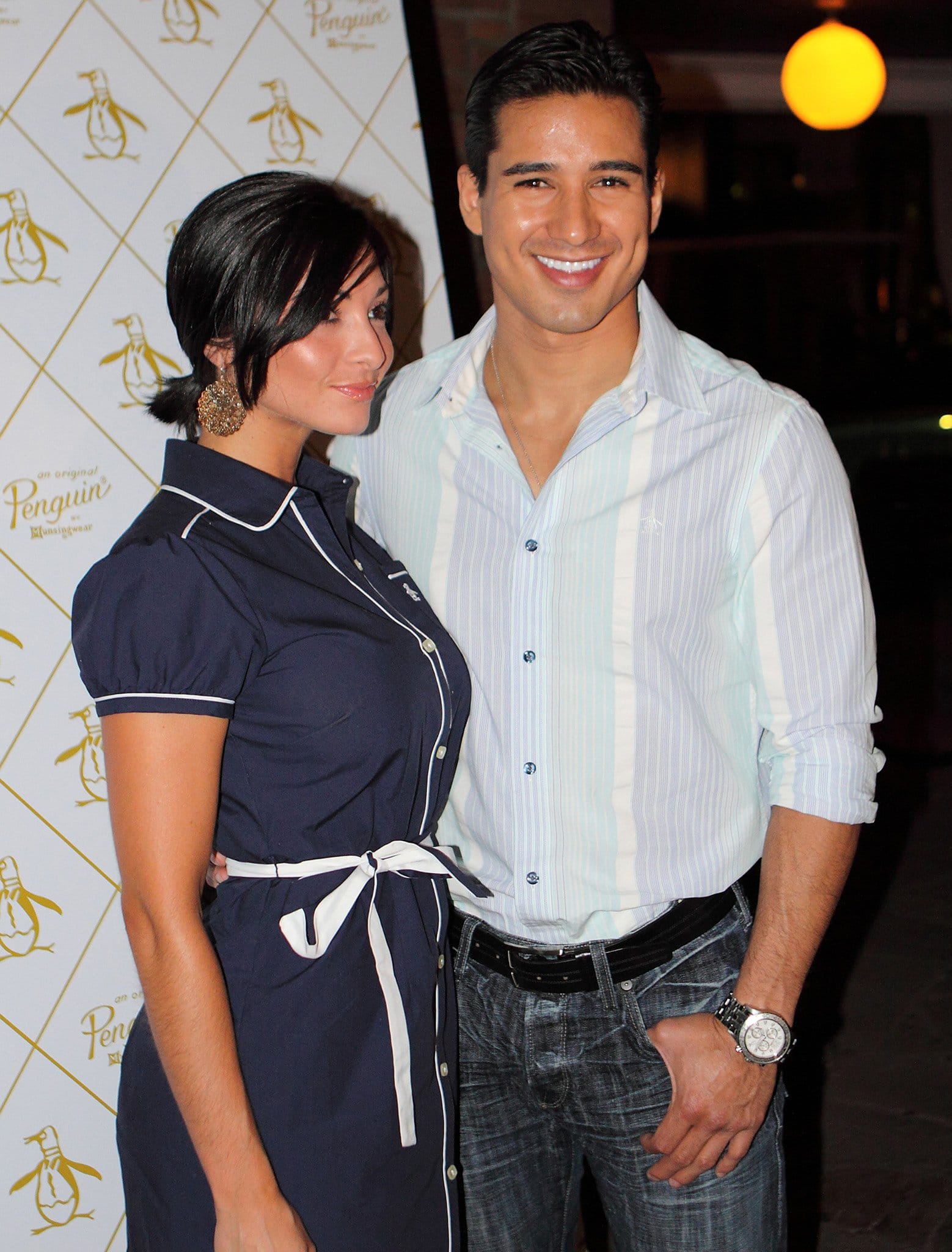 Courtney Laine Mazza and Mario Lopez first met while working on the Broadway show A Chorus Line in 2008 (Credit: WENN)
Mario remembers thinking she was cute when they met, and he tried to make small talk with her.
He later would see her perform and realized how talented she was at singing and dancing. Mario found this very attractive, along with her physical appearance, and noted how Courtney didn't give him much time.
"She was not trying to give me any time or show many any love, she wasn't tripping, that was her game," says Mario. To which Courtney laughs and replies, "He thinks that was a game. He's just not used to somebody saying 'I'm not interested.'"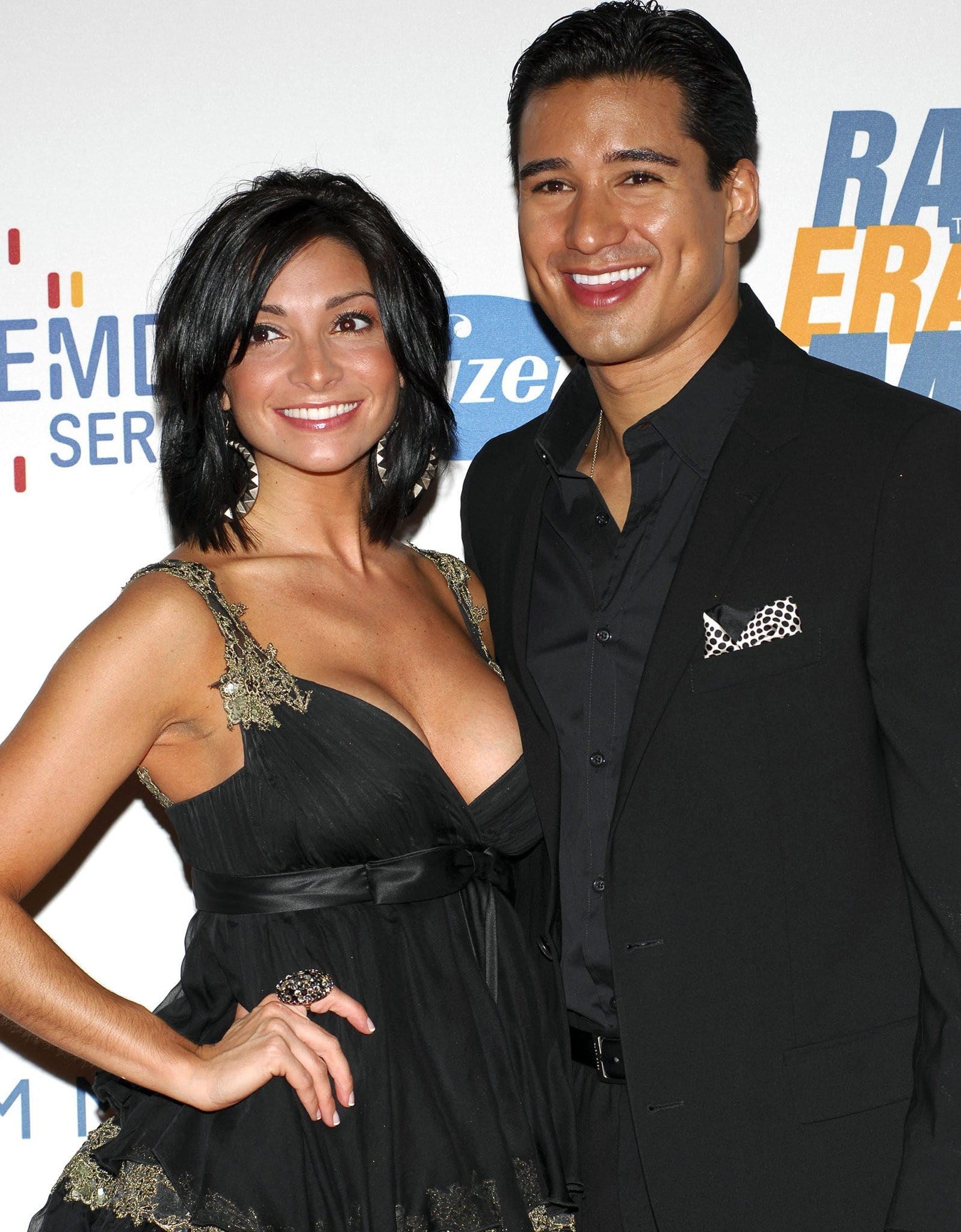 Mario Lopez first thought Courtney Laine Mazza was cute and later realized she was talented at singing and dancing (Credit: WENN)
Mario admits it took him a while to get Courtney to go out with him. After a couple of months, she agreed to go on their first date. The day of, Mario was running late, so Courtney blew him off, and that first date never happened.
The two rescheduled, and on this date, Courtney brought her gay best friend, Nick.
Mario laughs and shares, "It was like a group date." Courtney reminds Mario that he knew Nick ahead of the date, so it wasn't a complete stranger she brought along on their first date.
It took Mario Lopez a couple of months to get Courtney Laine Mazza to go out with him and she brought her gay best friend with her on their first date (Credit: WENN)
With only a couple of months before Mario needed to head back to Los Angeles after his stint in New York for the show, the two did not plan on making their relationship long-distance.
They were enjoying each other's company during the time they had together in New York.
"She was still kind of dating someone too, but they were kind of not in the best circumstances. All girls are always kind of dating someone. They're always in some element of a relationship. Especially pretty girls are always sought after," says Mario.
Courtney Laine Mazza was still dating someone when she met Mario Lopez (Credit: FayesVision / WENN)
Courtney agreed she was ending something with someone else but didn't think her time with Mario was going anywhere because of the distance that would soon be between them. She says she used it as a catalyst to get out of the relationship she was in prior.
During the last few months that he was in New York, the two spent a lot of their time together simply enjoying each other's company while they could.
A Long-Distance Love Begins
Eventually, the Broadway show ended, and Mario returned home to Los Angeles. The two Skyped to stay in communication, and he really started missing her.
He asked if he could fly her out, and she started flying to see him as often as she could while she was still working on Broadway.
Her trips were short, sometimes less than 24 hours, just so they could spend some 1-1 time together in person. At the time, Courtney was in the Little Mermaid in New York and was ready for new opportunities.
Mario Lopez and Courtney Laine Mazza lived together for a couple of weeks while she was on a break from Broadway (Credit: Avalon / WENN)
On New Year's, Mario asked Courtney to come and stay with him for a couple of weeks to a month while she took a break from working on Broadway. She said yes, and their time together flew by. Mario did not want her to leave.
He offered to take care of her apartment in New York for a couple of months to see if she liked California and living with him and if they could make it work together in the same city.
Courtney took him up on it, and after those three months were up, again, Mario did not want Courtney to leave.
Courtney Moves to LA
Mario asked Courtney to stay longer. Courtney shares, "It was weird. Immediately right when I moved here [Los Angeles], temporarily from New York, and I moved into his home, it felt like our home. He never made me feel like I was just staying there. Everything for us just was so natural and so easy that sometimes it felt too good to be true."
Mario believes he was at the right place in his life as an individual when he and Courtney met.
He says, "Had I met her five, six years prior, I probably would have messed it up, and it wouldn't have worked out. So, I really believe it is about the right time in your life. You can have the most amazing person, the right person, but if you're not right with yourself or where you need to be, then you're just gonna mess it up. So, a lot of things gotta align. Gotta be the right person, gotta be the right time for you, and fortunately for me, that was the case, so it worked out."
"We laugh a lot"
One of the things that Mario loves most about his wife and finds very attractive is her sense of humor.
He shares, "She's funny. She busts my chops and she's quick-witted and sharp. Most of the time I'm feeling like Chris Rock in the relationship, but she's pretty funny. We laugh a lot, and I think laughing is extremely healthy and vital to the success of any relationship. I never really had that before, and it keeps it fun."
Mario continues, "She is an amazing mother and a great wife, and I feel very blessed that she came along in my life when she did."
Mario Lopez loves his wife Courtney's sense of humor (Credit: Mega / WENN)
Courtney continues the compliments about her husband, noting his appearance as being beautiful but not what made her fall in love with him.
She says, "I fell in love with his charm and his heart. He's just an incredible person. You can tell immediately if you know they're going to be a good father or not. And after I met his mom and his dad and his sister, I knew immediately that it was a family that I would want to be in with, and they liked me thank god."
Mario shares how he was so thankful that his parents and sister loved Courtney because it would have been a dealbreaker for him if they did not.
Wedding Bliss & Life with Children
Mario proposed to Courtney on a family vacation in Ixtapa, Mexico three years after they met. After a year-long engagement, the two got married in 2012 in Punta Mita, Mexico.
With 200 of their closest friends and family in attendance, the two shared their vows with the sea as a backdrop in a Catholic ceremony.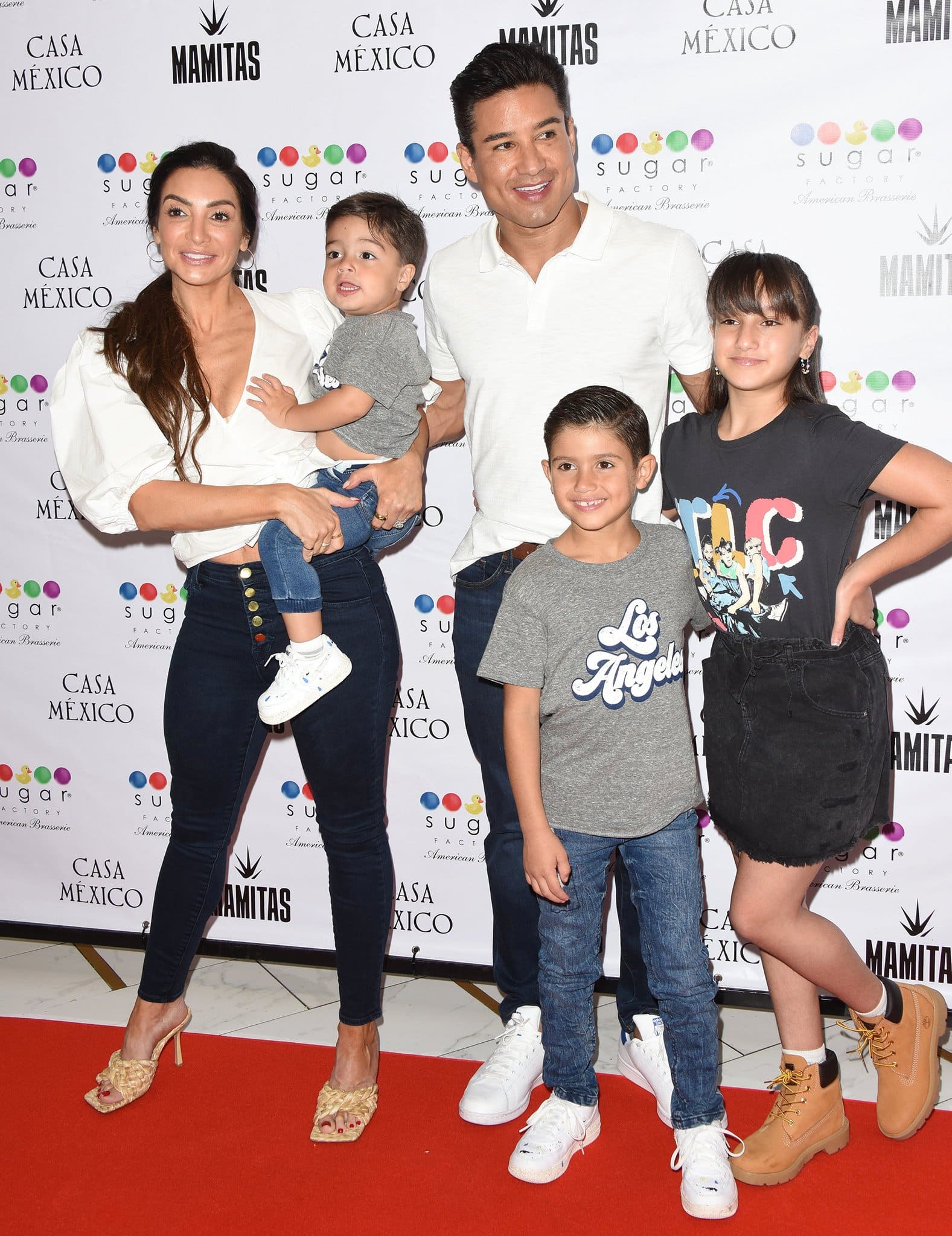 Mario Lopez, his wife Courtney Laine Mazza, and their three kids at Sugar Factory American Brasserie on August 07, 2021 (Credit: Avalon / WENN)
The Lopez Family has grown since Mario and Courtney wed in 2012. Their three children, Gia, Dominic, and Santino keep the couple busy and happy.
Gia was born in September of 2010, Dominic was born in September of 2013, and Santino, their youngest, was born in July of 2019.
You can see more family videos, although the channel hasn't been updated in 2 years, on their YouTube channel "The Lopez Family."
In May 2016, Ashley Tisdale was spotted at Universal Studios, where she was interviewed by Mario Lopez for Extra.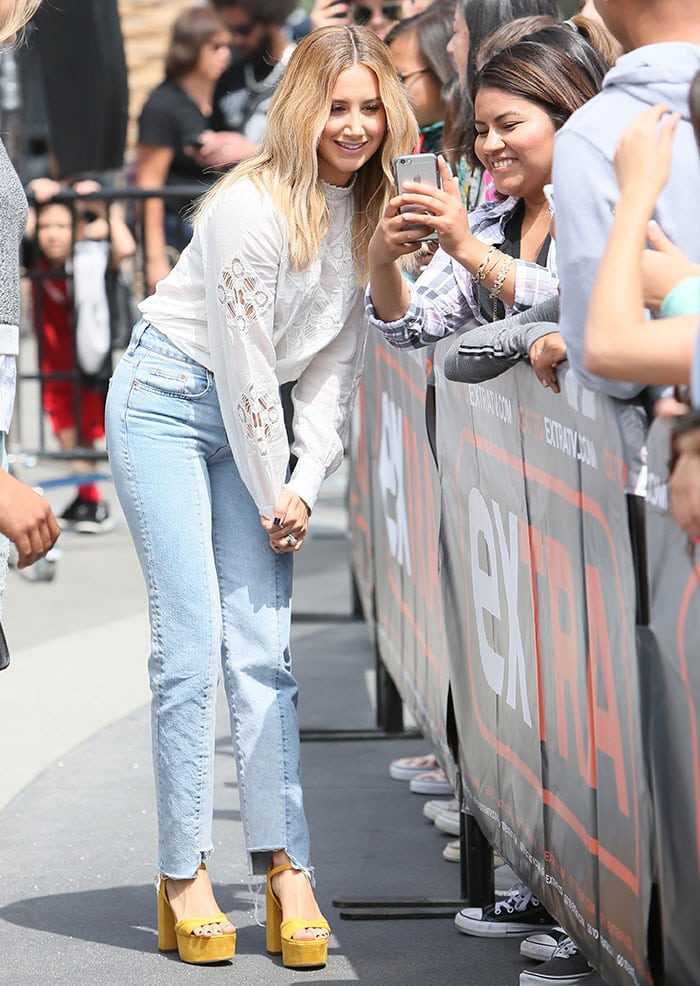 Ashley Tisdale promoted her American sitcom Young & Hungry in which she stars as Logan Rawlings (Credit: Michael Wright / WENN)
The then 30-year-old actress dropped by the set to promote her makeup collection, called Illuminate, as well as the fourth season of her Freeform TV show, "Young & Hungry," on which she works as an executive producer.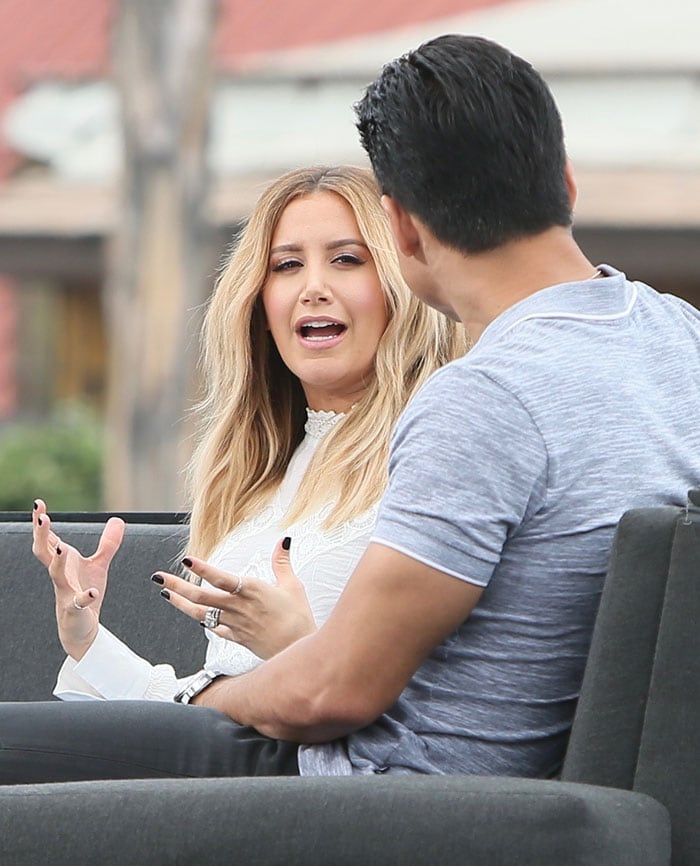 Ashley Tisdale at Universal Studios where she was interviewed by Mario Lopez for the television show "Extra" in Los Angeles on May 31, 2016 (Credit: Michael Wright / WENN)
Ashley went for her signature bohemian-chic style, sporting a loose white top, which featured lace embroidery, long sleeves, and a high, lacy neck.
Ashley Tisdale shows how to wear a lace-detailed white top with raw-hem jeans (Credit: Michael Wright / WENN)
She teamed it with a pair of light-wash jeans with a raw hem and a pair of yellow suede sandals that brought a pop of color to the summery look.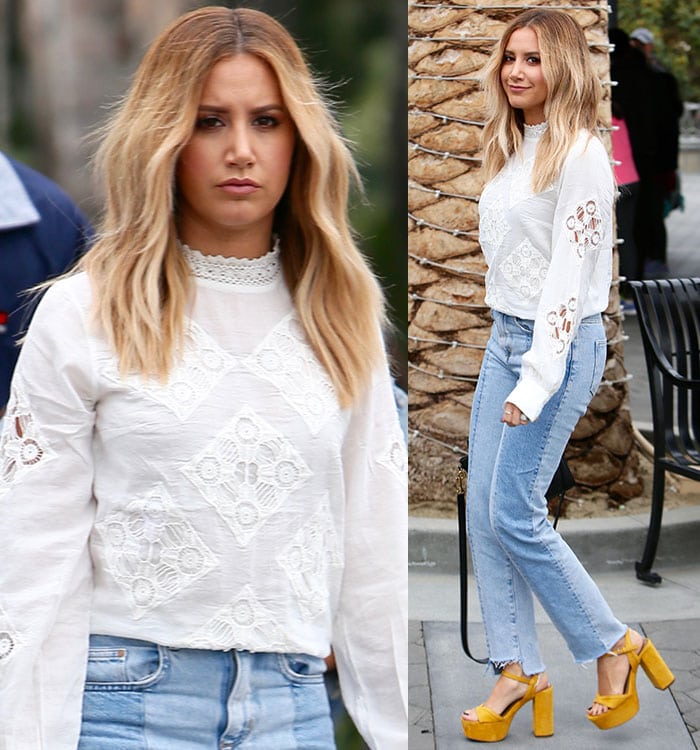 Ashley Tisdale styled H&M slim regular ankle jeans with a lace blouse (Credit: Michael Wright / WENN)
The "High School Musical" star wore minimal jewelry and kept everything else simple by casually wearing her tresses down and sporting a natural makeup look.
Ashley Tisdale totes a black Celine Nano Luggage mini tote bag (Credit: Michael Wright / WENN)
Ashley's sandals added a couple of inches to her petite frame. They are by Spanish apparel retailer Zara and they feature crossover straps, buckled ankle straps, about two-inch platforms, and 4.3-inch block heels.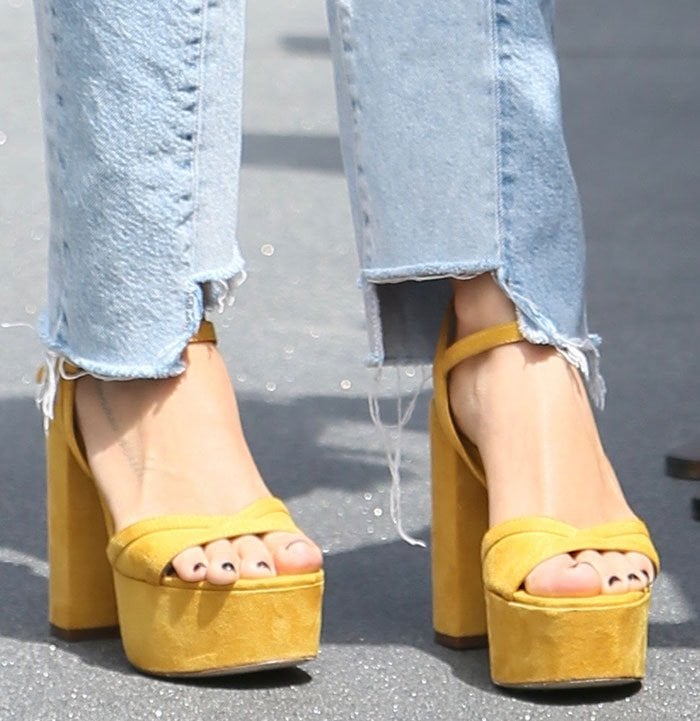 Ashley Tisdale displays her feet in yellow block heel shoes from Zara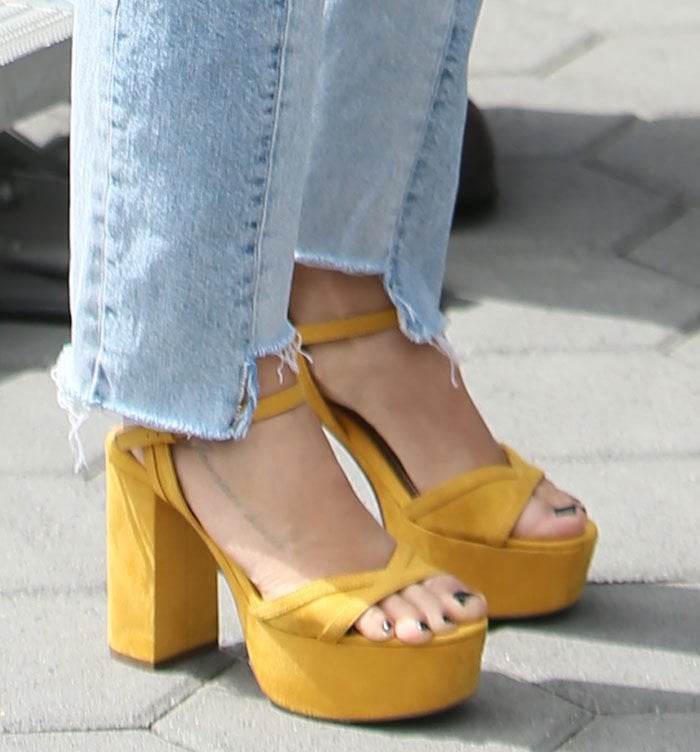 Ashley Tisdale shows how to wear yellow block heels with jeans
Ashley Tisdale shows off her feet in yellow platform sandals
Do you like how Ashley Tisdale styled her yellow block heels with jeans and a blouse?
Zara High Heel Platform Sandals, $45