All eyes have been on Lea Michele following the sudden death of Cory Monteith, her Glee co-star and boyfriend of two years. Now she has reportedly reopened her heart for Matthew Paetz, a Los Angeles-based dating and lifestyle coach who previously worked as a male escort.
Given that Cory's death coincided with the wrap-up of Glee's final season, many were worried about how Lea was going to pick up her life and move on.
A camera-shy Lea Michele arrives at Los Angeles International Airport on August 5, 2015
But, the 28-year-old seems to be doing just fine. The actress said she couldn't be happier with her life.
In fact, Lea was recently spotted coming home from a relaxing getaway with her current boyfriend, Matthew Paetz, an actor/model she met on the set of her "On My Way" music video.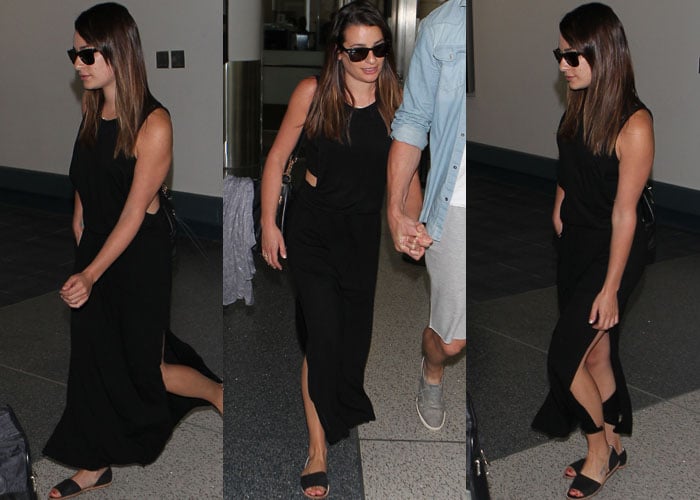 Lea Michele keeps things sleek as she wears her brunette hair down in an all-black look
According to E! News, Matthew Paetz previously worked for Cowboys4Angels, a service offering male "companionship" for women, though the owner of the escort service refused to comment on the nature of his services.
A source told the gossip website, "He will be great arm candy and he is a very nice guy, and is a lot of fun." Moreover, "he is very into being in a relationship and loves being in one. He is the kind of person who will want to be with that person all the time, but in a good way. And he is a good listener."
Lea said she's been successful at moving past her tragedy and focusing on her dreams because of the supportive network of people in her life.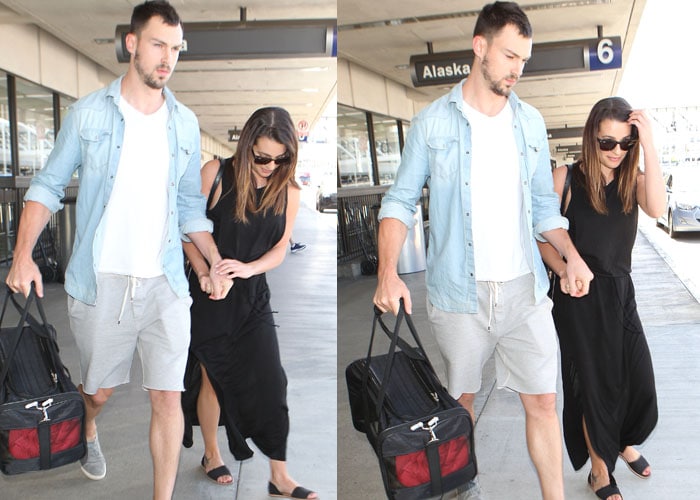 Lea Michele and boyfriend Matthew Paetz hold hands as they stroll through airport arrivals
The actress released a New York Times Bestselling book called Brunette Ambition (available at Amazon), in which she opened up about her struggles and talked about how she overcame them.
Lea recently launched her second book, You First, which tells her readers how to go after their own goals. Don't miss the excellent reviews on Amazon.
The camera-shy actress was spotted arriving at LAX in a black maxi dress, sunglasses, and black slip-ons.
Lea Michele recently launched a book that encouraged her readers to be clear about their goals and how they can actually be achieved
To get Lea's ultra-comfy airport look, match a maxi dress with any pair of similar black slides below.
Franco Sarto Vancouver Shoes, $79
MTNG Brandy in Vaqueta Negro, $79.99
Splendid Akron Black Shoes, $107.95
Credit: Lea Michele's Instagram / WENN