One a new episode of her Apple Music radio show Me & Dad Radio that was released last month, Billie Eilish talked about her love for Katharine McPhee, her childhood, and the songs that impacted her life, starting with "Over It" by Kat.
"I think I was 12 or 13…and dad was playing this 40-second version," Billie said about her father Patrick O'Connell initially finding the clip on the free peer-to-peer file sharing (P2P) client Limewire.
"It was the chorus, that's all there really was, and the chorus has this beautiful melody, one of those melodies that makes you feel something. I'm such a melody whore. I just…God, melodies really get me, and this one really got me, and got dad too."
Billie Eilish, pictured performing with her brother Finneas O'Connell during the One World: Together at Home special on April 18, 2020, was inspired by Katharine McPhee's 2007 song Over It"
Billie added about the song from American singer Katharine McPhee's eponymous debut studio album that was released as the lead single from the record on January 30, 2007, "We found the song, and it's been one of my top songs for years. I just think about my dad the whole time because we found it together. It's a great message going on, it's gotten me through some stuff when I was a little sad 13-year-old upset about all the wrong things… she speaks only facts in this song."
"Who knew @billieeilish was as big of a stan of me as I am of her WHAT THE HELL," an excited Katharine Hope McPhee-Foster tweeted with the mind-blown emoji. She added, "this is such a sweet story! I am honored!! thank you @billieeilish."
In November 2015, Katharine McPhee helped kick off the 2015 holiday season at The Grove Christmas event in Los Angeles.
The festive event, held at The Grove entertainment complex in LA, was hosted by Seth MacFarlane and presented by Citi.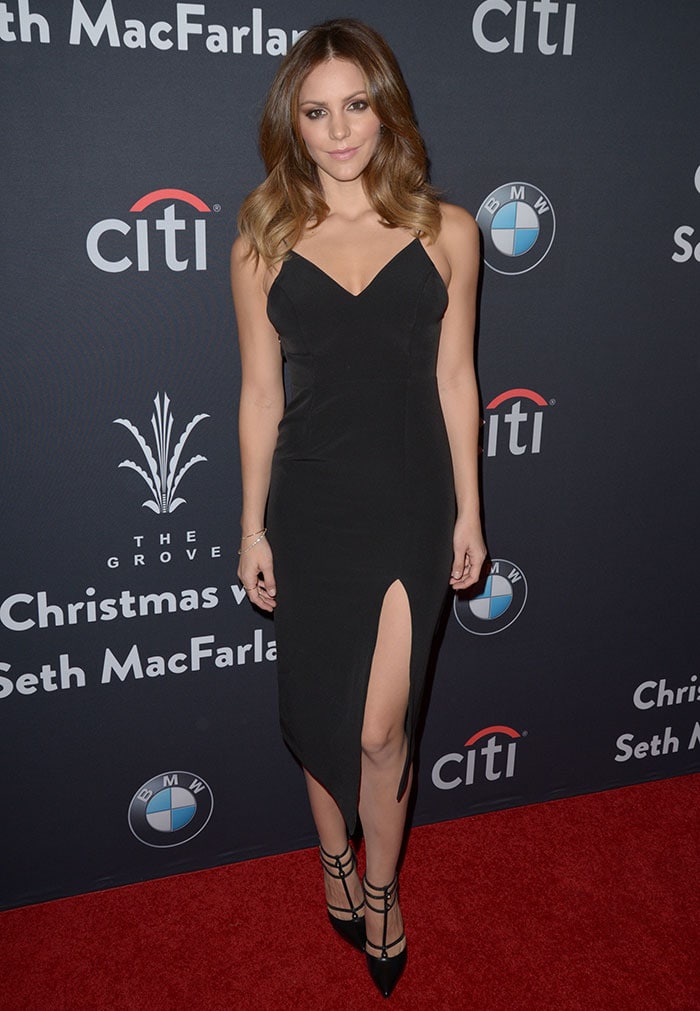 Katharine McPhee wears her hair down at The Grove Christmas presented by Citi at The Grove in Los Angeles on November 14, 2015
The then 31-year-old singer and actress joined the "Family Guy" creator on stage for a duet of "Marshmallow World." She also posed for photos with both Santa and pop star Meghan Trainor.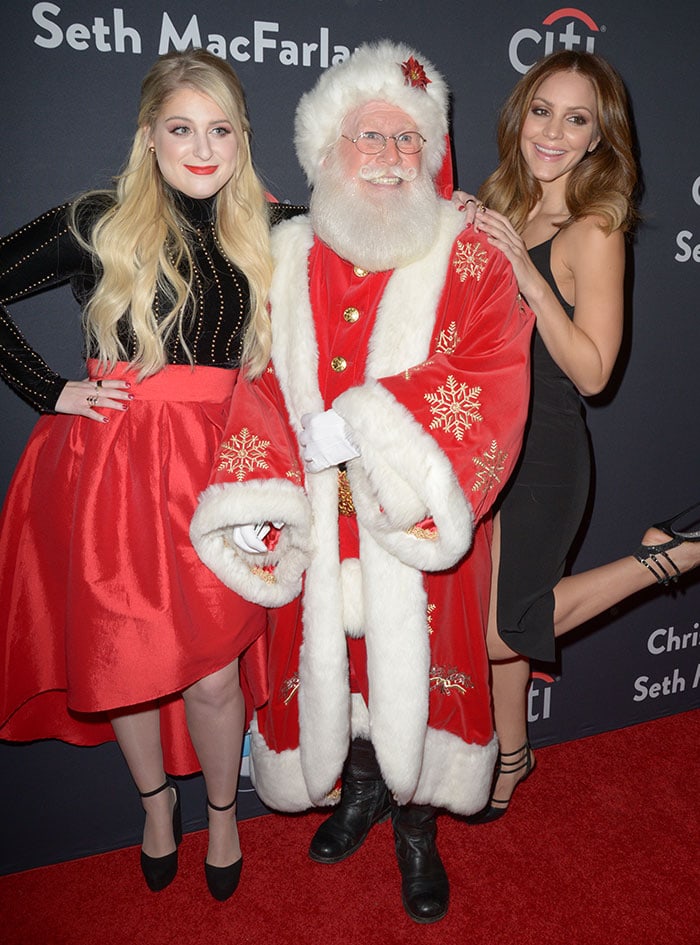 Meghan Trainor, Katharine McPhee, and Santa Claus pose for photos
The "Smash" actress showed off her enviable figure in a sultry black dress by the Australian label Shona Joy.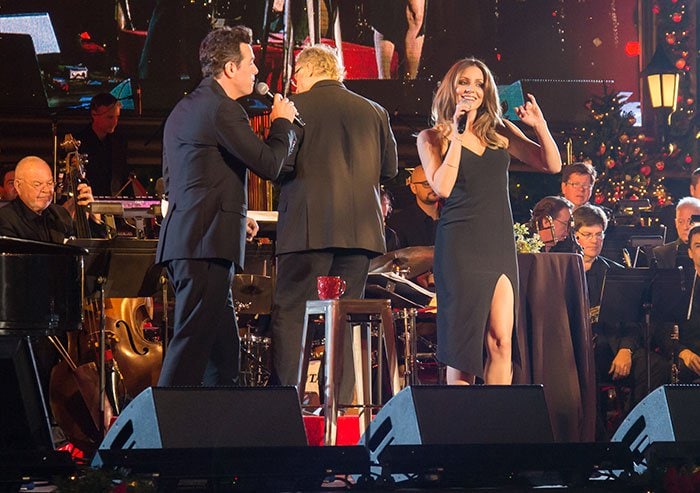 Katharine McPhee performs with Seth MacFarlane at The Grove Christmas
The backless dress featured a plunging neckline, a sexy thigh-high slit, barely-there shoulder straps and crisscross lacing across the open back.
Katharine McPhee shows off the open back on her black Shona Joy dress
Katharine, who married David Foster in 2019, kept her accessories to a minimum and paired the daring but classy frock with caged pumps.
Katharine McPhee shows off a collection of bracelets as she performs during The Grove Christmas
She wore her brunette tresses in loose waves around her shoulders and sported neutral makeup with subtle smoky eyes and glossy lips.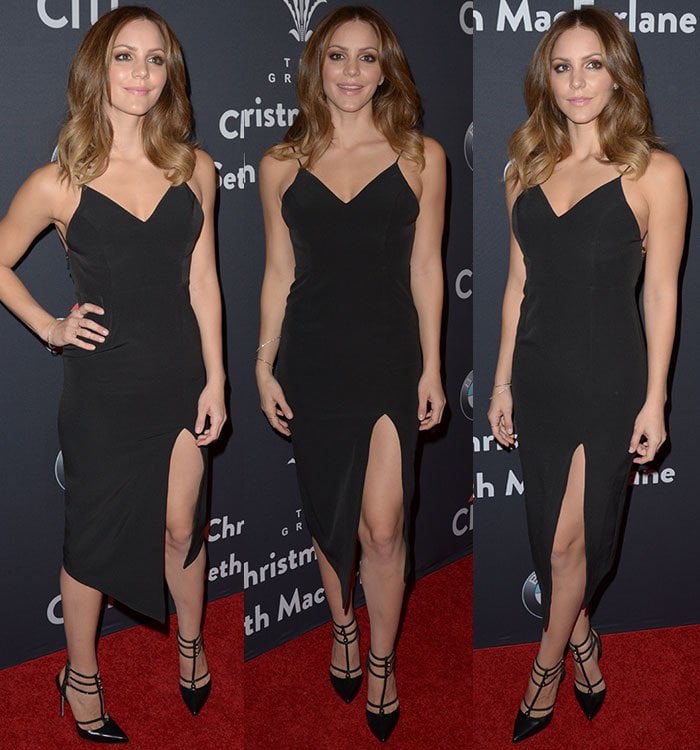 Katharine McPhee shows off her legs on the red carpet
Katharine's strappy Rene Caovilla pumps amped up the sex appeal!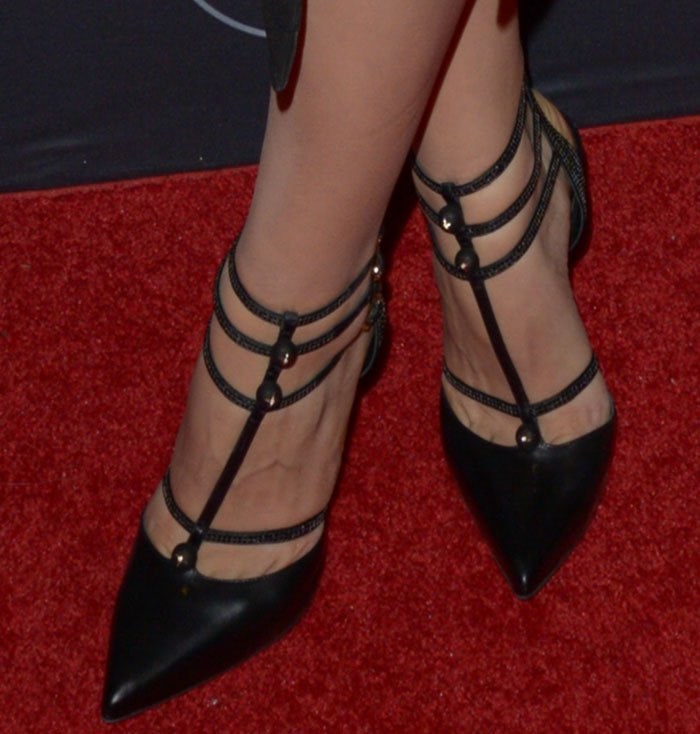 Katharine McPhee displays toe cleavage in Rene Caovilla shoes
These 4.5-inch leather pointed-toe heels feature cage straps embellished with tonal crystals, baubles with gold and clear crystal details, T-strap vamps, and triple adjustable buckled ankle straps.
Katharine McPhee's feet in Rene Caovilla pumps
These Rene Caovilla pumps can be purchased at Farfetch and Saks Fifth Avenue for a whopping $1,330.
Rene Caovilla Crystal-Cage Leather T-Strap Pumps, $1,330
Credit: Charlie Steffens / WENN