After making audiences all over the world fall in love with her quick-witted, sharp-tongued but hilarious character Donna on "Suits," it's only natural that people become curious about what Meghan Markle's co-star Sarah Rafferty is like in real life.
While starring as the former Chief Operating Officer of Specter Litt Wheeler Williams and the wife of Harvey Specter on the American legal drama television series Suits, she became good friends with the future Meghan, Duchess of Sussex.
Sarah Rafferty, Gina Torres, and Meghan Markle attend the USA Network's and The Moth's Storytelling Tour 'A More Perfect Union: Stories of Prejudice and Power' at the Pacific Design Center in Los Angeles on February 15, 2012
While Suits concluded on September 25, 2019, they are still good friends. According to Entertainment Tonight, Sarah Rafferty attended Meghan Markle's 2019 baby shower celebration held in New York City.
"It [was] just very exciting," Rafferty said about the event held at The Mark Hotel, a luxury hotel located on the Upper East Side of Manhattan. She also attended Markle's wedding to Prince Harry in 2018.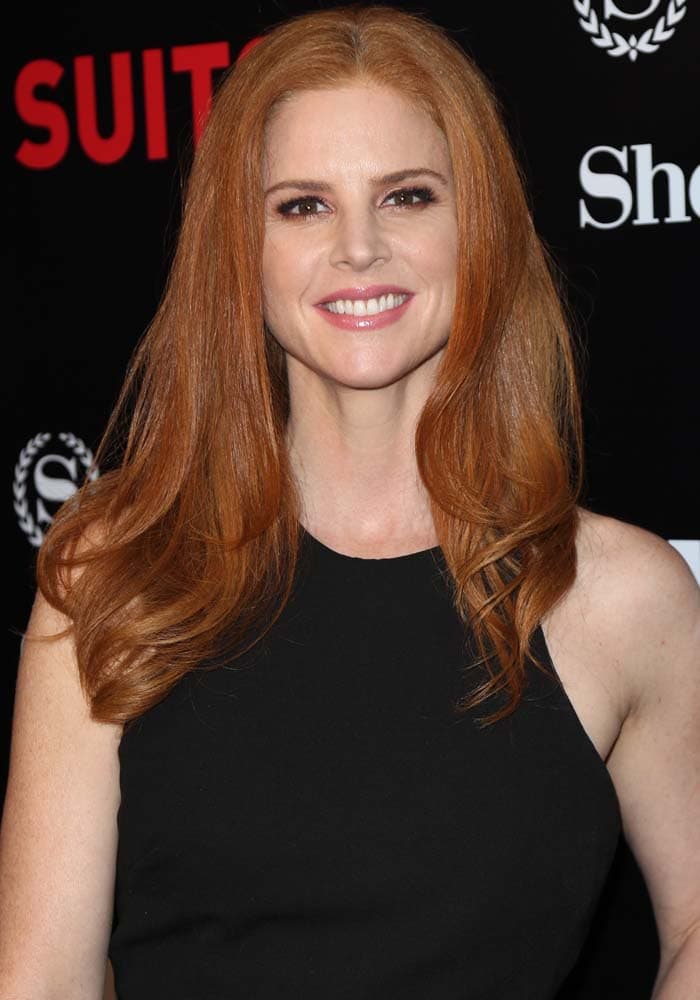 Sarah Rafferty wears her red hair down at the Season 5 premiere of USA Network's "Suits" held Jan. 22, 2016, at the Sheraton Los Angeles Downtown Hotel
Donna Roberta Paulsen is no lightweight character, so we reckon Sarah had to tap into her natural Donna to give the role justice.
Sarah revealed that, surprisingly, her real-life and on-screen personas are total opposites as she hit the season 5 premiere event for "Suits" in Los Angeles.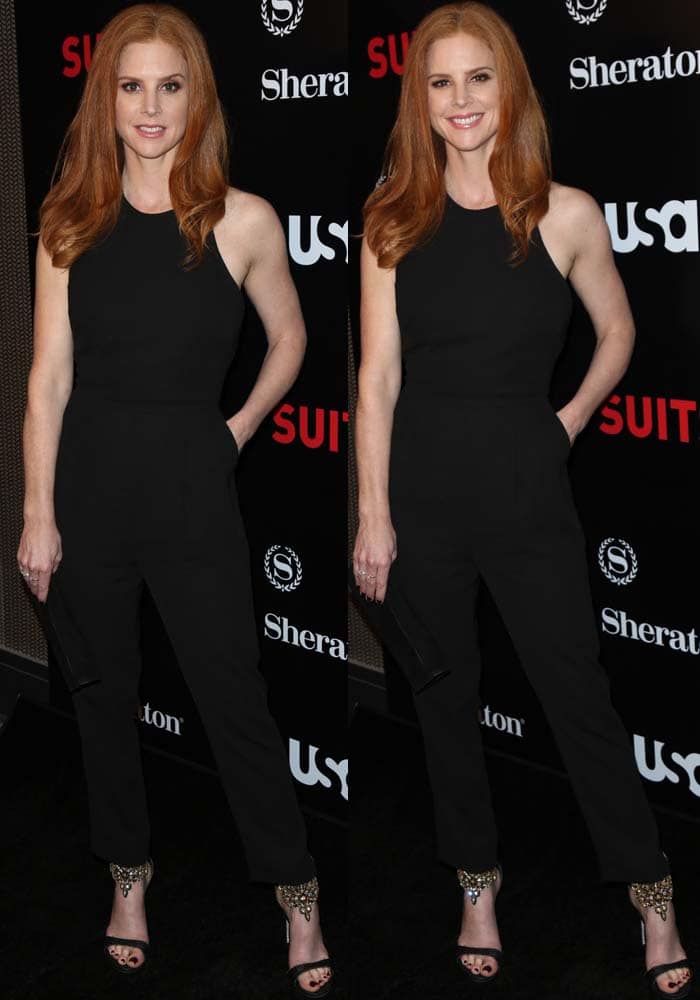 Sarah Rafferty wears a classic black jumpsuit to the season premiere of "Suits"
Sarah wore a classic black jumpsuit worthy of her snarky secretary alter ego's image. The actress paired it with heavily-embellished sandals by Rene Caovilla.
So, once you've seen the bling on Sarah's average size 8 (US) feet, the scarcity of jewelry elsewhere on her body makes perfect sense.
Sarah Rafferty's feet in heavily embellished Rene Caovilla sandals
Sarah was able to keep the entire interview perky and interesting, even though it was a bit awkward.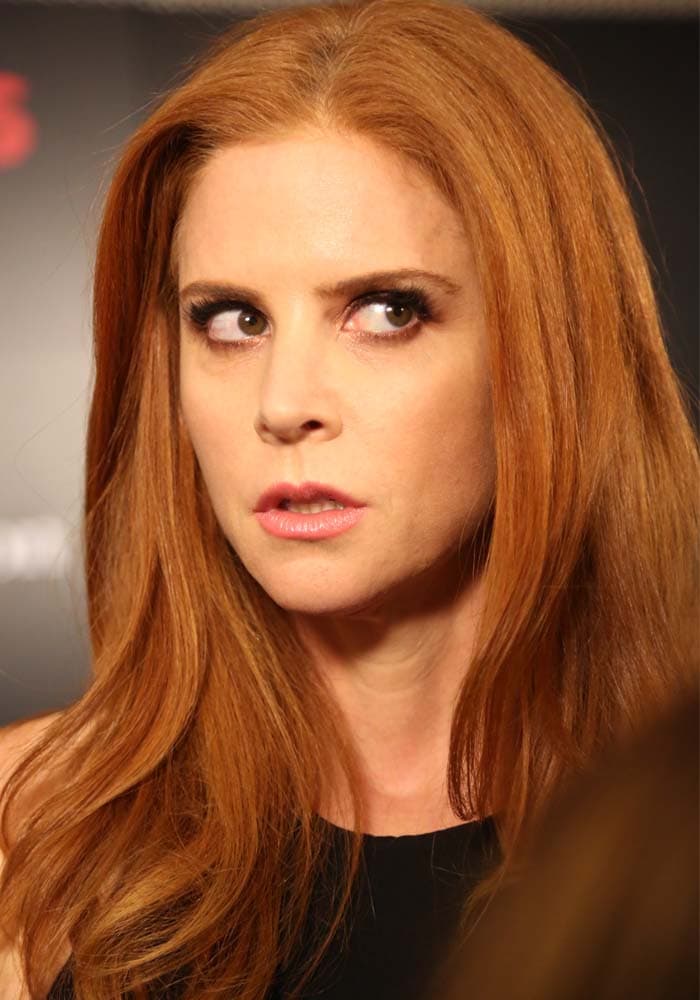 Sarah Rafferty wears her red hair down at the season premiere of "Suits"
Sarah talked about the differences between her character and her real-life persona and dropped a few spoilers regarding the upcoming season.
Get these fit-for-a-queen sandals by Rene Caovilla over at Farfetch.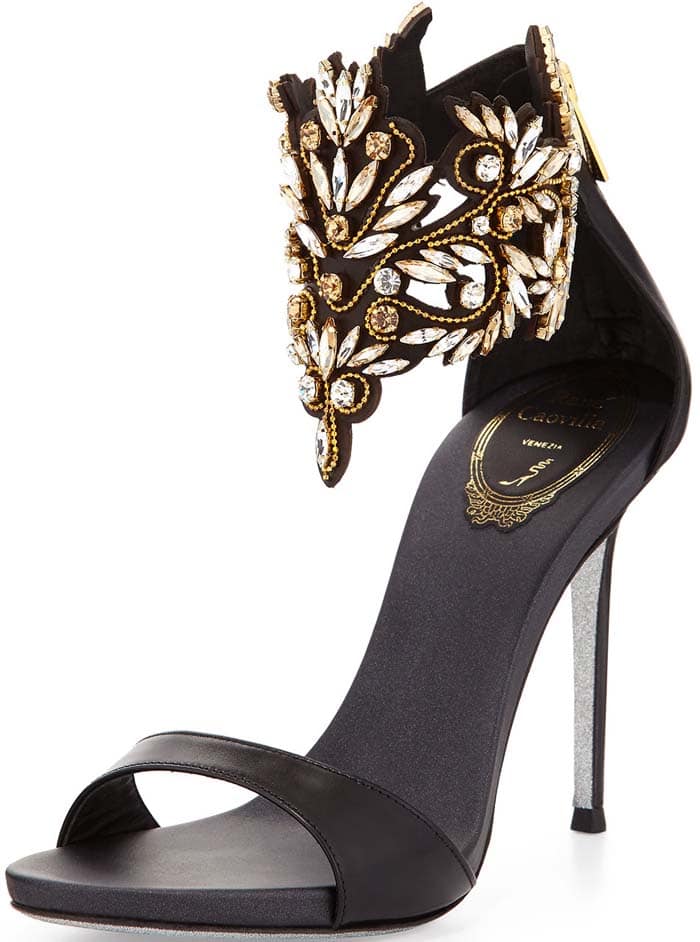 Rene Caovilla Embellished Ankle Cuff Sandal in Black, $1,800
Credit: Guillermo Proeno / WENN / Daniel Tanner