Melanie Janine Brown, known widely as Mel B, was born on May 29, 1975, in Harehills, Leeds, Yorkshire, England, U.K. Her diverse ethnic background includes African-Nevisian heritage from her father's side and an English, possibly Welsh, ancestry from her mother's side.
In February 2022, she was named the UK Tourism Ambassador for Nevis, a Caribbean island with a population of just 11,000.
Mel B, born and raised in Leeds, England, has a personal connection to Nevis, as her father is from the island. She first visited Nevis as a child and returned in 2018 to pay her respects to her Nevisian paternal great-grandmother, who died at the age of 107.
Mel B, whose father is from Nevis, a Caribbean island, has a strong connection to the island, having visited it as a child and subsequently becoming the UK Tourism Ambassador for Nevis (Credit: Rainer Lesniewski / Shutterstock)
Born to a white British mother and a black father, Mel B was often the target of racial insults when she was growing up as a biracial girl in Leeds.
"It was really when I went to school that I understood the colour of my skin had such an effect on the other kids. All of a sudden I was called all these names I didn't understand like 'P**i', 'Redskin' and obviously the N-word," she said in a June 2020 interview with the English tabloid Daily Star.
Mel B faced racial abuse growing up, but she never let that stop her from being proud of her heritage (Credit: INFphoto)
"I remember when we first did the video for Wannabe we had a big styling team and one of the first things they said to me was: 'Okay, so we need to straighten your hair.' I refused point-blank because my hair was my identity and yes it was different to all the other girls but that was what the Spice Girls were about – celebrating our differences."
"And then I'd get really emotional letters from girls, and their mums, saying how incredible it was that they had someone to 'be' when they did dances in the playground at school and they were actually daring to wear their hair out and proud rather than scraped back or straightened."
Mel B Turns Heads in Daring Crystal-Embellished Crochet Dress at America's Got Talent Semi-Finals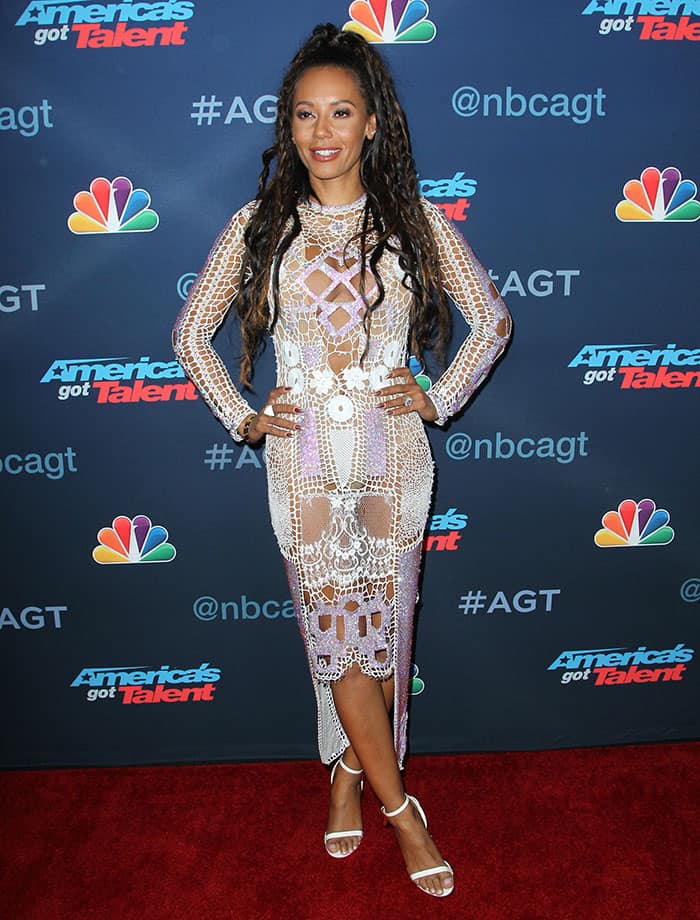 Mel B left little to the imagination in a stunning crystal-embellished white crochet gown (Credit: FayesVision / WENN)
Mel B has never been one to shy away from taking a fashion risk, and it was no different in September 2016 when she attended the semi-final show of "America's Got Talent."
The then-41-year-old singer left little to the imagination in a crystal-embellished white crochet dress.
She showed a generous amount of flesh, displaying her ample cleavage, and offered a glimpse of her toned legs. The Spice Girls singer also wore a nude plunging bodysuit underneath to help prevent a severe wardrobe malfunction.
Mel B has always been known for her fearless approach to fashion, and that reputation was on full display when she graced the semi-final show of "America's Got Talent" at Dolby Theatre on September 6, 2016, in Hollywood, California (Credit: FayesVision / WENN)
The reality competition judge wore minimal accessories to draw all of the attention to her racy dress and toned figure.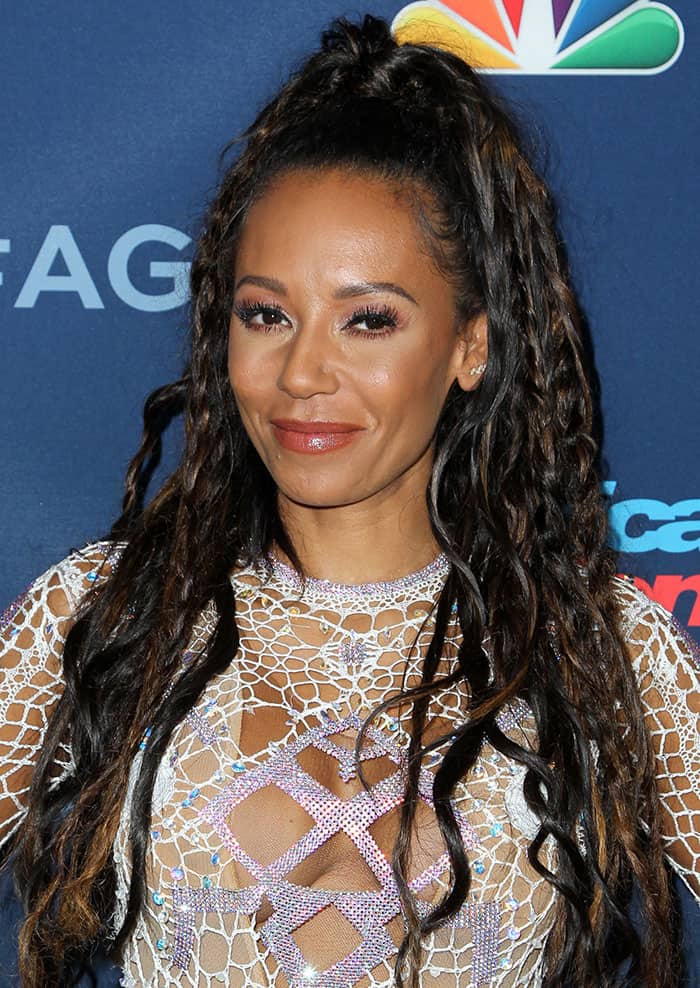 Mel B's long, curly half-up-do featured subtle braided accents, perfectly complementing her neutral makeup (Credit: FayesVision / WENN)
She added a few braided details to her long, curly half-up-do and rounded out the look with neutral makeup.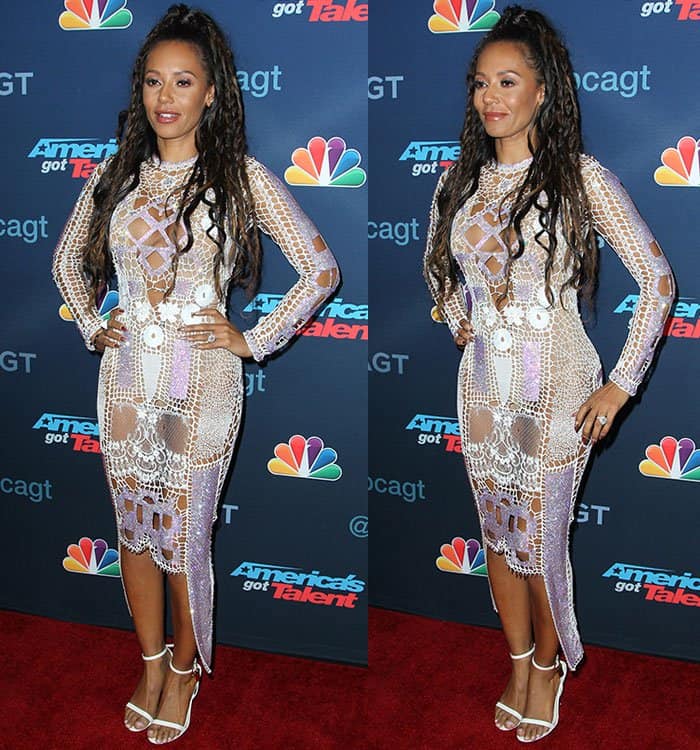 Mel B's ensemble showcased her confidence, as she revealed a daring amount of skin, highlighting her ample cleavage and offering a tantalizing glimpse of her well-toned legs (Credit: FayesVision / WENN)
Mel B teamed the revealing dress with white Tom Ford heels. These sandals have adjustable ankle straps, padlock-and-key charms, open toes, and about 4.25-inch gold stiletto heels.
Mel B shows off her feet in a pair of elegant white Tom Ford heels (Credit: FayesVision / WENN)
You can order these Tom Ford sandals in silver version at Farfetch.
Tom Ford Metallic Ankle-Lock Sandals, $1,190