Michelle Yeoh has been in the entertainment business for decades, and she finally won her first Golden Globe Award this year at age 60.
She's also a bona fide action star with years of doing her own stunts, so when she tells you to shut up, you listen.
Glittering in a sequined Armani Prive gown, Michelle Yeoh stepped out for the 80th Annual Golden Globe Awards in Los Angeles, California, on January 10, 2023 (Credit: DDP / INSTARimages / Cover Images)
Such was the case at the 80th Annual Golden Globe Awards, when music started to play as she was trying to finish her emotional acceptance speech. She paused in the midst of it and told the orchestra to "shut up, please" and jokingly added, "I can beat you up."
The School for Good and Evil actress won in the category for Best Actress in a Motion Picture, Musical or Comedy for her phenomenal performance in Everything Everywhere All at Once.
She showcased her stellar acting chops, playing several iterations of Evelyn Wang in A24's thrilling multiverse adventure film.
Michelle Yeoh as Evelyn Quan Wang in the 2022 absurdist comedy-drama film Everything Everywhere All at Once (Credit: A24)
"I'm just gonna stand here and take this all in," Michelle Yeoh said as she held onto her gold statue. "40 years… Not letting go of this."
Award-winning Look in Armani Prive and Jimmy Choo
The 60-year-old award-winning actress stood there, looking regal and every bit the movie star. She sparkled in her strapless Armani Prive midnight blue gown with a peplum detail and sequin embellishments.
Michelle Yeoh has always had a commanding presence, but her platform heels from Jimmy Choo gave her an additional boost. Diamonds from Moussaieff Jewellers, including a breathtaking necklace, finished off her glamorous look.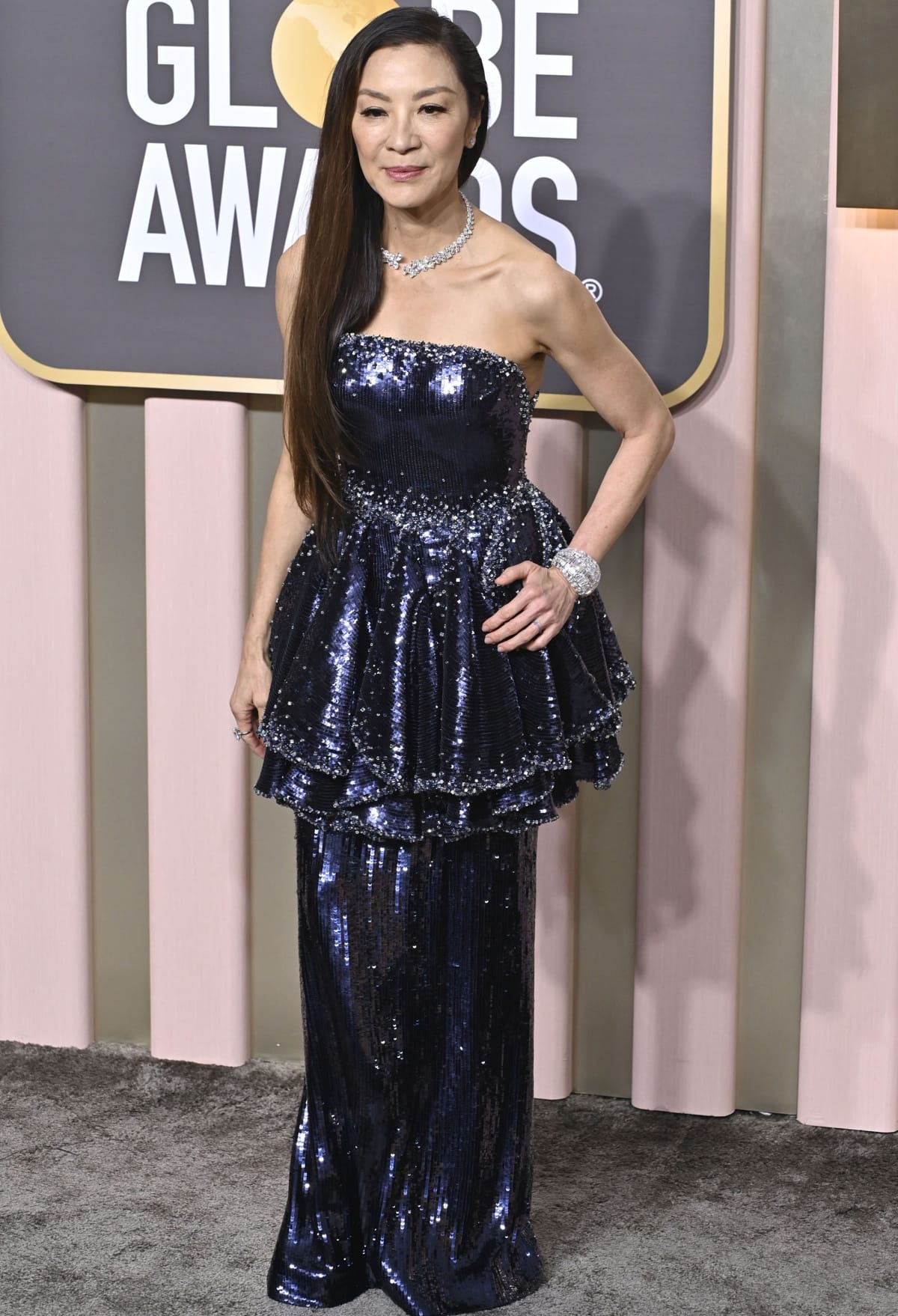 Looking glamorous in Armani Prive and Jimmy Choo, Michelle Yeoh captivated on the carpet and in the ceremony during her acceptance speech (Credit: DDP / INSTARimages / Cover Images)
The Gift of Everything Everywhere All at Once
"It's been an amazing journey and incredible fight to be here today," she continued. "But I think it's been worth it."
Michelle went on to recall when she "first came to Hollywood" and being told that she's "a minority." Her decades-long career flourished with help from critically-acclaimed films helmed by some of the most celebrated filmmakers, but her opportunities for substantial roles have dwindled since getting older.
But then came Everything Everywhere All at Once.
In her wonderful speech, Michelle showed her gratitude to the people behind the zany project that she calls "a gift."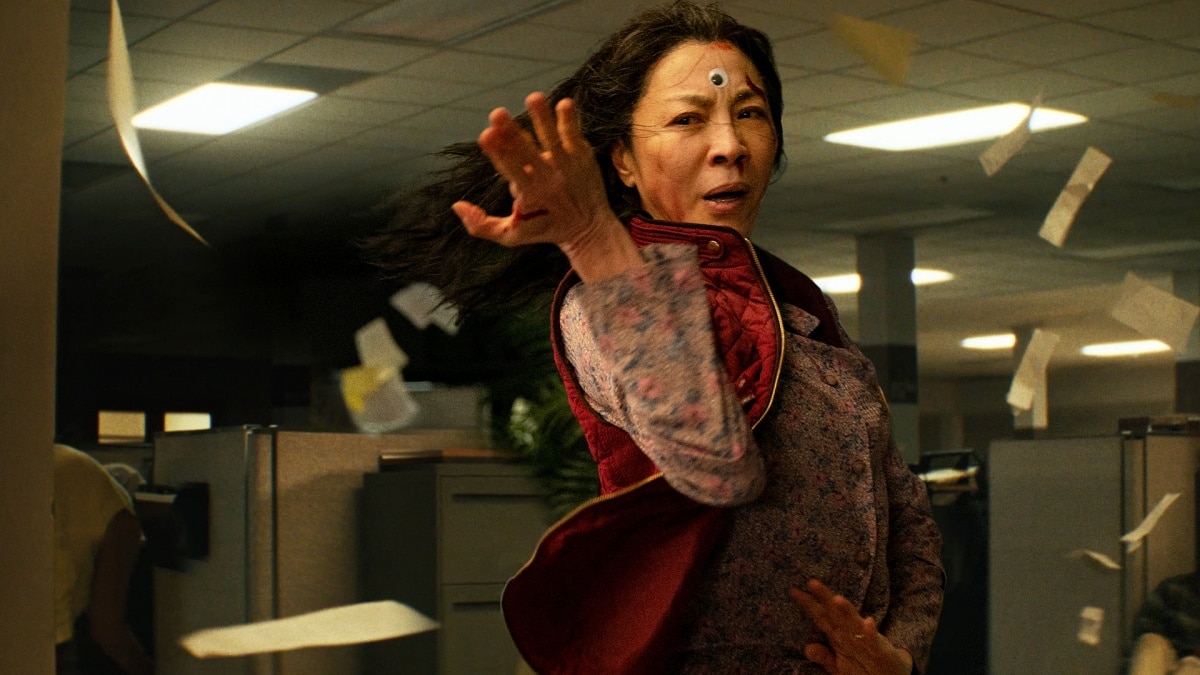 Michelle Yeoh showed off her incredible acting chops and martial arts skills in Everything Everywhere All at Once (Credit: A24)
"Thank you A24 for believing in these two goofy, insanely smart, wonderful geniuses, [directors Daniel Kwan and Daniel Scheinert], who had the courage to write about a very ordinary immigrant, aging woman, mother, daughter."
Michelle continued, "I was given this gift of playing this woman who resonated so deeply with me and with so many people because, at the end of the day, in whatever universe she was at, she was fighting for love, for her family."
She also gave a shout out to her brilliant co-stars, including Ke Huy Quan, who won for Best Supporting Actor.
In her closing remarks, Michelle Yeoh said, "This is also for all the shoulders that I stand on, all who came before me, who look like me, and all who are going on this journey with me forward."
Breaking Glass Ceilings for Asian Representation
The next day, Michelle Yeoh told Vogue why winning the award was so important and meaningful:
"Representation is a nonstop battle, but our society continues to evolve and we have to see that reflected on our screens. It means so much to me to be a part of such an incredible film that will continue to break glass ceilings for Asian representation, while also promoting a message of kindness, love, and family."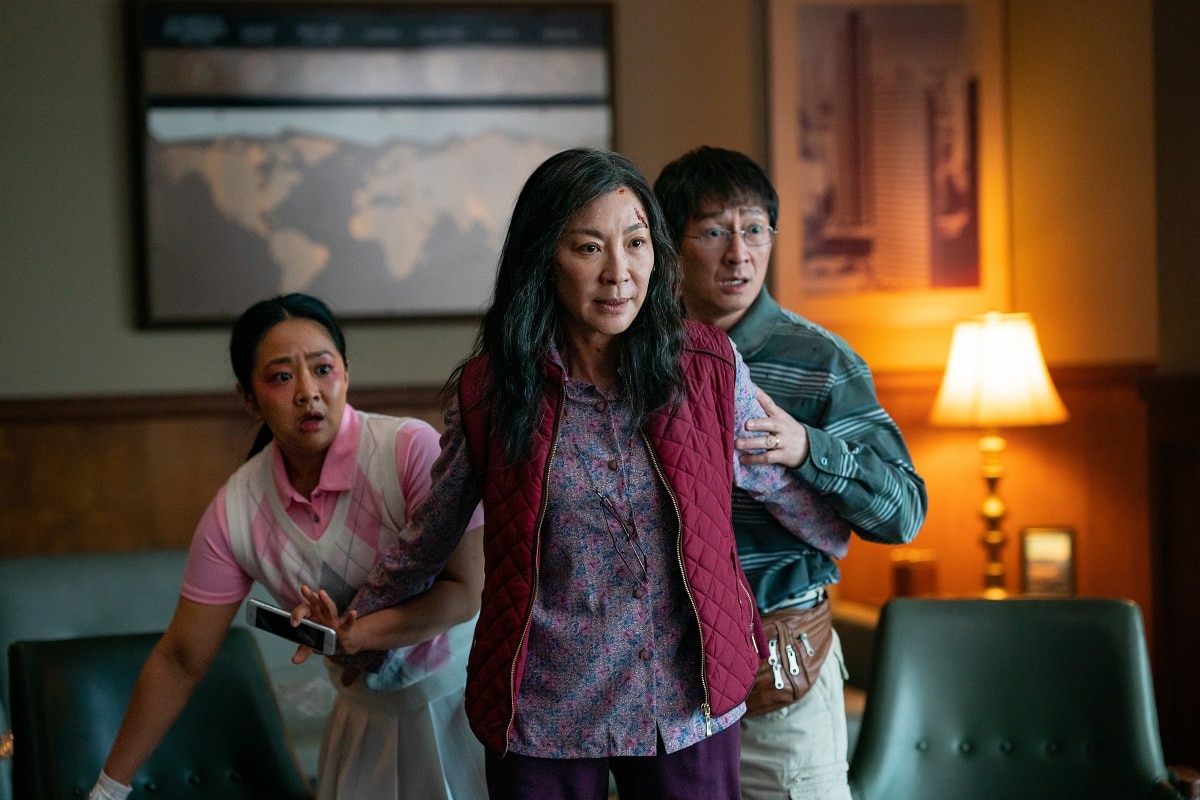 Michelle Yeoh emphasizes the fact that Everything Everywhere All at Once is a film that promotes kindness and shows the importance of family (Credit: A24)
Regarding her first Golden Globe win, Michelle said, "For it to come now, after 40 years, has been the biggest blessing."
"Playing Evelyn was demanding both physically and mentally, and sometimes you worry that the older you get, you will not be given these opportunities because people see you by your age rather than by your capability," she continued.
But now, at 60 years old, with a golden statue in tow and a slew of projects yet to come, Michelle Yeoh is thriving and shows no signs of stopping.
Her brilliant performance in Everything Everywhere All at Once has made her a frontrunner in the Academy Award race, and her Golden Globe win could be an indication for more good news to come for the phenomenal star.
Michelle Yeoh looking stunning at the 80th Annual Golden Globe Awards (Credit: DDP / INSTARimages / Cover Images)
We thank Michelle Yeoh for a memorable Golden Globes moment, and we can't wait to hear more beautiful and eloquent acceptance speeches during the rest of the awards season.