The Oscars are one of the most anticipated events in the entertainment industry, and this year's Vanity Fair Oscars After Party was nothing short of spectacular.
One of the night's highlights was when Michelle Yeoh arrived at the party wearing a stunning silver gown that had everyone in awe. She celebrated on the red carpet alongside Florence Pugh!
Florence Pugh celebrates Best Actress winner Michelle Yeoh at the 2023 Vanity Fair Oscar Party hosted by Radhika Jones at Wallis Annenberg Center for the Performing Arts on March 12, 2023, in Beverly Hills, California (Credit: PA Images / INSTARimages)
After the main ceremony, Michelle switched into a dazzling Giorgio Armani gown and headed to the Wallis Annenberg Center for the Performing Arts in Beverly Hills for the Vanity Fair celebration.
The 60-year-old actress looked like the Hollywood star that she is as she walked down the red carpet with her Oscar trophy in hand.
Michelle's strapless, floor-length silver dress was encrusted in mirror-like sequins that shimmered and sparkled with every movement. The dress epitomized quintessential Hollywood glamour, and the Award-winning actress wore it with effortless grace.
The centerpiece of the dress was a sheer, V-shaped statement flower that drew attention to Michelle's slender waist. Its striking black bloom perfectly contrasts the dazzling silver sequins, making the gown an actual work of art.
Michelle's fashion game was on point as she chose delicately crafted accessories to complement her stunning outfit.
The actress donned fancy jewelry by Moussaieff for the evening, featuring a diamond necklace, matching diamond earrings, and a diamond ring, all flawlessly coordinated with a diamond watch on her wrist.
Michelle Yeoh made history by becoming the first woman of full Asian origin to win the Academy Award for Best Actress after she defeated fellow best actress contenders Cate Blanchett (Tár), Ana de Armas (Blonde), Andrea Riseborough (To Leslie), and Michelle Williams (The Fabelmans).
Her work in A24's Everything Everywhere All at Once marked the first time she had conquered the top spot on a Hollywood lineup card. This win adds to her four decades of groundbreaking and firsts for female artists.
Michelle Yeoh made heads turn in a strapless, floor-length silver gown covered in mirror-like sequins, creating a shimmering effect that perfectly complemented her diamond jewelry accessories for the ultimate Hollywood look (Credit: PA Images / INSTARimages)
In the film, the Malaysian-born actress plays a troubled laundromat owner and lifelong loser who discovers she is the multiverse's savior. In the process, she learns to mend ties with her long-suffering husband and estranged daughter.
As the oldest nominee in the category, Michelle's acceptance speech was emotional and powerful. She remarked, "For all the little boys and girls who look like me watching tonight, this is a beacon of hope and possibilities. Dream big, and dreams do come true."
Moreover, Michelle encouraged women, saying, "And ladies, don't let anybody tell you you are ever past your prime. Never give up."
The actress also dedicated the victory to her 84-year-old mother, who was watching from her home in Malaysia, saying, "I have to dedicate this to my mom, all the moms in the world, because they are really the superheroes, and without them, none of us would be here tonight."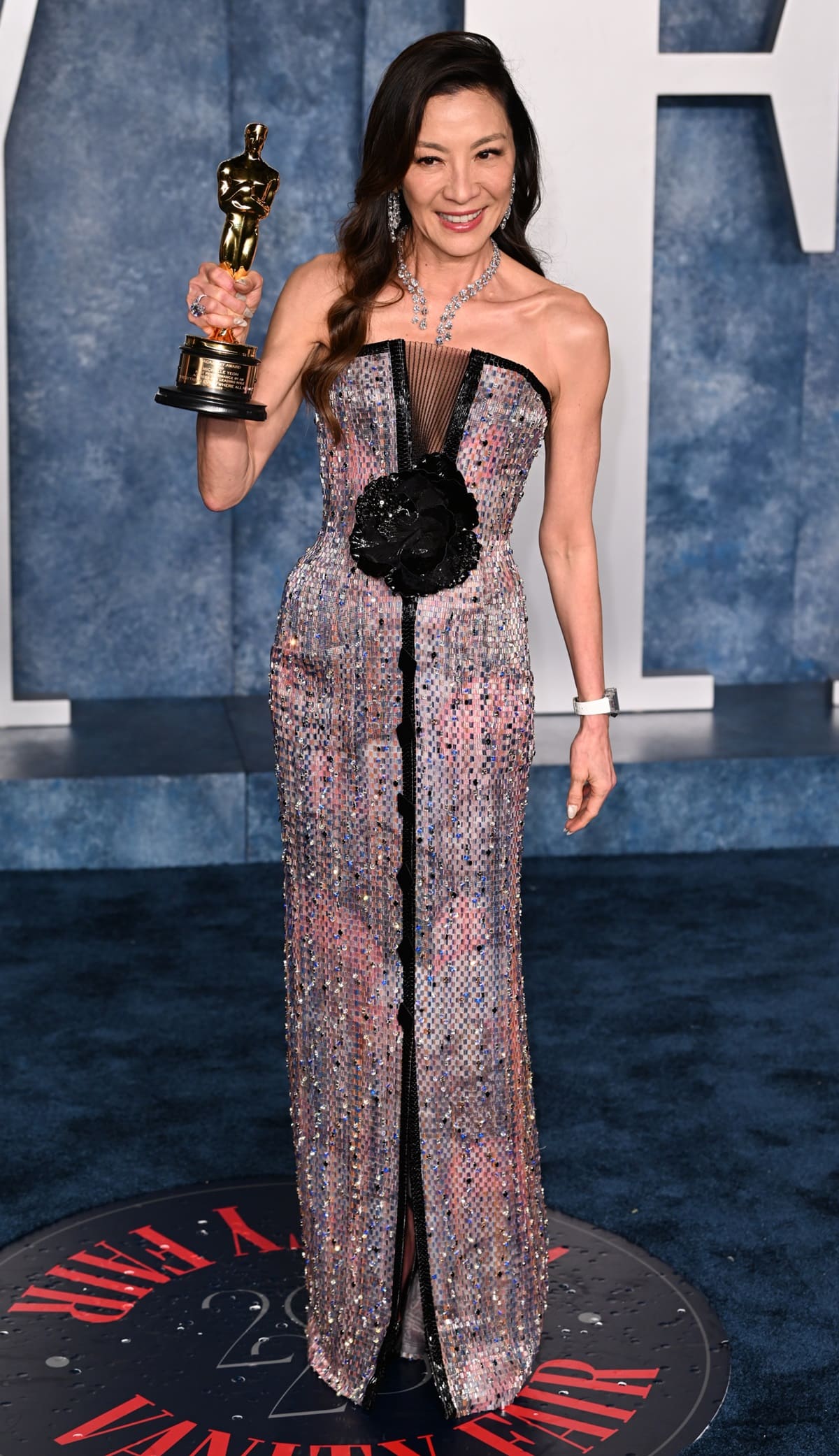 Michelle Yeoh's stunning Giorgio Armani dress features a sheer V-cut-out and a bold black statement flower in the center, adding an extra touch of glamour to the already breathtaking ensemble (Credit: PA Images / INSTARimages)
After her win, Michelle spoke backstage about the importance of diversity and equal opportunity in the industry. The actress said, "Tonight, we frickin' broke that glass ceiling. This is for the Asian community, but for anybody who's been identified as a minority."
She added, "We deserve to be seen. We deserve to have [an] equal opportunity so we can have a seat at the table. That's all we're asking for. Give us that opportunity; let us prove that we're worth it."
Michelle has been a force to be reckoned with in the entertainment industry for four decades. She has established herself as a female lead who can hold her own in action movies in Hong Kong and greater China.
Her Hollywood debut in the 1997 James Bond film Tomorrow Never Dies led to global recognition. She has continued to wow audiences with movies like Memoirs of a Geisha, Sunshine, and Crouching Tiger, Hidden Dragon.
View this post on Instagram
Michelle Yeoh's historic win at the Oscars is a reminder that diversity and representation are crucial in the entertainment industry. She has paved the way for more opportunities for Asian women and women of color, and we cannot wait to see what she does next.
Congratulations, Michelle Yeoh!