Cate Blanchett scooped the much coveted Best Actress award for her role as a world-renowned lesbian conductor in Tár at the 76th Annual British Academy Film Awards on Sunday.
A serial outfit repeater, the 53-year-old actress raided her own closet for her 2023 BAFTA look.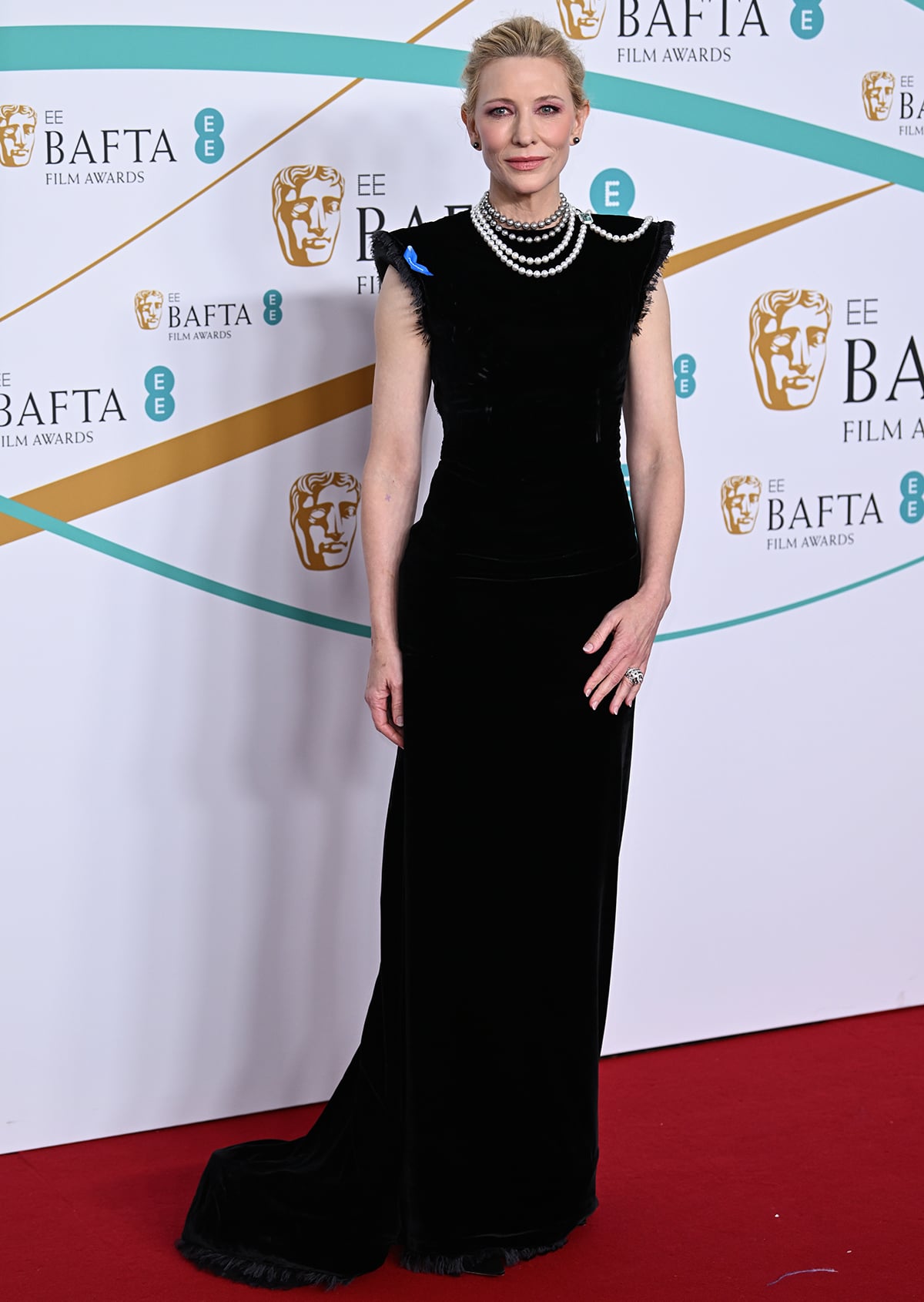 Cate Blanchett at the 76th EE British Academy Film Awards (BAFTAs) held at the Royal Festival Hall on February 19, 2023 (Credit: PA Images / INSTARimages / Cover Images)
Blanchett has been championing sustainable dressing on the red carpet for years.
And this time, she brought back a custom Maison Margiela gown from the 2015 Academy Awards, where she presented Eddie Redmayne with the Best Actor gong.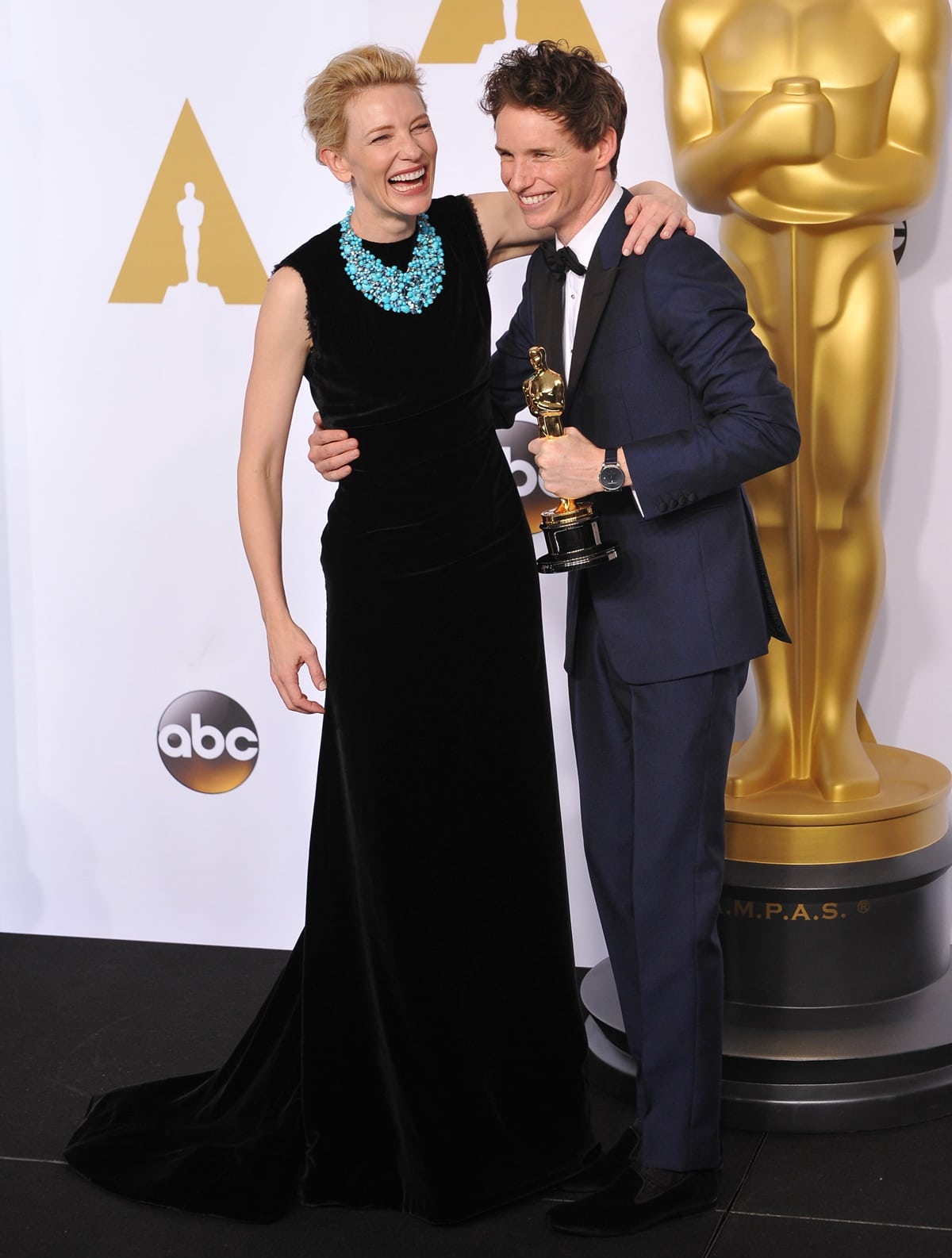 Cate Blanchett and Eddie Redmayne pose in the press room during the 87th Annual Academy Awards at Loews Hollywood Hotel on February 22, 2015, in Hollywood, California (Credit: Featureflash Photo Agency / Shutterstock)
Proving just how timeless the black gown is, Cate re-wore the John Galliano creation to Sunday's ceremony.
It was made from black silk and velvet and featured a mod-high neckline, padded shoulders with frayed cap sleeves, and a floor-sweeping short train. Although it appeared conservative in the front, the huge keyhole cutout on the rear exposes a bit of flesh.
Cate Blanchett rewears her Maison Margiela black silk and velvet gown from the 2015 Oscars (Credit: Cover Images)
The Lord of the Rings star originally styled the dress with a Tiffany & Co. turquoise necklace. But for this year's BAFTAs, she traded it for a Louis Vuitton necklace designed by Francesca Amfitheatrof with repurposed Tahitian pearls, gold, diamonds, and a 23.78ct step-cut Nigerian Tourmaline from existing pieces.
She also added a pair of Tahitian pearl stud earrings and a statement white gold and diamond ring from Louis Vuitton's Stellar Times High Jewelry collection.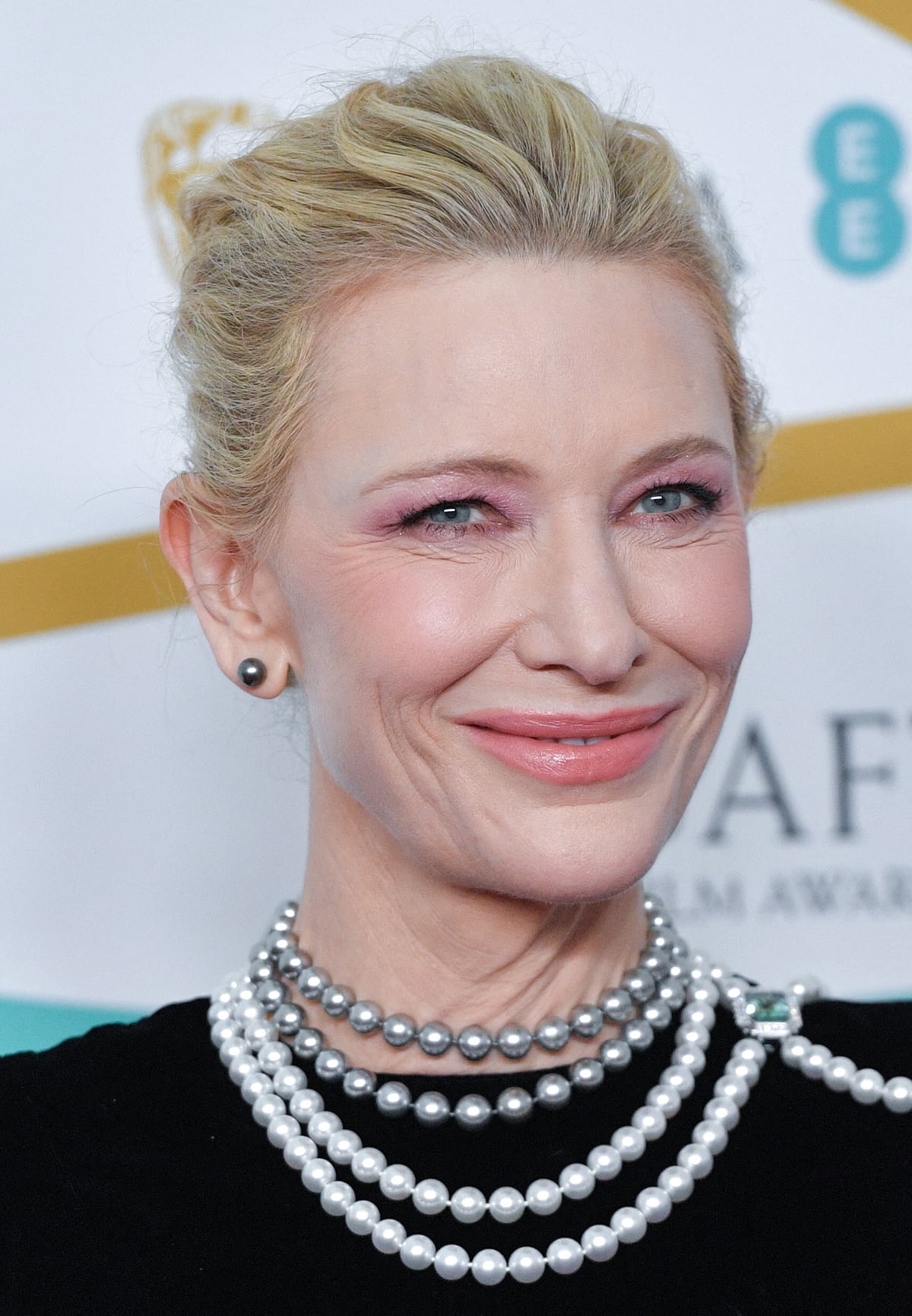 Cate Blanchett wears pink makeup and updates her recycled gown with repurposed Louis Vuitton Tahitian pearl necklace (Credit: Abaca Press / INSTARimages)
Glam-wise, the Benjamin Button actress wore a fresh look, with pink eyeshadow, lipstick, blush, and mascara, applied by makeup artist Mary Greenwell. Hairstylist Nicola Clarke then swept her blonde hair back into a bun.
#WithRefugees Blue Ribbon in Solidarity with Refugees
Aside from promoting eco-fashion, Cate Blanchett was also pictured wearing a blue ribbon to show "solidarity with and support for refugees and displaced people around the world."
Cate Blanchett wears a blue ribbon to show support for refugees and displaced people around the world (Credit: Dutch Press Photo / Cover Images)
As per a statement from the United Nations High Commissioner for Refugees, "Artists have been invited to wear the #WithRefugees ribbon as an emblem of compassion and solidarity for those who have been forced to flee their homes because of war, conflict, and persecution."
Blanchett also said: "Whenever I have met refugees – in places such as Lebanon, Jordan or Bangladesh, here in the UK, or back home in Australia – what has struck me has not been their "otherness" but how many things we share in common."
Cate Blanchett Honors Women in Acceptance Speech
Cate Blanchett bagged the BAFTA Best Actress award, beating out nominees Viola Davis, Ana de Armas, Danielle Deadwyler, Emma Thompson, and Michelle Yeoh.
While she had been predicted to win the award, Blanchett was surprised and said she "didn't prepare anything because it's been such an extraordinary year for women."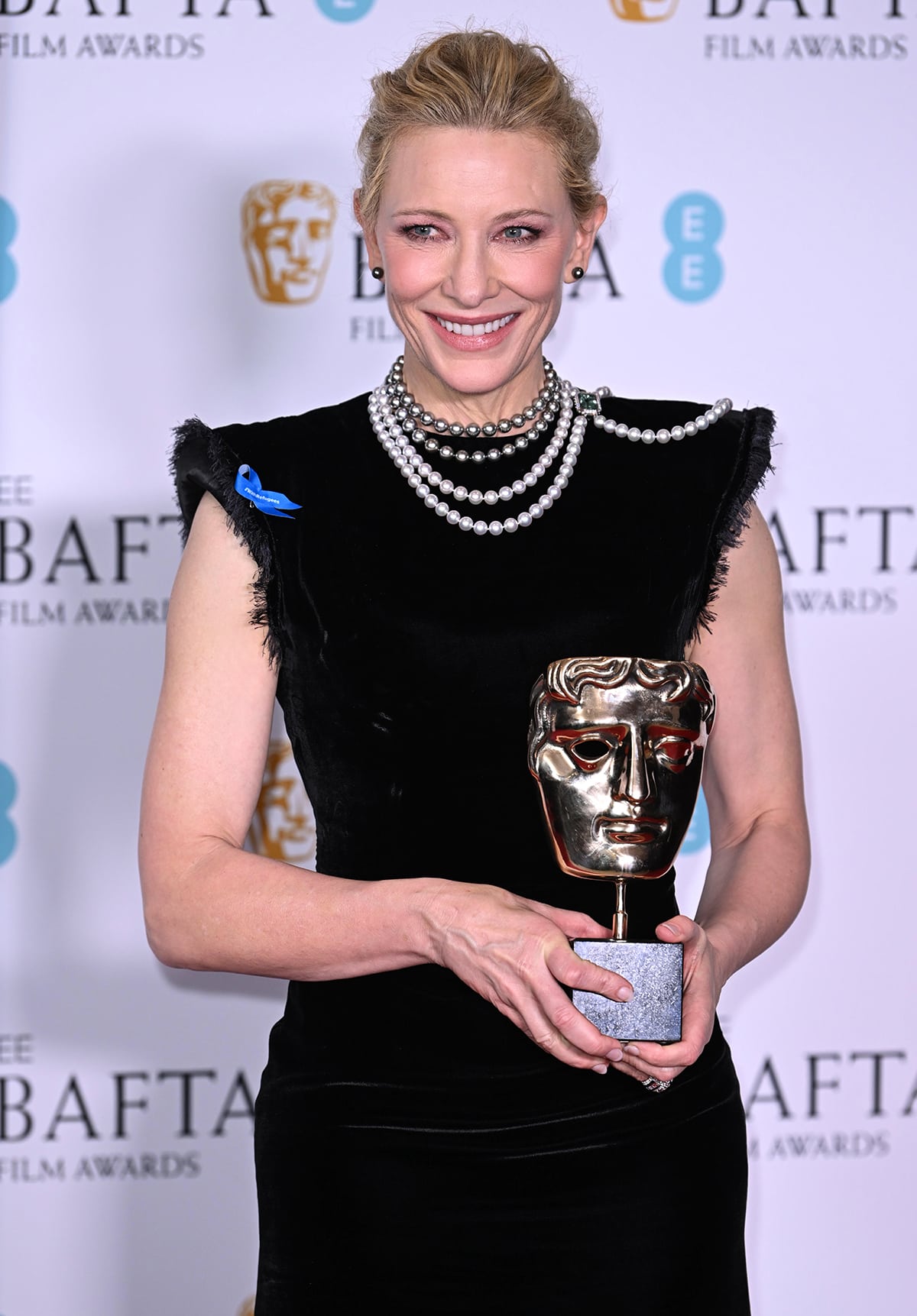 Cate Blanchett wins the BAFTA Best Actress for her role as a world-renowned lesbian conductor in Tár (Credit: PA Images / INSTARimages / Cover Images)
"This is extraordinary," she said. "As you've seen in those clips, all of my fellow nominees, the conversation with all of you off the screen and on the screen has been nothing short of remarkable and we know that we're just the tip of the iceberg."
"Every year, these idiosyncratic, remarkable performances just break down the myth that women's experience is monolithic, so thank you to BAFTA for recognizing all of us. We sit in dialogue with one another."
She then thanked Focus Features "for being such extraordinary partners [as] this [Tár] was very dangerous and career-ending, potentially, undertaking. It does take an army. It's the ensemble, it's all of the people who spend hours and hours [working] every single day."
Cate ended her speech by thanking the cast and crew of Tár as well as her family, including her husband Andrew Upton and their four children.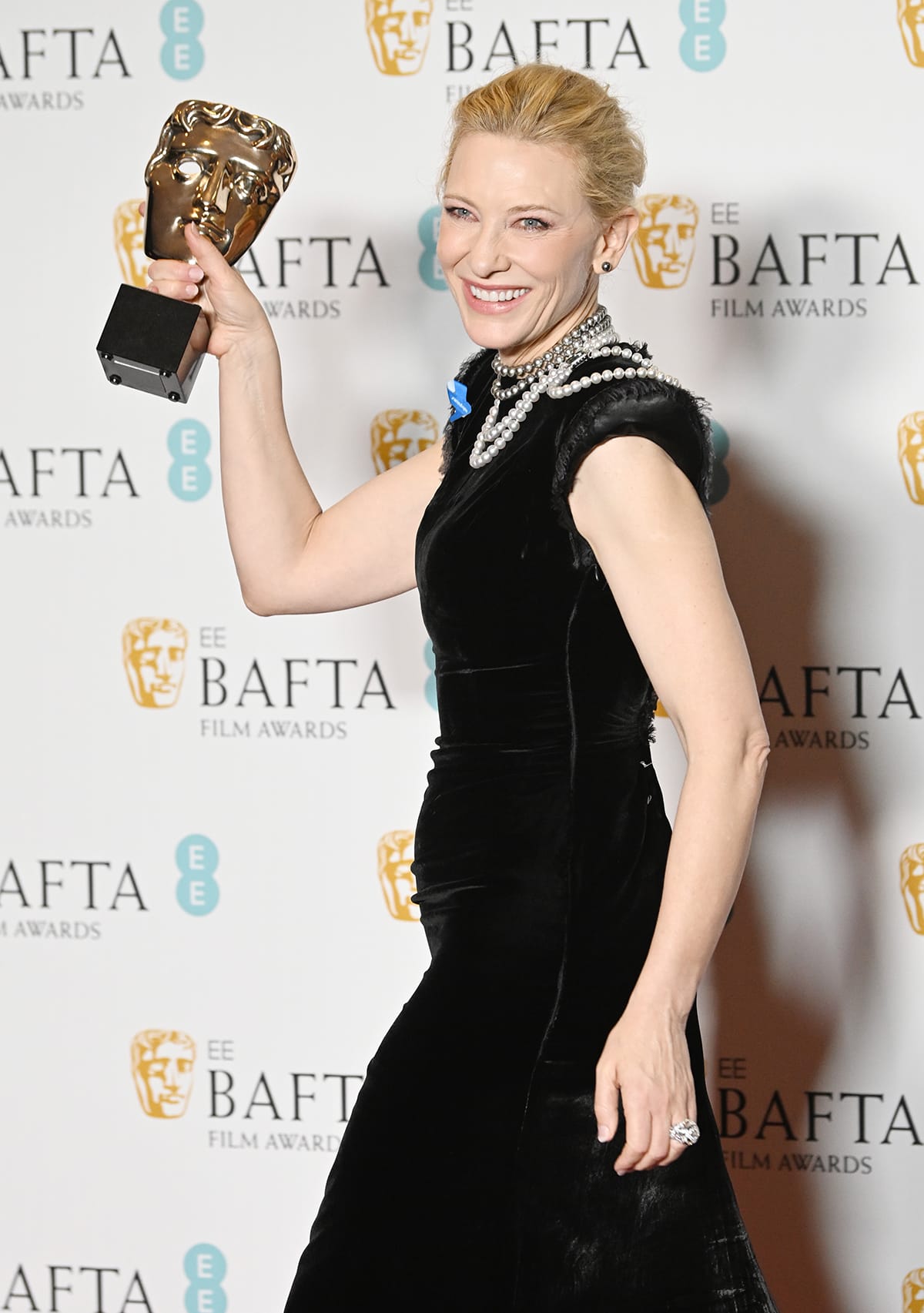 Cate Blanchett honors her fellow female nominees in her acceptance speech (Credit: Cover Images)
Cate Blanchett in Loewe Dress and Joggers
Last week, Cate Blanchett appeared on Jimmy Kimmel Live! to talk about her Oscar nomination for Best Actress, making a Lydia Tár concept album, playing Aussie Rules Football on gravel in Tasmania, and learning how to conduct, speak German, and play piano and the accordion for her role in her latest psychological drama.
The An Ideal Husband star has been wowing fans with her unpredictable fashion choices. And for her TV appearance, she opted for an elevated casual look, partially tucking a pale yellow asymmetric dress into a pair of stone-washed denim joggers from Loewe's Spring 2023 collection.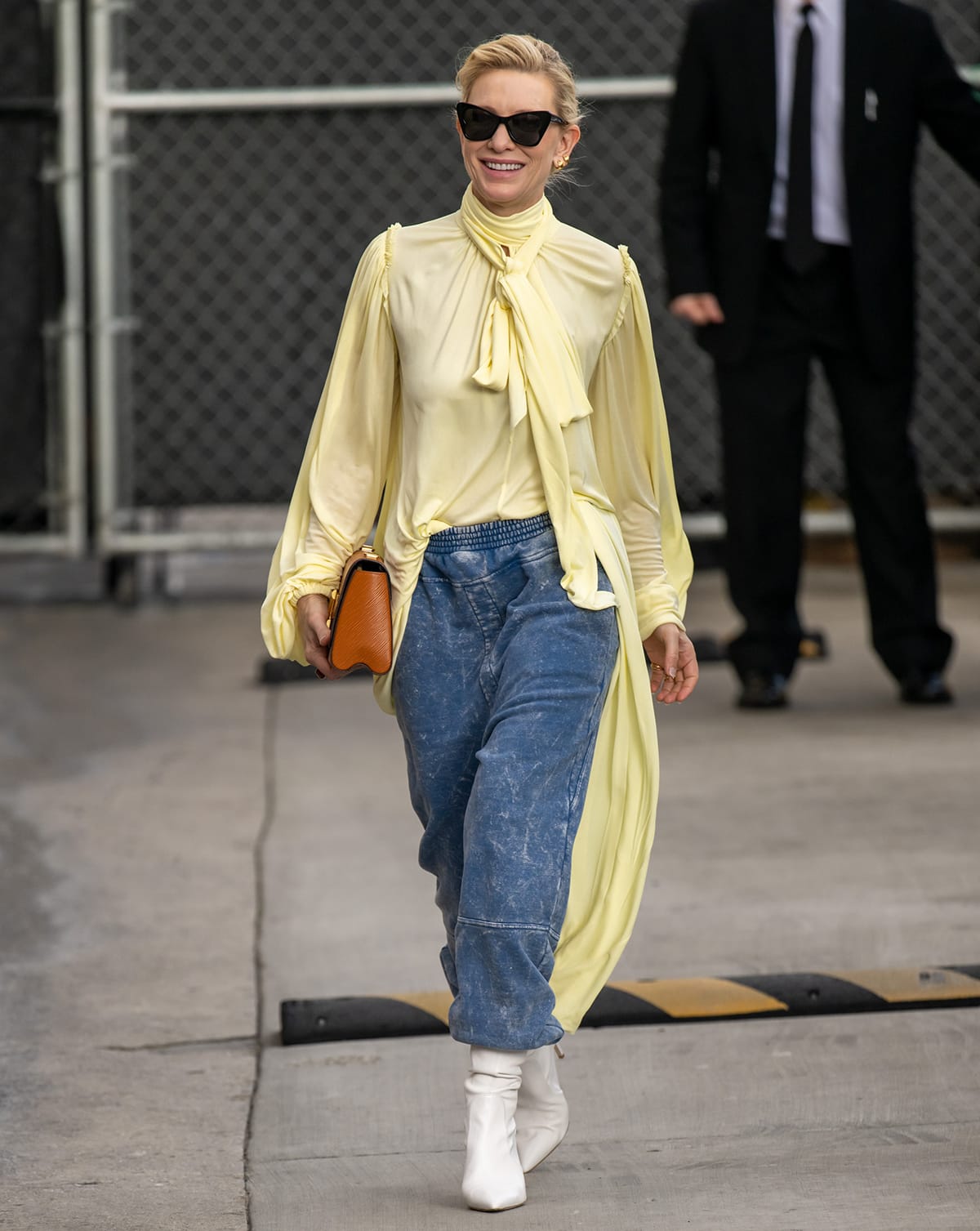 Cate Blanchett visits Jimmy Kimmel Live! in a pale yellow Loewe asymmetric dress with stone-washed jogger pants on February 13, 2023 (Credit: BauerGriffin / INSTARimages)
To complete the laidback yet stylish outfit, Cate slipped her size 11 feet into Stuart Weitzman's Stuart 100 Stretch booties that you can buy at Nordstrom.
Cate Blanchett finishes her elevated casual look with white Stuart Weitzman sock booties (Credit: BauerGriffin / INSTARimages)
Staying true to the label's iconic flawless-fit sock bootie construction, these boots feature sleek pointed toes and about 4-inch stiletto heels.
Stuart Weitzman 'Stuart 100 Stretch' Booties, $595 on Zappos
Stuart Weitzman's sock booties boast the label's iconic flawless-fit sock bootie construction with sharp pointy toes and stiletto heels