Now that you know how to style sock boots, you're probably ready to hit 'add to cart' and bring a few pairs into your closet. These shoes are a closet staple that you can wear all year round.
With the right fabric and height, you can wear them as a transitional piece between seasons and keep them at the front of your closet to grab and go. We're rounding up a few of our favorite sock shoes with a pair to fit every budget and aesthetic.
1. Balenciaga Knife Sock Boots, $950 at Saks Fifth Avenue
We largely hail Balenciaga for bringing the sock boots into the mainstream, having created a similar silhouette with their sneakers. The classic boots have a minimalistic 'Balenciaga' logo just below the toe box.
This style has quickly become a staple within Balenciaga's catalog, with a razor-sharp silhouette and a black stretch-jersey that makes them easy to slip on. We've spotted them on Lily Aldridge, Salma Hayek, Kylie Jenner, Pixie Lott, and many other celebrities.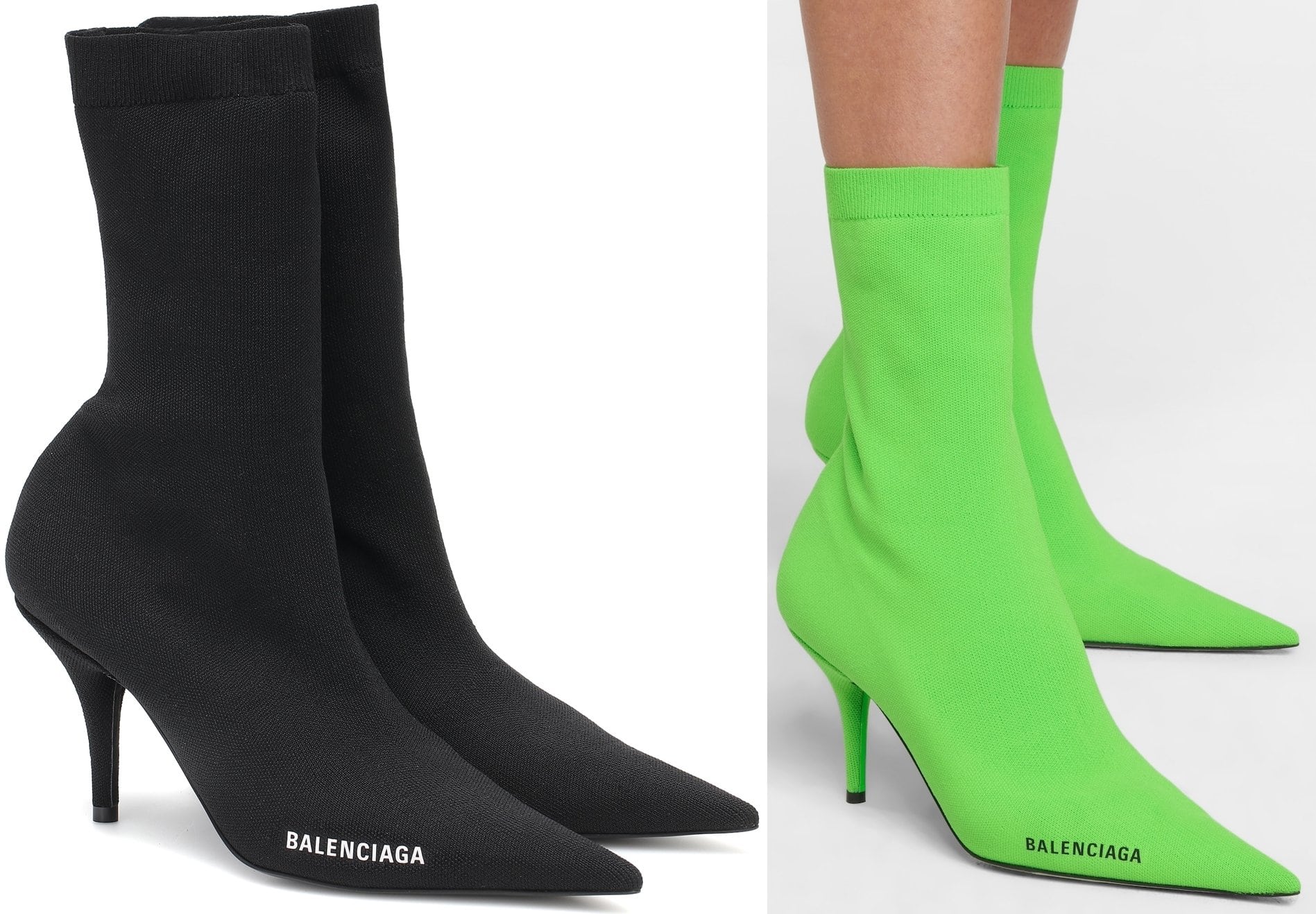 A fashion favorite since 2017, Balenciaga's Knife boots continue to fascinate with their exaggerated point toes and razor-sharp profile
For a statement shoe, you can pick up this style at Mytheresa in an acid green that is sure to turn heads. If you're a fan of the sock boots, these shoes are worth a splurge!
2. Aldo Deludith Stretch Sock Boot, $130 at Nordstrom
For a style that doesn't hide the socks, try these boots by Aldo. The cuffs recreate the ribbed edging of sporting socks, while the slim heel and pointed toe give these boots a more professional feel.
A sock-like upper with a ribbed collar made from recycled materials creates stylish comfort in this pointy-toe bootie set on a lofty heel
These are the perfect earth-tone sock boots for anyone experimenting with the trend.
3. Miu Miu Sock Boots, £645 at Mytheresa
Do you like the Balenciaga sock boots but want a little more fun with the heel? Try this style by Miu Miu. These boots have a ribbed texture with a silver metallic Miu Miu logo appearing around the top of the socks.
This Italian-made design exudes sleek modernity with a clean silhouette finished with a ribbed texture and silver-toned metallic fibers that depict the brand's logo running around the ankle
With their pointed toe and kitten heels, these sock boots are ideal for wearing with a midi skirt during the spring or autumn.
4. Heeled Leather Sock Boots, $179 at & Other Stories
This style gives you the appearance of ankle boots with the comfort of socks. Instead of a ribbed texture, these boots have a seamless leather-inspired finish.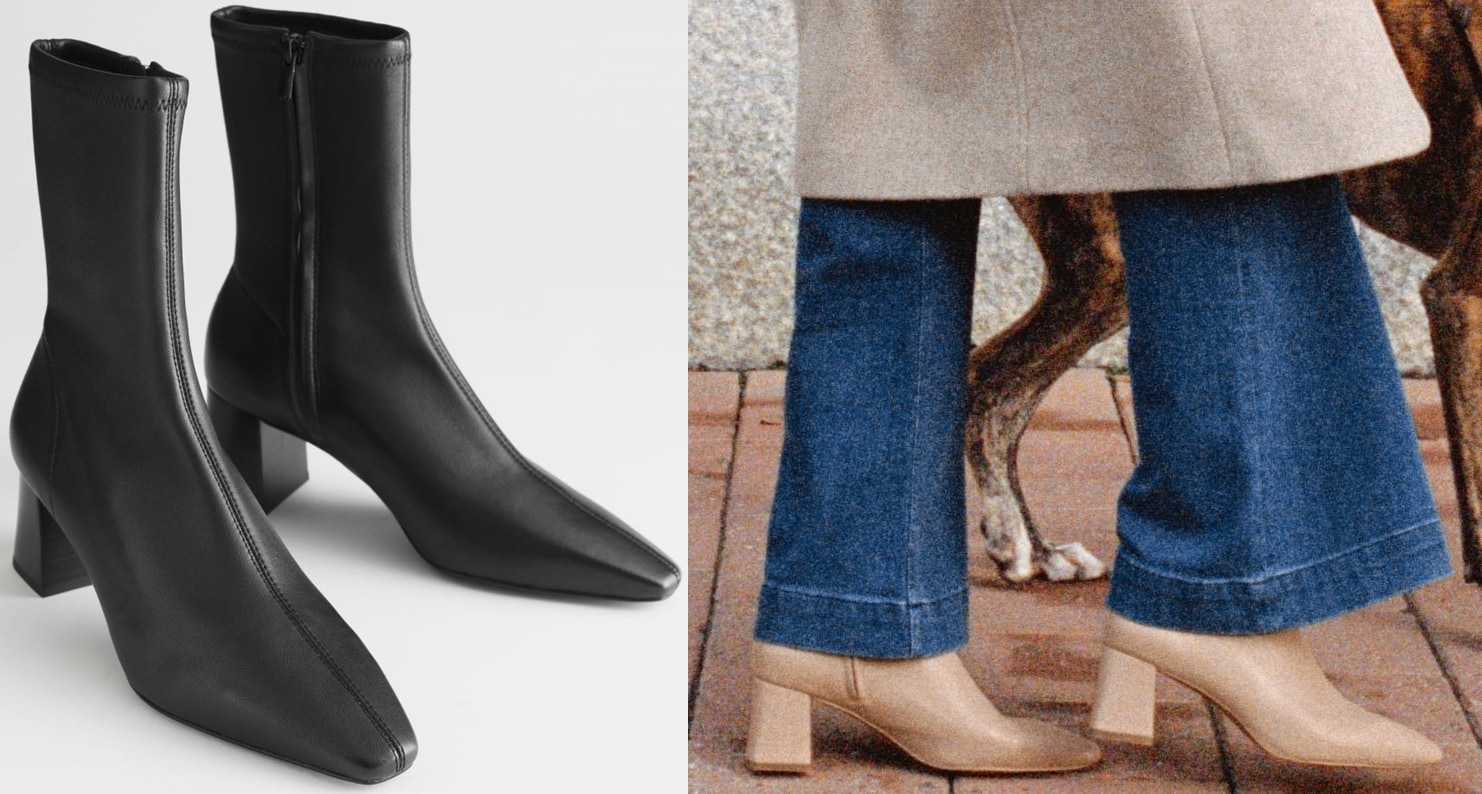 Leather sock boots with a pointed square-toe, cubic block heel, and topstitch detailing
The square-toe and cubic block heel make these the perfect autumn and winter sock boots to wear to the office or with your favorite flared jeans.
5. Vetements Stretch Knit Sock Boots, $735 at Mytheresa
While other styles take their inspiration from ankle socks, this silhouette from Vetements replicates the look of knee-high football socks.
These stretch-knit boots take the form of a stiletto heel and reach the knee as though they are that of a football player
These bold boots take their inspiration from the German football team, with a stiletto heel to juxtapose the athleisure against the structure of the heel.
6. Dolce & Gabbana 90mm Stretch Lace Sock Boots, $764 at Luisaviaroma
For a formal pair of sock boots that you could wear with a little black dress, try this option from Dolce & Gabbana.
These shoes give you the appearance of traditional court heels with a lace sock finish that makes them look and feel more like boots. These are one of the most unique styles on the market and perfect for wearing for your next night out.
Always a Sicilian and feminine icon for Dolce & Gabbana, this boot is made from timeless soft stretch lace
Sock boots are a trend that shows no sign of slowing down. Their versatility is quickly turning them into a closet essential.
If you're not sure where to start experimenting with this trend, pick up a classic neutral tone pair and style them with your favorite jeans. It couldn't be easier!