Comfort is the new king of fashion. First, it was socks with slides, and now it's the infamous sock boots. These shoes do more than just give you the appearance of a 2-in-1 sock-and-shoe combo.
Sock boots are all over our social media feeds, with celebrities and influencers alike jumping on the trend. This streetwear trend is having some of us scratching our heads and asking 'how?'.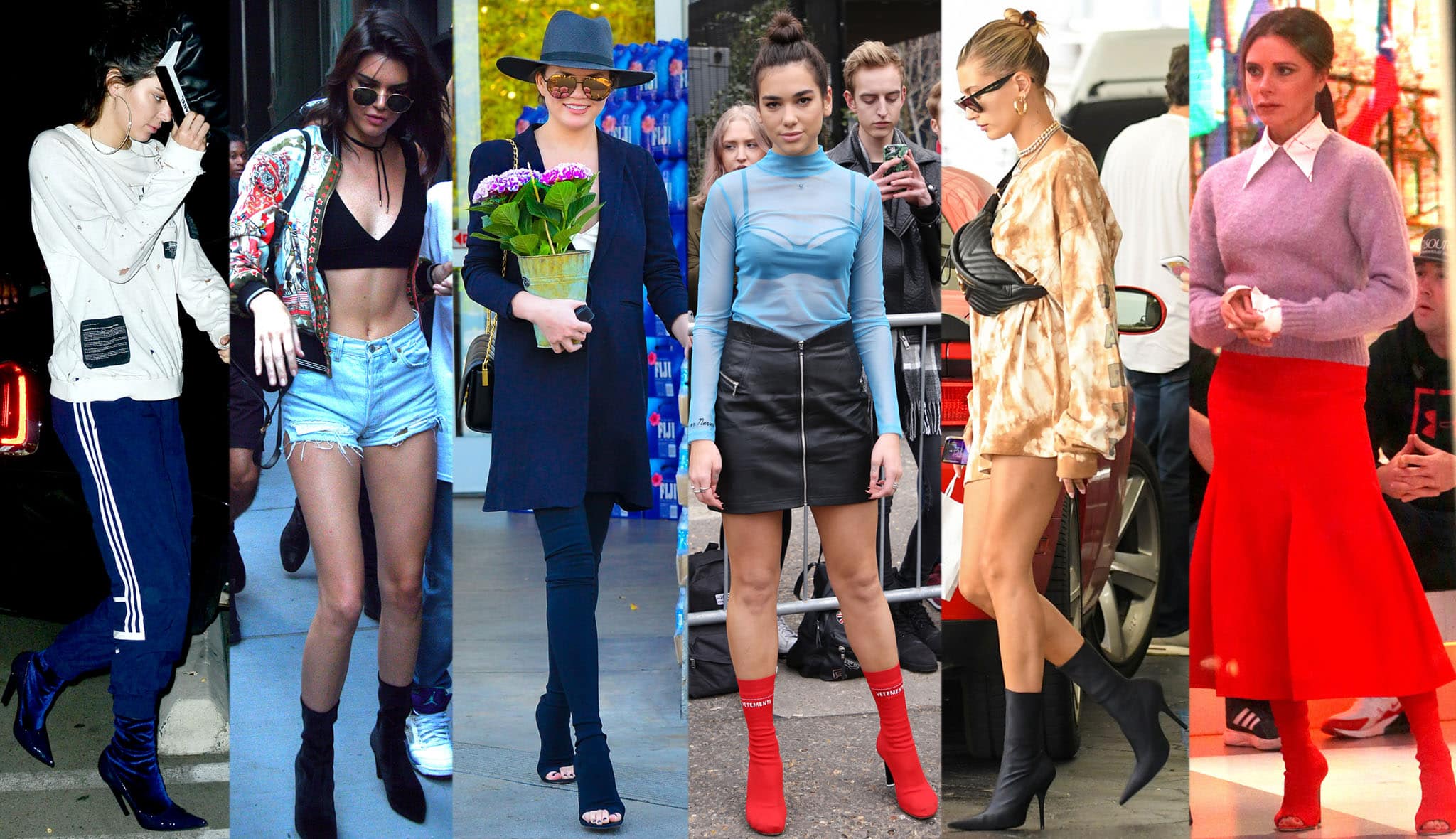 Kendall Jenner, Chrissy Teigen, Dua Lipa, Hailey Bieber, and Victoria Beckham wearing different styles of sock boots
Unlike other shoes like ankle boots and riding boots, sock boots aren't as naturally easy to style. Never fear! We're here to tell you everything you need to know about styling sock boots and the best styles to wear this season.
Sock boots might seem intimidating the first time you pick them up off a shelf – but they shouldn't be! It's all about the styling with these boots. Depending on the shoes you've chosen, you can dress your sock boots up or down.
They're the perfect alternative to sneakers when you want a height boost or a heel to complete your outfit. You can wear your sock boots with everything from jeans and a t-shirt to nap dresses – and everything in between.
If you're choosing a bold color, why not match it with other accessories? Wear a matching accessory to your sock boots can make them more wearable and help tie your look together if you're wearing a riskier shade.
1. Choose the Right Color
Not every pair of sock boots are a vibrant jewel tone that demands your attention. If you have a neutral tone pair, you can style them just like your favorite ankle boots.
Aquazzura 'Saint Honore 85' Suede Sock Boots, $865 at Net-A-Porter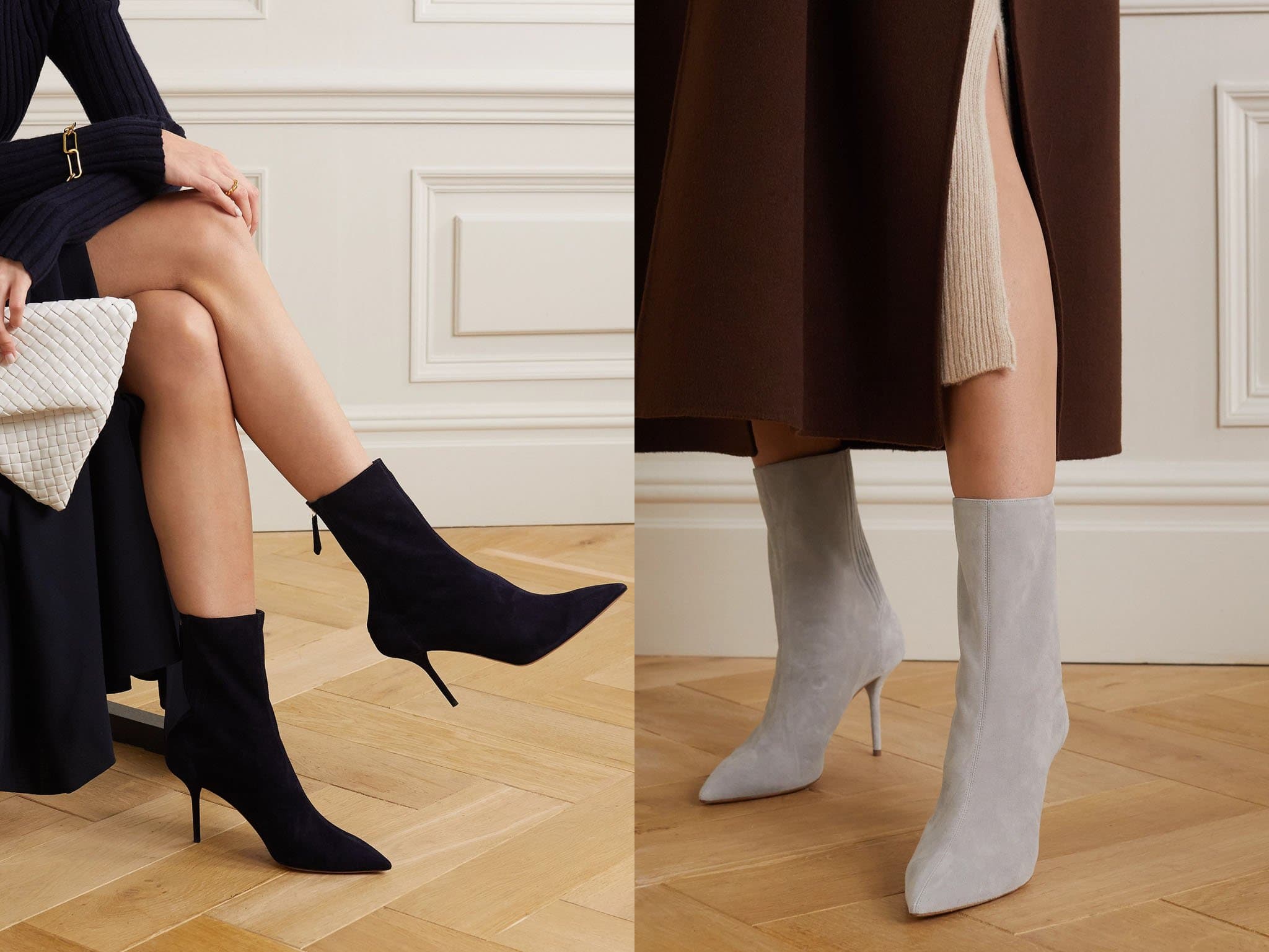 Neutral-colored sock boots, like black, gray, and beige, are versatile and can be paired with anything in your closet
With minimalistic shades like beige and gray, it can be more difficult for the naked eye to see the contrast between the sock and boot. This style gives you a more seamless look.
Neutral sock boots are the perfect choice for a vibrant outfit if you want to make sure your shoes don't overpower the rest of your outfit. If you think your closet needs more minimalistic shoes, shop around for earth-tone ankle boots.
Allegra James 'Lina' Knit Peep-Toe Sock Booties, $195 at Neiman Marcus
Minimalist stretch-knit ankle sock booties, like the Allegra James Lina, will give a chic seamless look
For anyone ready to go headfirst into the world of sock boots, a pair in a neutral shade is the perfect way to add versatility to your closet and outfit choices.
2. A Minimalistic Accessory
Sock boots are the perfect shoe for experimenting with. One of the most popular colors for these shoes is scarlet red, including from designers like Balenciaga.
Don't be afraid to embrace the color and wear it from head-to-toe for a monochrome outfit.
You can balance the brightness of your outfit with more minimalistic accessories. Black sunglasses and gold jewelry are a must-have to wear with sock boots.
Kate Spade New York Rose Lace Bodice Ponte Dress, $298 at Zappos, Quay Australia Sweet Dreams 51mm Square Sunglasses, $55 at Nordstrom, Bauble Bar Mini Petra Bracelet, $38 at Neiman Marcus, CAMSSOO Sock Booties Suede Heels Ankle Boots, $56.99 at Amazon
With the right styling, you can make sock boots appropriate for the office post-pandemic. For a more professional office-appropriate look, shop around for sock boots with a higher shaft that replicates the look of knee-high boots.
You'll want to pick a pair up in a classic shade like black or something more daring in a jewel tone.
Joie Naro Cotton Poplin Button-Down Shirt, $138 at Neiman Marcus, Theory Wrap-effect Woven Midi Skirt, $395 at Net-A-Porter, Tai Huggie Hoop Earrings, $45 at Neiman Marcus, Vagabond Shoemakers Tessa Sock Boots, $160 at Zappos
3. Classic Outfits To Try
Not sure where to start with your sock boots? Take a deep breath and grab your favorite jeans from the back of your closet. Whether they're skinny jeans or Levi mom jeans, ankle boots work with any style.
Throw on your jeans and a blouse before hunting for a statement long coat. You want to leave a small amount of 'neutral' space between the bottom of your coat and where your sock boots start.
Bernardo Sweater Coat, $149 at Nordstrom, CeCe Breezy Springs Ruffle Trim Floral Print Crepe Blouse, $69 at Nordstrom, Hudson Jeans Barbara High-Waist Super Skinny Ankle in Destructed Padua, $175 at Zappos, Steve Madden Tackle Ankle Sock Boots, $129.95 at Zappos
If you're looking for sock boots that can take you effortlessly from day to night, shop around for a taller pair to give your outfit a more seductive feel.
When in doubt, go with a head-to-toe black outfit to give you a sleek look and an understated feel to your outfit. It's the perfect way to become more comfortable wearing ankle boots by choosing a more laid-back outfit and classic color of shoes.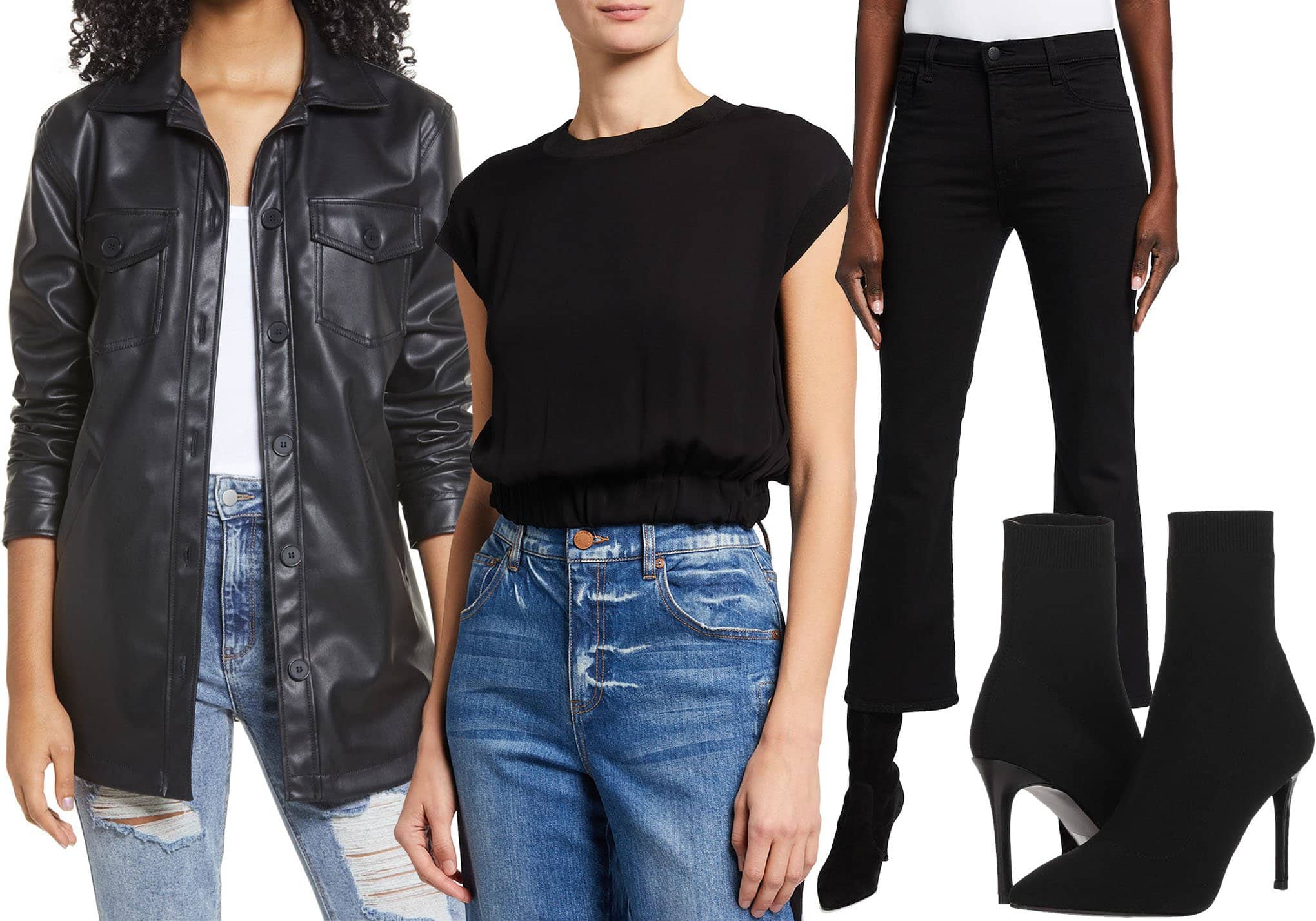 BP. Faux Leather Collar Jacket, $59 at Nordstrom, Alice + Olivia Treena Cropped Short-Sleeve Blouse, $195 at Neiman Marcus, J. Brand Franky High Rise Crop Boot-Cut Jeans, $198 at Neiman Marcus, Steve Madden Claire Sock Boots, $99.95 at Zappos
4. A Versatile Closet Staple
Shorter ankle boots are perfect for styling with a mini skirt for a '70s inspired look. Imagine what ABBA would wear if they were performing today.
Sock boots can have the appearance of go-go boots, and their silhouette can make them more versatile than traditional ankle boots. Not only do you get comfort, but you get shoes that you can wear with a myriad of outfits.
Vince Variegated Rib Mock-Neck Sweater, $110 at Bergdorf Goodman, Vero Moda Donna Faux Suede Miniskirt, $45 at Nordstrom, BaubleBar Delicate Evil Eye Necklace, $38 at Neiman Marcus, Louise et Cie Silvya Sock Bootie, $139.95 at Nordstrom
You can wear sock boots with everything from a midi dress to a three-piece suit. It's all about the styling. The easiest way to put together an outfit is to think of your sock boots as a more traditional style.
For the short options, think of them as ankle boots. For the higher style, think of them as traditional knee-high boots.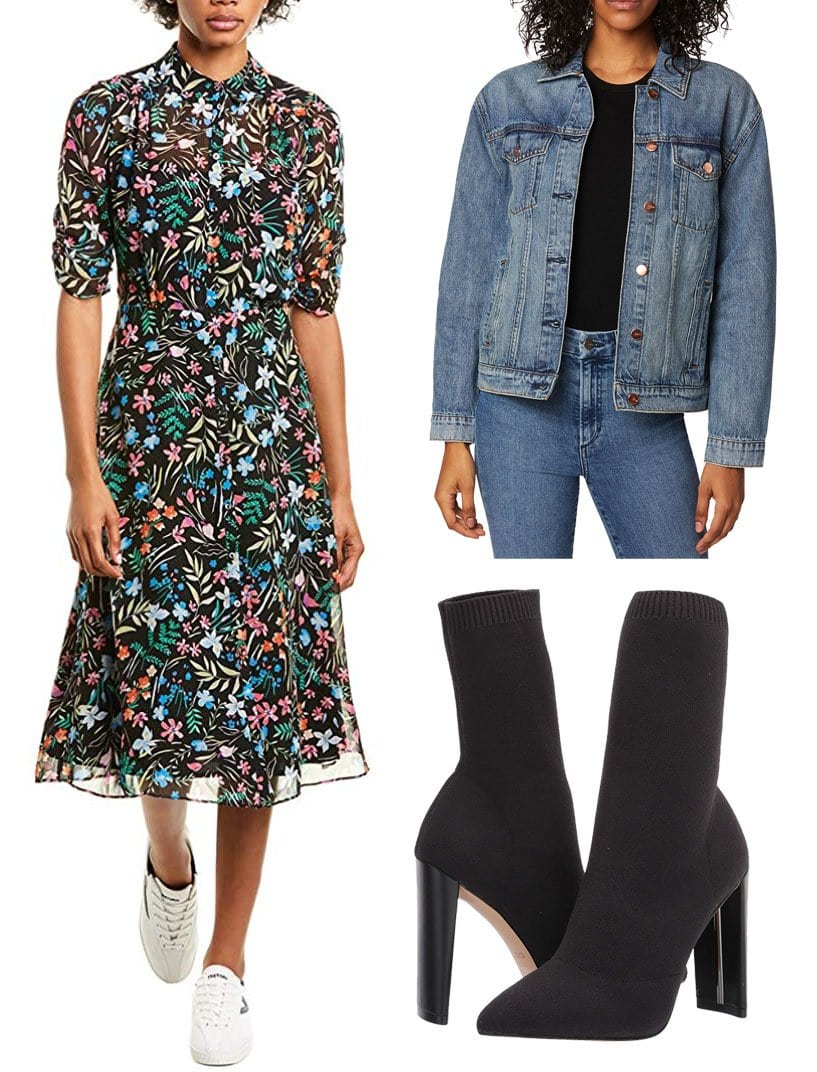 Maggy London Sheer Shirt Midi Skirt, $92.49 – $164.18 at Amazon, Joe's Jeans The Boyfriend Denim Jacket, $168 at Neiman Marcus, Aldo Deludith Sock Ankle Booties, $89.98 – $93.05 at Amazon
5. What Not To Wear With Sock Boots
When it comes to what not to wear with your sock boots, you want to consider the style you've chosen. Sock boots come in every shape and size, from ankle boot styles to over-the-knee.
The first fashion faux pas you want to avoid is wearing your sock boots with a clashing color. Try to avoid wearing your sock boots with another jewel tone, such as wearing scarlet red shoes with an emerald green dress.
If you choose a bold color, either embrace it with tonal dressing or balance it with neutral shades. It's all about how much of a statement you want to make with your sock boots.
6. Consider the Fit of Your Sock Boots
When you're shopping around for sock boots, make sure you find a pair that fits your calves comfortably. The purpose of these shoes is to give you both style and comfort.
These boots should slip on your feet like a pair of socks without digging into your skin or becoming uncomfortable. If you have wider calves, keep an eye out for sock boots with a little stretch to the shaft. It should still be slim enough to slip effortlessly under your skinny jeans.
After the sock boots hit the mainstream fashion trends in 2019, most of us thought they would be a momentary blimp. Instead, they're still going strong today. When it comes to buying a pair of your own, you want to make sure they have a heel that you can comfortably walk in.
7. Avoid Shortening Your Appearance
One way of styling your sock boots is to wear them over leggings or tights, along with a dress or skirt. The key to pulling off this look is to make it appear as seamless as possible.
The wrong pair of leggings or tights could end up making your legs look shorter and giving you a stouter appearance overall. You want to elongate your figure by creating straight lines with your outfit and a seamless transition between each layer.
Tonal dressing can make this easier by keeping each piece within the same color family.
When it comes to styling tips to avoid, you want to consider the height of the heel and shaft. Instead of looking at the silhouette as socks, think of them as a more comfortable version of traditional boot styles.
If you wouldn't wear an outfit with ankle boots, the chances are that your short sock boots wouldn't work either.
The key to styling sock boots is to make sure you've found a pair that elongate your legs and don't dig into your calf. These shoes give you the comfort that other boots lack.
If you find the idea of sock boots intimidate, start with a pair of classic black or neutral tone boots. Once you've gotten used to styling them, you can add a more vibrant shade to your closet for a pop of color.
Credit: Lia Toby / TNYF / Instar / WENN