Remember Miley Cyrus' nipple pasties? They're back with a vengeance in her new video. Made by London-based artist Quentin Jones, the racy and kinky art film features the most controversial celebrity of 2013 writhing around in various bondage-themed scenes and wearing nothing but x-ed nipple tape and latex underwear.
The video starts out with Miley's disembodied head floating in mid-air and sticking her tongue out (natch).
Miley is then seen sliding down, holding onto, or swinging from a stripper pole, depending on the angle from which you're looking at the video. One scene has got Miley spread-eagled while hanging onto a pole, while another has got her in what appears to be an uspide-down Jesus pose.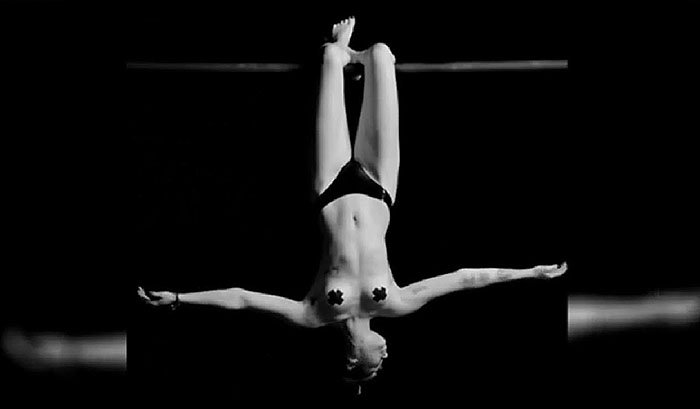 Mid-way through the video, Miley covers up in fishnet stockings. She's then doused in a black grease-like substance, which she proceeds to smear all over her face neck, arms, and torso.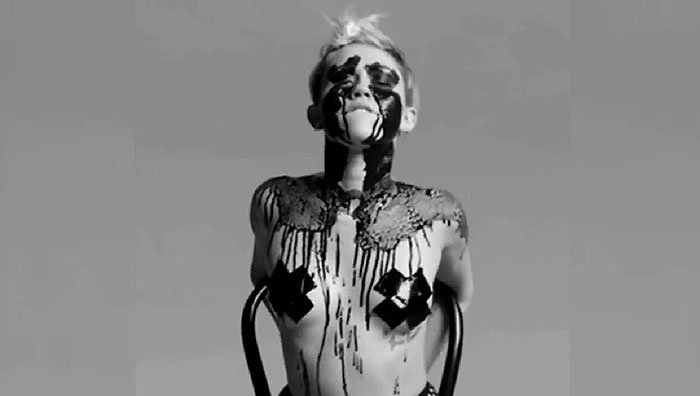 Keep an eye out for Miley's naked kaleidoscope and creepy back-lit clown face.
Is this Miley at her freakiest yet? Watch "Miley Cyrus: Tongue Tied" in its bizarre entirety here:
This video makes us miss the Miley Cyrus of 2013, with her crazy clothes and shoes that we could comment on. This new era Miley seems to be heading into is just downright freaky. So freaky, in fact, that it makes the Miley in the following pictures seem so tame in comparison: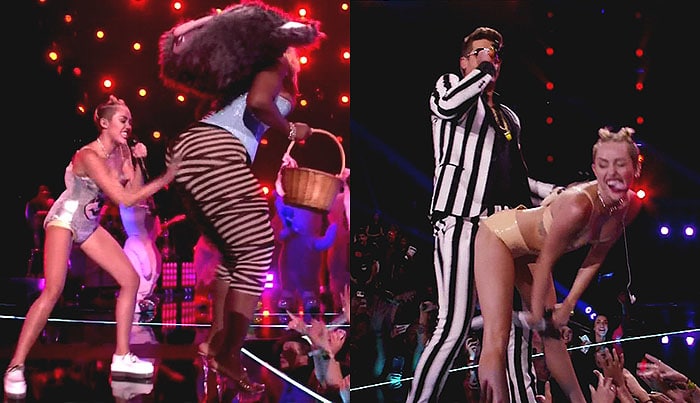 Miley Cyrus slapping a dancer's booty and twerking against Robin Thicke at the  2013 MTV Video Music Awards held at the Barclays Center in Brooklyn, New York, on August 25, 2013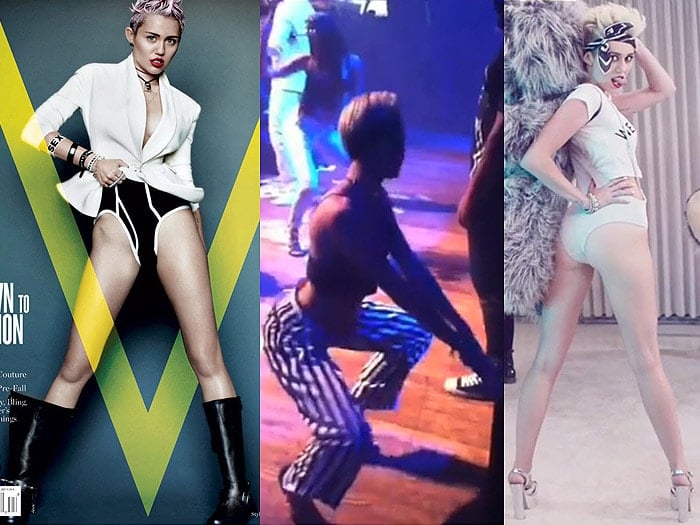 Miley Cyrus on the cover of V Magazine's May 2013 issue; twerking on stage at Juicy J's show at the House of Blues in Los Angeles, California, on June 8, 2013; in the director's cut version of her "We Can't Stop" music video
Miley Cyrus at the 20th MTV Europe Music Awards held at Ziggo Dome in Amsterdam, Netherlands, on November 10, 2013; performing on stage during MTV EMA 2013 at the Ziggo Dome in Amsterdam, Netherlands, on November 10, 2013; performing at Z100's Jingle Ball 2013 at Madison Square Garden in New York City on December 13, 2013
How do you like the new Miley?
Credit: WENN / SIPA / Joel Ginsburg