Known for her iconic deep voice, Miley Cyrus has learned to embrace her low voice despite being criticized for sounding like a man.
"This song means something to me on the deepest level," Miley told Metallica drummer Lars Ulrich about the power ballad "Nothing Else Matters" in a chat for Interview magazine.
"I even went down to some of those octaves, because singing those super-low lead vocals is so satisfying," she said about experimenting at home during the pandemic.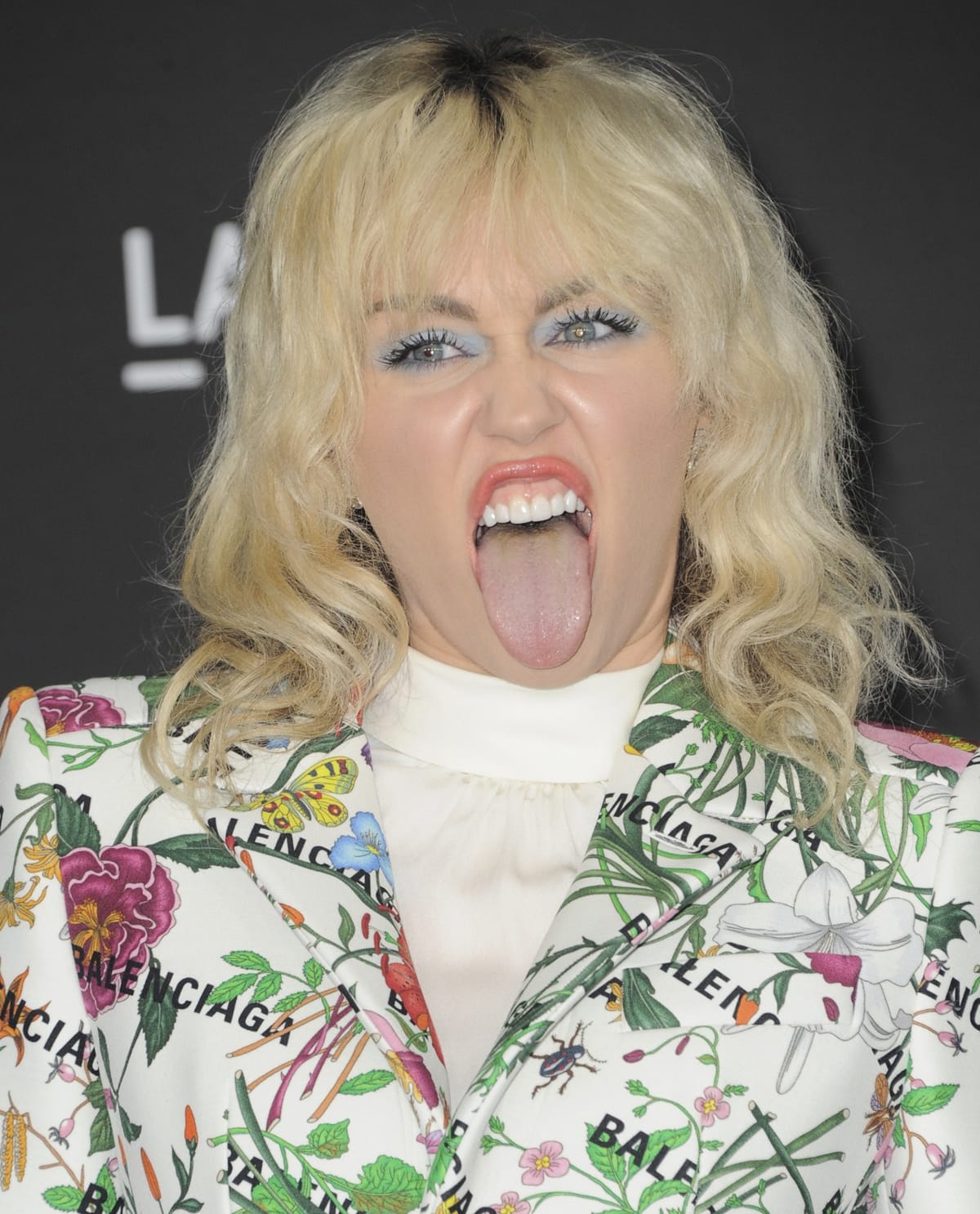 Miley Cyrus opened up about criticism over her deeper voice and feedback she's received as a singer in the music industry (Credit: Avalon / WENN)
Miley sings a cover of "Nothing Else Matters" on the tribute album The Metallica Blacklist, which is part of a larger celebration of the 30th anniversary of Metallica's 1991 self-titled album (commonly known as The Black Album).
"My whole life, whether in vocal training or just continuing to hone my craft, it's always been about, 'Why do you sound like a man? Where's your f***ing falsetto, b****? Why can't you sing the high octave of 'Party in the U.S.A.' anymore?'"
"In this song, I get to sing in that low register, and I get to live in that authentic, genuine sound."
In September, Miley and Metallic performed "Nothing Else Matters" live on "The Howard Stern Show."
"My voice is how I represent myself. It's how I express myself. I've worked with so many people who tell me, 'We're going to have to bring in a singer to hit those high parts.' You know, 'falsetto' is this Latin term for when a boy goes through puberty, but they still want him to sing in the choir. It means 'false.'"
"I am who I am," she said. "I say what I mean in the moment, even if that changes tomorrow. I was honored by the fact that I didn't have to sing this song in the way that females are 'supposed' to sing."
"You can hear that at the end of the song when I take the gloves off and just start flying. That part of the song really grabs people. It's that lower register of my voice. So I'm grateful to have a song where I can lean into that."
Miley Cyrus shows off her tongue and short hair at the grand opening of "Britney: Piece of Me" held on December 27, 2013, at Planet Hollywood Resort & Casino in Las Vegas (Credit: WENN / SIPA)
In December 2013, Miley Cyrus flaunted both her midriff and tongue at the opening of Britney Spears' residency, "Britney: Piece of Me," at Planet Hollywood in Las Vegas. Initially set for two years, in 2015 it was extended for two additional years.
Miley and Britney shared the same manager, Larry Rudolph, and Miley did her best to leave Britney in the shade by once again showing plenty of flesh.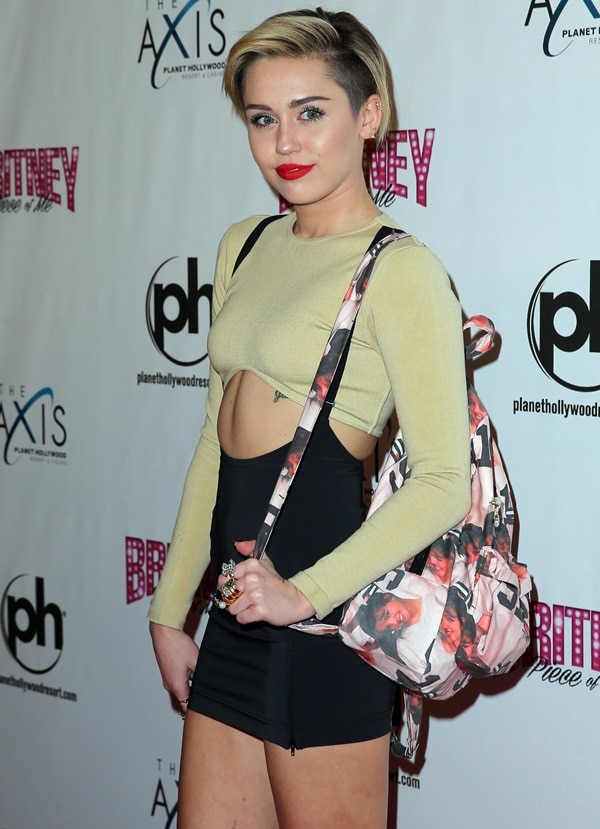 Miley Cyrus wears a navel-baring top and carries a Britney Spears print backpack (Credit: WENN / SIPA)
The former Disney star wore an odd combination of a navel-baring top and a skirt that featured built-in braces.
Miley Cyrus shows off her midriff as she carries an O-Mighty "It's Britney Bitch" backpack on the red carpet (Credit: Judy Eddy / WENN / SIPA)
Miley completed the outfit with a pair of black-and-white plaid Versace heels. She carried an O-Mighty "It's Britney Bitch" backpack adorned with a Chanel pin.
Miley Cyrus's feet in plaid Versace heels (Credit: WENN)
How do you like her outfit? While Miley's Versace shoes are not available online, you can shop for Versace shoes at Farfetch and Nordstrom.
Perhaps we can tempt you with the following plaid shoe alternatives instead?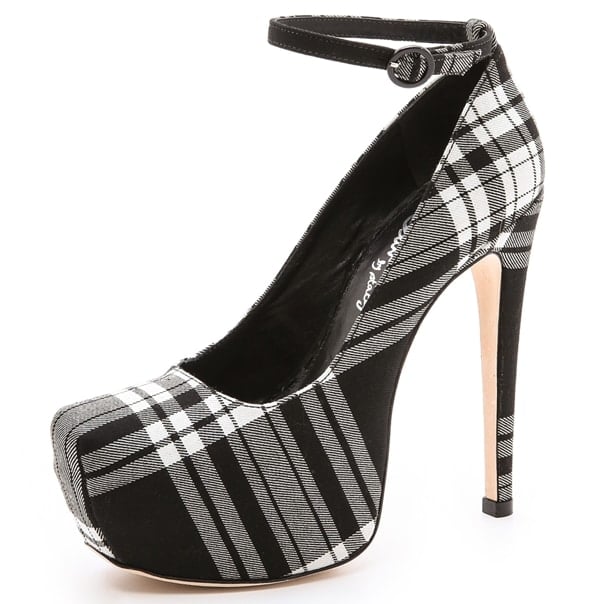 Alice + Olivia 'Lolita' Plaid Platform Pumps, $180
Nine West 'Ansah' Pumps in Black/Red Multi Fabric, $62.99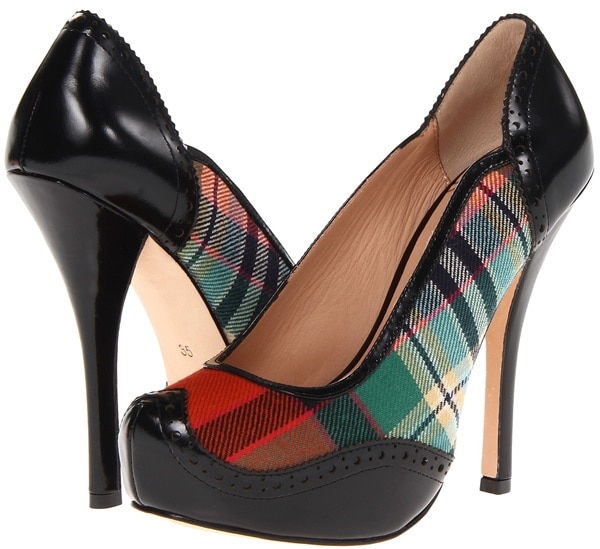 Vivienne Westwood 'Flutter W1056' Pumps in Black Plaid, $339.99