Miley Cyrus' eccentric style doesn't come as a shock to anyone anymore. After the rainbow hobo suit and the pink-dyed armpit hair, the Canadian tuxedo she wore out and about in Studio City on Friday doesn't even make us bat an eyelash.
Miley Cyrus carrying a Hugo's Tacos takeout bag and heading to her car in Studio City, California, on May 9, 2015
It was just Miley being Miley, and for that day, it was a very '90s-themed Miley.
Miley Cyrus with her friend and birthday celebrant Cheyne Thomas
The 22-year-old entertainer sported smiley faces, daisies, hearts, and inspiring messages written with puffy paint on her oversized denim jacket.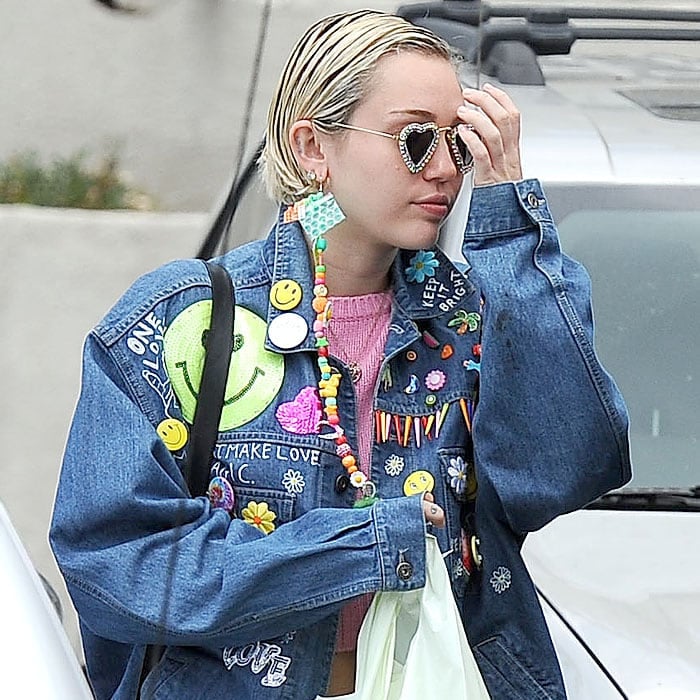 Miley Cyrus rocking heart-shaped sunglasses, a long dangling earring, and an embellished denim jacket
She wore it over a pink knit crop top and high-waisted mom jeans, finishing the look with Spice Girls–inspired platform sneakers.
Miley Cyrus' '90s-themed double-denim ensemble complete with a denim jacket that has "Keep It Bright" scribbled on the back
Speaking of the Spice Girls, Miley didn't let her '90s-themed day without throwing back to the original girl-power group.
As a completion of her day and as a birthday greeting to her friend Cheyne Thomas and brother Braison Cyrus, she posted an Instagram video of her singing along to "Wannabe" by the Spice Girls.
Miley Cyrus' Instagram picture captioned, "Today be a @keepitbright @wicked_hippie #dirtyhippie kinda day 🌼☀️💐 (look at da cray floaty smiley!!!) celebrating @happyhippiefdn BIG debut! Makin dreams reality!!!!! 😻 keep smilin! Can't wait for next week for more #backyardsessions videos!!!!" – posted on May 9, 2015
How do you like Miley's '90s look? And, yes, it does look like those are dime bags attached to her dangling earring.
Miley's white platform sneakers are the now-sold-out River Island lace-up plimsoll trainers. Check out the similar Ash "Cult" sneakers with yellow heel trims below. If the gold-and-white colorway is what you're after, the Michael Kors sneakers we're featuring below are a great alternative.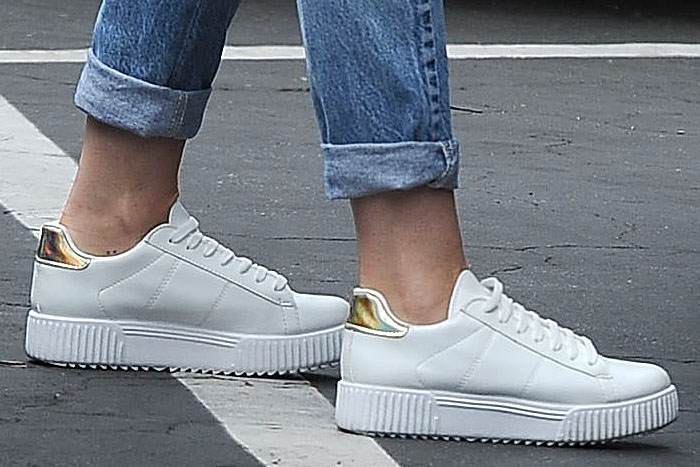 Miley Cyrus' white River Island platform sneakers with holographic gold trims on the padded heels
Ash "Cult" Platform Sneakers, $215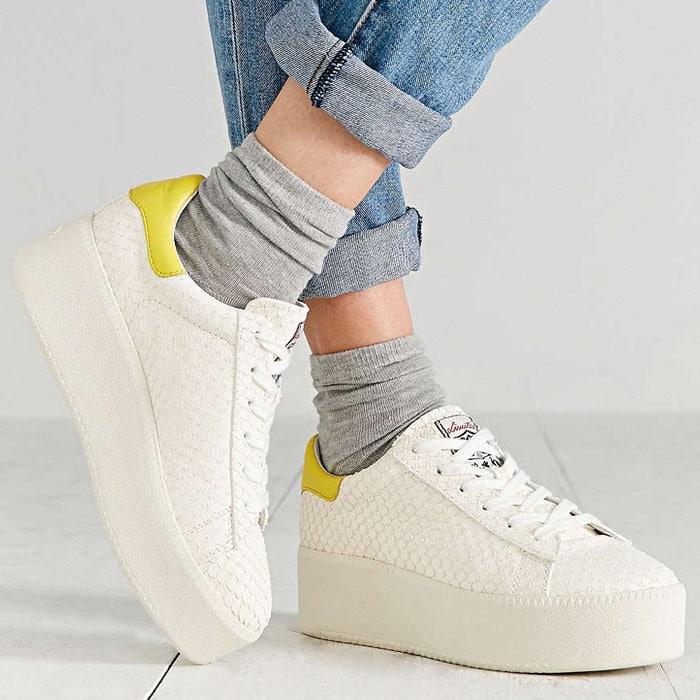 MICHAEL Michael Kors "Irving" Sneakers, $125
Credit: WENN / Miley Cyrus' Instagram