Fresh from her much-talked-about SNL stint, Miley Cyrus took on the Today Show with a "twerky" stage performance and a rather awkward exchange with the host Matt Lauer about his sexual drive. The 20-year-old deflected questions about her sudden transition to a more adult image by comically suggesting that people lose their sexual drive at age 40, and that Lauer, who is now 55, had long lost his.
Nice dodge, Cyrus. We see what you did there.
The twerk queen wore an all-white stage ensemble, choosing a kimono buttondown top by Kenzo, which she paired with custom-made white denim shorts (of course, the twerk queen has to show off her designated jiggly parts). Miley slipped into a pair of metallic sneakers with checkered details from T.U.K., and put on a chunky silver necklace from Celine.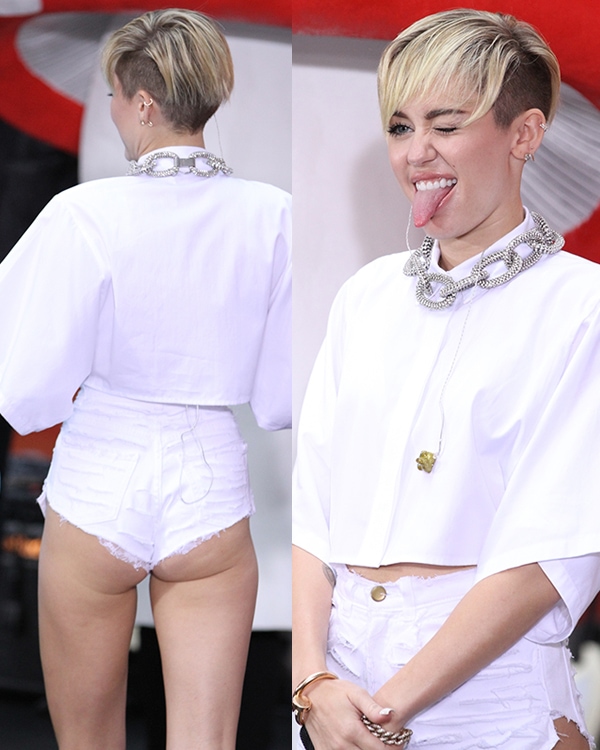 Miley Cyrus performing (with her rear exposed) on The Today Show at Rockefeller Plaza in New York on October 7, 2013
Miley Cyrus performed three songs — "We Can't Stop," "Party in the U.S.A.," and "Wrecking Ball," which is currently topping the Billboard charts. It was an impressive performance, but her scandalous, controversial stage antics continued. Her fans got to see plenty of tongue action and twerking!
Miley Cyrus performing "We Can't Stop," "Party in the U.S.A.," and "Wrecking Ball" for The Today Show at Rockefeller Plaza in New York on October 7, 2013
While this is not a look we would recommend wearing out in public (indecent exposure, anyone?), we definitely applaud Miley Cyrus for incorporating such a classic buttondown shirt into a rugged-but-sexy outfit that is very much reflective of her current image. While we are not in a position to join the widespread morality discussion about Miley's image change, we do have to say that this outfit was very twerking-friendly.
Aside from her skimpy shorts, Miley's creepers captured our attention. We've previously also spotted her wearing creepers in Manhattan and in Toluca Lake.
This time, she sported the T.U.K. "The Low Sole," which features contrast black woven detail around the toes, D-ring eyelets that hold contrast laces, and 2 inch flatforms.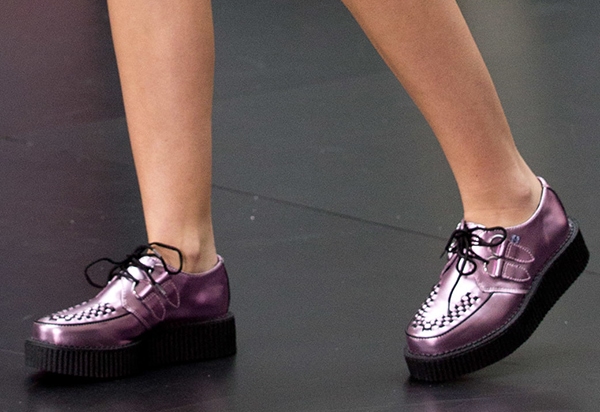 Miley Cyrus wearing T.U.K. creepers for her The Today Show performance at Rockefeller Center in New York on October 7, 2013
You can currently get them on sale at Amazon: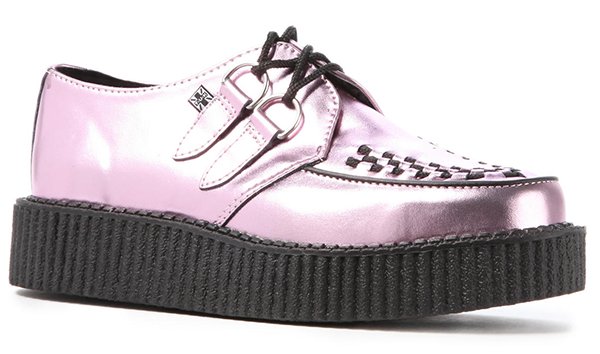 T.U.K. The Low Sole Creepers, $67.95 (before: $85)
Would you consider wearing a pair of creepers?
Credit: Joel Ginsburg / Andres Otero / WENN