After the scandalous twerking and foam-finger-riding performance at the 2013 MTV Video Music Awards, MTV has now apparently disallowed Miley Cyrus from performing this year. What they are letting her do instead is host the entire awards show. That's about three hours they're giving Miley to break the internet once again.
And judging by the 2015 MTV VMA teaser vids that Miley has been sharing on her Instagram, we're in for a wild ride. The first clip she posted is one where she's surrounded by a hazy cloud of smoke. The air clears and reveals an open-mouthed Miley, who pushes up rainbow-embellished sunglasses to her fruit-bun-topped head.
Another recent video teaser shows her literally getting cheeky on a green-screened treadmill. The former Disney actress struts her stuff in a very high-cut star-print thong swimsuit and printed chunky white platform shoes. At the end, she throws her signature tongue-out pose.
Score similar shoes:
Jeffrey Campbell "Celeb-F" Chunky White Platform Heels, $150
An MTV Awards show is nothing without its moon man, and Miley gamely embodied the MTV icon by fake-floating in front of a green screen in a white nylon boilersuit.
Her shoes, of course, were Tecnica moon boots. Notice how she ripped a hole at the top of her white snapback cap for her Bantu knot to go through.
Get her exact shoes:
Tecnica Moon Boots in White, $100
Miley also wears a glittery cherry headband, pink sequin joggers, and another pair of chunky white platform shoes for the teaser vid where she's bull-riding a fluffy white kitten.
We realize that that last sentence is completely bizarre, but since this is Miley we're talking about, it's not even surprising anymore.
Get her exact shoes:
Y.R.U. "Medusa" Lace-Up Platform Sandals in White, $105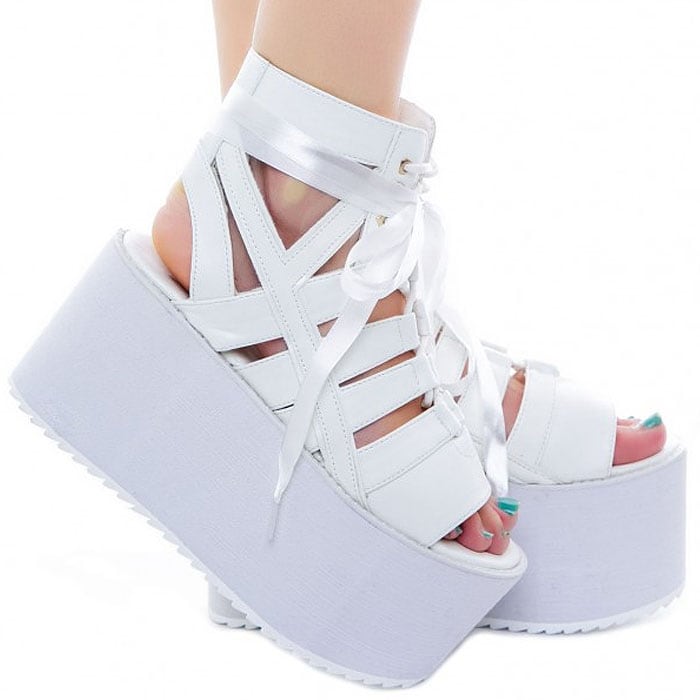 This last topless teaser video is the most scandalous but also, strangely enough, the cutest. The pink suspender hot pants give full views of Miley's green-circle nipples, but the wave and head snap that Miley does at the end sends the message that she's unapologetic about it all.
Will you be tuning in when Miley Cyrus hosts the 2015 MTV Video Music Awards?
Credit: Miley Cyrus' Instagram