The Victoria's Secret models have seemingly made Isabel Marant wedge sneakers their uniform, and they recently have been parading their pairs while out and about again. We just spotted Alessandra Ambrosio in her Isabel Marants.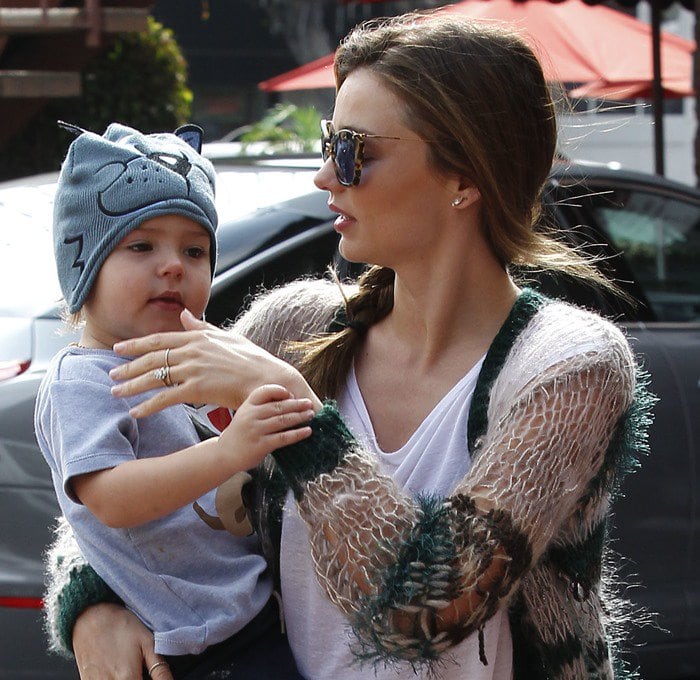 Miranda Kerr and her son, Flynn Bloom, heading to a friend's house in Los Feliz, California on February 18, 2013
Today, we've got Miranda Kerr airing out her own similar pair of Isabel Marant wedge sneakers after just being spotted in a different style a few days ago.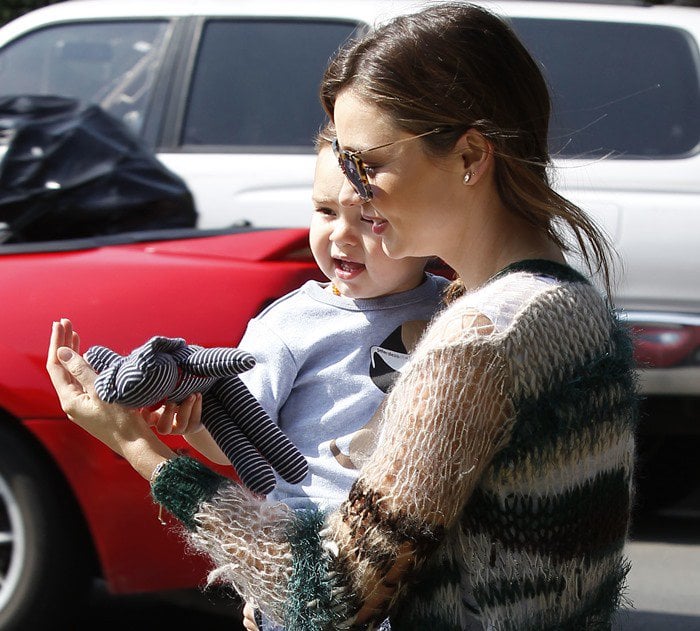 Miranda Kerr rocked a Rodarte S363 loose-knit cardigan
The Australian model wore the Isabel Marant "Bobby" sneakers when she took her son Flynn to a friend's house in Los Feliz, California yesterday afternoon. Always the chic dresser, Miranda Kerr used them as the perfect accessories to a well put together everyday ensemble.
Miranda Kerr flaunted her legs in skinny jeans and Isabel Marant's Bobby sneakers
Miranda Kerr chose the olive suede color of the Isabel Marant Bobby wedge sneakers, just like Nicky Hilton. These are one of the most popular colors, so, needless to say, they're sold out everywhere!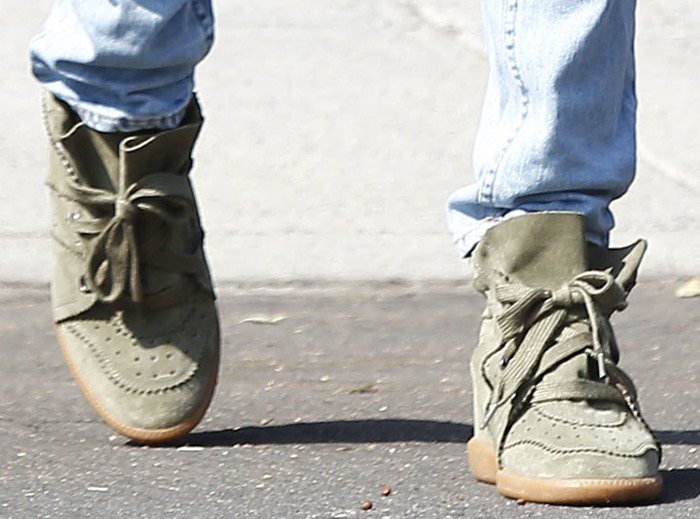 Miranda Kerr's Isabel Marant Bobby wedge sneakers
You can still, however, find the white and the fun yellow version at Farfetch.
Étoile Isabel Marant Bobby Wedge Sneakers, $640
To get the look of the Isabel Marant "Bobby" wedge sneakers, our favorite version has always been the following ones from Skechers that you can buy on Zappos:
Skechers Plus 3 High Fly Wedge Sneakers, $45 to $84.99
Check out our previous post on these Skechers wedge sneakers to see all of the Isabel Marant-like styles and their colors!
Credit: WENN