She's no longer just a TikTok star. Addison Rae has burst into mainstream fame following the release of her debut single, Obsessed, her appearance on Keeping Up with the Kardashians, and a starring role in the Netflix movie He's All That.
After skyrocketing to Hollywood stardom, she's now considered as one of today's most popular social media stars, having been invited to the prestigious Met Gala 2021 as well as the New York and Milan Fashion Week.
Just recently, Addison was invited to sit front row at the Versace Spring/Summer 2022 runway show, where she took over Versace's TikTok account to let her fans see the behind-the-scenes of the house's fashion presentation.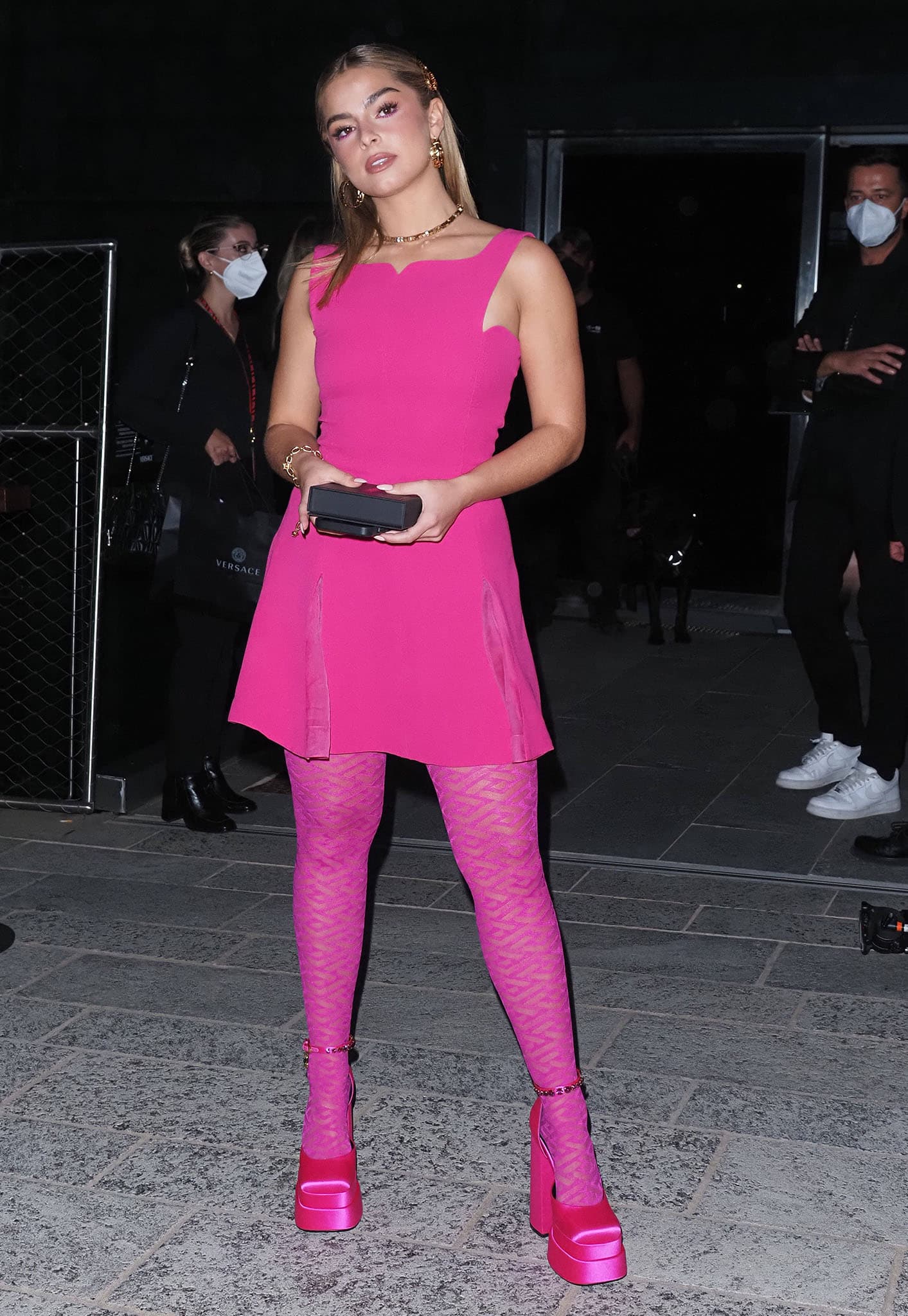 Addison Rae wears head-to-toe pink at Versace fashion show during Milan Fashion Week on September 24, 2021 (Credit: Mega / WENN)
Sure, being famous has its perks, but along with it comes drawbacks. In the TikTok video for Versace, Addison pronounced Versace as "Versach-ee" instead of "Versach-eh," prompting people to criticize and correct her in the comments.
"It's Versace, not versaci," one said. Another person also commented: "Out of all ppl why Addison?!!?!"
@versaceDon't forget to watch! 💓 @addisonre
Addison later clapped back at the haters in a now-deleted TikTok video, showing her repeatedly over-enunciating Versace.
"So I'm super excited to be here at the Versace show, with Versace at the Versace show, right guys? Versace!"
View this post on Instagram
For the show, Addison wore head-to-toe pink from the Italian luxury fashion house.
She slipped her curves into a $2,200 hot pink sleeveless mini dress that features a thigh-grazing pleated skirt and teamed it with bubblegum pink La Greca monogram sheer tights, which you can get for $350 at Farfetch.
Addison Rae showcases her legs in sheer tights and pink mini dress from Versace (Credit: Mega / WENN)
Keeping the look coordinated, Addison paired the feminine pieces with towering heels from Versace.
These satin pumps have a Medusa head charm dangling on the crystal-embellished ankle straps. They also feature square toes, 2.5-inch platforms, and 3.5-inch sky-high block heels.
Versace Platform Satin Pumps, $1,295 at Luisaviaroma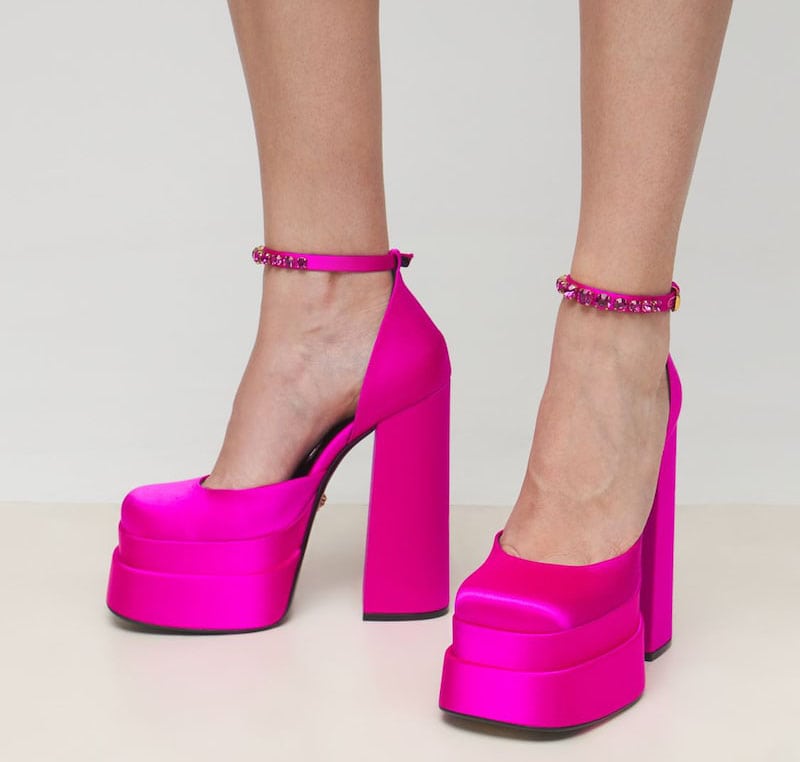 These platform pumps from Versace have towering block heels and platforms with a Medusa logo charm on the bejeweled ankle straps
Looking pretty in pink, Addison glammed up with matching pink bottom eyeliner, lipstick, and blush. She then wore her tresses straight, parted in the middle, and styled with clips on both sides.
Completing her look was an array of chunky gold jewelry that included a pair of La Greca hoop earrings, a Versace logo necklace, a chain-link bracelet, and a ring.
View this post on Instagram
On Sunday, the 20-year-old TikTok sensation attended the Versace and Fendi fashion show during Milan Fashion Week.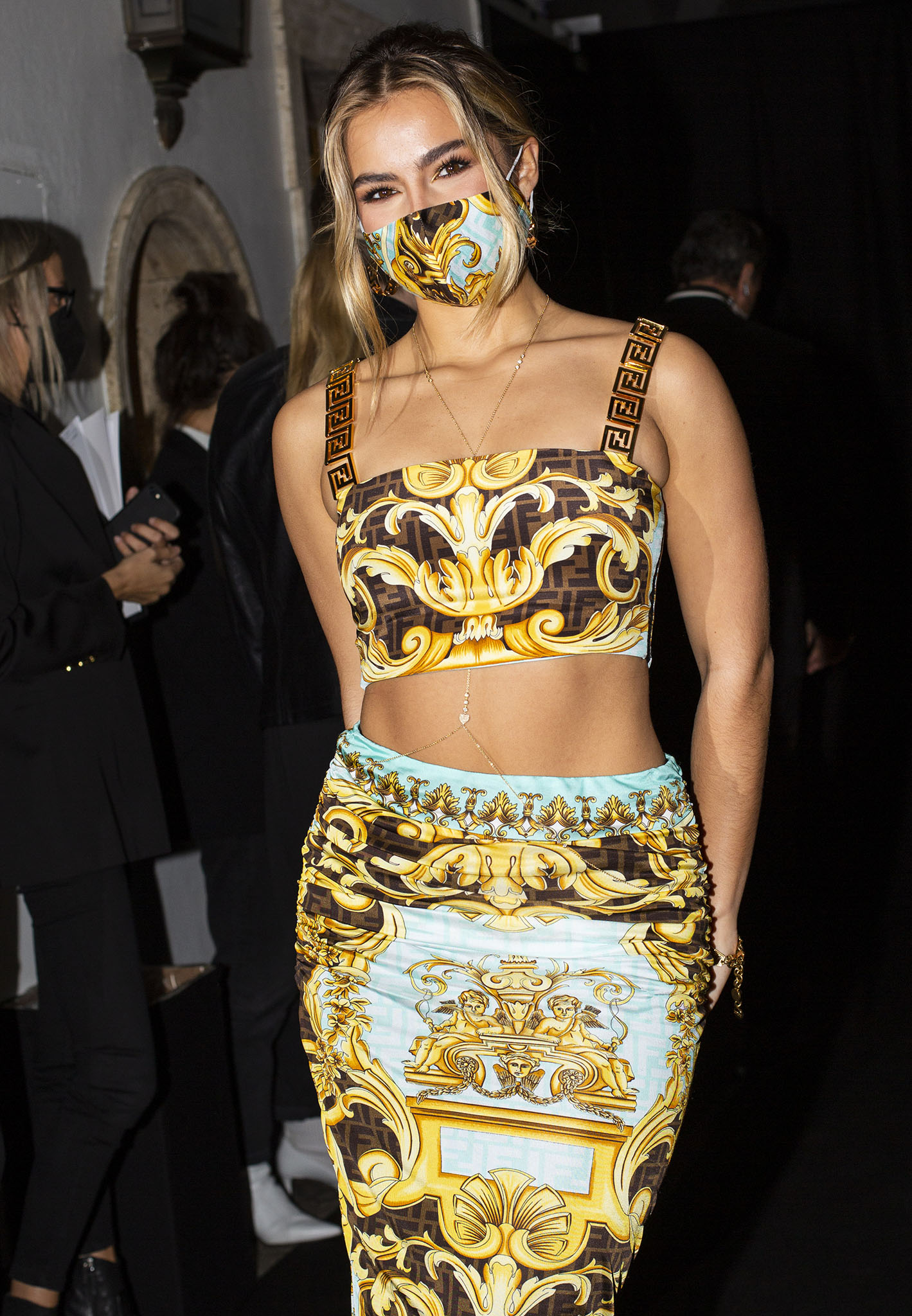 Addison Rae attends Fendi and Versace's runway presentation on September 26, 2021 (Credit: Mega / WENN)
Offering a clear view of her stomach, Addison wore a crop top and a matching pencil skirt featuring a combination of Versace and Fendi's signature designs.
Fendi's brown FF monogram fused with Versace's golden baroque print all over the top and skirt, finished with double F gold straps in Greek key motif.
She then styled the figure-flattering number with a delicate gold body chain, chunky hoop earrings, a ring, and a bracelet.