These days, pretty much anything can become a trend. This time, it was a mole.
Beauty trends and standards come in waves. In the past, women have gone from drawing on their beauty marks to having them surgically removed.
With constantly changing beauty standards, it's hard to keep up in our trend-hopping, airbrushed society.
So, when Rachel McAdams' starred in Eurovision Song Contest: The Story of Fire Saga (2020) without any makeup or editing for the mole on her face, it broke the internet.
The mole one of the left side of Rachel McAdams' face in Eurovision Song Contest: The Story of Fire Saga is real (Credit: Netflix)
At one point last year, Rachel McAdams' mole became one of the most searched for terms on the internet.
In Eurovision, McAdams branched out from her typical roles. Instead of the beautifully charming main characters, she plays in The Notebook or About Time, she takes on the role of a quirky yet down-to-earth singer from Iceland alongside Will Ferrell.
In her past film debuts, her moles seemed to be covered up with a bit of help from Hollywood's magic. But in Eurovision, Rachel McAdam and her moles took to the big screen and received big reactions.
Rachel McAdams shows off her moles on the set of Eurovision Song Contest: The Story of Fire Saga in Edinburgh, Scotland, on October 1, 2019 (Credit: Avalon / WENN)
Here are some of the most commonly asked and searched on the internet following the Netflix movie premiere:
Q: Are Her Moles Real, or Were They Just for the Movie?
"Does Rachel McAdams have a mole on her face?" and "Why does Rachel McAdams have a mole?" were just two of the trending Google Search phrases about her moles at the time.
Despite the debate, they are 100% real. Her most noticeable mole is on her left cheek, as well as one on her chin.
Q: Why Hasn't She Removed Them?
McAdams has several moles, both on her face and neck. But, "She's never considered them an impediment," according to Cafe Mom.
"McAdams is so proud of her complexion that she went sans makeup on Allure's August 2014 cover, deliberately flaunting her marks."
This confidence in her own skin is inspiring. It makes her less of a Mean Girl like Regina George and more likable and relatable.
There are actually quite a few popular celebrities who have chosen not to have their moles removed. From Jennifer Lawrence, and Gigi Hadid, to Natalie Portman, all radiate beauty in their own unique ways.
The Positive Impact of Rachel McAdams' Mole
Yep, celebrities' moles are even influential these days. But hear us out!
Moles are extremely common. Nearly every adult has a few of them. But when we're consuming endless movies full of airbrushing and photoshop, it can feel like they aren't, especially if you have more prominent moles like McAdams.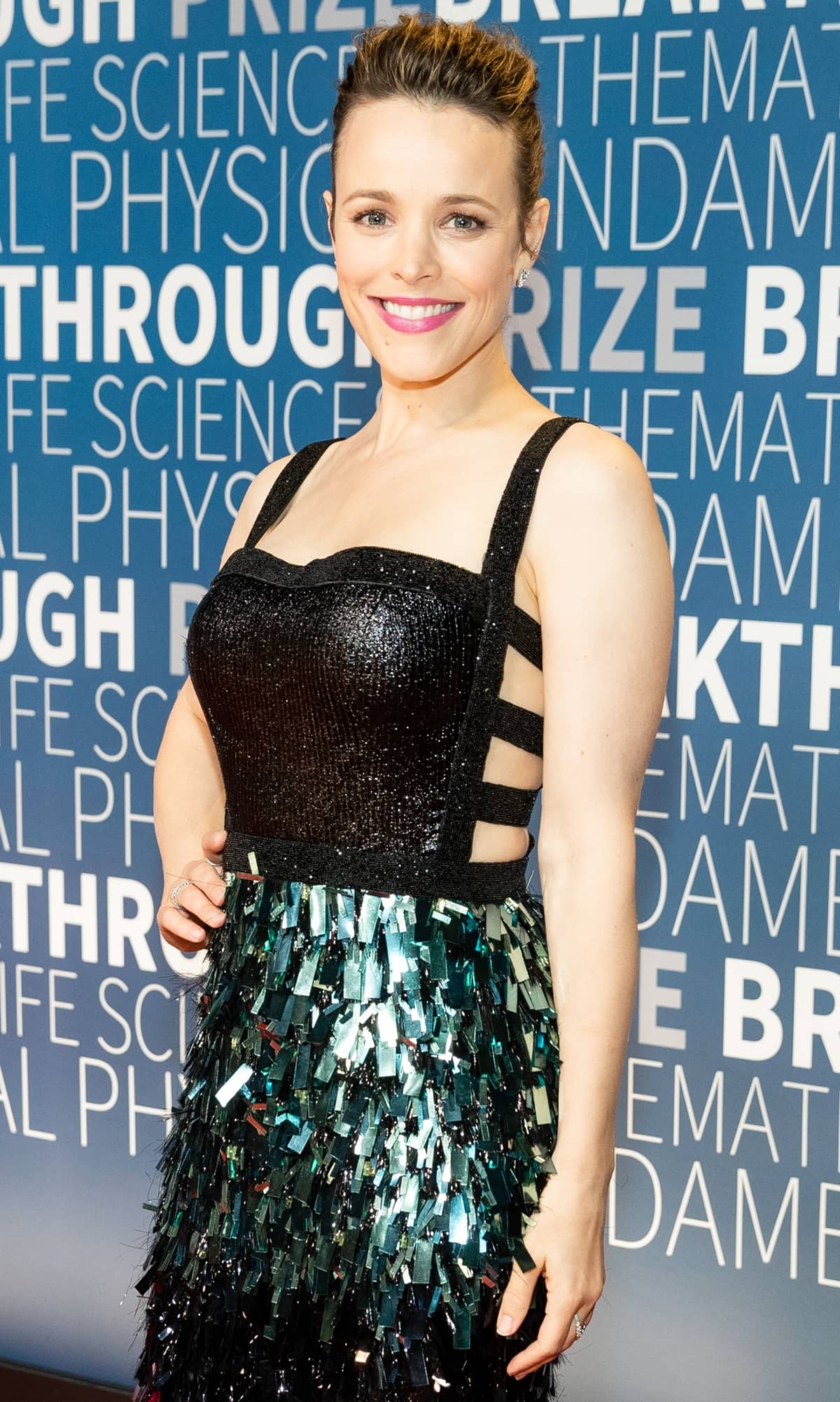 Rachel McAdams looks stunning in a Rami Kadi Couture dress with metallic sequin appliqués and Hearts On Fire jewelry at the 2019 Breakthrough Prize event at NASA Ames Research Center in Mountain View, California, on November 4, 2018 (Credit: Drew Altizer / WENN)
When Eurovision was released, some of the infamous internet trolls weren't very nice about it (surprise, surprise).
However, some were inspired by her.
A Metro reporter wrote, "Seeing Rachel McAdams, who is unquestionably beautiful and incredibly talented, on-screen with her moles – the kind of moles I have – really has made me feel better."
Seeing any sort of authenticity or pieces of ourselves in these celebrities we idolize can make such an impact – even if it's just a mole.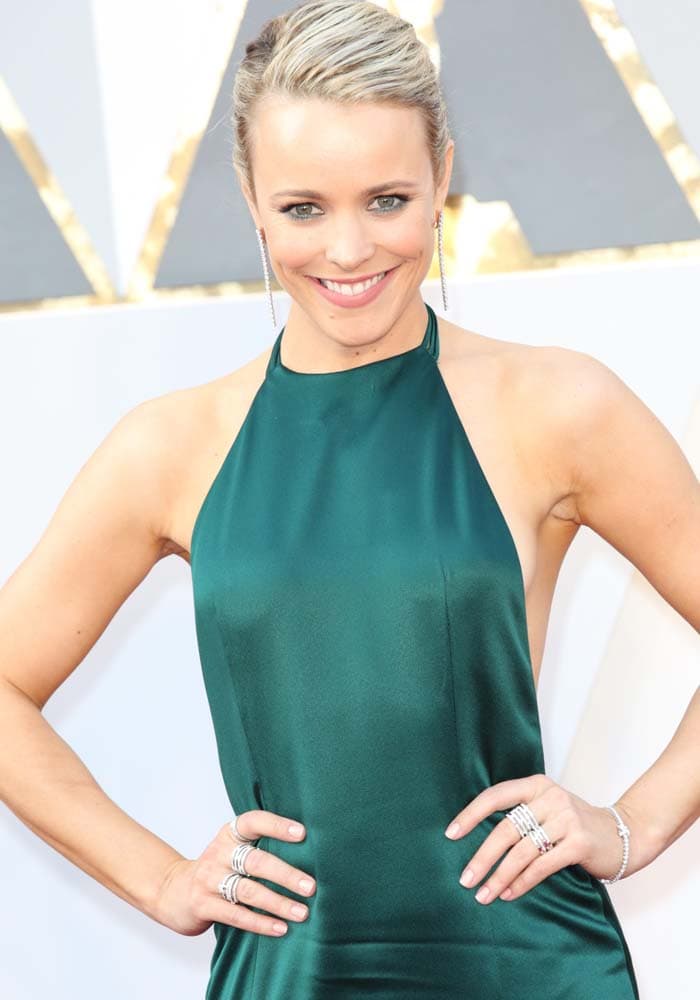 Rachel McAdams wears her blonde hair back on the red carpet of the 2016 Academy Awards held on February 28, 2016, in Los Angeles (Credit: Brian To / WENN)
Does Rachel McAdams even age? In February 2016, the then 37-year-old graced the red carpet of the prestigious 2016 Academy Awards, looking not a day older than her "Mean Girls" self.
Rachel got her first Oscar nomination for Best Actress in a Supporting Role for her work in "Spotlight" but lost to Alicia Vikander for her portrayal of painter Gerda Wegener in The Danish Girl.
Rachel McAdams wears an emerald green silk dress on the red carpet (Credit: Brian To / WENN)
In addition to being a nominee, Rachel also attended the Oscars in order to present the award for Best Cinematography.
Rachel wore a sexy-yet-classy emerald green backless dress by August Getty, which tastefully showed off a little sideboob.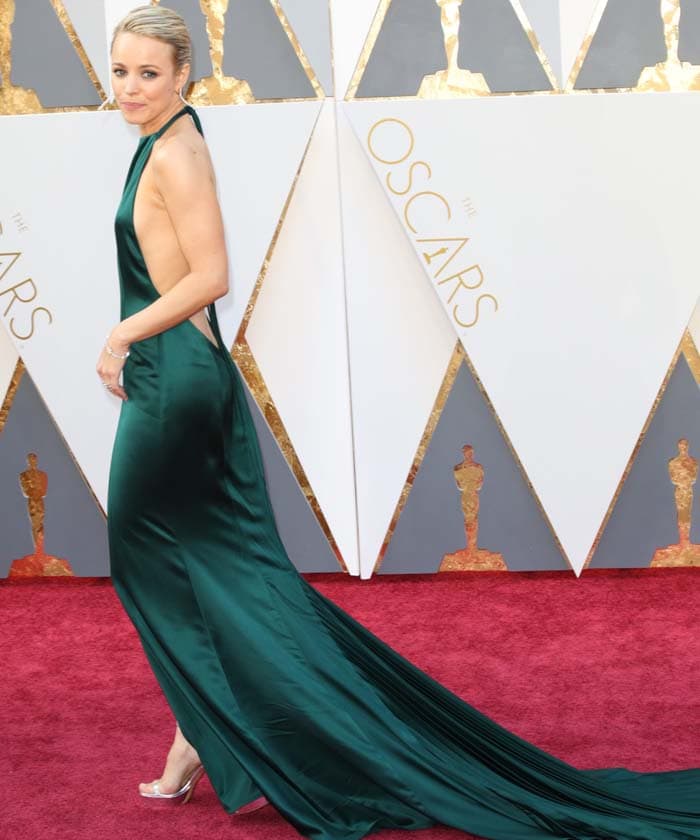 Rachel McAdams shows off her back in a green dress from August Getty (Credit: Brian To / WENN)
The thigh-high slit of the slinky gown allowed her to show off her Stuart Weitzman "Nudistplatform" sandals, which she paired with silver jewelry from Niwaka Collections.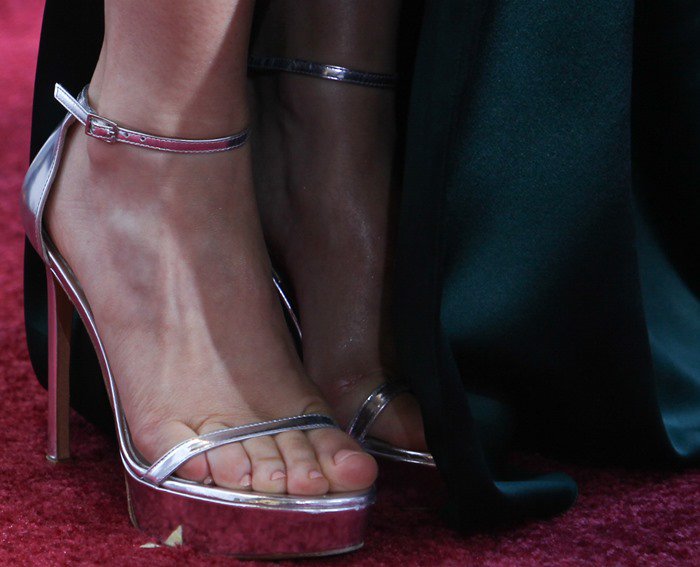 Rachel McAdams's feet in silver Stuart Weitzman sandals (Credit: Brian To / WENN)
Rachel's sister, Kayleen McAdams, did her makeup.
Prior to the Oscars, Rachel gave her hometown a shoutout on Instagram. Rachel and Kayleen both posed for a photo with some #StThomasProud merchandise.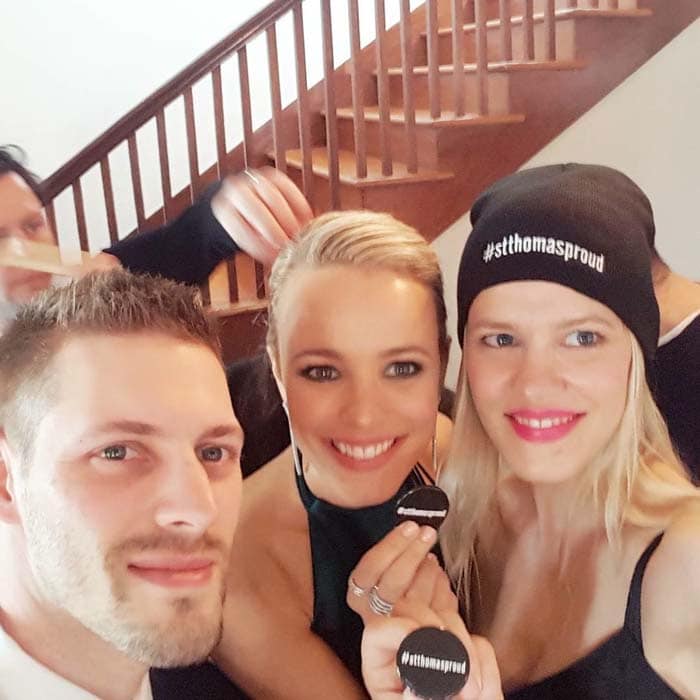 Rachel McAdams with her younger sister, make-up artist Kayleen McAdams, and her younger brother, personal trainer Daniel "Dan" McAdams (Credit: Kayleen McAdams' Instagram)
Get Rachel's Stuart Weitzman "Nudistplatform" sandals in three glitter colors at Nordstrom and Zappos.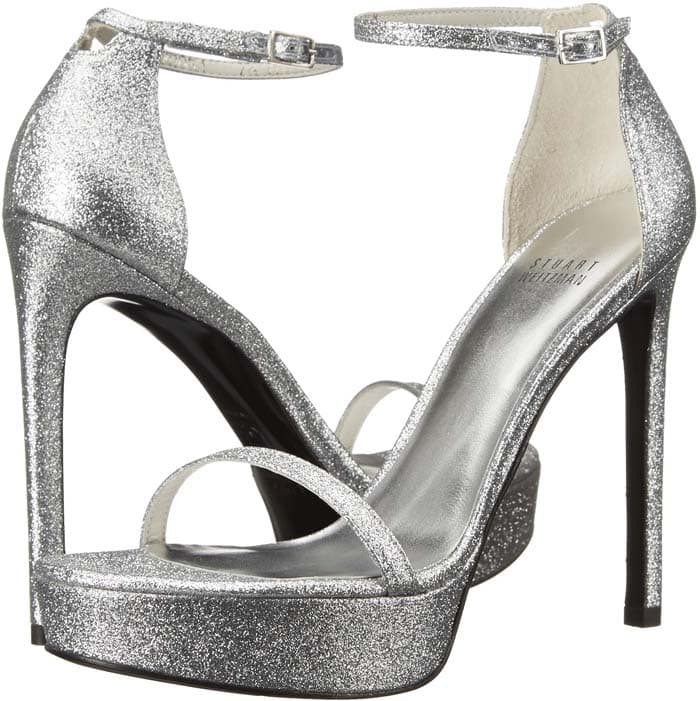 Stuart Weitzman Bridal & Evening Collection 'Nudistplatform' Sandals in Silver, $325.99 – $435
Stuart Weitzman Bridal & Evening Collection 'Nudistplatform' Sandals in Sand, $325.99 – $435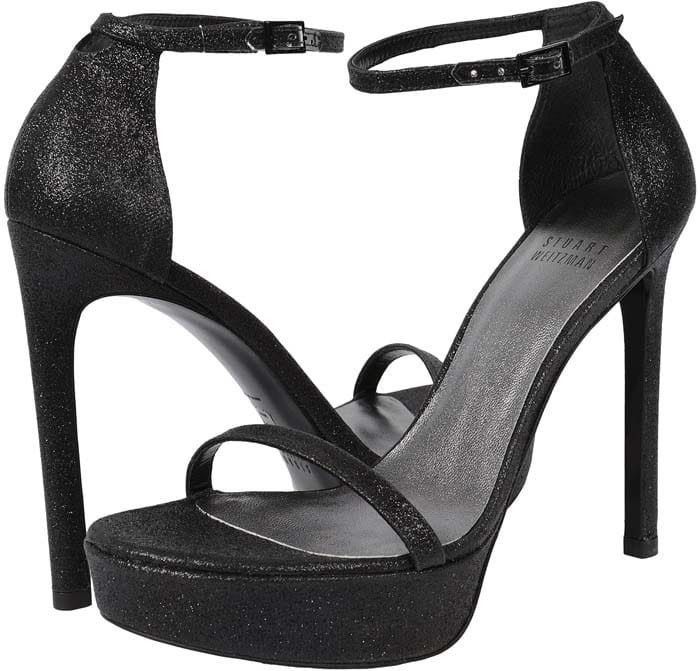 Stuart Weitzman Bridal & Evening Collection 'Nudistplatform' Sandals in Black, $325.99 – $435