While filming the 2016 family-drama film "An American Girl: Lea to the Rescue" in 2013, Storm Reid's hotel room got totally destroyed by monkeys after she forgot to close the patio door.
The 16-year-old actress shared a hilarious clip of the incident on Jimmy Kimmel Live! and also talked about her unique name, growing up in Atlanta, and her uncle's fast food restaurant called Burger Baby.
"I've been holding on to this video since 2013 and waiting for the perfect talk show!" Storm told the talk show host.
She continued, "I was in South Africa shooting an American Girl movie and monkeys come with the territory over there. There were actually signs in the hotel room and even on set that said, 'Don't leave the windows open.'"
Storm Reid flaunts her long legs outside the studios of Jimmy Kimmel Live! rocking a gorgeous Louis Vuitton handbag on February 27, 2020, in Los Angeles, California
Unfortunately, Storm and her mom accidentally left their patio door ajar while out filming. Monkeys came in and destroyed the room and ate all her Simba Chips potato crisps, a popular South African brand that was first introduced in 1957 by the Greyvensteyn family.
Storm Reid's pink paisley patch print logo-embellished top
The Euphoria actress flaunted her legs outside the studios of Jimmy Kimmel Live! while arriving for the taping of the show on Thursday. She turned heads in an Etro Resort 2020 ensemble consisting of a pink knit top with a paisley patch and brown leather shorts.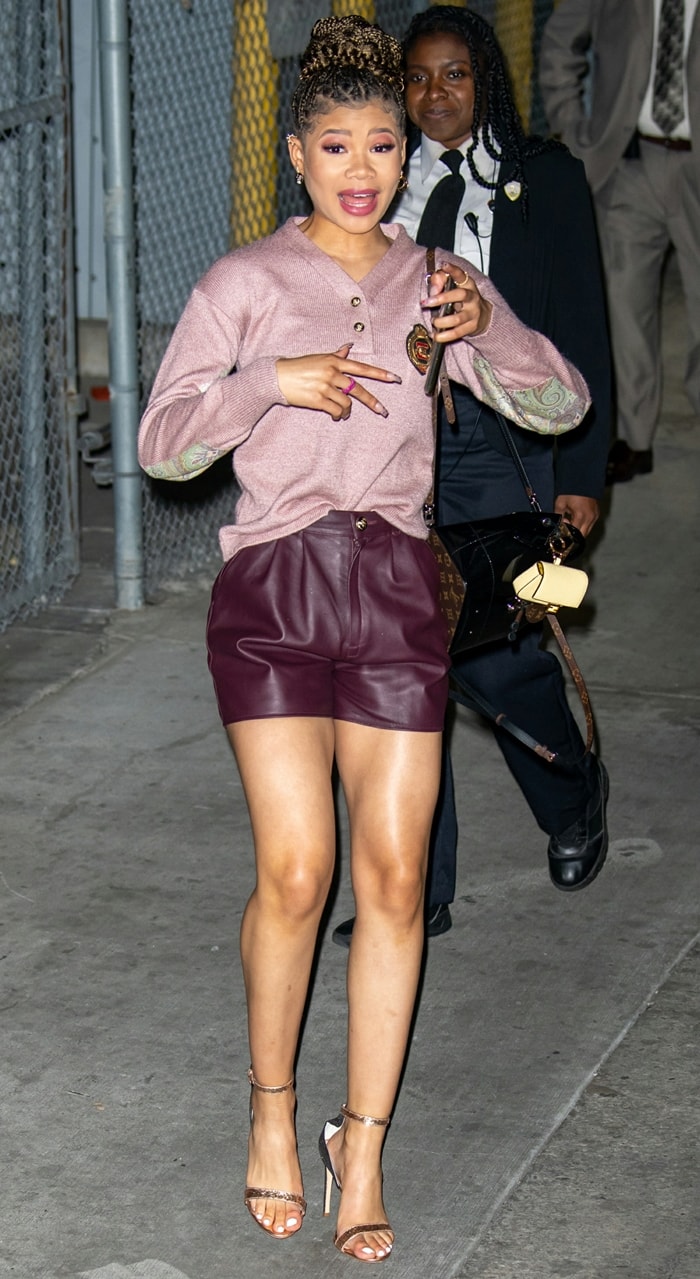 Storm Reid's height stands at 5 feet 7 inches tall (170 cm)
Her look was completed with a Louis Vuitton backpack, APM Monaco jewelry, and metallic ankle-strap sandals.
Storm Reid shows off her feet in ankle-strap sandals
Credit: Instar / WENN