If you really want to take a walk on the wild side, the best shoes for you will be motorcycle riding boots.
This specialty shoe has become so iconic that high-end designers and chain stores alike have been creating their own versions for decades.
There are different types of motorcycle boots that can take you from casual rides to wild adventures (Credit: Phoenixns / Shutterstock)
Nowadays, there are plenty of fashion and sports options to choose from, but if you're a motorcyclist, you'll definitely want to get the real thing.
Below we'll be outlining why you need genuine motorcycle riding boots and sharing the most popular styles for women today.
What Defines a Motorcycle Riding Boot?
Motorcycle boots can come in many different shapes and forms, but what usually characterizes them is a flat, chunky sole, a rounded toe, and strategic embellishments in the form of buckles, ridges, and straps.
There are four main types of motorcycle riding boots:
1. Cruiser
This is likely the style that first comes to mind when you think of motorcycle boots. They're generally made of leather, have chunky soles, rounded toes, a low-to-mid height, and are embellished with buckles.
David Tate Branson Boots, $239.95 at Zappos; Sheridan Mia Steppe Moto Boot, $188.95 at Nordstrom; Ash Tear Boot, $204 (from $291) at Farfetch
The cruiser is classic and versatile. It's a style that has often been replicated by fashion brands, so genuine motorcycle cruiser boots can easily be worn on or off the bike.
2. Sports
Designed for high-performance sports bikes, these boots are best for racers and adventurers. Their name describes their appearance well: sleek and futuristic, often enhanced with extensive padding and ridging for added protection.
O'Neal Women's New Logo Rider Boots, $119.99; Alpinestars Unisex-Adult Tech 3 Stella Boots, $209.95 to $245.82; Alpinestars Unisex-Adult Tech 7 Boots, $335.23 to $439.49
These boots, available on Amazon, are best for long-haul bike trips. They're generally heavy and on the tall side and feel out of place when not worn with motorcycle gear.
3. Touring
A blend of sport and cruiser boots. They are more streamlined than sports boots and more or less have the classic shape of a cruiser boot.

Sidi Canyon Gore-Tex Motorcycle Boots, $324.99; A-Pro SRL Leather Motorcycle Touring Boots, $96.63; Alpinestars Women's Stella Boots, $289.95
Touring boots won't stand out quite as much as sports boots when you're off the bike, but it will still be obvious that they're not regular boots. You can find touring boots on Amazon.
4. Road
Consider these a sneaker-motorcycle boot hybrid. Some are vaguely reminiscent of sports boots, while others can easily be mistaken for regular high-top sneakers.
This modern style is perfect for city rides and commutes. They're the most lightweight style of motorcycle boots and look pretty much identical to normal sneakers. Amazon offers a selection of road-sneaker boots.

Harley-Davidson Bateman 4″ Metal Motorcycle Boots, $86 to $139.95; Alpinestars Women's Stella Faster-3 Motorcycle Shoes, $169.95
Women's motorcycle boots have evolved a lot over the years. The market still doesn't have quite as many options for women as it does for men, but the women's models are slowly but surely getting more stylish and interesting.
Cruiser boots especially can be designed to have more feminine elements, such as slimmer designs, playful studded embellishments, or even heels!
What's the Difference Between Motorcycle Boots and Regular Boots?
Fashion biker boots and specialized motorcycle boots often look identical, but there are some major technical differences between the two.
True motorcycle riding boots are upgraded with several safety features that help prevent injuries:
1. Oil-resistant soles to increase stability and prevent slips when motorcycles are stopped on a road
2. Molded ankle protection to prevent broken ankles during falls
3. An overall rigidity and thick texture to prevent abrasion and protect the feet
4. Waterproof material to ensure a comfortable and dry riding experience
Motorcycle boots are a crucial part of any rider's gear selection. They offer much more protection than regular boots. You can wear regular boots when riding a motorcycle, but be aware that you'll be at a much higher risk of breaking your foot or ankle if you fall.
The Best Motorcycle Boot Brands For Women
So, which type of motorcycle boot should you get? That all depends on your needs and riding style.
If you tend to stay in the city because you use your bike for commuting or urban joy rides, you'll probably want road or cruiser boots that can easily be worn with your regular outfits.
If you're a sport or off-road biker, you'll want to invest in heavy-duty boots that offer additional protection.
For the urban biker
1. RST Ladies Urban 2 Boots
These sleek road boots look just like black leather high tops but still have all the padding and ankle protection you'll need for city rides.
An ultra comfy pair of boots designed like a trainer shoe but with the protection of a motorcycle boot
2. TCX Lady Smoke Waterproof Boots, $199.99
A perfect hybrid of fashion and cruiser, these boots could easily be mistaken for regular combat boots with their chunky soles and streamlined uppers.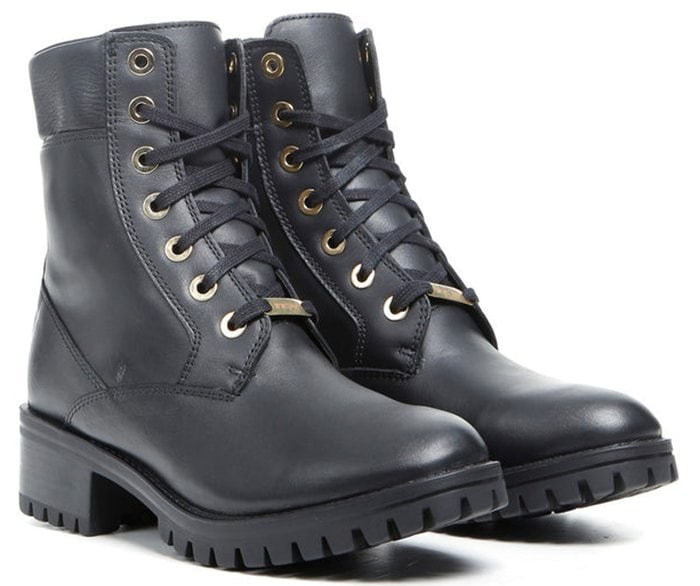 Made from full grain leather, the Lady Smoke boots feature T-DRY waterproof membrane lining, reinforced heel and toe counter, and a treaded rubber sole for superior grip
For the sports biker
3. Daytona Lady Star Gore-Tex Boots
These boots have a sleek all-black appearance that makes them ultra-streamlined, as far as sports boots go. The Gore-Tex coating ensures premium quality and a comfortable riding experience in any type of weather.
A ladies' version of the Travel Star boots, the Lady Star GTX is a highly waterproof boot made from hydrophobic leather and reinforced with a Gore-Tex membrane
4. Sidi Ladies Gavia Gore Lady Boots
A perfect example of touring boots that aren't too bulky but offer great protection.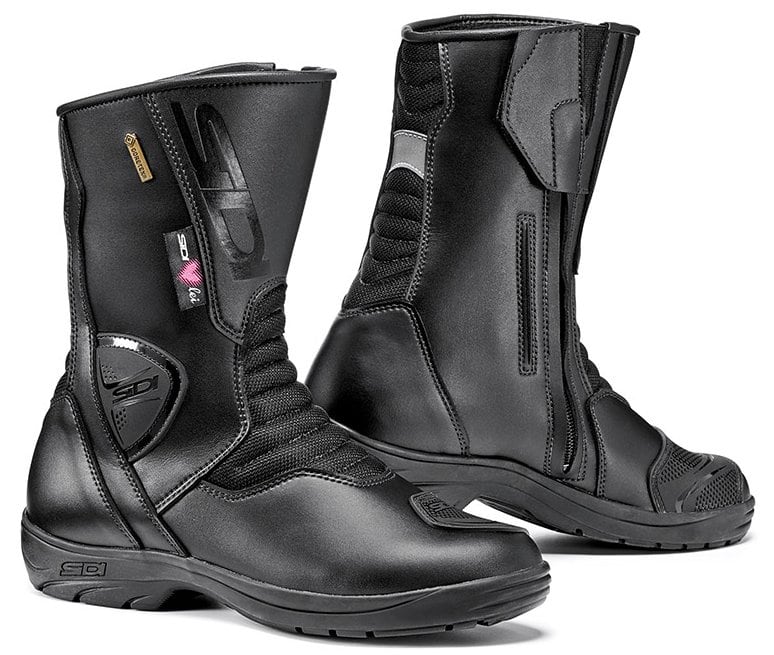 Durable and flexible, the Lady Gavia boasts a Gore-Tex membrane, soft padded shin plate, full-length inner gaiter, PU ankle pads, and shift pads
For the classic biker
5. Harley Davidson Women's Inman Mills Motorcycle Boot, $129.95
It doesn't get more classic than a pair of Harley Davidson cruisers. This timeless design offers protection and style with its cool zipper detail and logo buckle. They can easily transition from bike to city, making them the quintessential riding boot.
Harley Davidson's Inman Mills is a short leather lace-up boot with sturdy cement construction and functional zippers for style and fit