British singer, Myleene Klass, sure is quite visible these days. The TV presenter is currently busy promoting her new book, 'Things to Make and Do with Children' (available at Amazon).
We're not exactly sure if the book (promotion) had anything to do with her appearance yesterday, but she certainly earned a good amount of publicity for it — thanks to the racy red outfit she wore for the event. Myleene attended a photo call sponsored by an F1 car-racing team, McLaren, where she posed with F1 driver Jenson Button. The half-Asian beauty not only got everyone talking after she unintentionally showcased her cute bum in front of the whole audience, but also got us staring at her red shoes, too!
Myleene Klass posing with F1 race car driver Jenson Button during a photo call to promote McClaren's sponsorship with Santander in London on June 26, 2013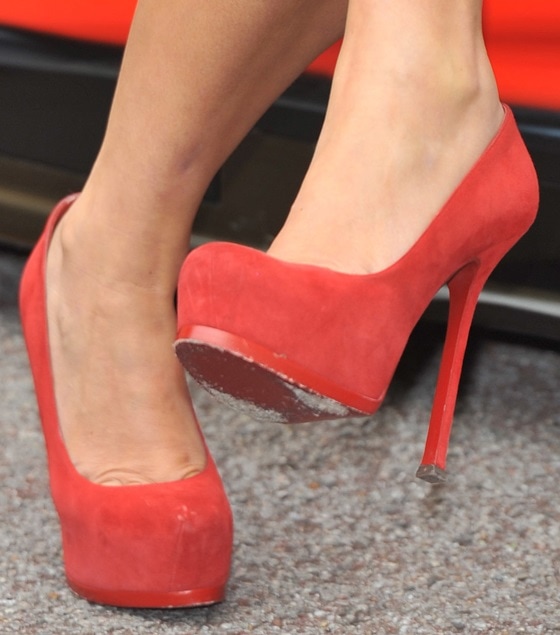 Myleene Klass is ravishing in a head-to-toe red outfit at the photo call of the McClaren-sponsored event for Santander in London on June 26, 2013
Sorry, we couldn't help but notice the red pumps she wore with the dress. They had red bottoms, but they were definitely not Louboutins. We actually saw her wear the same pair the previous day as she left ITV Studios in London. Can you guess where Myleene got her hot red heels?
Myleene Klass decked in a leopard-print dress and red platform pumps as she left ITV Studios in London on June 25, 2013
We can't officially confirm it yet, but the shoes look so much like Saint Laurent's red-soled 'Tribtoo' pumps. Do you agree?
If we remember correctly, Christian Louboutin sued Saint Laurent (formerly YSL) back in 2011 for allegedly copying his red-sole mark. And while the court agreed that Louboutin has exclusive rights to the scarlet bottom, they also allowed Saint Laurent to use red soles for shoes that are red in color.
Red Saint Laurent 'Tribtoo' pumps with red soles are hard to come by these days (the collection was released back in 2011), but you can still find some pairs at Farfetch.
Saint Laurent 'Tribtoo' Pumps in Red Grained Leather, $697 at Farfetch
Saint Laurent 'Tribtoo' Pumps in Red Suede and Patent, $697 at Farfetch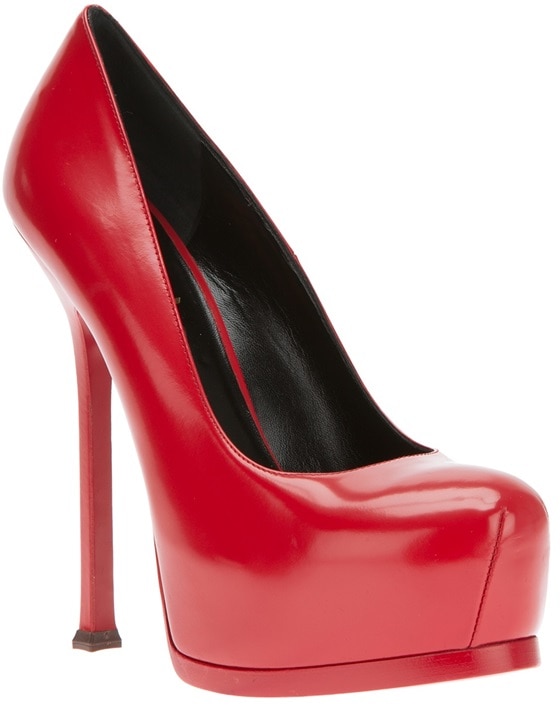 Saint Laurent 'Tribtoo' Pumps in Red Patent, $732 at Farfetch
And while we're at it, feel free to grab some red-soled Saint Laurent sandals as well. These buttery red sexy 'Tribute' t-straps are rather tall with 5.75 inch heels, but we trust that you can easily handle that. In case you cannot, a shorter version is also available for the taking.
Saint Laurent 'Tribute' High-Heel Sandals in Red, $875 at Neiman Marcus
Credit: Daniel Deme/WENN