After seeing the Yves Saint Laurent 'Tribtoo' cap toe pumps in poppy/black again on Jennifer Hudson last Wednesday, we knew it's time we looked for the working girl versions of them. Other celebrities spotted in this style include Brandy Norwood and Britney Spears.
Jennifer signed copies of her new book, 'I Got This: How I Changed My Ways and Lost What Weighed Me Down' (available at Amazon), in a long sleeved black dress and red suede cap toe pumps.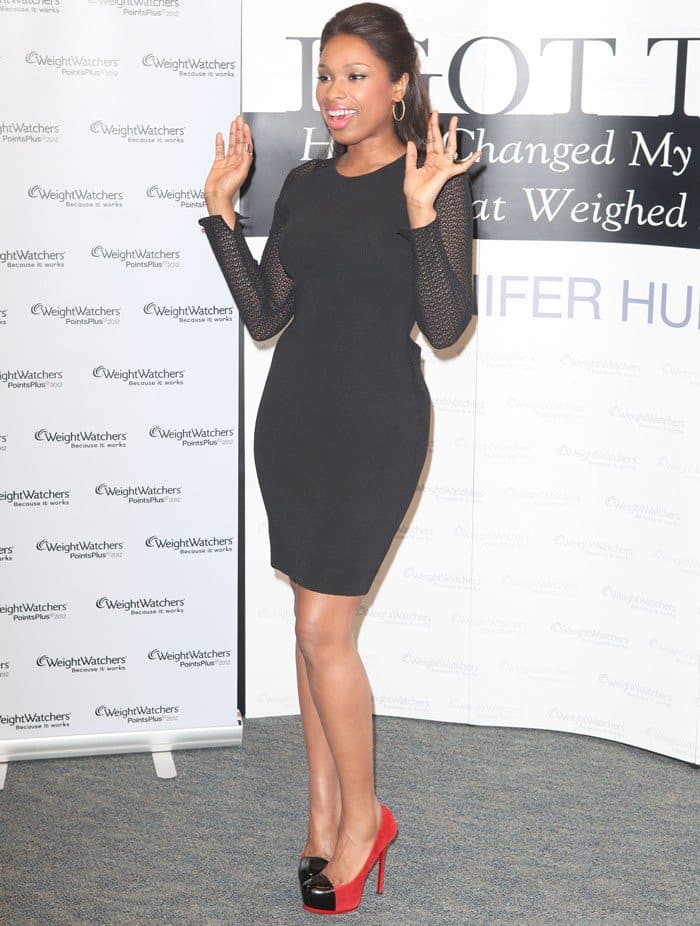 Jennifer Hudson arrives at her book signing for ' I Got This' held at the Weight Watchers offices in NYC on January 11, 2012
Jennifer Hudson wearing YSL 'Tribtoo' cap toe pump
We've compiled five YSL 'Tribtoo' cap toe pump-ish styles for under $200 in this post. The key word here is "ish" because these look-for-less pumps don't quite exactly get the look. As copied and knockoff-ed the YSL Tribtoos are, this cap toe style is relatively new and there isn't a good lookalike of them out in the market just yet (but we're sure something will come out soon).
Our first find is this 'Cameo' pump from Gianni Bini which would have been the best low-cost version if it weren't for that fuchsia patent panel at the side:
Gianni Bini Cameo Pumps, $89.99
This 'Gurdia' pump from Ivanka Trump would've been a great alternative too except that, you know, it's pointy toed:
Ivanka Trump 'Gurdia' Pointy Toe Pumps, $99.99
 If you're just after the red and black color combination on a pump, check out the 'Bonnie' from Dolce Vita:
Dolce Vita 'Bonnie' Two Tone Suede and Leather Platform Pumps, $189.00
If you're after the unmistakably YSL platform stiletto silhouette, we've always loved the DV by Dolce Vita 'Coby' and the Pour La Victoire 'Irina' as look-for-less versions to the Tribtoos:
DV by Dolce Vita 'Coby' Platform Pumps, $45.00
Pour La Victoire 'Irina' Platform Pumps, as low as $97.90 at Amazon
Of course, we'll be on the lookout for a real look-for-less version of the YSL 'Tribtoo' cap toe pumps.
Oh and if you're after the real things, check out our previous post on Brandy Norwood's Yves Saint Laurent 'Tribtoo' cap toe pumps.
Credit: PNP/WENN