After a strange period where it appeared that her Instagram account had been deleted on March 16, Britney Spears is back on the social media platform and is posting up a storm — thank goodness!
View this post on Instagram
Since being released from her oppressive conservatorship, the pop star has wasted no time letting her fans get to know the real Britney, posting fun outfit photos, passionate tangents about her experiences, and sharing hilarious videos that she finds interesting.
Here are some of our favorite posts BritBrit has recently shared on the platform.
View this post on Instagram
On March 20, the 40-year-old singer proved that celebrities are, indeed, just like us when she shared a super-satisfying soap video.
Reposted from @oddly.satisfying.soap, the video shows a well-manicured hand gently cutting a bar of pink Drury soap into tiny pieces with a razor blade. Britney herself was not immune to the shivers we get from the ASMR video, captioning the post, "Obsessed with soap 🧼 now 😳😳😳"
Britney Spears' soap obsession is especially charming when you consider that her restrictive conservatorship resulted in the pop star missing out on a lot of social media trends, with one user noting, "She found the soap trend!"
That isn't the only trend BritBrit has caught on to, either! The singer later shared photos of herself wearing a 90's-inspired cheetah print slip dress while lounging on a white couch.
View this post on Instagram
She paired the silky dress with pointy-toed black pumps, lacy fingerless gloves, and a Victorian-era-esque cameo necklace, looking every inch the 90's grunge glam goddess.
In typical Britney Spears fashion, the pop star also shared some amazing rants to her Instagram page. In one post, she began her essay by noting, "I was thinking about getting a boob job… my boobs are fairly small…" before delving into a poignant statement about how women are objectified by society and urging them to love themselves.
In another text-based photo set, Spears regaled followers with a story about how she has been the victim of a dog attack not once, but twice.
She continued to say that despite this, she still has a deep love for the animals, and trusts her own pets endlessly.
View this post on Instagram
Adorably, the singer wrapped up with an ode to her beloved dog, Sawyer, saying, "HE LOVES ME 🧡 !!!! The kind of love that doesn't require POWER … SEX … LUST … or MONEY !!!! Genuine unconditional I will f*ck you up if you mess with my girl kind of love 🧡 !!!"
View this post on Instagram
After sharing some throwback photos of herself looking totally glamorous, the 40-year-old made sure to remind fans that she's still got it, sharing a montage of different outfits (plus her adorable dog) in her iconic "Brit fit pic" style. And yes, there were a LOT of sequins.
View this post on Instagram
In May 2012, Britney Spears flaunted her legs in Tribtoo pumps from Yves Saint Laurent while appearing on The X Factor.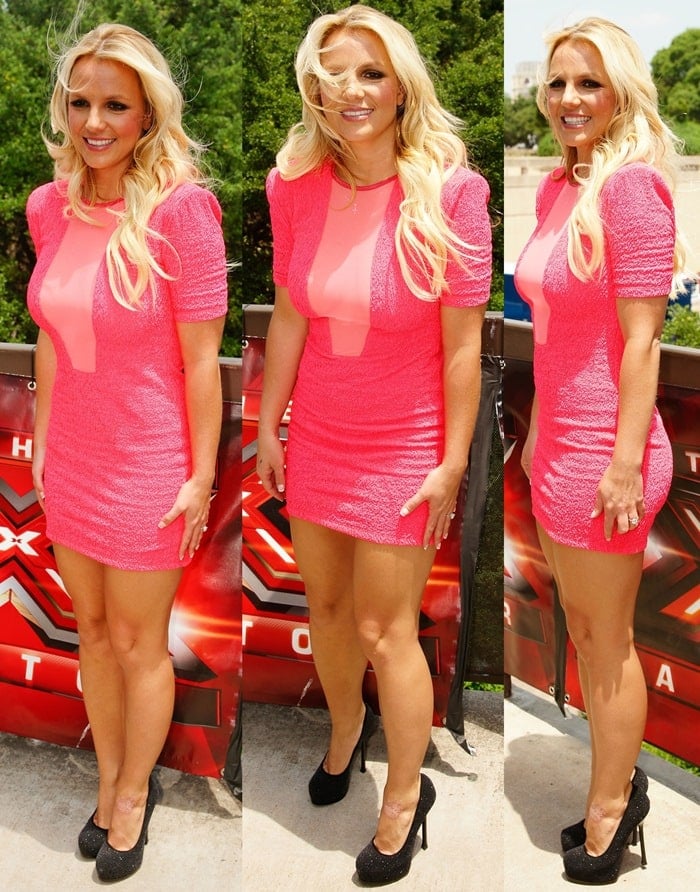 Britney Spears flaunts her legs in a figure-hugging neon-pink dress (Credit: Newspix.pl / WENN / Arnold Wells)
The singer definitely turned up the sex factor as well when creating this HOT ensemble.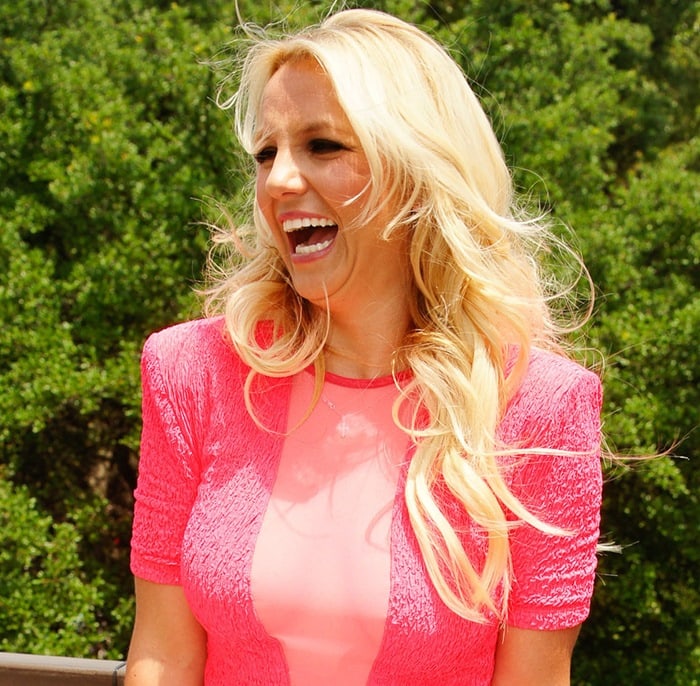 Singer Britney Spears in a Brian Lichtenberg dress arrives at The X Factor Auditions at The Frank Erwin Center on May 24, 2012, in Austin, Texas (Credit: WENN)
The American recording artist and entertainer, who wears shoe size 7, styled the pumps with a pink short sleeve textured mini scuba by Brian Lichtenberg featuring a plunging mesh inset at the crew neckline.
Britney Spears with a psoriasis breakout on her ankle (Credit: WENN)
Britney successfully chose a sexy heel to complement her curve-hugging dress. I love the hot pink and black combo, and the outfit was definitely X Factor appropriate.
It seems like she was suffering from a psoriasis breakout on her ankle.
Britney Spears showing off her feet in Yves Saint Laurent heels (Credit: WENN)
However, considering the season I would have opted for a nude version of this heel to keep the look a bit lighter.
We found these Yves Saint Laurent heels at Nordstrom and Bergdorf Goodman for $670. Take a look at her shoe choice before you decide how you feel about them: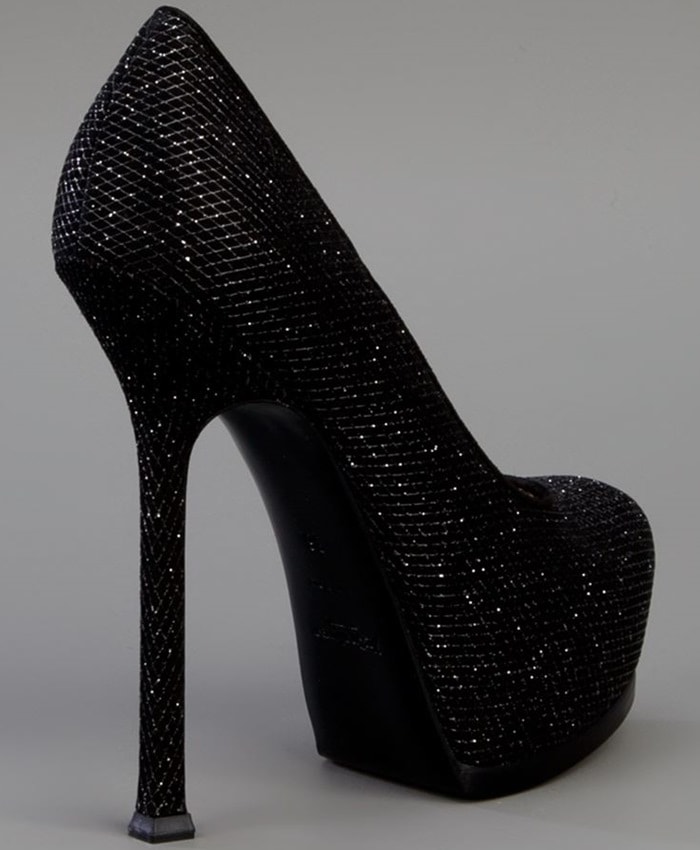 Yves Saint Laurent 'Tribtoo' Pump in Glitter Finish Suede, $670
Do you think Britney's heel choice is a hit or a miss?