Britney Spears is an iconic pop star who made her debut in 1998 with her hit song Baby One More Time. She grew in fame throughout the early 2000s and is one of the most famous celebrities to date.
Britney Spears was born on December 2, 1981, making her 40 years old. She grew up in Louisiana, and from an early age, it was obvious that Britney was a star in the making.
Britney Spears' debut single "…Baby One More Time" was one of the most popular songs of 1998 and won a Teen Choice Award for Single of the Year and an MTV Europe Music Award for Best Song (Credit: Featureflash Photo Agency / Shutterstock)
As a child, she starred on The All-New Mickey Mouse Club with the likes of Keri Russell, Justin Timberlake, and Christina Aguilera. Britney was just 16 years old when Baby One More Time was released, and she immediately became a household name.
Throughout the next few years, Britney's career exploded with numerous hit singles such as Toxic and Oops! I Did It Again.
However, such explosive success at such a young age, during a time when mental health support was lacking and boundaries for celebrities were virtually non-existent, eventually took its toll on Britney.
Britney Spears' Conservatorship
Unfortunately, being in the spotlight and constantly hounded by paparazzi took a toll on Britney's mental health, and in 2008, Britney Spears entered into a conservatorship that was largely managed by her father, Jamie Spears, allowing him to control almost every aspect of Britney's life.
Despite the conservatorship supposedly being for the benefit of Britney's benefit and wellbeing, her father's management has been heavily criticized for taking advantage of his daughter.
Britney Spears' parents James "Jamie" Parnell Spears and Lynne Irene Bridges attend the 5th Annual WomenRock! – Lifetime Television's Concert for the Fight Against Breast Cancer at The Wiltern LG in Los Angeles, California, on September 28, 2004 (Credit: Featureflash Photo Agency / WENN)
Although she was deemed unfit to take care of herself, Jamie Spears organized a Las Vegas residency for his daughter. He also paid himself, his legal team, and many other employees more than generous salaries throughout the years, straight out of Britney's pockets.
Within the conservatorship, Britney Spears, a grown woman, had less autonomy than most high-schoolers, and general public opinion is that Britney was held under the conservatorship for many years longer than she needed to be.
The Free Britney movement was a widespread public campaign that demanded Britney be freed from her conservatorship.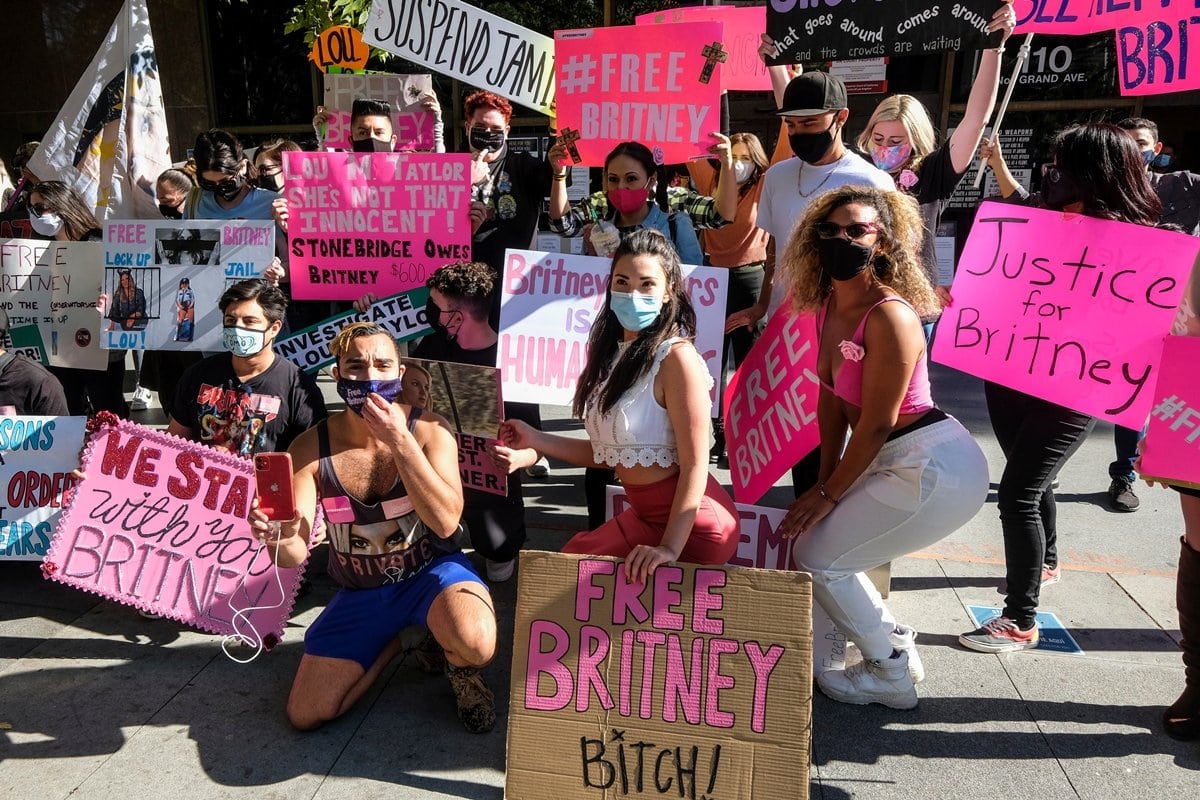 Supporters of Britney Spears take part in protest "#FreeBritney" outside Stanley Mosk Courthouse on November 10, 2020, in Los Angeles (Credit: Ringo Chiu / WENN)
In September 2021, a judge ordered Jamie Spears to be suspended from his role as Britney's conservator. Even more importantly, just a few months later, in November 2021, Britney Spears was officially released from her conservatorship.
Britney Spears' Estimated Net Worth
Britney Spears is objectively one of, if not the most famous female pop star on the scene. Given her immense success, her net worth is surprisingly low.
In 2022, Britney Spears' estimated net worth is estimated to be just $70 million. Although that isn't a relatively small number by any means, it doesn't quite add up when looking at Britney's career as a whole.
One of the best-paid entertainers in the world, Britney Spears has been making up to $500,000 per show in Las Vegas (Credit: Kobby Dagan / Shutterstock)
Given the fact that she was stated to make $40 million in 2002 alone, and has completed a Las Vegas residency that grossed almost $138 million, you'd expect Britney's net worth to at least be in the triple-digit millions.
Other Pop Stars' Net Worths
Britney Spears' net worth is even more questionable when compared with her pop-star peers such as Beyonce and Taylor Swift.
Out of the main presences on the pop scene today, Rihanna leads the pack, with a net worth of a whopping $1 billion, though a large chunk of that is due to her cosmetics brand Fenty Beauty, and her lingerie line, Savage x Fenty.
Rihanna is the richest female entertainer in the world thanks to her investments in Fenty Beauty and lingerie company Savage x Fenty (Credit: Andrea Raffin / Shutterstock)
Beyonce and Taylor Swift take the silver and gold medals for net worth, with an estimated $420 million and $365 million, respectively.
Even pop stars who are arguably less successful than Britney Spears, such as Jennifer Lopez and Jessica Simpson beat her out, both of the aforementioned stars having net worths over $100 million.
Why Is Britney Spears' Net Worth So Much Lower?
So, if Britney Spears is one of the most famous celebrities of all time, why is her net worth lacking?
The answer is achingly obvious- her career and finances suffered greatly due to the conservatorship she was placed under for almost 14 years.
Although Britney continued to put out albums and perform during her conservatorship, she reportedly felt uncomfortable doing so under her father's direct scrutiny, and likely would have worked more had she been free.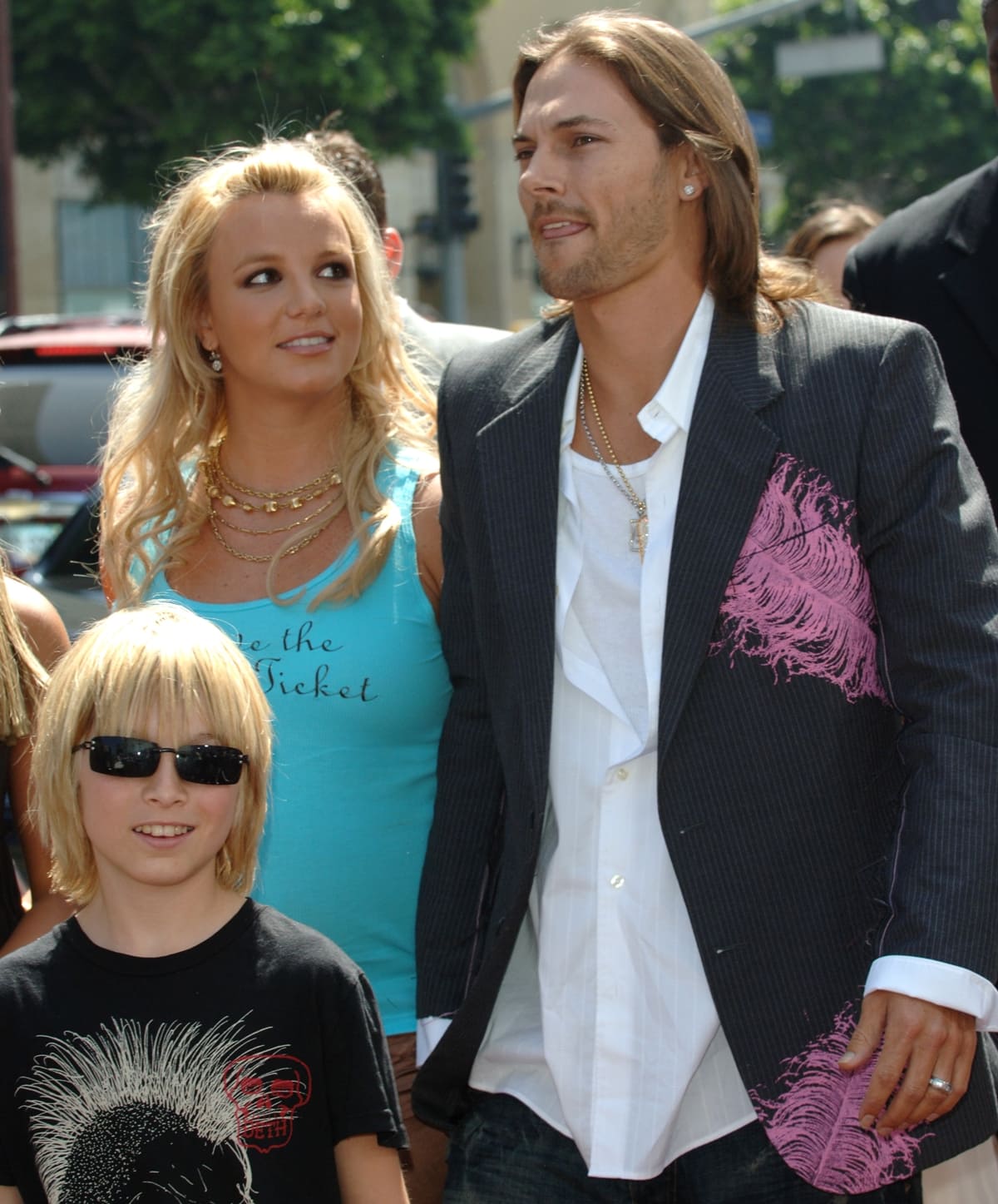 Britney Spears and Keven Federline divorced in 2007 after nearly three years of marriage (Credit: Featureflash Photo Agency / Shutterstock)
She also lost out on several major brand deals, such as Pepsi, during her conservatorship. Beyond the reduced income, Britney's costs were also driven way up through child support payments to her ex-husband, Kevin Federline, and through the millions of dollars she was forced to spend paying the salaries of her father, his legal team (yes, she had to pay the team that repeatedly fought against her requests to be freed from conservatorship), and other staff.
What Is Britney Spears' Dad Worth?
Jamie Spears had no qualms about paying himself a cozy salary during his time as conservator. He reportedly paid himself a personal salary (not including business expenses) of $16,000 per month, which is just shy of $200,000 per year.
He also took a portion of the revenues that Britney earned throughout her conservatorship, which would have made him at least $2.6 million in personal earnings.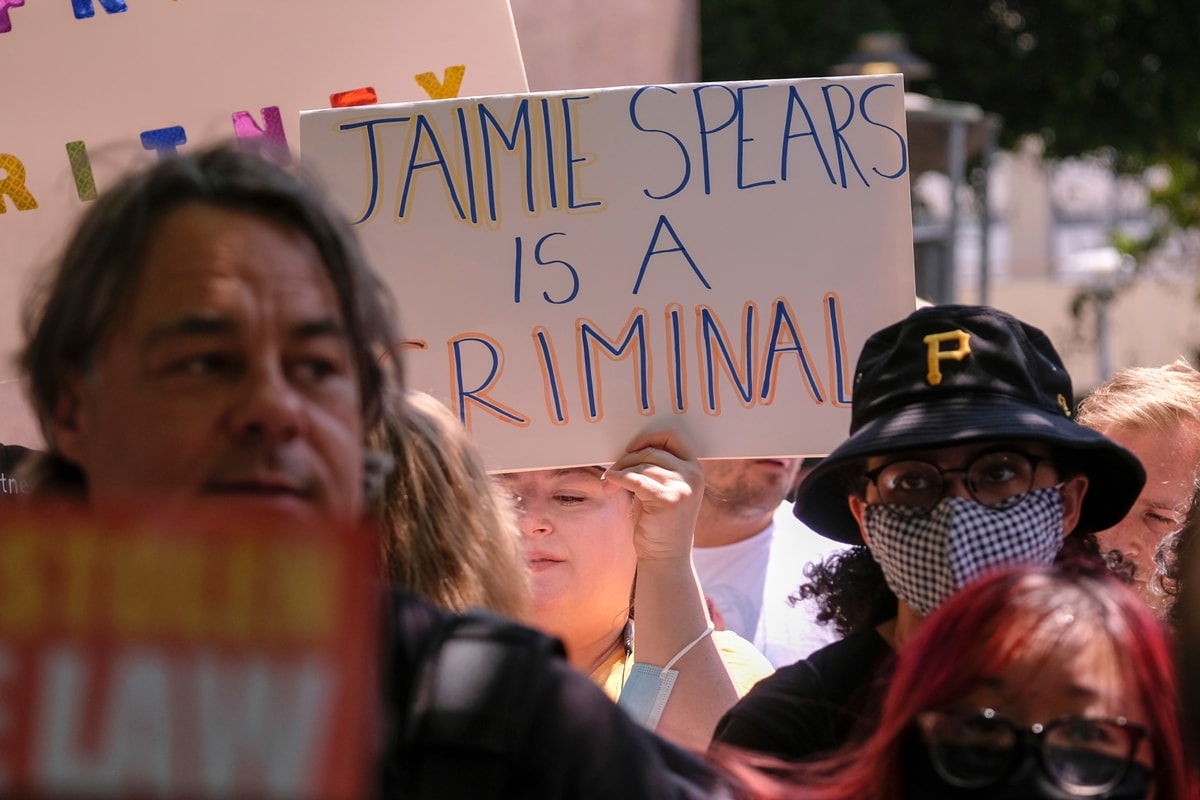 James "Jamie" Parnell Spears has been accused of enriching himself as Britney's conservator (Credit: Ringo Chiu / Shutterstock)
Although little is known about Jamie Spears' exact net worth, through his salary over 13 years of conservatorship and his revenue earnings, Jamie Spears has personally taken at least $5,200,000 directly from Britney Spears – and that number is calculated without taking his business and legal team expenses into account, which add many more millions to the total.
Britney Spears Owns Her Freedom
Although Britney Spears' net worth has taken a hit over the years, the good news is that $70 million is still a very nice amount of money to have at your fingertips, and Britney is finally in control of her own finances.
Although she will still, of course, have a financial advisory team at her side, since being freed from her conservatorship in November 2021, Britney Spears has the authority to manage her millions independently.
Britney Spears announced her engagement to her longtime boyfriend, Sam Asghari, on September 12, 2021 (Credit: Tinseltown / Shutterstock)
She will no longer have to pay her father's salary or his team's legal fees, and she can instead focus on putting her time, energy, and money towards any activity that she wishes to pursue.
"The most dangerous animal in the world is a silent smiling woman," Britney shared in November 2021 in a quote post that has since been deleted from Instagram.
"The moment I SMILE 😁 and I realize I haven't in a very long time !!!! My mom gets so CONCERNED and says 'You're acting weird … what's wrong with you ???' I say 'Hi, my name is Britney Spears … nice to finally meet you !!!' Before I go any further, forgive me in advance …. It's been 13 years and I'm a little rusty 💁🏼‍♀️ !!!! It was a family business before … it's no longer that anymore !!!! I was BORN today cause I get to SMILE … so thank you for exiting out of my life and finally allowing me to live mine !!!! Psssss do I know how mean I sound ??? Yes … I 100 billion percent I do 💯👍🏼🤷🏼‍♀️ !!!!" Britney wrote.
"I will never get those years back …. she secretly ruined my life … and yes I will call her and Lou Taylor out on it … so take your whole "I have NO IDEA what's going on" attitude and go f*** yourself 🖕🏼🖕🏼🖕🏼 !!!!" Britney added, also including her former manager in the accusations.
"You know exactly what you did … my dad is not smart enough to ever think of a conservatorship … but tonight I will smile knowing I have a new life ahead of me !!!!"
"I know the conservatorship is about to be over but I still want justice !!! I'm only 5'4″ and I've played the bigger person my entire life … do you know how hard that is ???"
In January 2014, Britney Spears proudly showed off her Favorite Pop Artist award at the 2014 People's Choice Awards. She beat out Katy Perry, Miley Cyrus, and ex-boyfriend Justin Timberlake.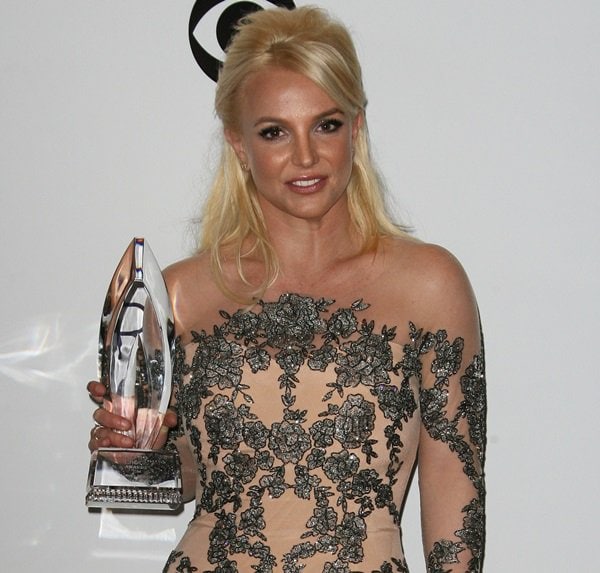 Britney Spears wears her hair half-up and half-down at the 40th annual People's Choice Awards held on January 8, 2014, at Nokia L.A. Live in Los Angeles (Credit: WENN)
The then 32-year-old donned a tight cocktail dress from the Mikael D Pre-Fall 2013 Collection. The thigh-length frock featured silver rose applique detailing and long sleeves.
It was definitely one of the sexiest dresses of the night.
Britney Spears won the award for Favorite Pop Artist at the 2014 People's Choice Awards (Credit: Jaguar PS / Shutterstock)
Britney styled her optical illusion dress with a pair of nude patent leather pointy-toe pumps from Giuseppe Zanotti, a Kotur bag, and Broken English jewelry.
She was joined on the red carpet by numerous other celebrities, including 2 Broke Girls stars Kat Dennings and Beth Behrs, and Nina Dobrev.
More importantly, Britney's then-boyfriend, David Lucado, also attended, and it was the first time that the couple appeared together in public. They started dating in March 2013 and broke up about a year later.
Britney Spears wears a tight Mikael D dress on the red carpet (Credit: WENN)
Fashion critics did not like her ensemble and criticized both her dress and pumps for being too tight.
Britney suffered from psoriasis, so she couldn't do much about the condition of her feet. Regardless — at least her shoes were a sight for sore eyes.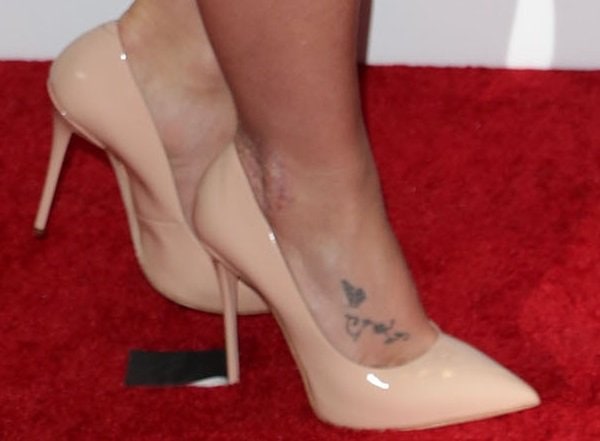 Britney Spears's foot tattoo in nude leather Giuseppe Zanotti pumps (Credit: WENN)
Britney's Giuseppe Zanotti pumps can be found at Farfetch. Here are a couple more recent arrivals from the designer that we really love:
Giuseppe Zanotti Alien Patent Leather Sandals, $750
Giuseppe Zanotti Cutout Booties, $1,595