In 2017, Forbes recognized Christina Aguilera as the nineteenth-richest woman in entertainment with a net worth of US$60 million. The following year, she released her eighth studio album, Liberation, and embarked on the Liberation Tour, her first concert tour in over 10 years.
In 2019, the 38-year-old entertainer launched her The Xperience residency in Las Vegas that is scheduled to conclude on October 5, 2019. Her impressive net worth is now estimated to be as high as $130 million!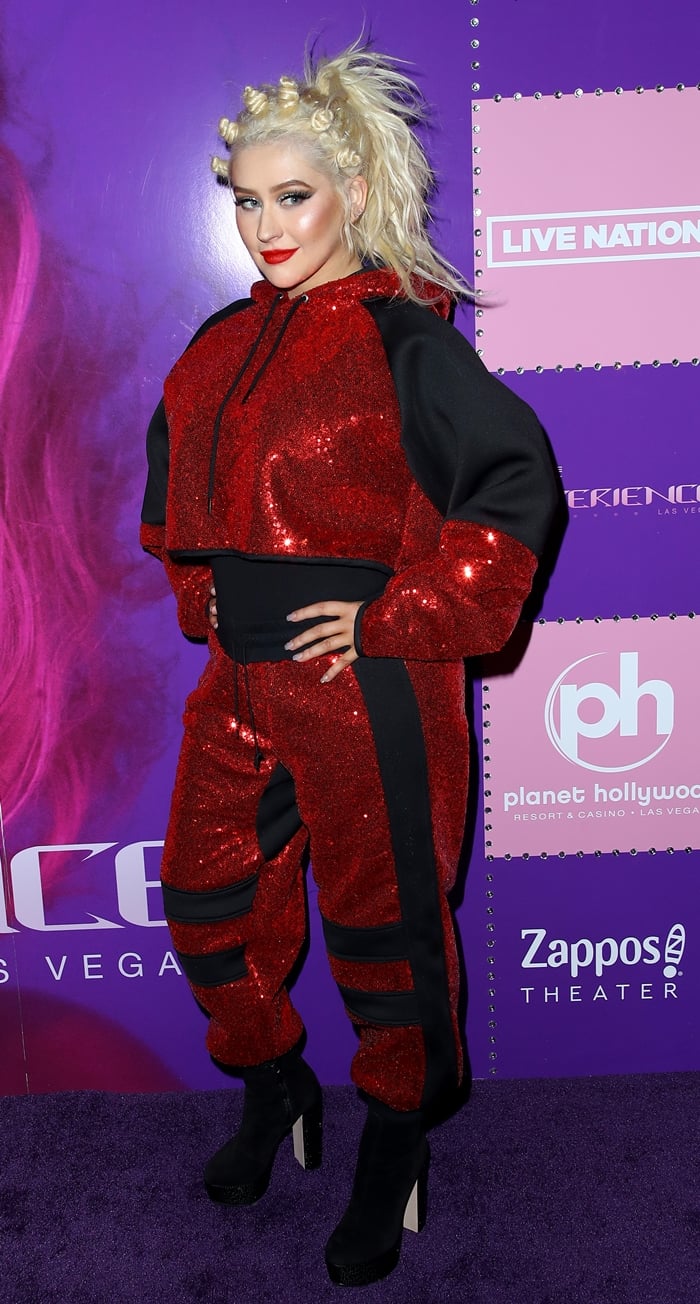 Christina Aguilera launched her The Xperience residency at the Zappos Theater in Las Vegas on June 1, 2019
While she was too young for The Mickey Mouse Club when auditioning for the show in 1991, she joined the television series two years later. The "Moves like Jagger" singer rose to fame in 1998 when she performed the theme song "Reflections" for the Disney movie Mulan.
One year later, the young singer showed up in a ridiculous outfit at the 1999 MTV Video Music Awards.
Her self-titled debut studio album, released on August 24, 1999, debuted at number one on the US Billboard 200 with first-week sales of 253,000 copies. It earned Aguilera the Grammy Award for Best New Artist at the 2000 Grammy Awards.
Christina Aguilera flaunted her legs at the 2010 Grammy Awards on February 23, 2000, in Los Angeles
In addition to selling millions of albums, according to The Wrap, she earned $17 million for Season 3 of The Voice, and slightly lower amounts for seasons 1, 2, 5, 8, and 10. The "Genie in a Bottle" singer was also featured as a part-time advisor on season 7.
Jordan Bratman's Net Worth
From November 19, 2005, to April 15, 2011, the songstress was married to Jordan Bratman. The American music marketer and producer has an estimated net worth of $15 million dollars and is the father of Christina's first child, Max Bratman, who was born in 2008.
According to Forbes, Aguilera was paid $1.5 million by People magazine for her baby photos. The mother and son appeared on the cover of the February 2008 issue that you can find at Amazon.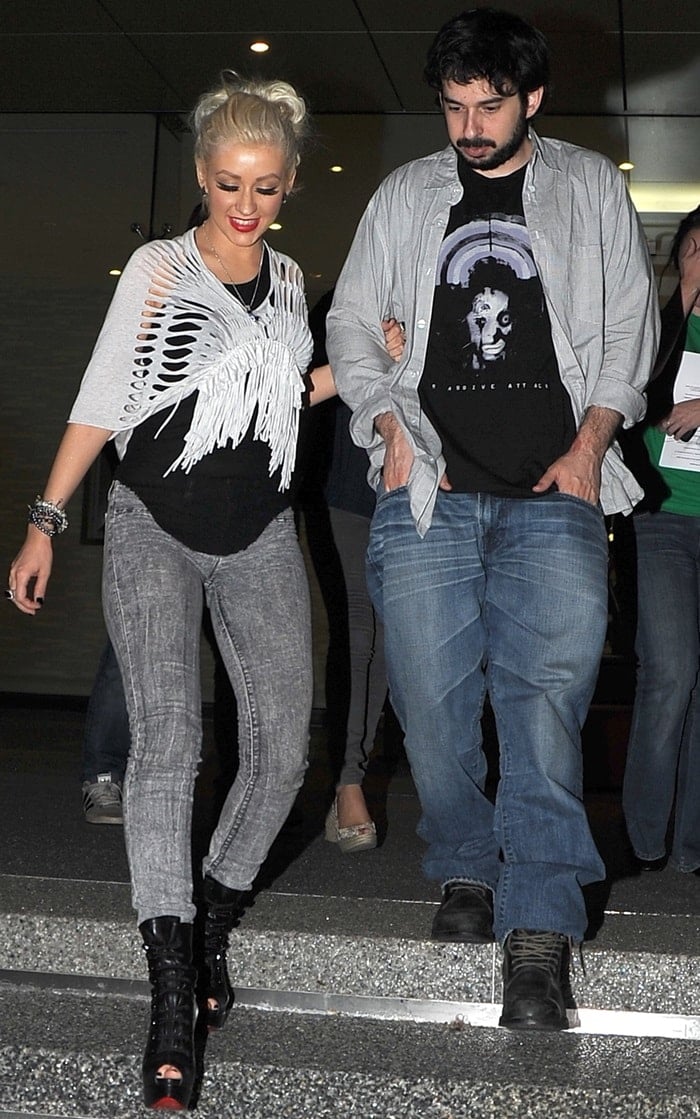 Christina Aguilera and her husband, producer Jordan Bratman, walk arm-in-arm after partying together at the Soho House in Los Angeles on June 17, 2010
Matthew Rutler's Net Worth
While in the process of divorcing Jordan Bratman, Aguilera began a relationship with Matthew Rutler, who served as an assistant on the set of Burlesque. She became engaged to Rutler in February 2014 and gave birth to their daughter, Summer Rain Rutler, in August 2014.
Known for his work on Surrogates (2009), The Town (2010) and Edge of Darkness (2010), Matthew Rutler is a film producer and musician with a net worth well below $1 million.
Christina Aguilera with her boyfriend Matthew Rutler, her son Max, and their daughter Summer at the premiere of her new animated movie The Emoji Movie at the Regency Village Theatre in Westwood, California, on July 23, 2017
In April 2016, Christina Aguilera drew all the attention toward her as she hosted the second year anniversary celebration of Hakkasan Nightclub at the MGM Grand Hotel and Casino in Las Vegas on Friday evening.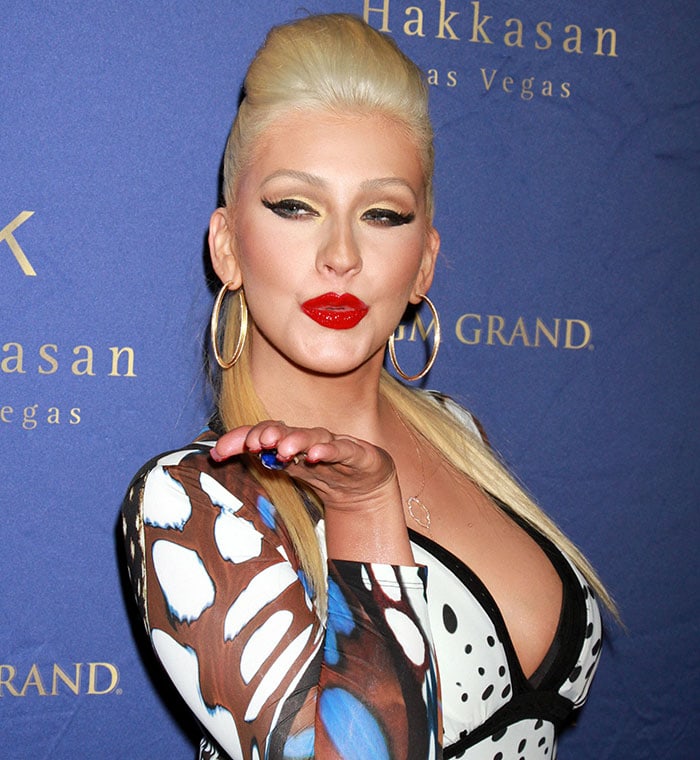 Christina Aguilera hosting the second year anniversary celebration of Hakkasan Nightclub at the MGM Grand Hotel and Casino in Las Vegas on April 17, 2015
The then 34-year-old singer showed off her curves and put plenty of cleavage on display in a hard-to-ignore bodycon dress by Roberto Cavalli, which features a plunging neckline and loud multiple animal prints.
Christina Aguilera flaunted her legs in a sultry bodycon dress
She accessorized with large hoop earrings, a bracelet, and some statement rings. To further the fierce, seductive look, she pulled her blonde locks up into a high ponytail with a quiff and wore a bright red lip shade.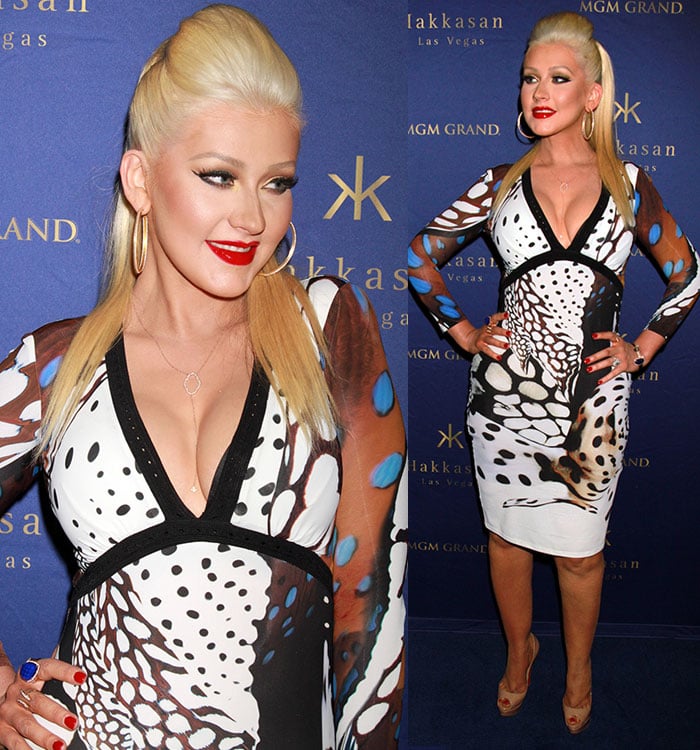 Christina Aguilera highlighted her curves in an animal print dress
Christina Aguilera, who performed her Nashville song, "Shotgun," with Rascal Flatts at the Academy of Country Music Awards, added a few inches to her 5′ 2″ (1.57 m) height with a pair of Christian Louboutin "Lady Peep" pumps in nude.
They are made of patent leather and feature peep toes, about an inch of platforms, and approximately 6 inches of sky-high heels.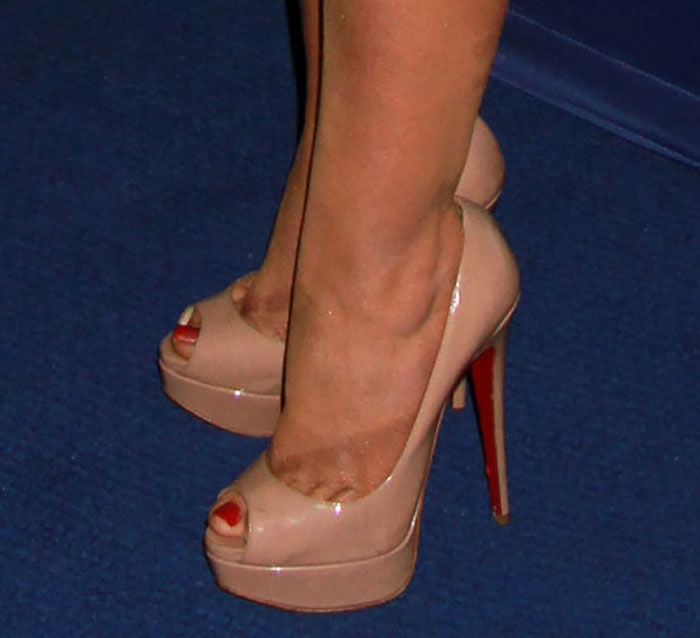 Christina Aguilera's sexy feet in nude Christian Louboutin pumps
Christina's Roberto Cavalli long-sleeved dress is already sold out, but you can find the short-sleeved version at Bergdorf Goodman.
Christian Louboutin Lady Peep Pumps in Nude, $945
Credit: DJDM / Joel Ginsburg / Judy Eddy / WENN / Apega