One of the original coaches on "The Voice" alongside Cee Lo Green, Adam Levine, and Blake Shelton, Christina Aguilera was a judge on "The Voice" for six seasons between 2011 and 2016.
For a while, everyone was hoping that she would eventually return to the show. However, the Grammy-winner has made clear she'll never be a coach on "The Voice" again.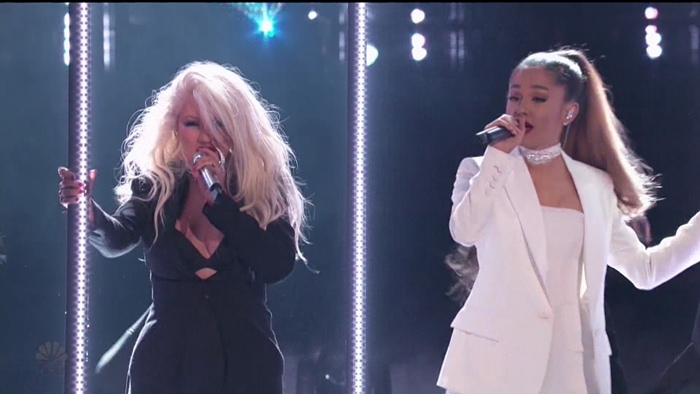 Ariana Grande and Christina Aguilera belted out the song "Dangerous Woman" together on The Voice season ten finale on May 24, 2016, in Los Angeles
"What I was doing last year with 'Liberation' was kind of a shedding of a certain skin on some level," she told People magazine about her eighth studio album.
"Prior to that, I had given myself fully to television and being a part of a network that really wasn't quite the fit for me after the amount of time I put in," she added about leaving the popular singing competition.
"I wanted to get grounded again in my artist body, and that's what I did with 'Liberation,'" the "Beautiful" singer continued.
"Moving on to this era, it's just an exciting time of fresh energy. Vegas is coming at the perfect time for me," she said of her extremely profitable Las Vegas residency.
The Voice's Carson Daly, Cee-Lo, Adam Levine, Christina Aguilera, and Blake Shelton pose at NBC's "The Voice" Press Junket at Sony Pictures Studios on October 28, 2011, in Culver City, California
"I was so scared to be on tour for so long. It took me a long time. I originally took the seat on 'The Voice' because it kept me in a little bit of a more grounded position for my children," she said about the "The Voice" job enabling her to spend time with her family.
"But after a certain amount of time, of course, the artist in me was like, 'I have to evolve!' I was just very afraid of going out on tour and the instability I felt it would maybe impose on my children," she emphasized.
In May 2018, Aguilera told Billboard magazine about exiting "The Voice": "It became something that I didn't feel was what I had signed up for in season one…You realize it's not about music. It's about making good TV moments and massaging a story."
Carson Daly, Adam Levine, CeeLo Green, Christina Aguilera, Blake Shelton walk the red carpet at a special live performance event celebrating the top 12 artists of NBC's Emmy award-winning hit "The Voice" at Boulevard 3 in Hollywood, California, on November 7, 2013
"I didn't get into this business to be a television show host and to be given all these [rules]…Especially as a female: You can't wear this, can't say that. I would find myself on that show desperately trying to express myself through clothing or makeup or hair. It was my only kind of outlet," she added.
Frank Sinatra would have turned 100 years old on December 12, 2015, so we were not surprised to see the music industry powerhouses out and about paying homage to the late legend.
One of the many fantastic artists to take the stage for the iconic singer was Christina Aguilera.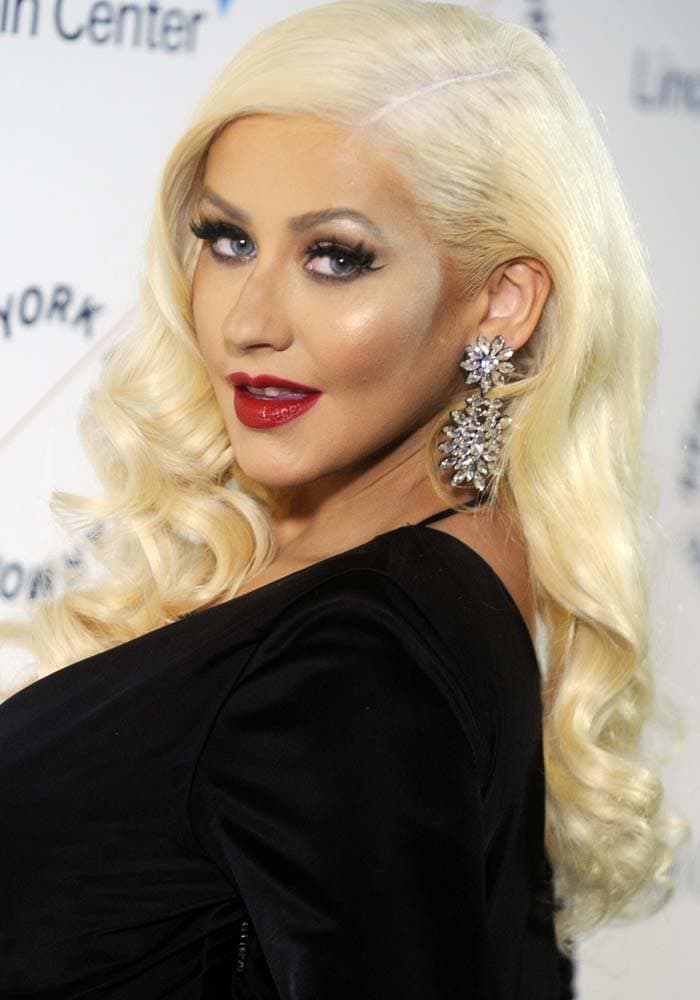 Christina Aguilera wears her blonde curls down at the Sinatra "Voice For A Century" event in New York on December 3, 2015
The petite singer with small feet arrived in New York for Frank Sinatra's "Voice For A Century" celebration.
Christina Aguilera shows off her cleavage in a black Versace dress
Christina performed alongside artists such as Fantasia and Sting. Joining actor Seth MacFarlane on stage, she sang the iconic "New York, New York," the theme song from the Martin Scorsese film New York, New York (1977).
Yup, you read that right — the comedian actually sings and sounds like Sinatra.
Christina arrived at the event in a cleavage-baring old Hollywood dress by Versace which she paired with crystal-encrusted Christian Louboutin "Very Riche" heels.
Christina Aguilera's feet in Christian Louboutin heels
The pop star rocked a full iconic vintage glam look, which consisted of perfect blonde curls, bold red lips, and dramatic eyelashes.
Christina Aguilera goes old-Hollywood glam with soft blonde curls and bright red lipstick
Here's a closer look at three different versions of her spectacular Christian Louboutin pumps that feature hand-placed crystals and the designer's signature red soles.
New Very Riche Strass With Aurora Borealis Crystals, $4,095
New Very Riche Strass With Rose Opal Crystals, $4,095
Very Riche Strass Pumps, $3,995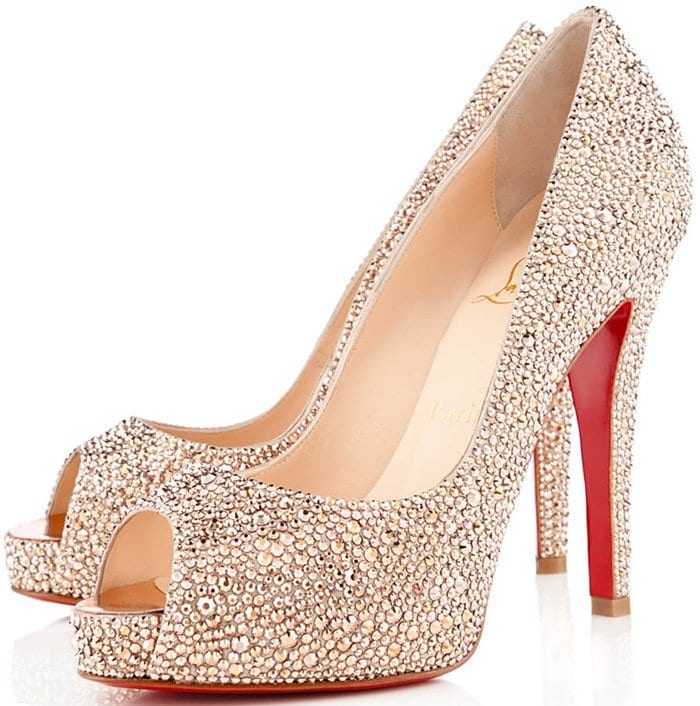 Christina's exact pair is no longer available online, but do check out some of Christian Louboutin's embellished heels at Nordstrom, Saks Fifth Avenue, and Mytheresa.
Daffodile 160 Crystal-Embellished Suede Pumps, $6,395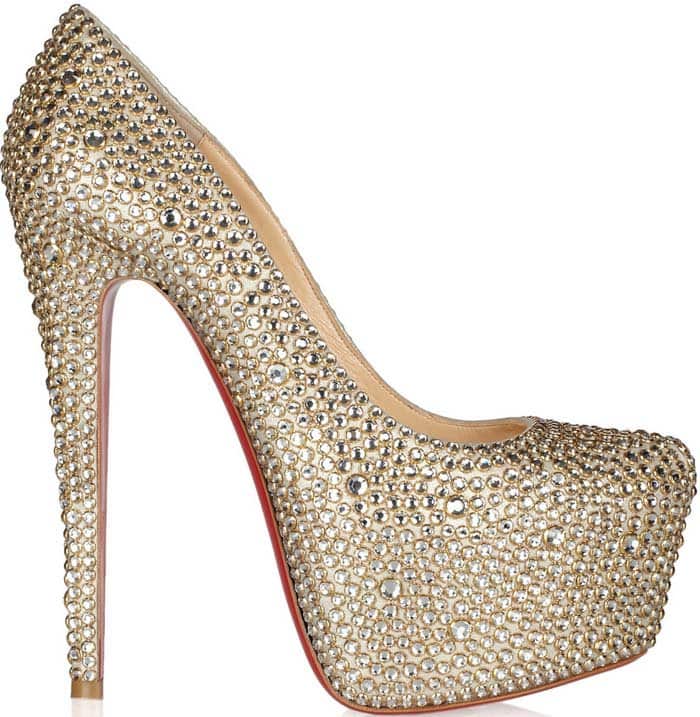 Pigalle Ombré Crystal Pumps, $3,945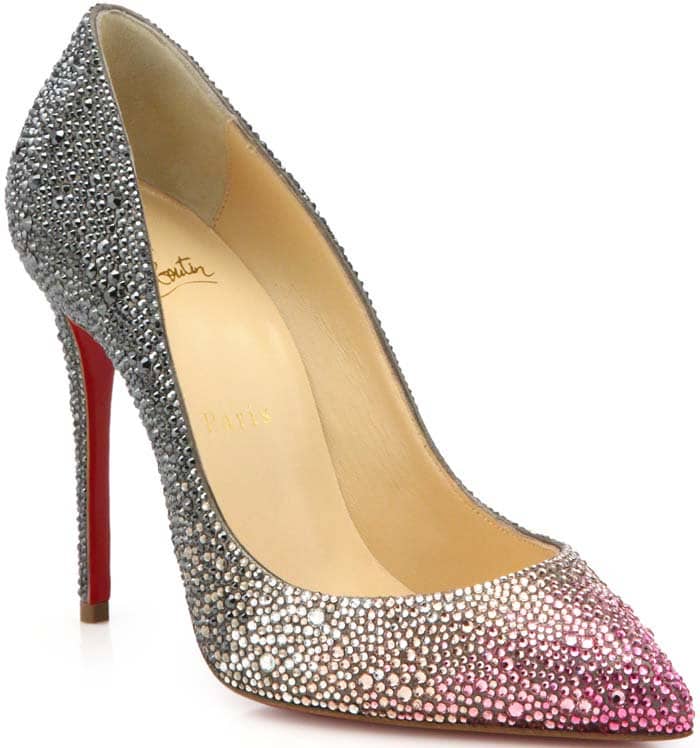 Suellena Laser-Cut Red Sole Pump in Silver, $1,295
Credit: Ivan Nikolov / Dennis Van Tine / Future Image / WENN / Starbux / Nikki Nelson