Michelle Williams looked ravishing last night at the Oscars. Her red-orange Louis Vuitton custom-made dress complemented her complexion perfectly.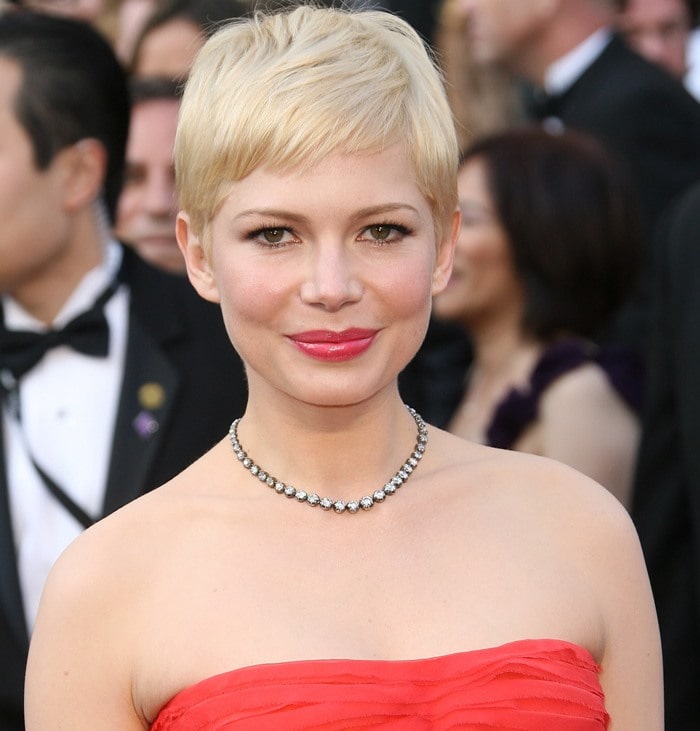 Even though we couldn't get a close up of her shoe choice we were able to determine that she paired the 'Lady Peep' from Christian Louboutin with her exquisite gown.
Michelle Williams at the 84th Annual Academy Awards (Oscars) held at the Kodak Theatre in Los Angeles on February 26, 2012

I love that she paired these rich crystal-embellished peep-toe pumps with her beautiful dress. Do you agree?
If you look closely perhaps you can see a peep of her sparkly heels sticking out of her long floor-sweeping dress. The 'Lady Peep' can be found at Nordstrom and the official Christian Louboutin website in many shades, but the price tag is unfortunately out of my reach.
Before I show you some more affordable alternatives, take a look at Michelle's lovely Louboutin heels in more detail:
Christian Louboutin 'Lady Peep' in Light Peach, $4,195
See what I mean by a price tag that would sabotage a shoe budget? At more than $4,000 not many of us could realistically sport these gorgeous heels. Nonetheless, we can still achieve a similar look for way less than 4k.
Check out a couple of crystal-embellished styles that I found at Zappos and tell us if you'd wear them to your next formal event:
ZiGi Black Label 'Shiny' in Cinnamon Suede, $389.99
ZiGi Black Label 'Brink in Cinnamon Suede, $369.99
So, do you think these similar styles could work? Are they a good look for less substitute for Michelle William's Louboutins?
Credit: Adriana M. Barraza / WENN