Best known for playing fiery gearhead Leticia "Letty" Ortiz in the Fast and the Furious franchise, Michelle Rodriguez is believed to have a net worth of $30 million thanks to her numerous film and TV appearances.
Michelle Rodriguez is an American actress who has a net worth of $30 million (Credit: Joe Alvarez)
To the red carpet premiere screening of Once Upon A Time In Hollywood held during the 2019 Cannes Film Festival, she donned a bridal-inspired Rami Kadi Spring 2019 Couture ball gown styled with a diamond necklace and Casadei shoes.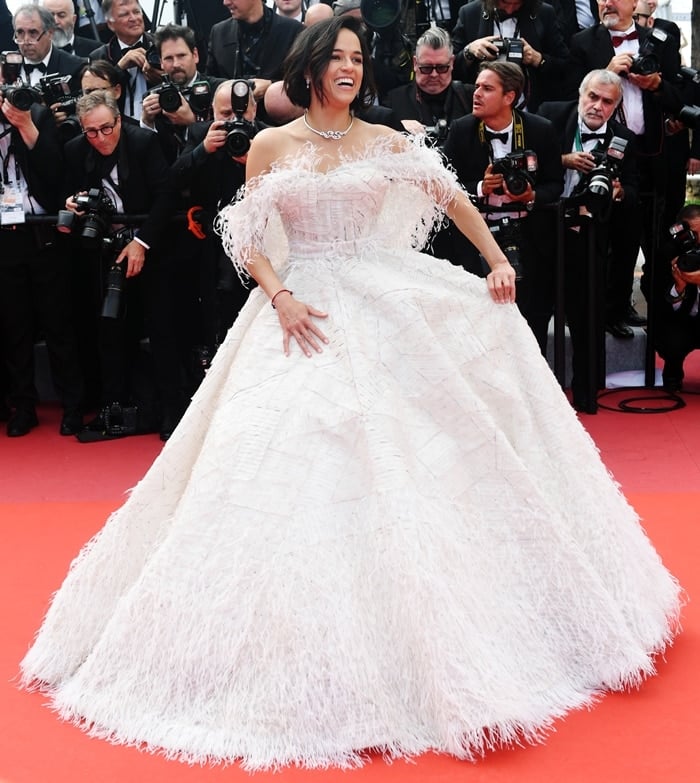 Michelle Rodriguez looked stunning in a white strapless gown at the premiere screening of Once Upon A Time In Hollywood held during the 2019 Cannes Film Festival in Cannes, France, on May 21, 2019
After her breakout role as a troubled boxer in the independent film Girlfight (2000), she was paid big bucks for her performances in big-budget blockbusters like The Fast and the Furious, Resident Evil, and S.W.A.T.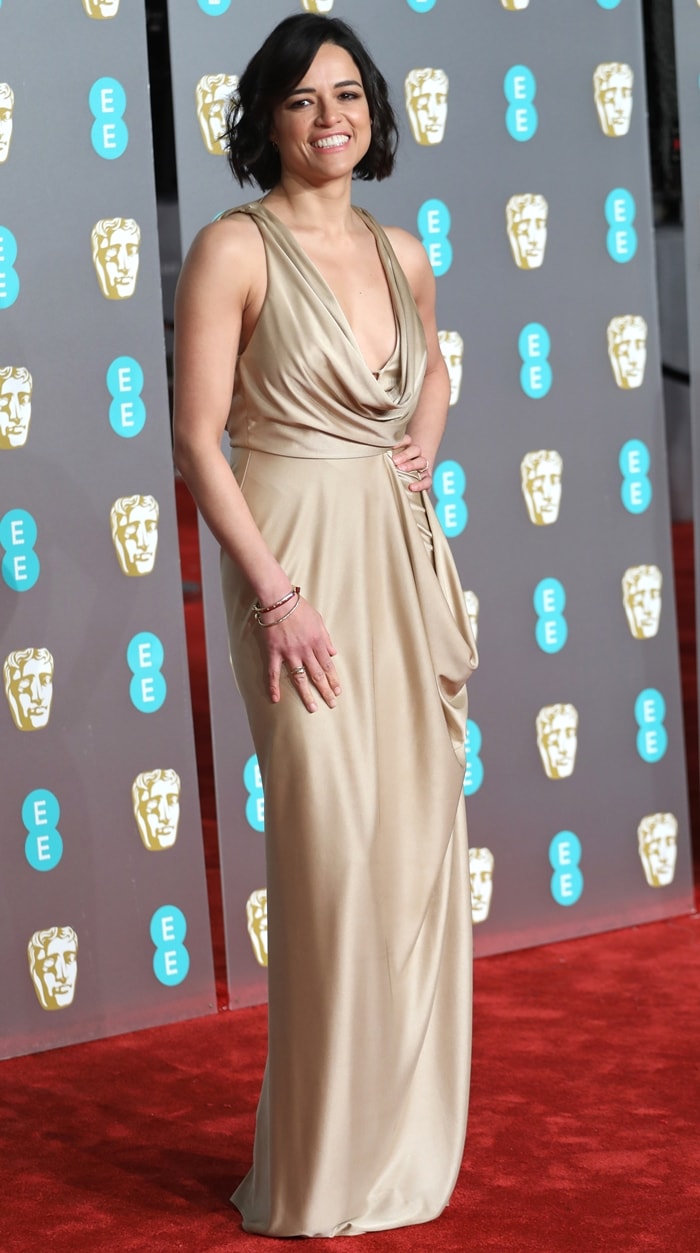 Michelle Rodriguez wore a silk-satin champagne draped gown from Jenny Packham to the EE British Academy Film Awards at Royal Albert Hall on February 10, 2019, in London, England
Approached by TMZ at Los Angeles International Airport in May 2016, the "Fast & Furious" actress suggested her net worth would be a lot higher if she were a man.
"It's like being born a slave. You know it's like, 'Oh damn. Darn my luck. I wish I was born somewhere else or maybe some other way,'" the actress explained.
"But it is what it is." Rodriguez acknowledged, "I get paid a lot less than my colleagues." However, she shrugged off the difference in pay. "That's the world we live in, it's a patriarchal society," Rodriguez said.
At the 2019 EE British Academy Film Awards, Michelle Rodriguez had a wardrobe malfunction and almost suffered a nip slip.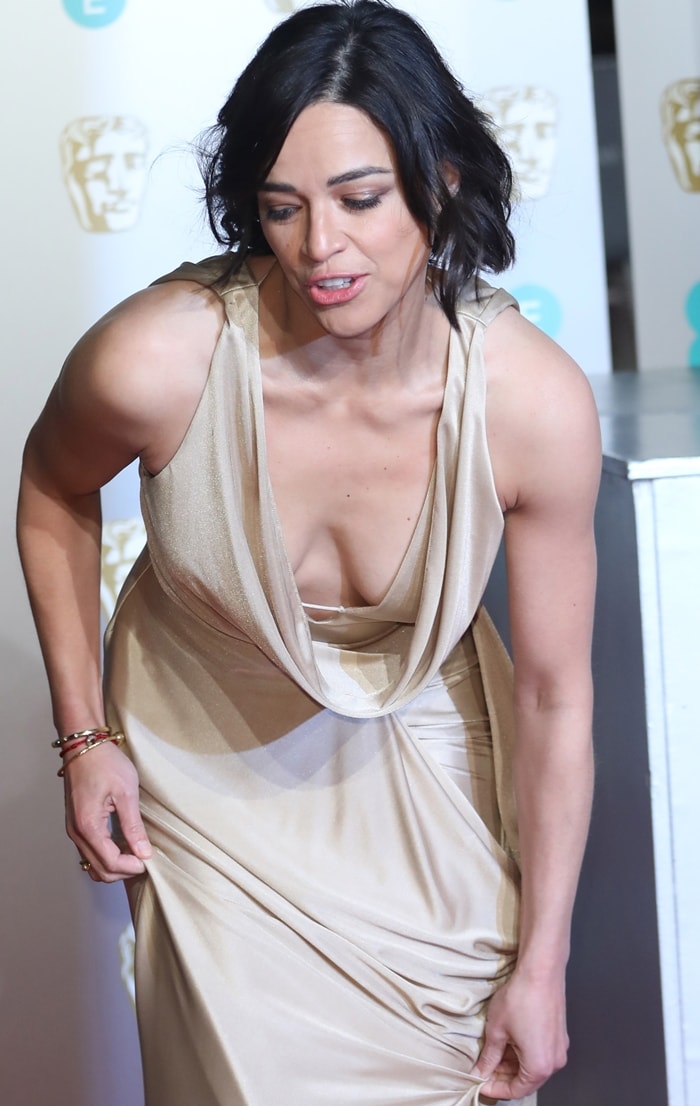 Michelle Rodriguez doing her best to prevent a nip slip
Whoops. Looks like Michelle Rodriguez has brought her Fast & Furious character Letty into reality. In July 2015, the paparazzi caught up with the then 36-year-old as she was leaving Chateau Marmont in West Hollywood with a brand-spanking-new Mercedes ride.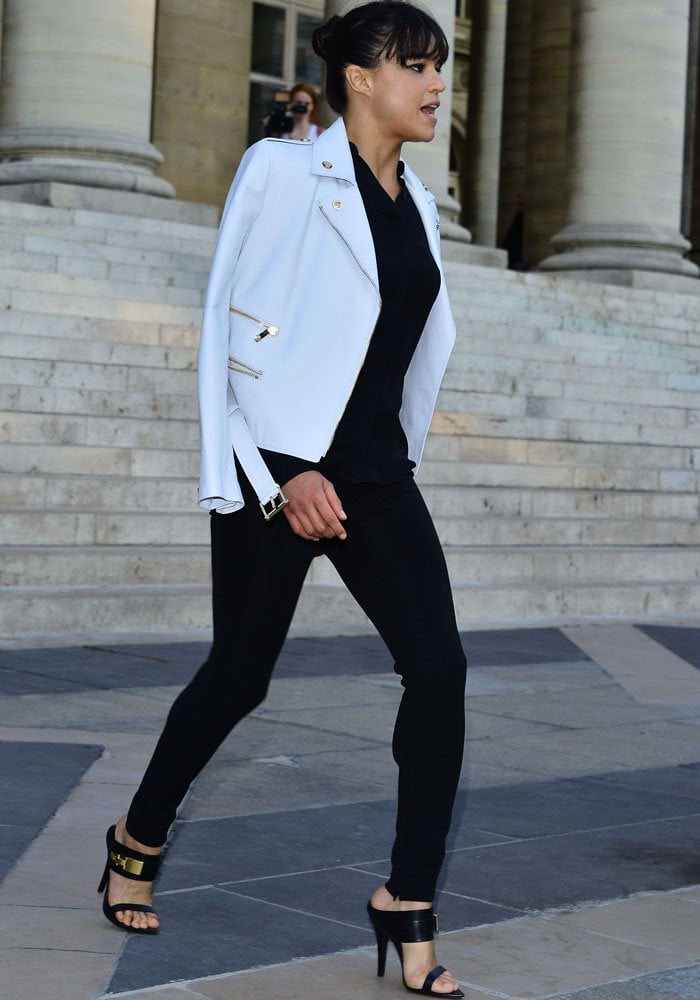 Michelle Rodriguez was unrecognizable in a Parisienne chic look
Not to worry, folks, the actress stated that her trusty eco-friendly Prius was just getting fixed after she "ruined" it coming out of her house and that the Mercedes was just a rental.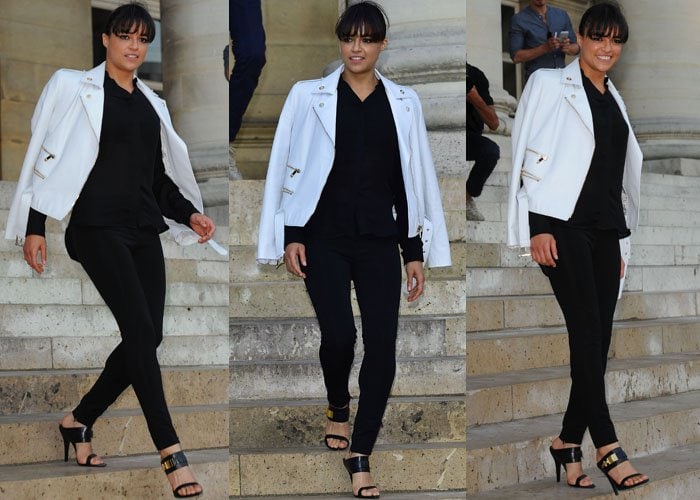 Michelle Rodriguez completed her look with gorgeous Anthony Vaccarello shoes
Michelle was all smiles as she regaled the paparazzi of her car tales, and did not seem to have sustained injuries from the accident. In fact, the actress was spotted a day later looking unrecognizable in a Parisienne chic look at the Versace show held during the Paris Fashion Week.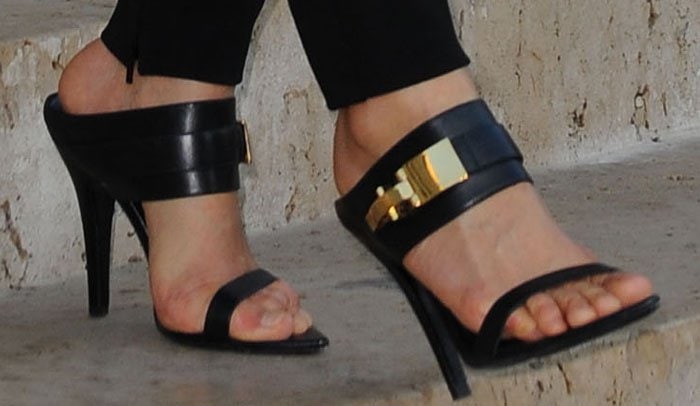 Michelle Rodriguez showed off her sexy feet in Paris
The boyish star traded in her flats for a pair of gorgeous Anthony Vaccarello heels, which she wore with a black buttondown and trousers.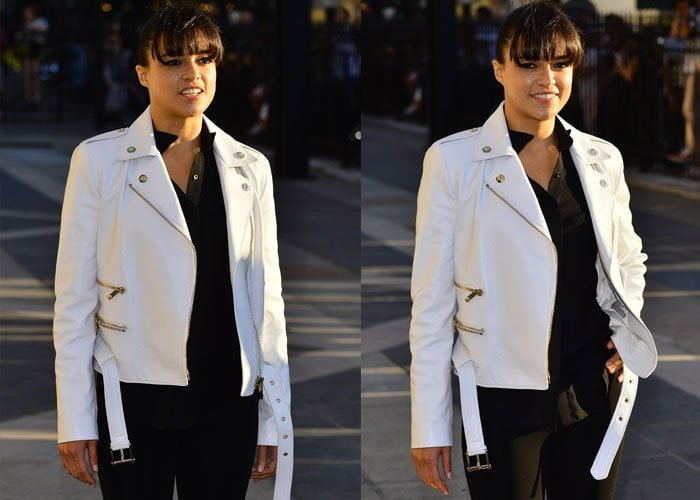 Michelle Rodriguez with a white leather jacket over her shoulders
She flung a white leather jacket over her shoulders and put her hair up in a neat bun to complete her chic look.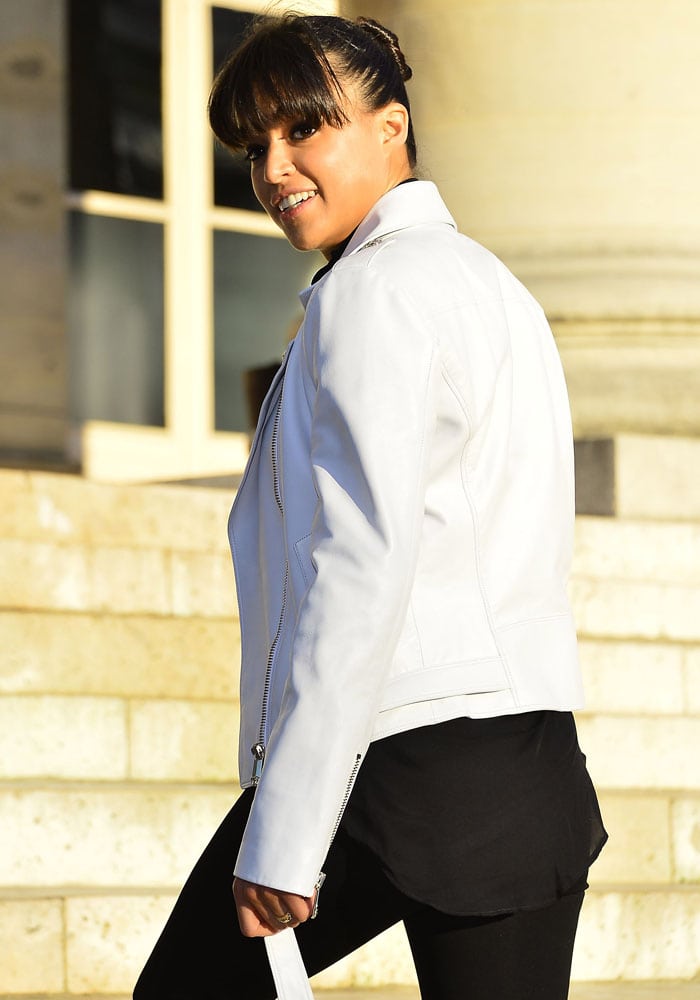 Michelle Rodriguez attends the Versace show as part of Paris Fashion Week Haute Couture Fall/Winter 2015/2016 on July 5, 2015, in Paris, France
It's always interesting to see Michelle Rodriguez around fashion weeks because she rarely wears heels. But when she does: va-va-voom.
Versus x Anthony Vaccarello Black Leather Decolleté Edition Sandal, $700
Credit: Radoslaw Nawrocki / WENN / Lia Toby