Nicki Minaj, who welcomed her first child with her husband Kenneth Petty on September 30, has a long and complicated history of relationship rumors with Canadian rapper Aubrey Drake Graham.
While signed to the rap label Young Money Entertainment, Drake and Nicki worked together on songs such as BedRock (2009), Up All Night (2010), Moment 4 Life (2010), Make Me Proud (2011), Champion (2012), Only (2014), and Truffle Butter (2015).
Drake and Nicki have never actually confirmed or denied their relationship
Is Nicki Minaj married to Drake?
They have never admitted to being romantically involved. "Yall gotta chill. Lol this my brother," Nicki Minaj said about Drake in an interview with MTV in 2014. Drake has never been married. He dated singer Rihanna on-and-off from 2009 to 2016.
The rumor mill started with Drake's debut album. "I love Nicki Minaj/ I told her I'd admit it/ I hope one day we get married just to say we f–king did it/ And girl I'm f–king serious I'm with it if you with it/ 'Cause your verses turn me on and your pants are mighty fitted/ Uh, damn, I think you caught me in a moment," he sings in "Miss Me," the third single from his debut album Thank Me Later that was released in 2010.
Nicki Minaj was reportedly drunk when she gave Drake a lap dance in the music video for Anaconda, a song from her third studio album, The Pinkprint (2014)
"Obviously, Drake and I, we've played around so much with the whole marriage thing and stuff like that, so people have come to be kind of intrigued about us," Nicki said in an interview. Drake added; "I love that girl, man. I'm not going to lie to you. The twist of it, the concept of it, I don't want to give it all away".
By 2016, their relationship had died down. "I don't really talk to Nicki. Another person I have a lot of love for. She dealt with me how I would expect her to—with class. I always have respect and love for her. Unfortunately, we haven't spoken," Drake told Apple Music's Zane Lowe for Beats1 Radio in April 2016.
"F–k it, me and Nicki nick getting married today/ And all you bitches that be hating/ Can catch the bouquet," Drake says in the lyrics for Moment 4 Life
In October 2020, Minaj name-dropped Drake's three-year-old son, Adonis, in the lyrics of her "Whole Lotta Choppas" remix with Sada Baby, rapping, "To be honest, I hope one day we do a playdate with Adonis." Drake's son was born on October 11, 2017, to French artist Sophie Brussaux.
View this post on Instagram
Drake quickly took to his Instagram Stories to confirm that the playdate could be arranged any day. "Playdates soon come," the rapper wrote with a white heart emoji. He also tagged Minaj's handle and shared a screenshot of the track.
Most celebrities don't have the luxury of spending the holidays with their families. So, understandably, New Year's Eve — a holiday more oriented toward friends than family — is popular with the stars.
Nicki Minaj wears her hair down as she poses at Drai's Nightclub Las Vegas on December 31, 2015
Take, for example, Nicki Minaj, who had to welcome 2016 as a part of her job.
Needless to say, we don't think she was exactly displeased with the fact that she had to work on New Year's Eve. Nicki counted down to 2016 at Drai's Nightclub in Las Vegas.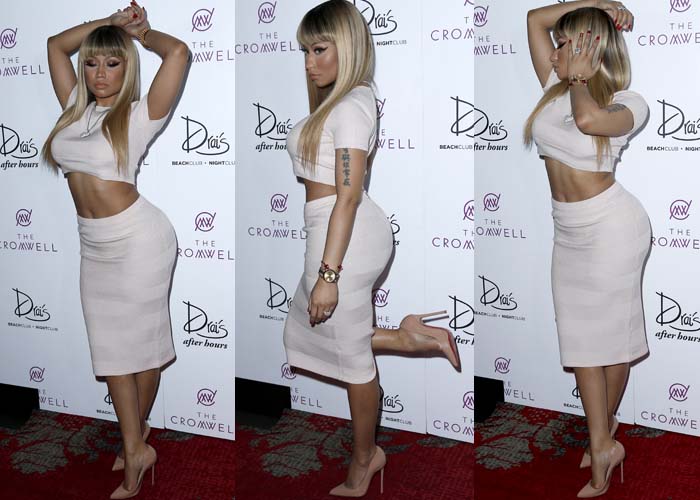 Nicki Minaj poses in a sexy two-piece ensemble at a New Year's Eve party in Las Vegas
The American-Trinidadian rapper wore a sexy two-piece ensemble, which showed off her toned abs and highlighted her curvaceous derriere.
Nicki Minaj's feet in Christian Louboutin pumps
The then 33-year-old wore the classic "So Kate" pumps by Christian Louboutin for her rather understated New Year's look.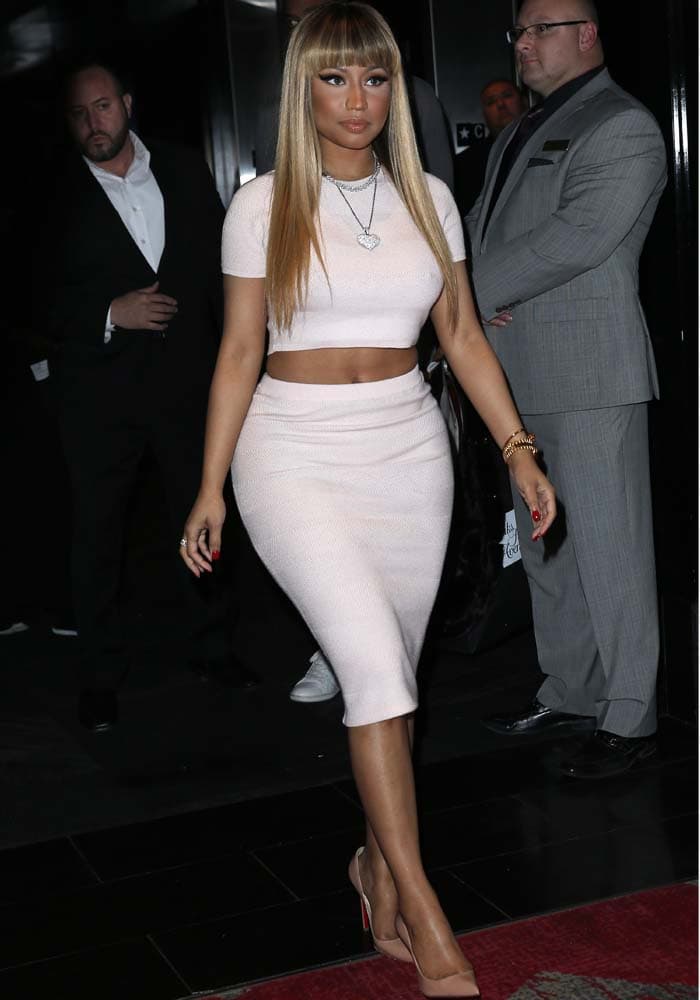 Nicki Minaj wears Christian Louboutin pumps with a crop-top-and-skirt set
Nicki also debuted her new blonde hair — a drastic change from her black style.
The songwriter put on an entire performance set but was ushered out into the balcony just in time for the New Year countdown. The rapper bade farewell to 2015 on a balcony overlooking a gorgeous pool party.
Patent nude pumps may not be your typical New Year's Eve shoe choice, but Nicki definitely knew how to turn something classic into a party pump.
Grab these timeless babies from Christian Louboutin over at Nordstrom and Mytheresa.
Christian Louboutin "So Kate" in Nude Patent, $67
Credit: Judy Eddy / WENN / PNP