Just this month, Nicki Minaj has shown us four new additions to her ever growing shoe collection, two of which she wore to two different events on two consecutive days. This very controversial rapper is, without a doubt, a footwear lover with an amazing shoe collection.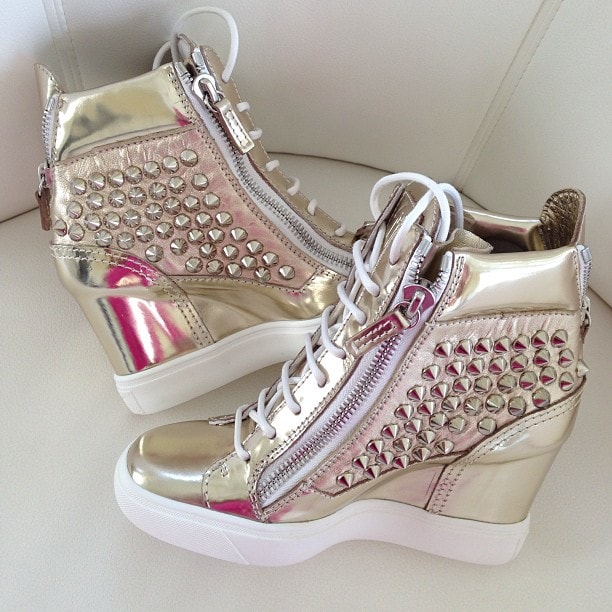 Which pair is your favorite? The first three pairs are by Giuseppe Zanotti, while the last pair is by Alexander McQueen.
On October 14, she shared a few Instagram photos while she was at Kmart taping for an appearance on 'Good Morning America'. The American rapper, song-writer and actress posed alongside her models who were all wearing high-waist outfits from Nicki's collection. Nicki, on the other hand, sported her favorite color — pink! Aside from that, she wore some gold accessories and topped off the ensemble with her new McQueen booties.
This 30-year-old doll sure has a lot on her plate. She may have left the American Idol judges' table, but she still remains very busy. In fact, the successful artist is currently working on her third album that is set to be released next year. Nicki also just launched her clothing collection at Kmart and ShopYourWay.
At the launch event, Nicki turned heads once again. She arrived in a pink Lamborghini Aventador sports car, which got everyone drooling. She then stepped out in another head-turning, cleavage-baring outfit. Her blue blazer was a wardrobe malfunction waiting to happen. She had absolutely nothing underneath. If you remember, Nicki sported the same look when she visited The Ellen DeGeneres Show last month.
The outfit was completed with black pants and a pair of white crocskin Giuseppe Zanotti booties.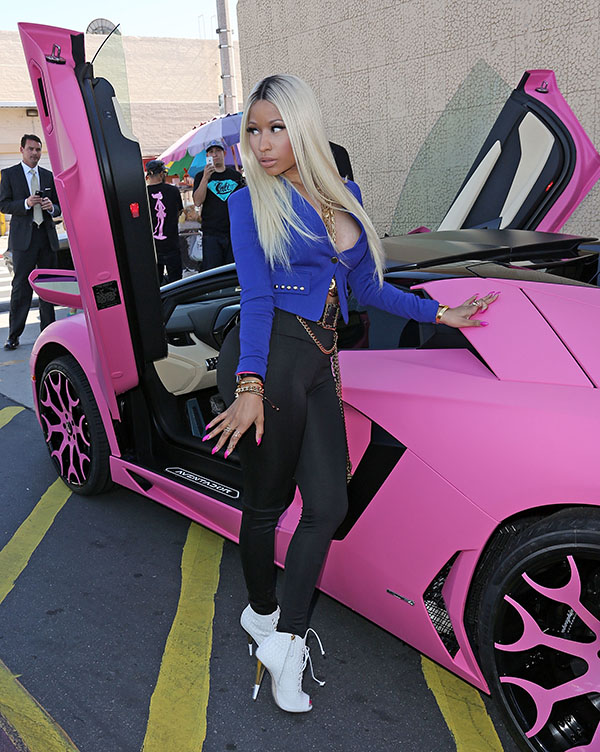 Nicki Minaj arrived in a pink Lamborghini Aventador sports car
Nicki Minaj at Kmart and Shop Your Way Launch of the Nicki Minaj Collection at Kmart in Los Angeles on October 15, 2013
Nicki Minaj's blue blazer was a wardrobe malfunction waiting to happen
Nicki Minaj rocking white crocskin Giuseppe Zanotti booties
Are you interested in the singer's very own clothing line? The affordable collection includes fitted dresses, cropped tops, and tight pants. This new line of clothing simply has Nicki Minaj written all over it.
We can't wait to see her wear more shoes from her incredible shoe collection! Of course, we're expecting another stunning, daring look from this daring rapper!
Credit: Nicki Minaj's Instagram / Brian To / WENN