Nicky Hilton Rothschild, the fashion-forward younger sister of Paris Hilton, made a dazzling appearance at the star-studded Veuve Clicquot Polo Classic event on a sunny Saturday, together with Emma Stone.
As she arrived at the Liberty State Park in New Jersey, where the sold-out festivities unfolded, the 39-year-old American socialite took a moment to strike a few poses, ensuring her impeccable style was captured in a quick photo session.
Nicky turned heads in an eye-catching ensemble by Hunter Bell. Her outfit, an artful play of colors, showcased hues of light blue, muted orange, and white, evoking the vibrant spirit of summer.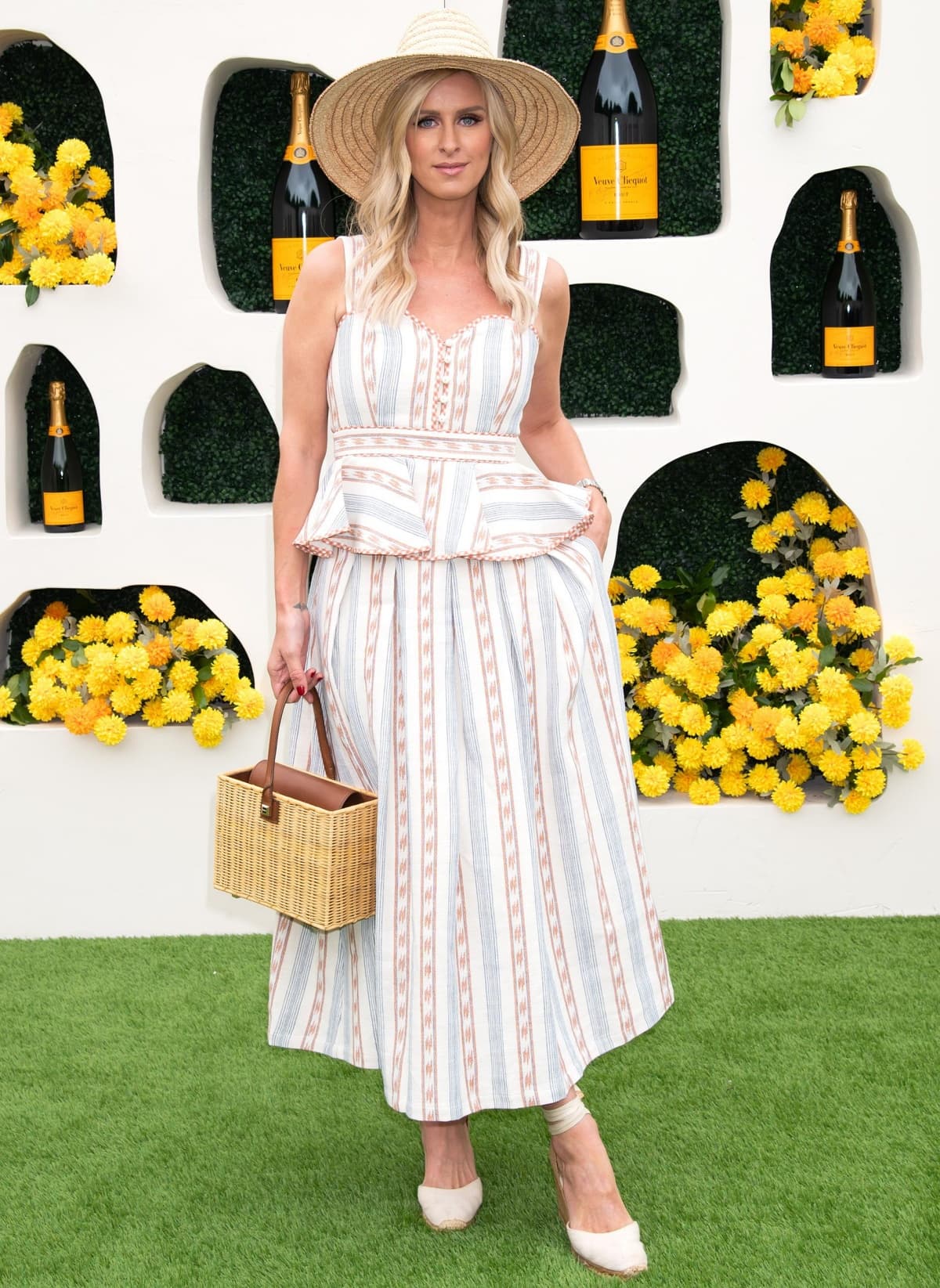 Nicky Hilton Rothschild looking effortlessly chic in a Hunter Bell ensemble with a handcrafted basket-woven rattan Max Mara bag at the Veuve Clicquot Polo Classic held at Liberty State Park in Jersey City, New Jersey, on June 3, 2023 (Credit: Janet Mayer / Startraksphoto)
The Hunter Bell heath top featured a sleeveless silhouette with a sweetheart neckline. Thick straps gracefully wrapped around her shoulders while a row of buttons adorned the front bodice.
Her top's peplum waist added a touch of femininity to the look, all adorned in a mesmerizing pattern of dusky deep red and tonal blue printed stripes.
Nicky paired the top with the elegant Hunter Bell Alexis skirt to complete the ensemble. This flowing skirt effortlessly cascaded towards her ankles and featured convenient side pockets, adding a practical yet stylish touch.
With her blonde locks styled in elegant waves, the mother of three, who tied the knot with financier James Rothschild in 2015, enhanced her summery vibe by adorning a chic woven straw hat that partially shielded her face from the sun's rays.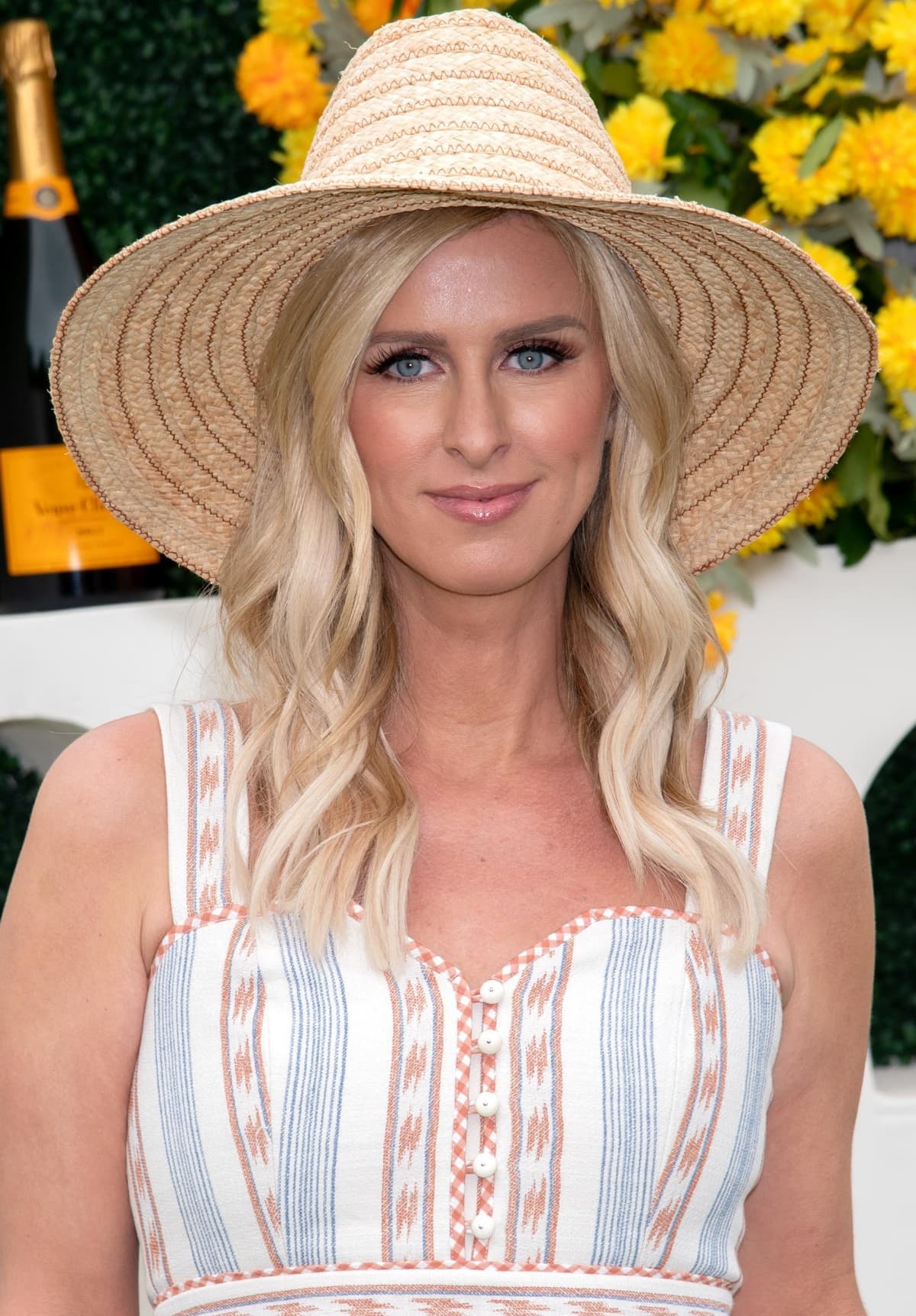 Nicky Hilton Rothschild with a simple beauty look and a chic woven straw hat (Credit: Janet Mayer / Startraksphoto)
Nicky let her outfit shine without flashy jewelry in a tasteful display of understated elegance. Her sole accessory was a sleek silver watch, allowing the stunning ensemble to take center stage.
The businesswoman also carried a Max Mara Cestos wicker basket, a rectangular rattan masterpiece with a soft leather handle and flap.
Available on SSENSE, this exquisite bag added a touch of sophistication to her look, seamlessly blending fashion and functionality.
For her makeup, Nicky opted for a classic daytime look. Her eyes were accentuated with sparkling eyeshadow, while her lashes were amplified with mascara.
A soft, blush pink added a luminous radiance to her cheekbones, and her lips were adorned with a glossy, rose-colored tint, providing a perfect final touch.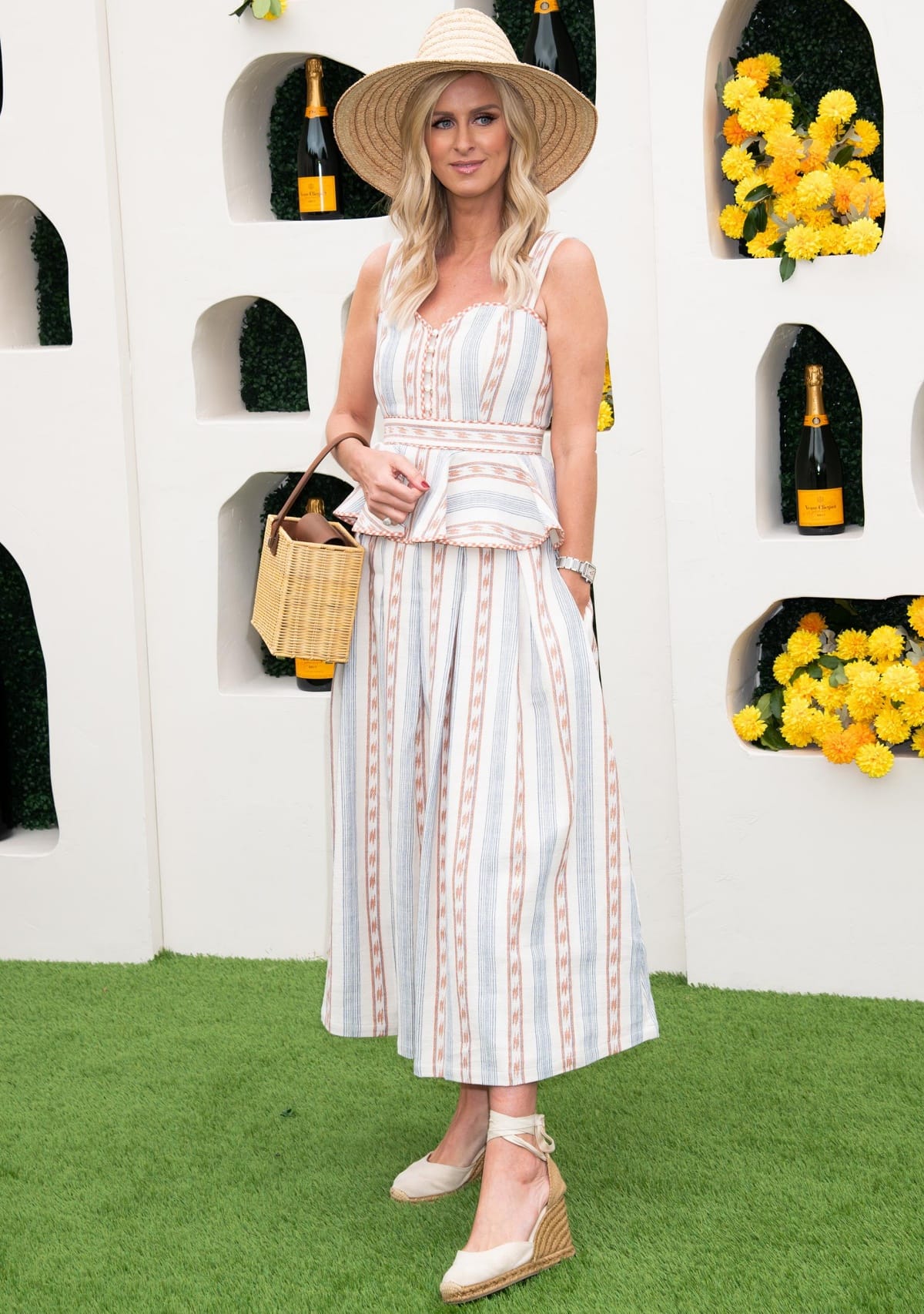 Nicky Hilton Rothschild showcased a breezy and lightweight outfit from Hunter Bell adorned with a captivating dusky deep red and blue striped print (Credit: Janet Mayer / Startraksphoto)
Nicky Hilton effortlessly elevated her summer-themed ensemble with the statement-making Castañer Carina wedge espadrilles. These chic wedges featured a pale cream canvas, closed toes, and wide straps wrapped around her ankles, adding effortless flair to her look.
The defining feature of these stylish shoes was the raised woven raffia soles, forming a thick wedge-shaped base, providing Nicky with a subtle height boost of at least 3 inches.
Nicky Hilton Rothschild displays her feet in Castañer Carina wedge espadrilles (Credit: Janet Mayer / Startraksphoto)