Have you ever wondered what it's like for an actor to play a real-life character?
Elle Fanning recently discussed her experience portraying the daughter of screenwriter and novelist James Dalton Trumbo on the big screen.
Elle Fanning wears flowers in her hair at the U.S. premiere of "Trumbo" held at the Samuel Goldwyn Theater in Los Angeles on October 27, 2015
"Before reading this script, I wasn't aware that the Blacklist or the 'Hollywood Ten' existed, so it was shocking to learn that part of history. After I read it I asked my parents about it and they were like yeah, that actually happened. Getting to play Nikki Trumbo was really special and I hope I did her justice in that way," the young actress revealed to Cinemacy.
She talked about what it was like to get tips and backstories from the real-life Nikki Trumbo in order to portray her character more accurately in the film.
Nikola Trumbo is the older daughter of the late blacklisted screenwriter Dalton Trumbo
"For me, I guess Jay had heard of me and sent me the script and wanted me to play Nikki, and I met with him for breakfast at a hotel and talked about Nikki. I learned more about the blacklist because I didn't know, so I had a lot of questions. From there, I started speaking to Nikki. And, to be part of a cast like that was great. I knew that Diane Lane and Bryan Cranston would be my parents, so I was freaking out! (She giggles.) That was definitely part of the whole equation of it. It was very exciting, and to play a real person is always fun and a challenge," Elle told Front Row Features in another interview about the American biographical drama film.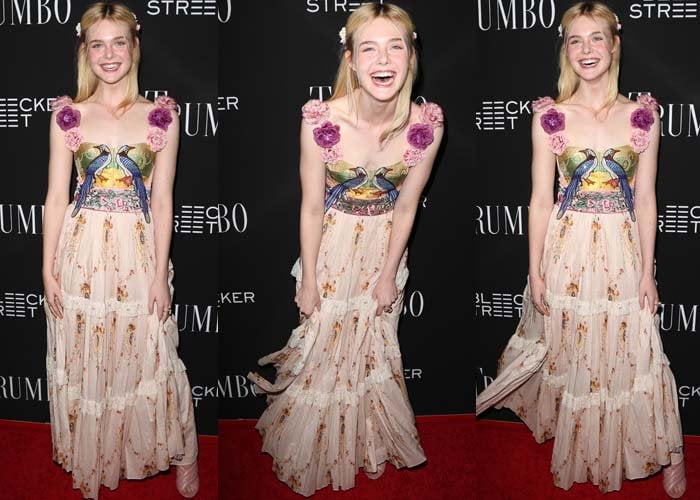 Elle Fanning giggles on the red carpet in a whimsical floral dress from Gucci
There is something about Elle Fanning that justifies whimsical dresses. It might be our memory of her portrayal of Aurora in Maleficent, but it might just be her bubbly personality.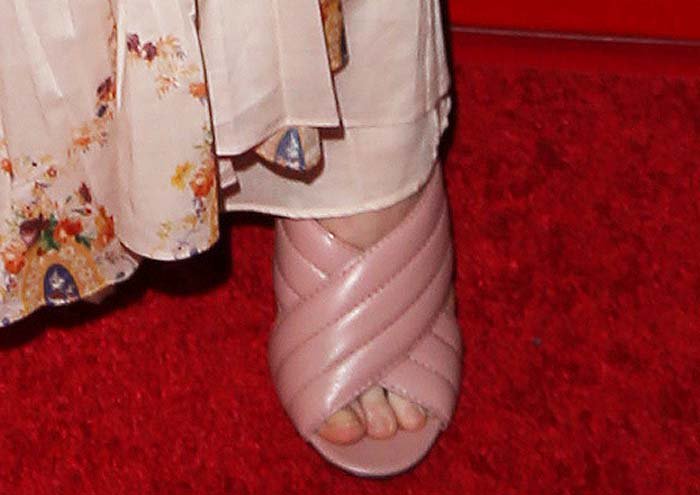 Elle Fanning's feet in Gucci shoes
Elle showed off that bubbly personality as she hit the red carpet in Los Angeles for the American premiere of "Trumbo."
Elle twirled and giggled for the photographers in a floral dress by Gucci, matching the theme with flower adornments in hair.
Elle Fanning wears flowers in her blonde hair
We normally wouldn't pick a stitch-accented block shoe to go with such a whimsical dress, but for some reason, Elle Fanning nailed this look.
Elle Fanning shares what it was like to work with her real-life character Nikki for the film "Trumbo"
Pretty crazy how an adorable fit of giggles just made everything look right. Grab the "Sylvia" shoe by Gucci over at Farfetch or Nordstrom.
Gucci "Sylvia" Sandal in Rose Leather, $595
Gucci "Sylvia" Sandal in Gold Leather, $595
Credit: FayesVision / WENN / Brian To